American Owned & Operated Since 1998

Savage Masonry
Your Creative Ideas are our Custom Designs
ABOUT
We are a full-service masonry contractor providing quality service to residential and commercial clients. From renovations to new construction, from inside projects to outdoor spaces, we are dedicated to working with you to implement a quality solution that meets all of your masonary need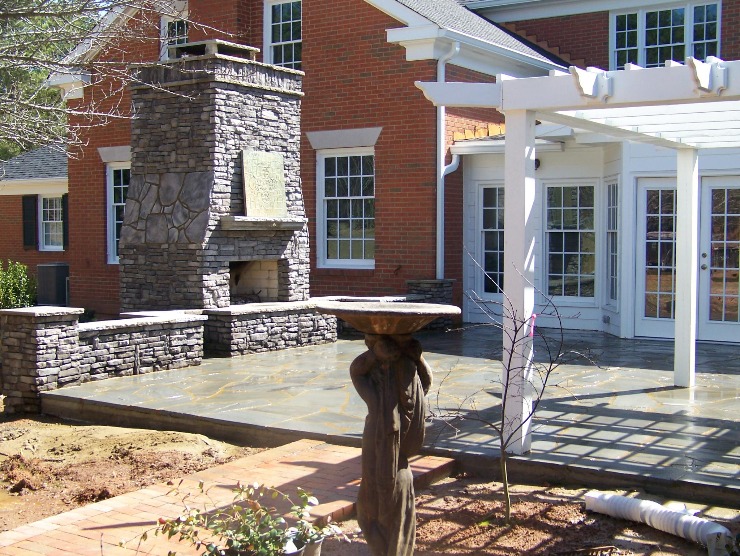 Stone
Our stone projects range from an array of both real to manmade including drystack, flagstone, river-rock and more.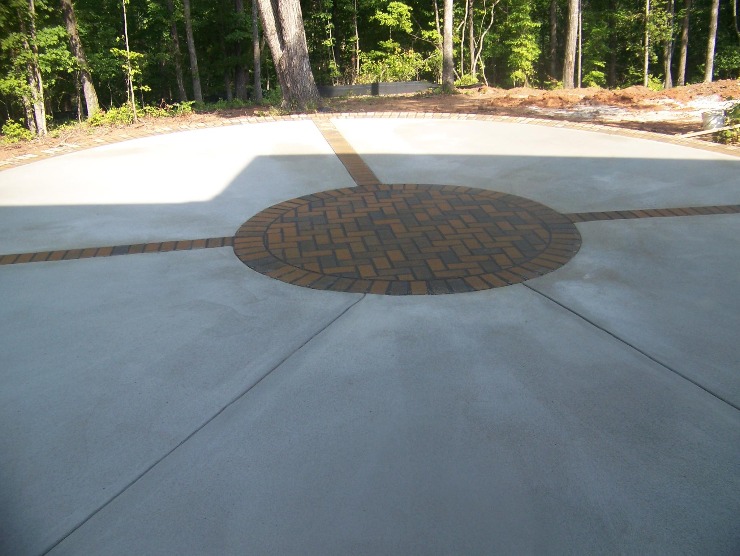 Concrete
Our conrete work include custom projects and slabs. This homeowner chose a circular slab with pavers inset inside the concrete.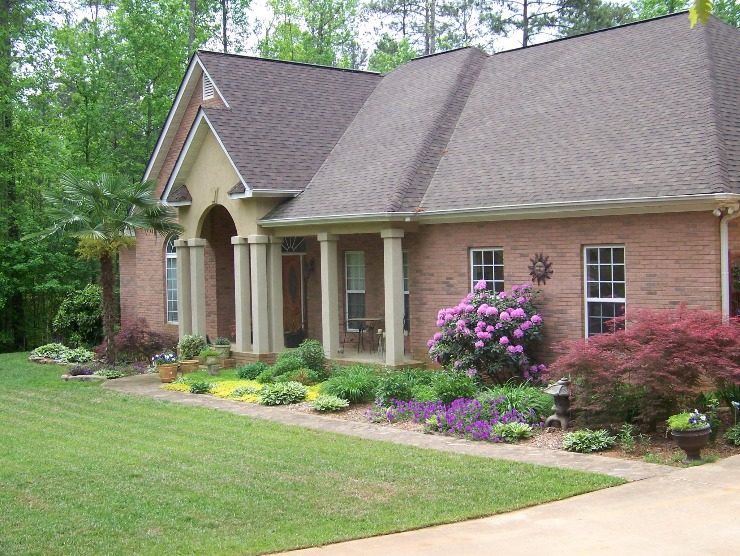 Brick
This project showcase both stucco and brick combinations to add a little mediterran flair.
W

e provide both Residential and Commerial
Some of our services includes:
•Outdoor Entertainment Projects
•Retaining Walls
•Entryways
•Mailboxes
•Block including commerial blocks
•Concrete Driveways, Foundations
•Poured Walls and Steps
•Fire Place Surrounds
•Real Masonary Fireplaces
•Historical Restoration and Repair Work
•Stucco projects
•Tile Floors and Patios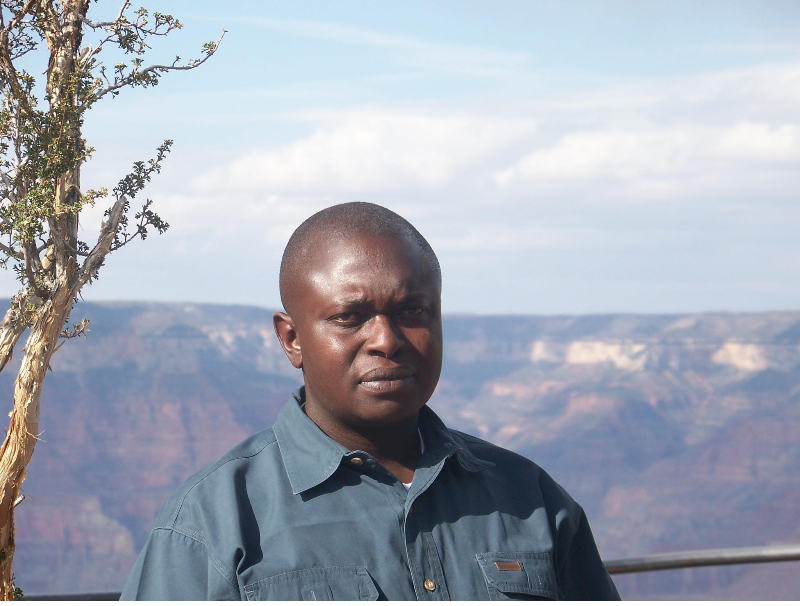 Owner
Experienced Mason for 35 Years
I graduated from Hobson State Technological College in 1986 with a Diploma in Masonry. I have been in the masonry field for 35 years and have operated a successful business for over 21 years. My experience includes residential and commercial work in Alabama, Georgia, Texas, and US Virgin Islands.
It is vital for me to build positive trusting relationships with my clients that's why I am hands-on for every project. I enjoy creating what I affectionally call "monuments" enduring evidence of something special left for clients to enjoy for a long time to come. Our clients ideas are our custom designs.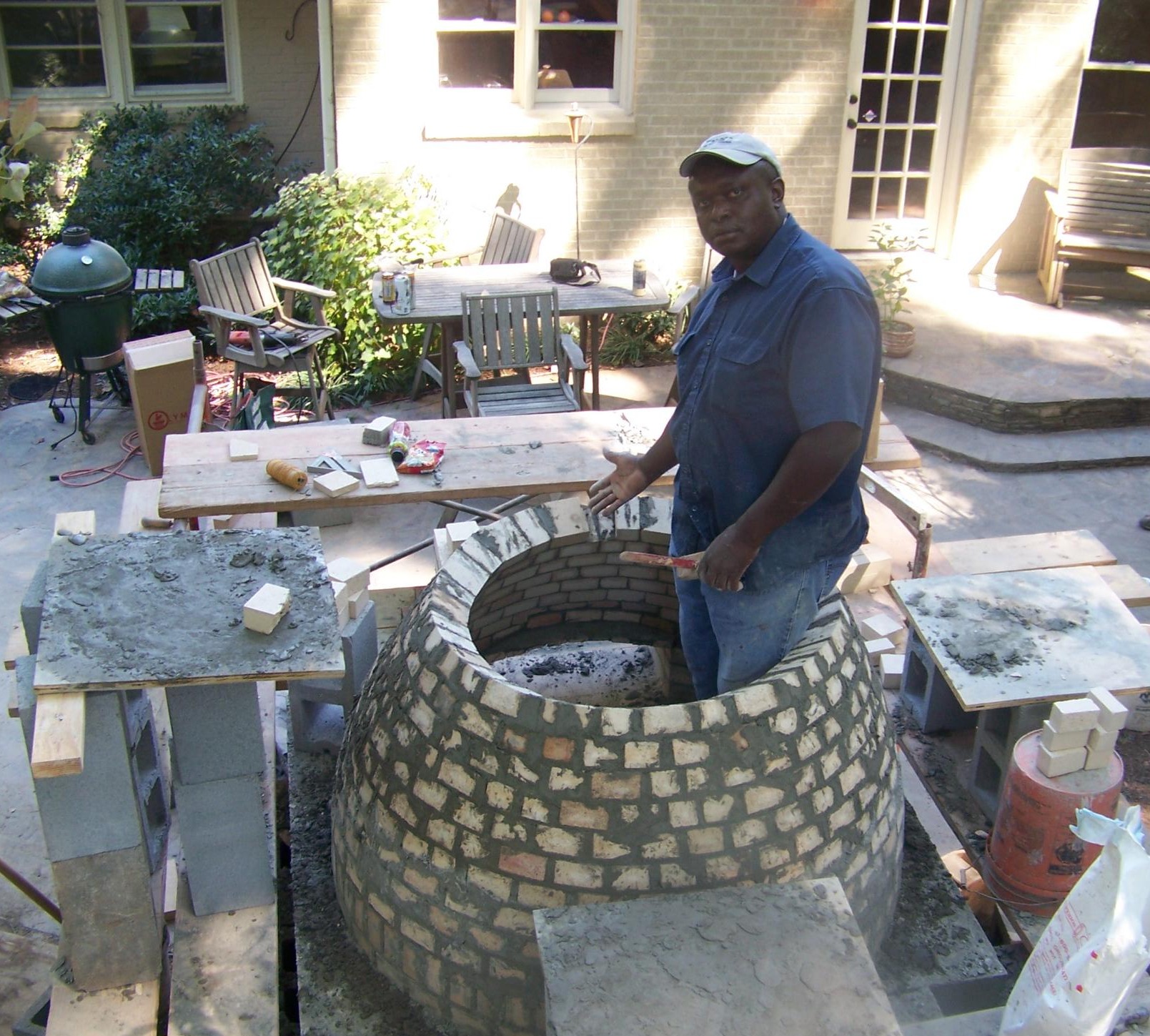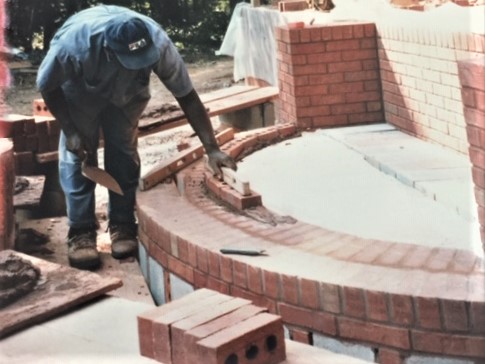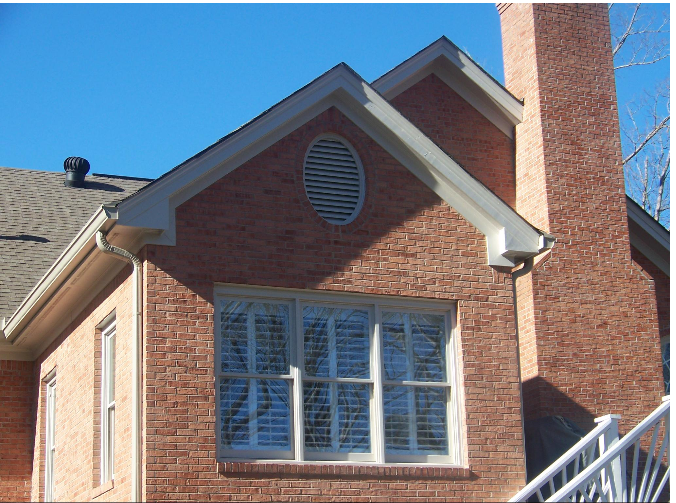 BRICK
One of the oldest of all building materials, brick projects are durable, flexible and reliable. The different styles and textures allow for variety in look and form. 
The variety of projects below help illustrate color, texture and size of brick.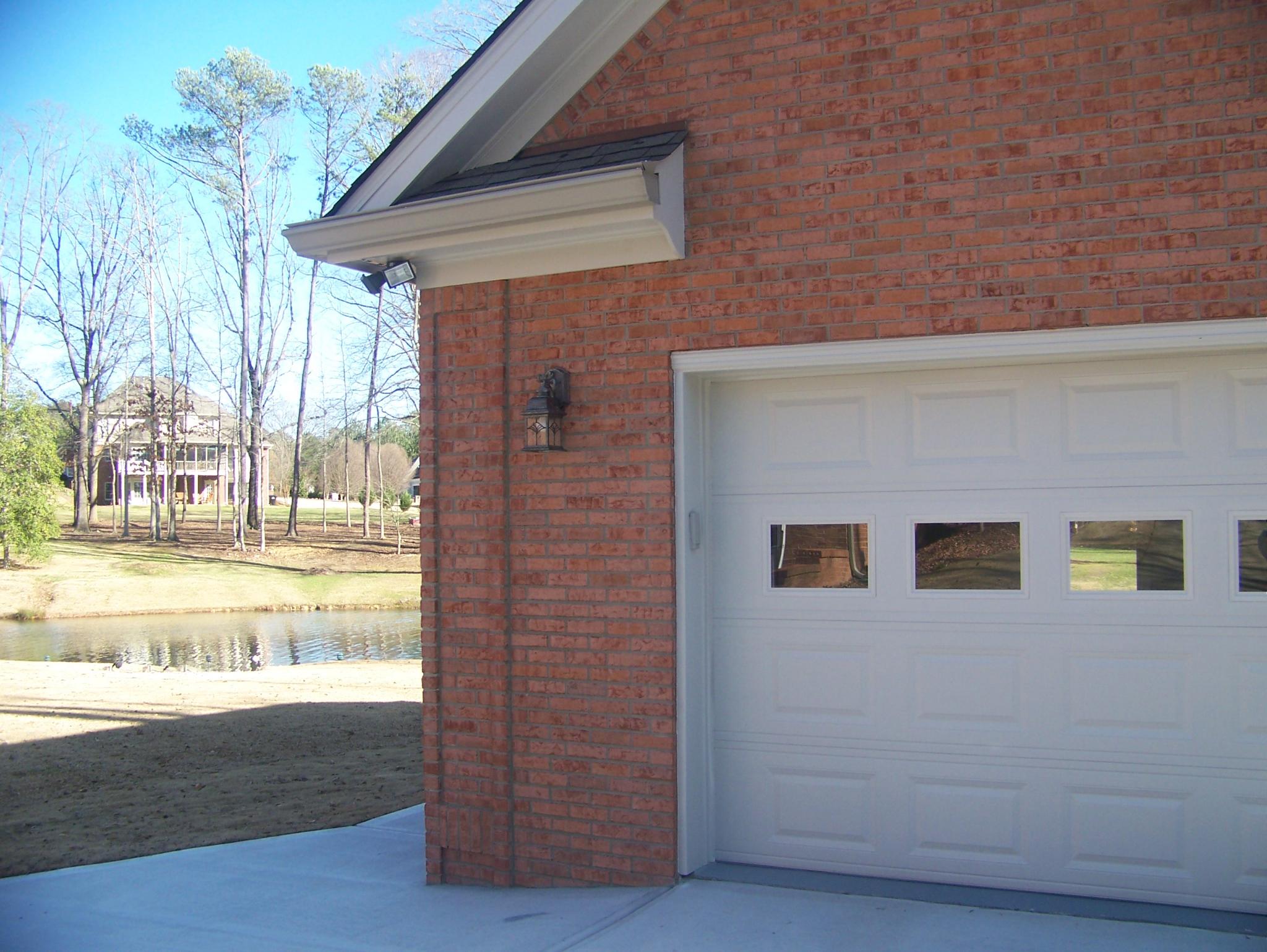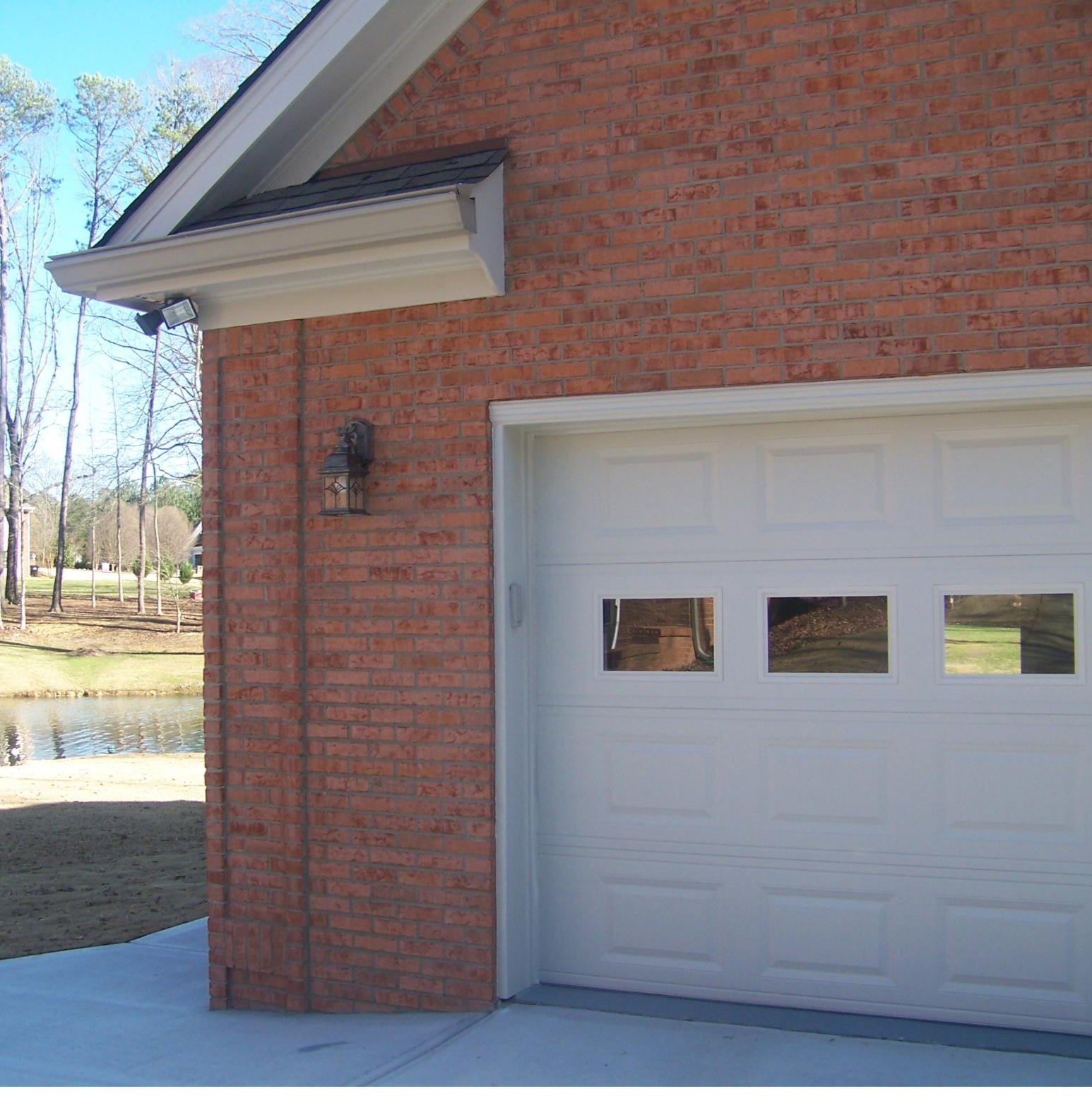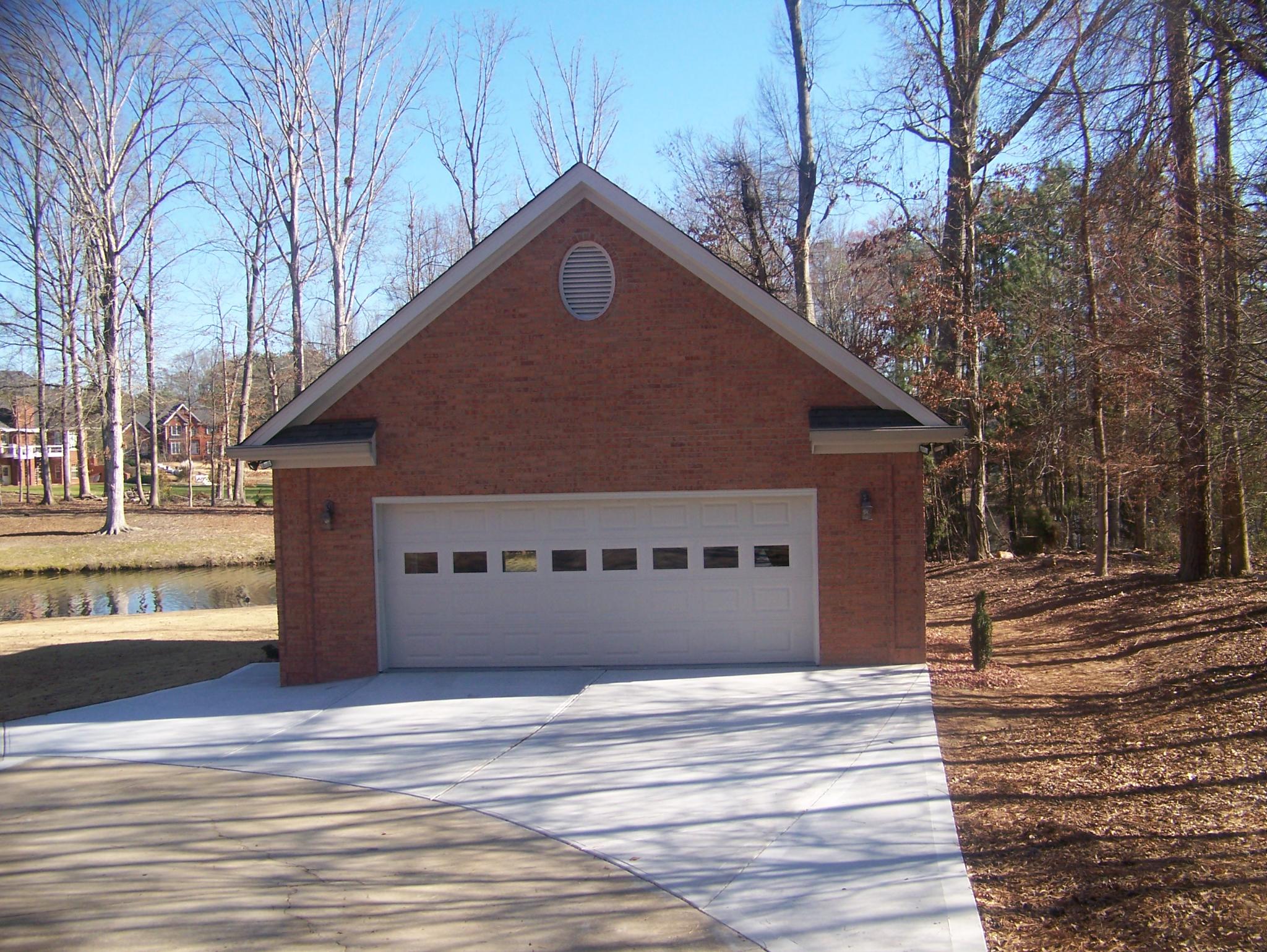 The three homes below are examples of my ealier brick projects.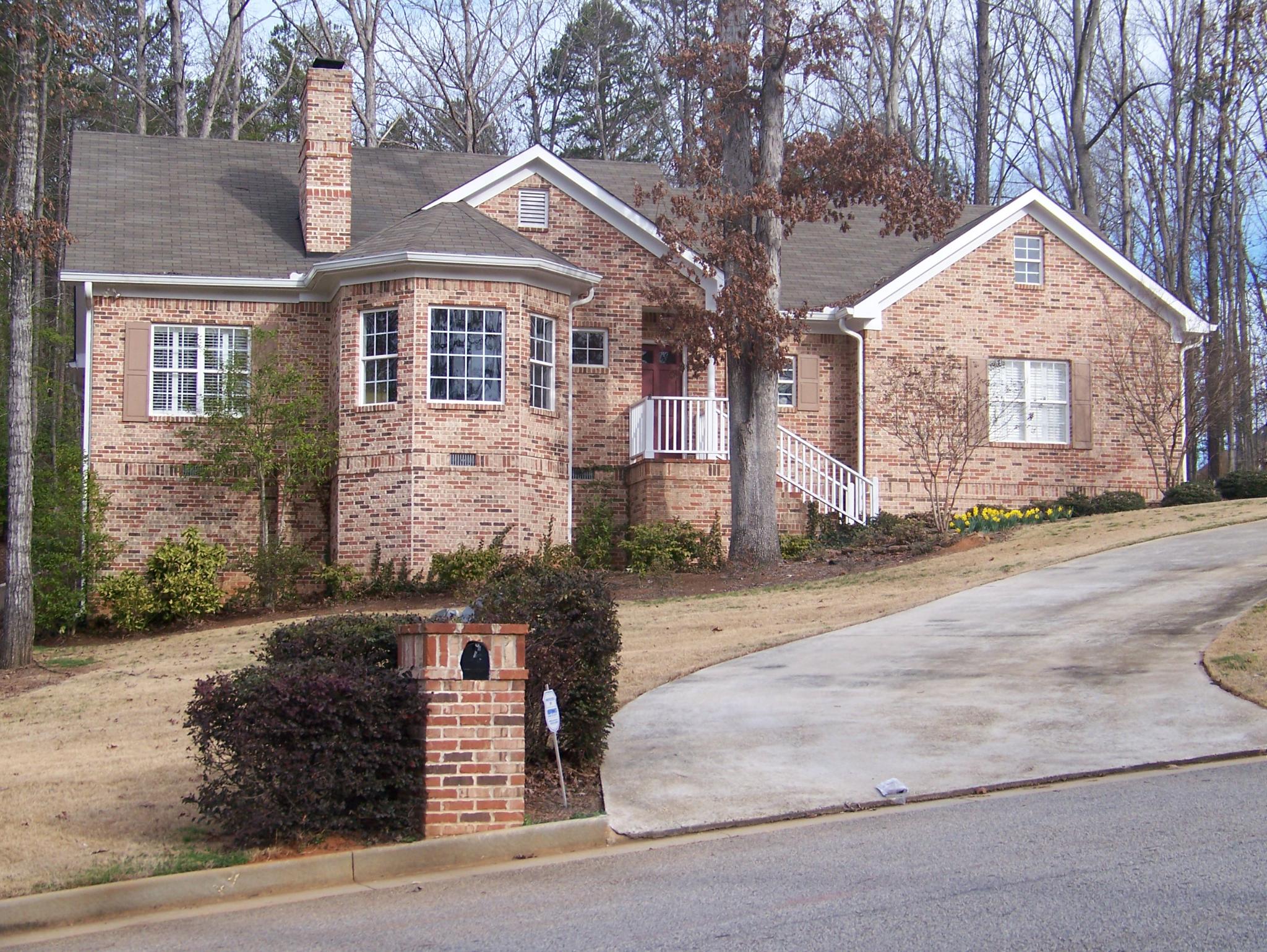 Dumpster Wall with inset Bricks to Mimic Columns and a Wall.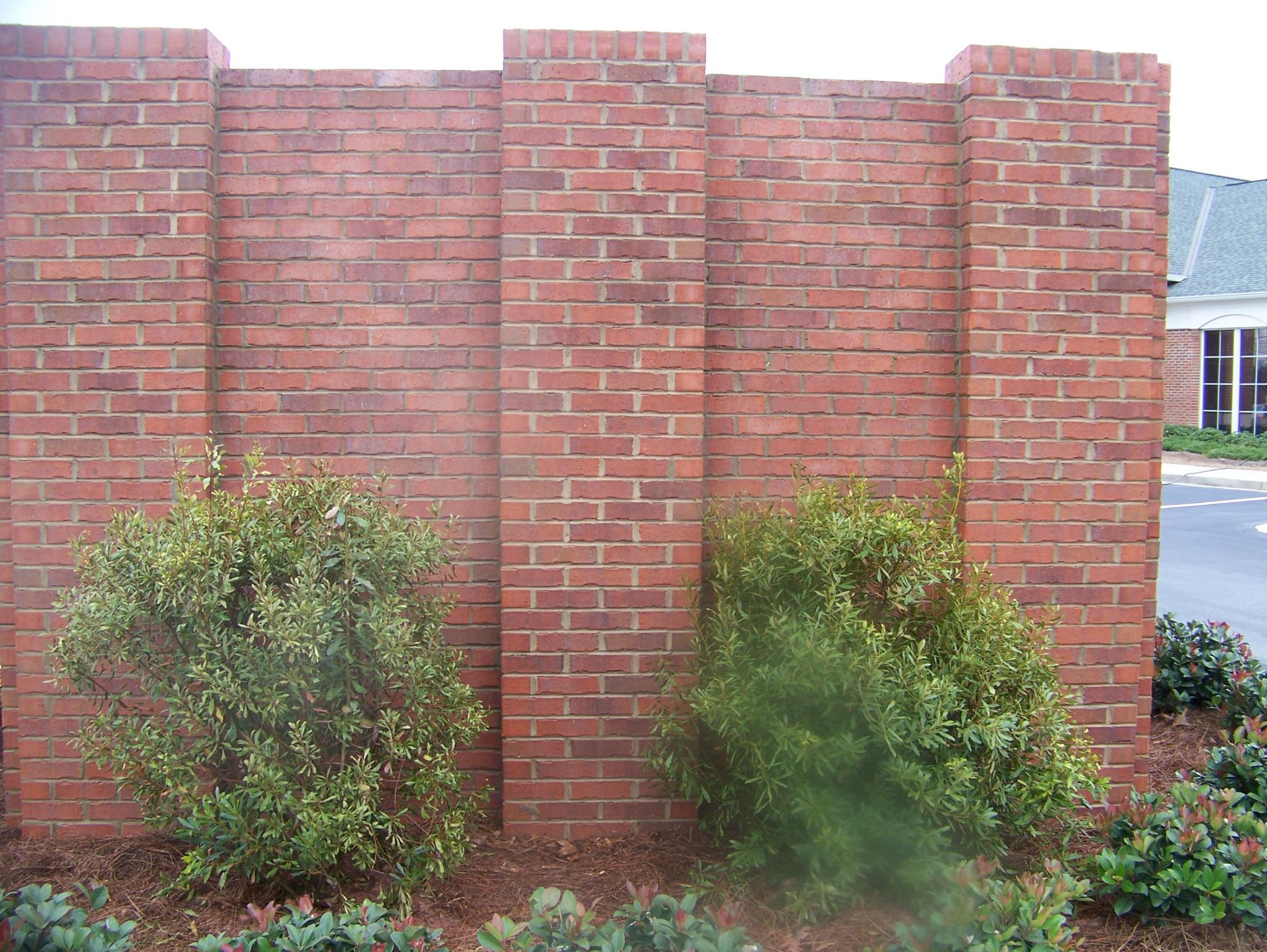 Brick Steps and Winged Wall with Concrete Landing.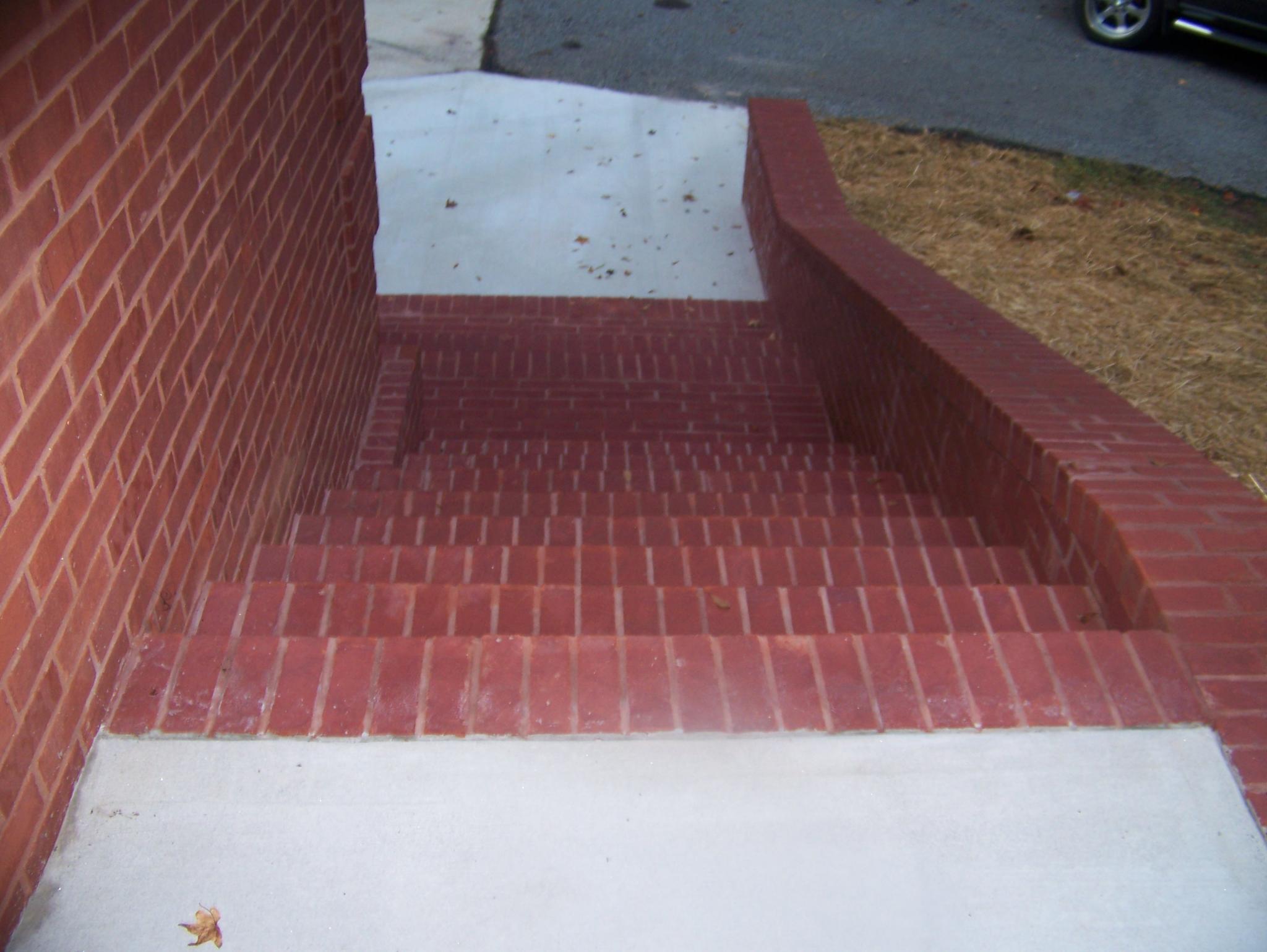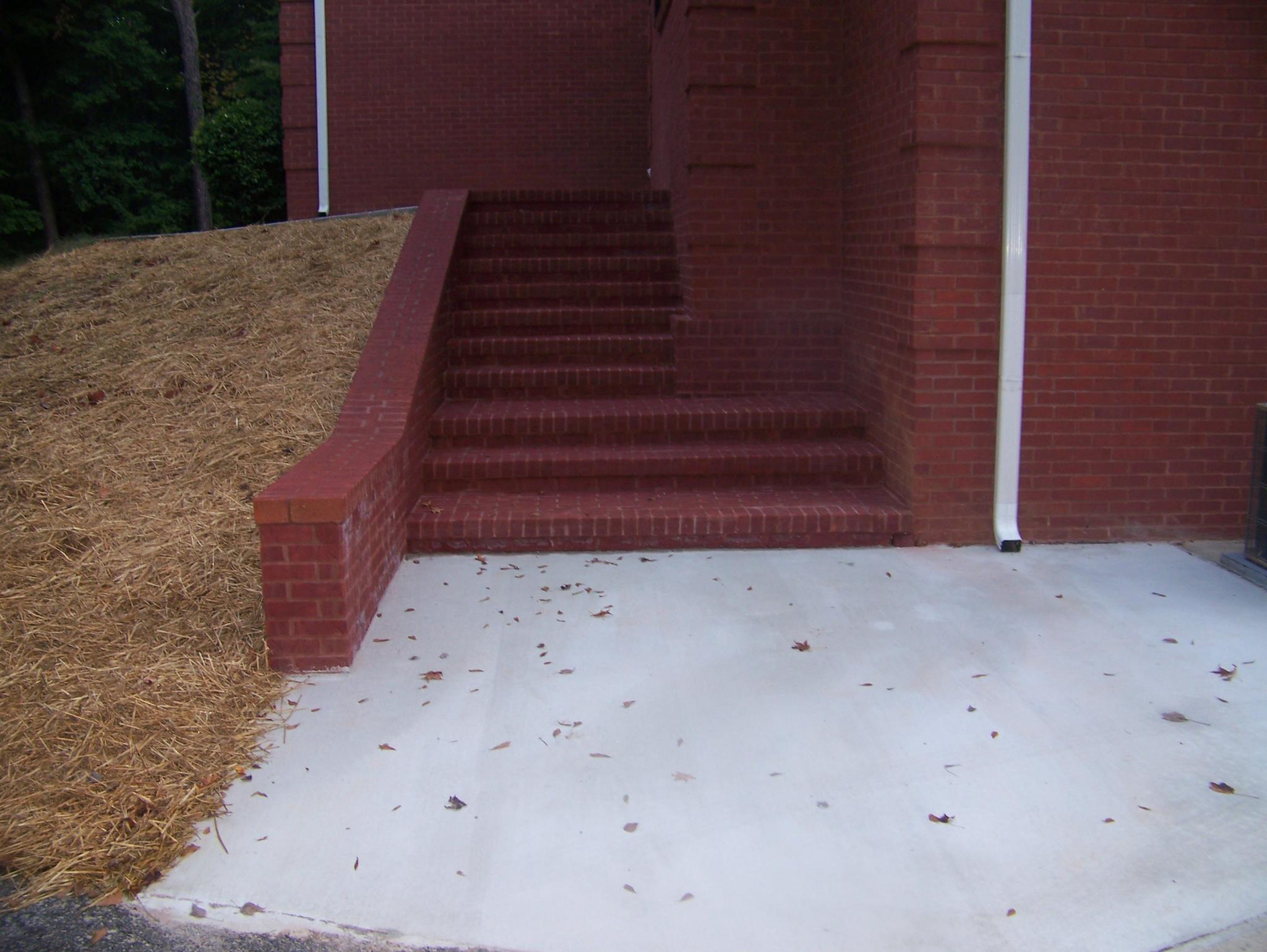 The two styles of brick accented by a brick band made this brick project unique.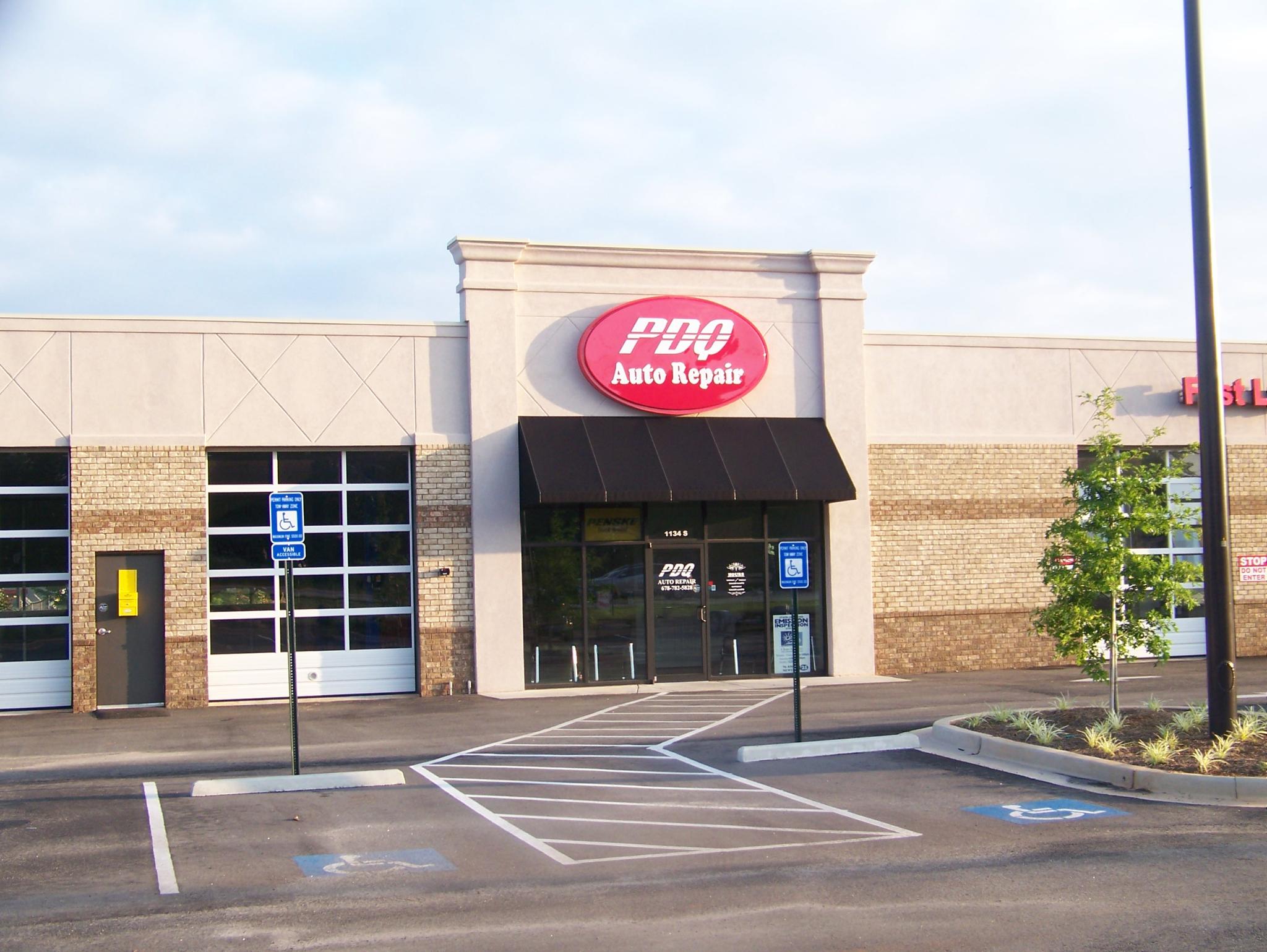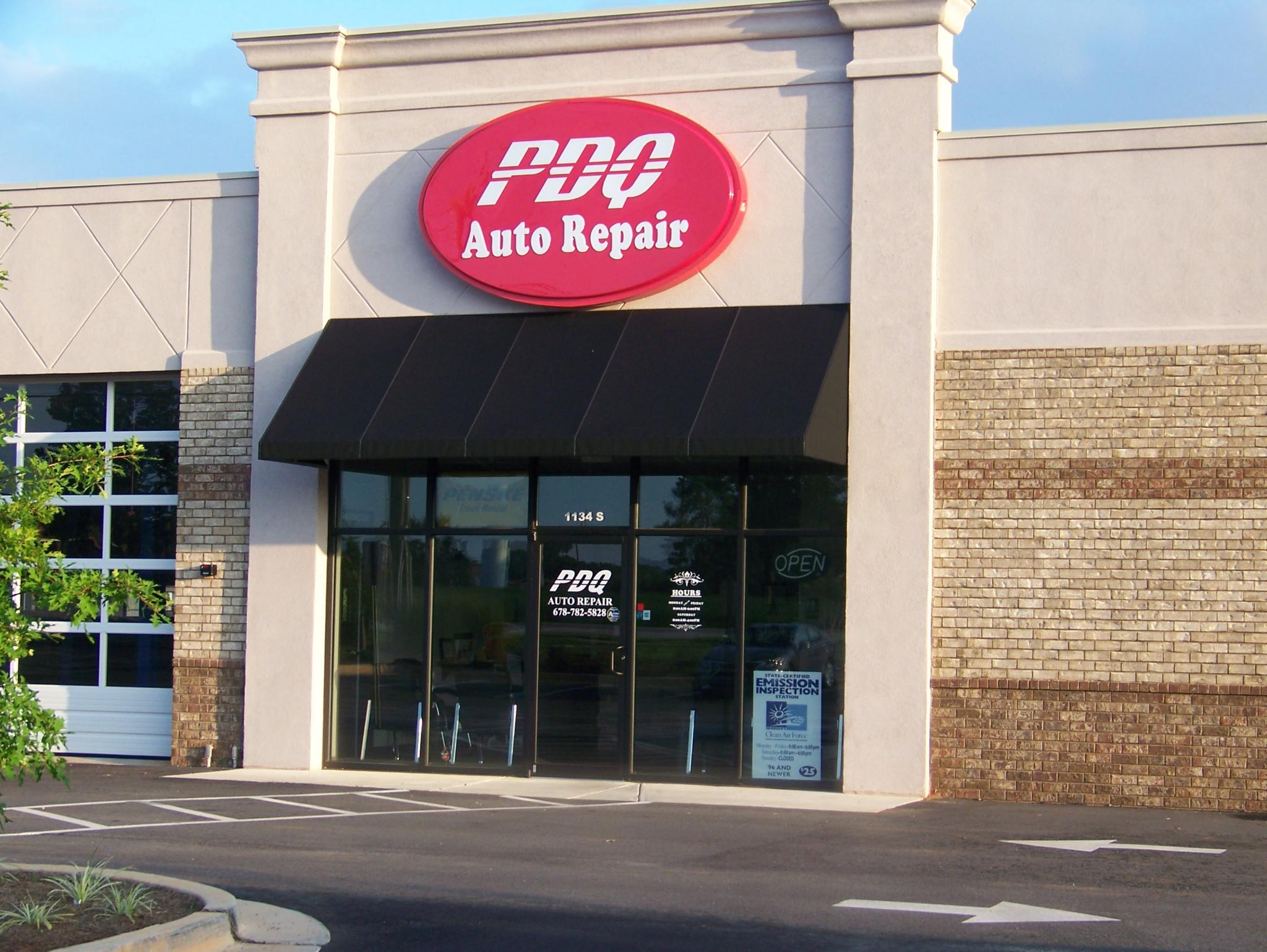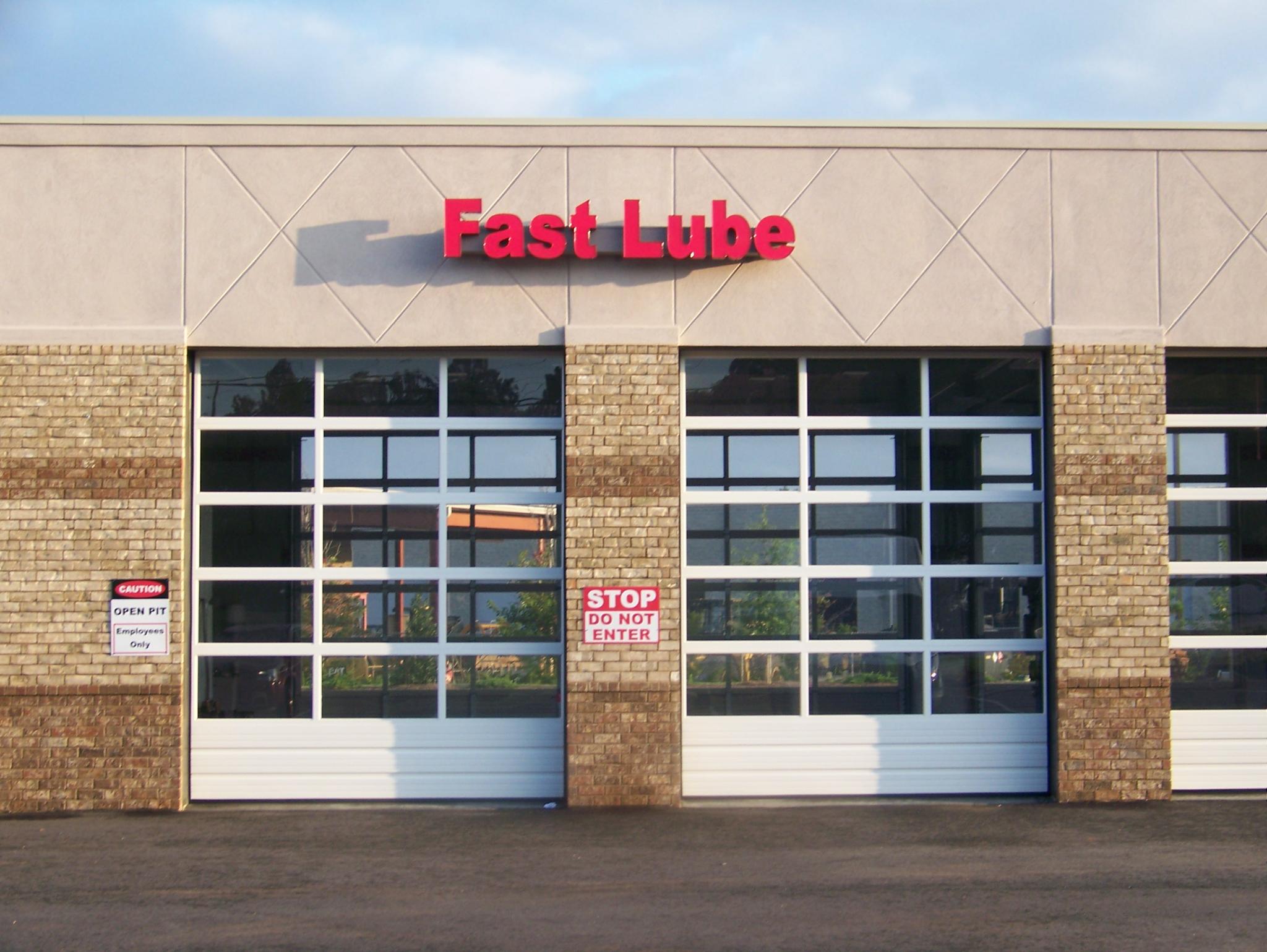 We came back and brick the columns on this church.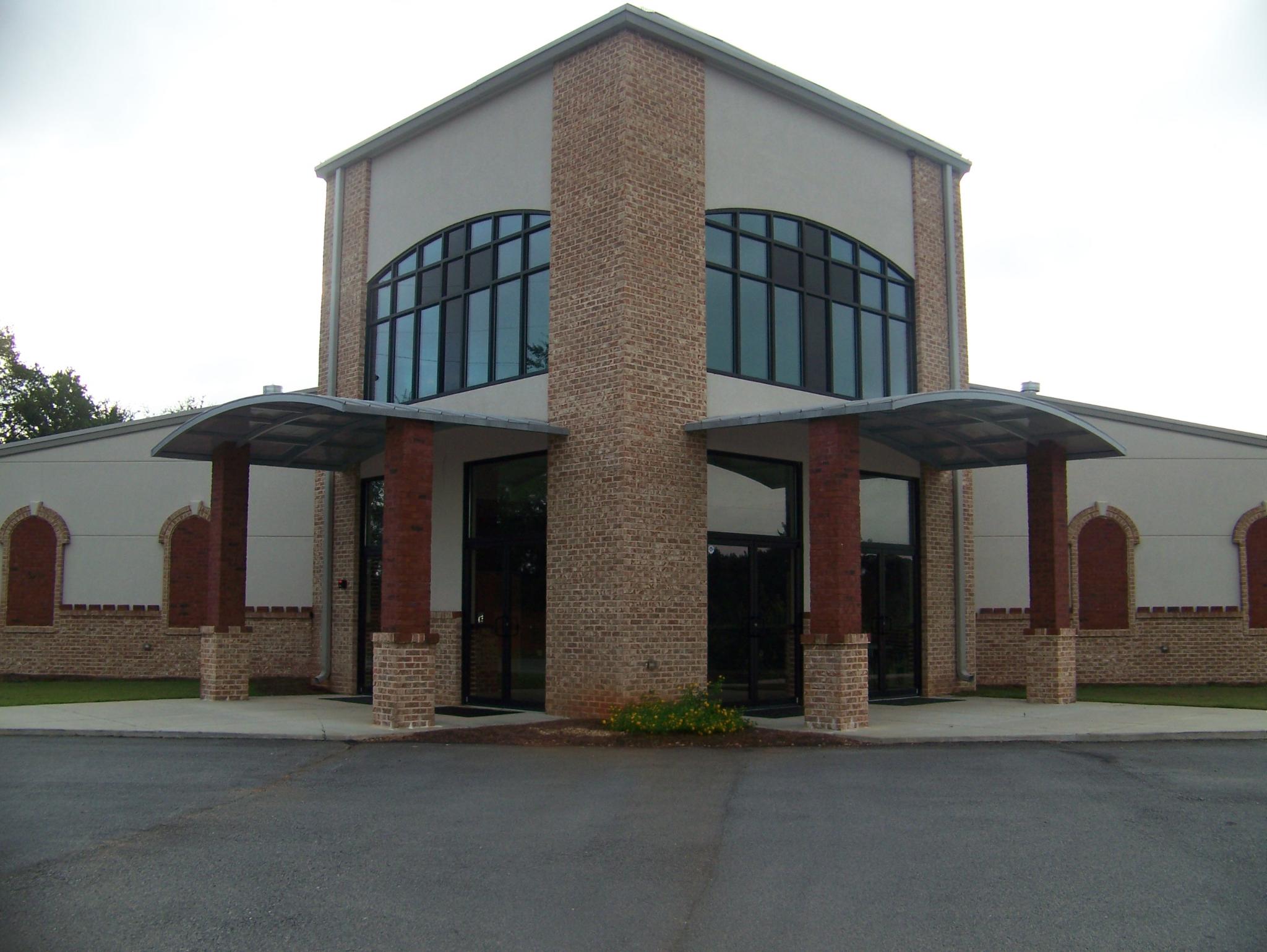 In addition to brick projects, I have the previledge of doing things like installing the elevator shaft and the storm drains blow.
Installing an elevator shaft inside an existing building. Required a good amount of invative thinkging and precision in stallation.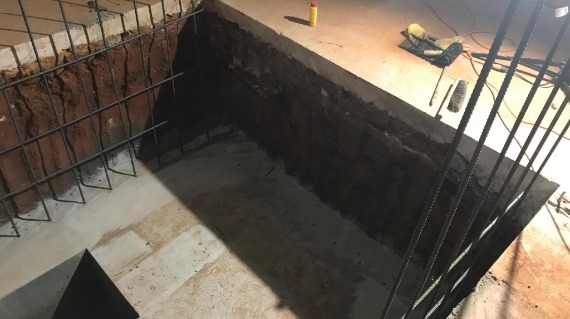 Concrete Flune
Amd Storm Drain
This is an example of a recent project I completed with the City of McDonough. The concrete flune was designed to moved the water away from the street.
Original Design of Entry
What's interesting about this entryway is we had the opportunity to redesign the gate after the county demoed the gate to pave the road. Take a look at the first design and the second design.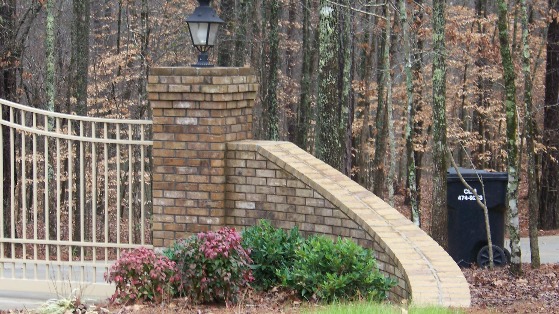 Same Entryway Re-Designed Due to Road Construction
The homeowners and I decided the best design would follow the contour of the land as well as mimic the design of the gate.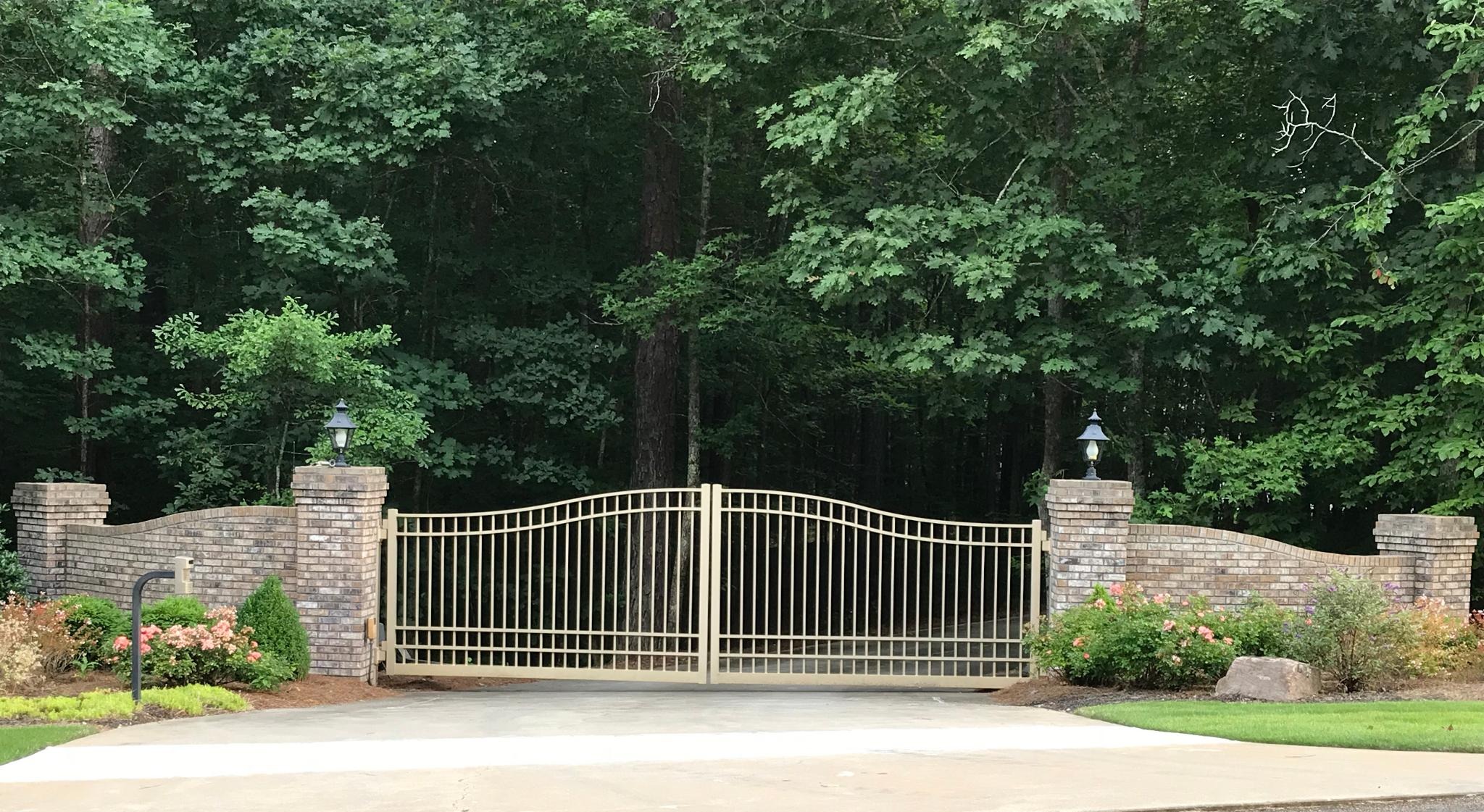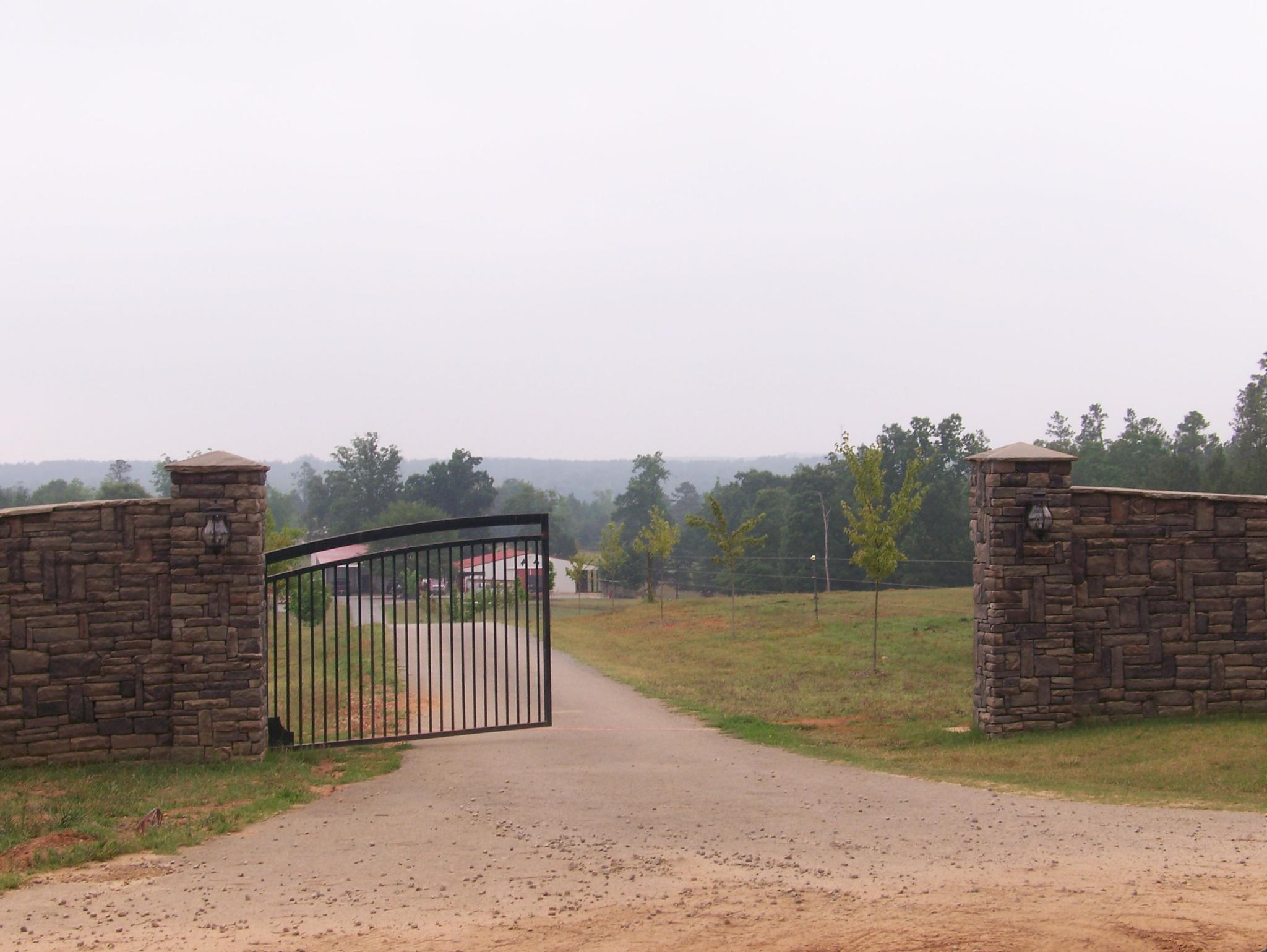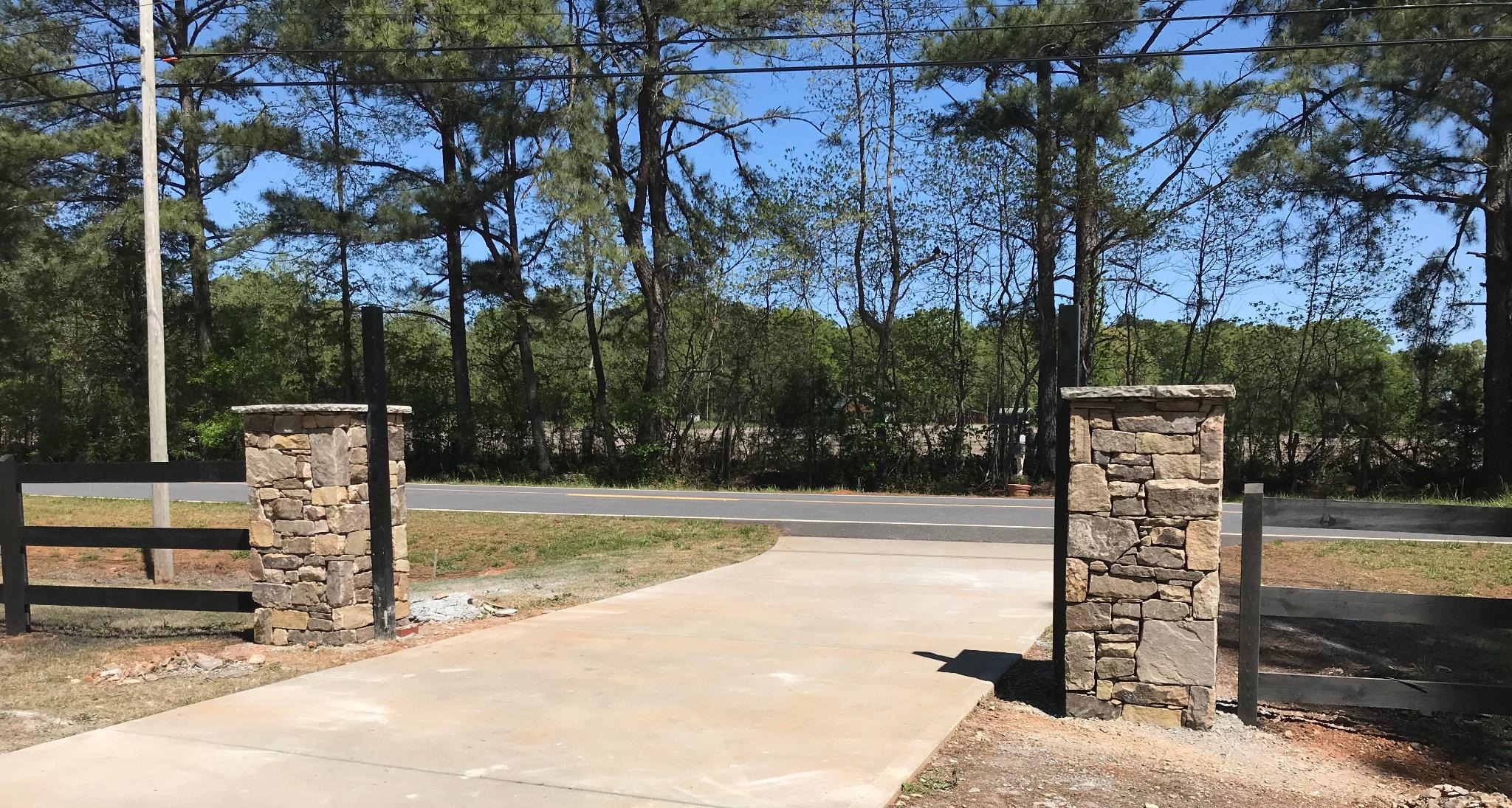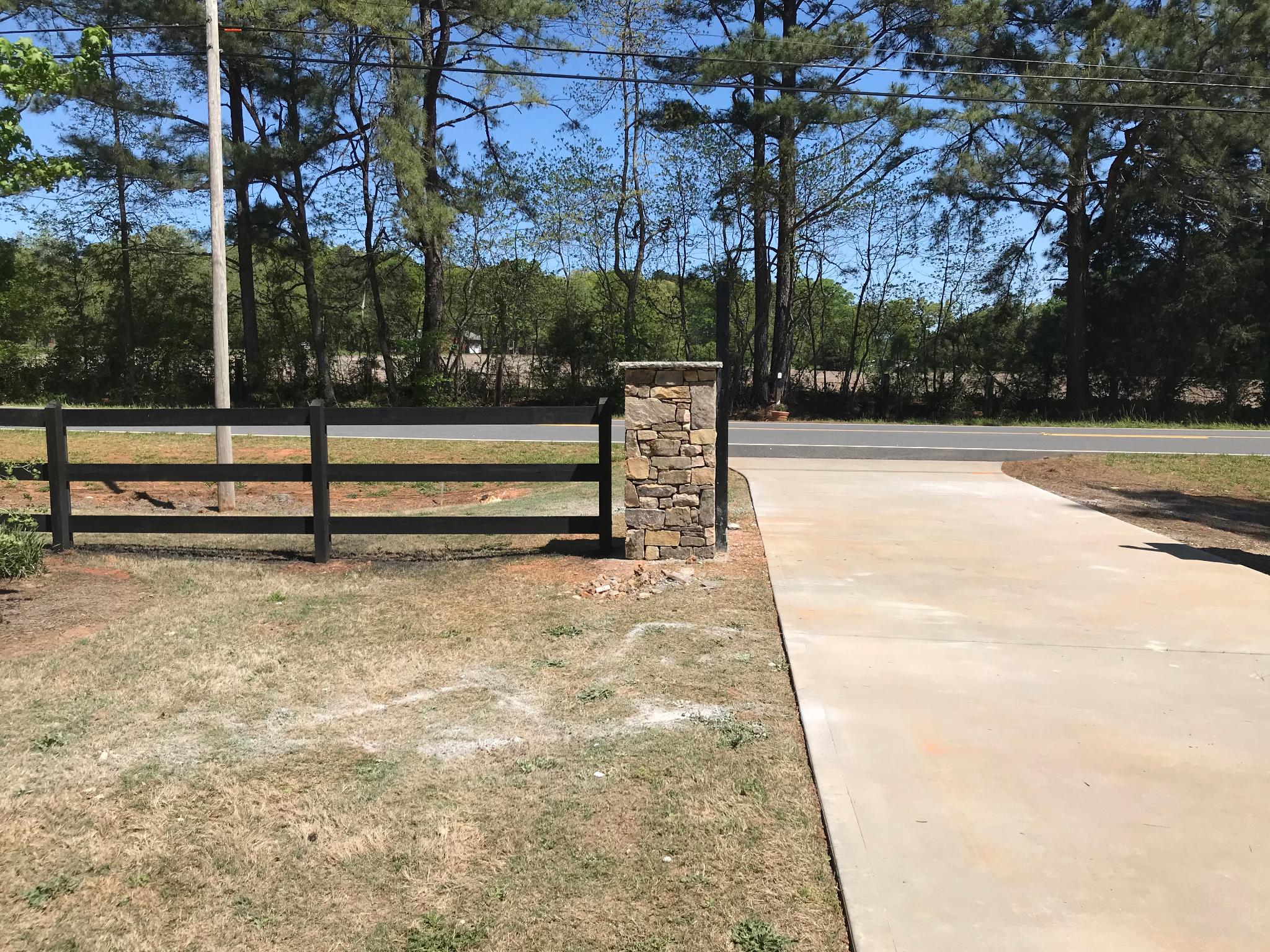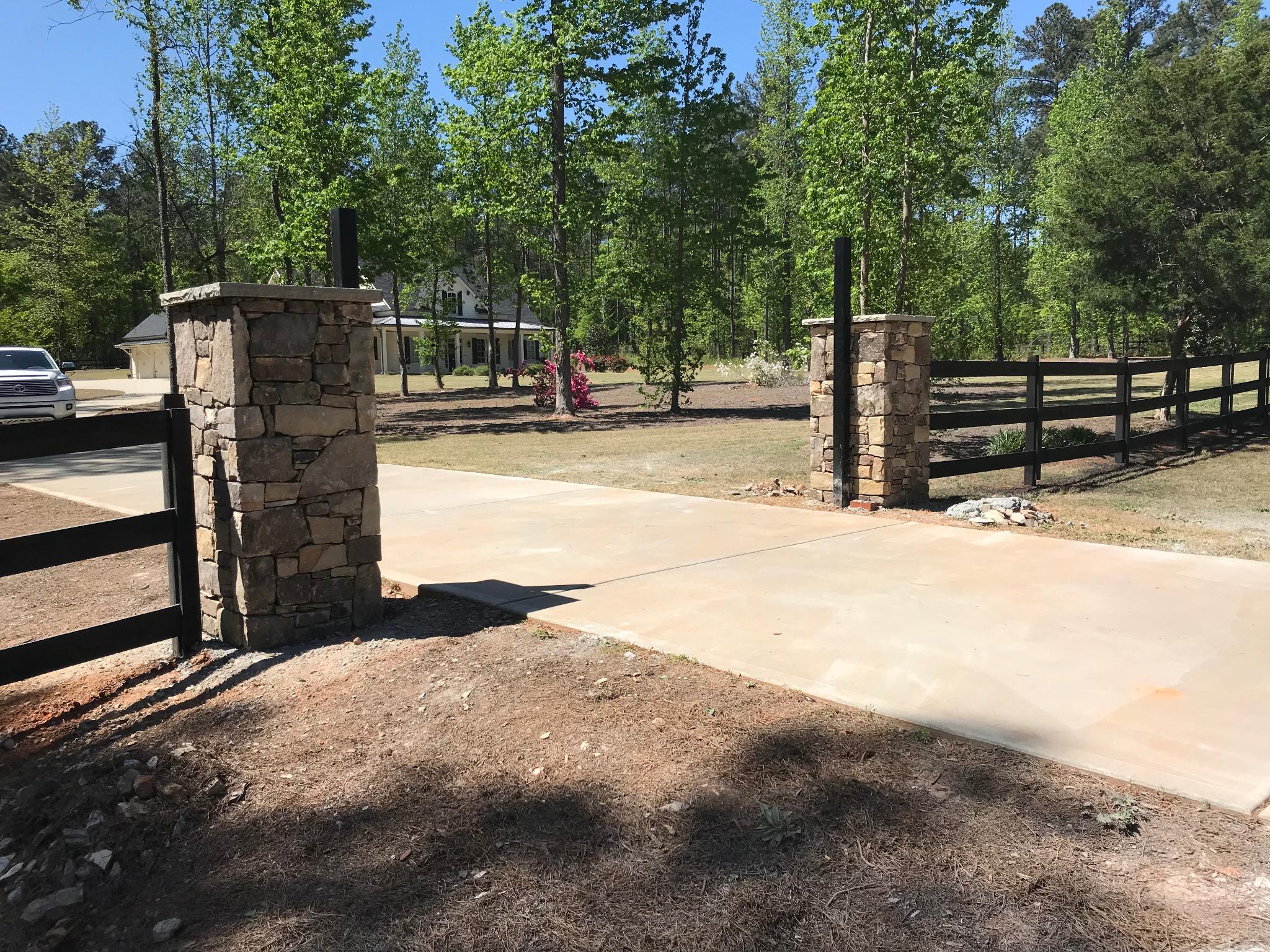 The fencing and gate on the columns above and below were done by McIntosh Fencing located in Griffin, GA.
Thecolumns below are out of natural or real drystack stone.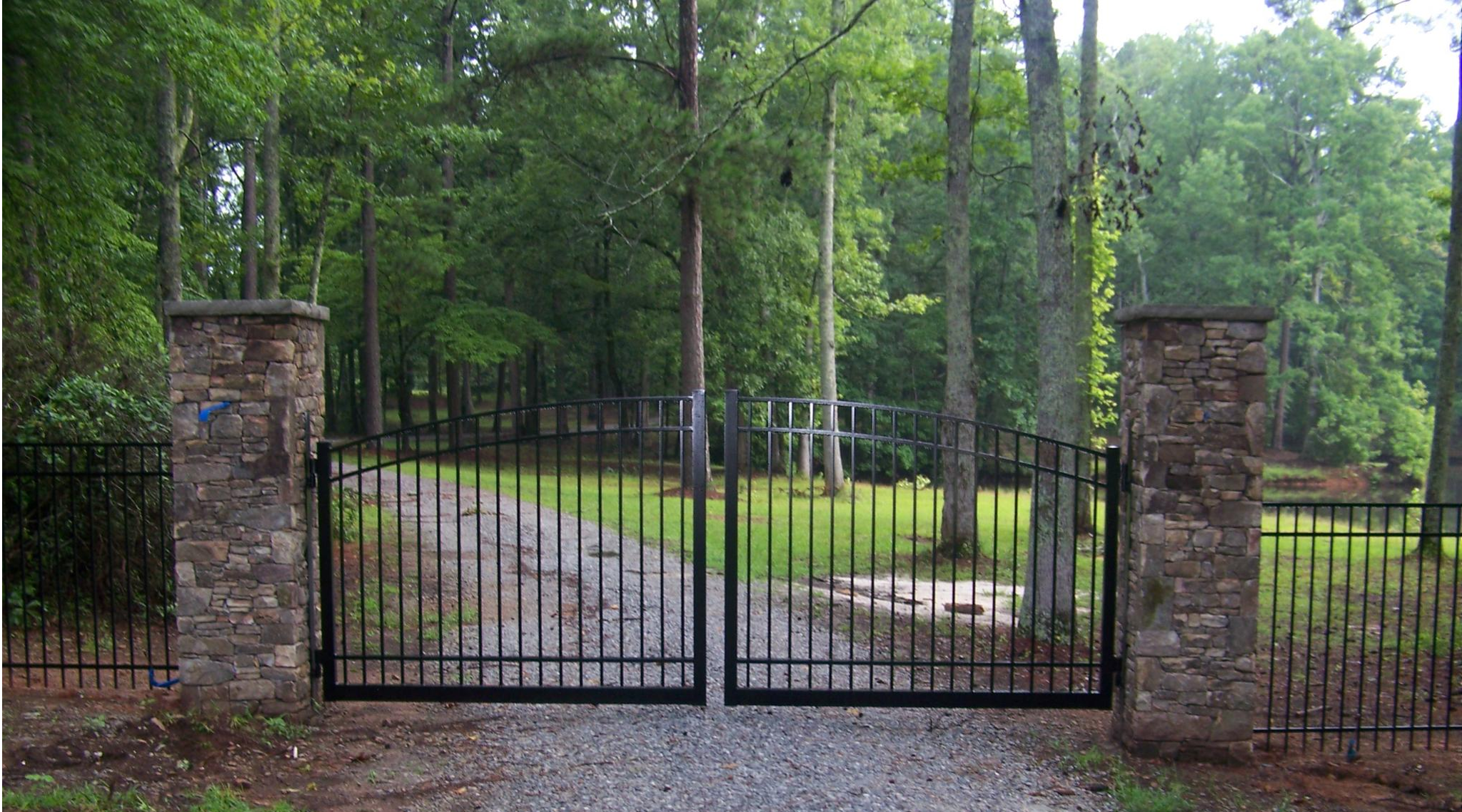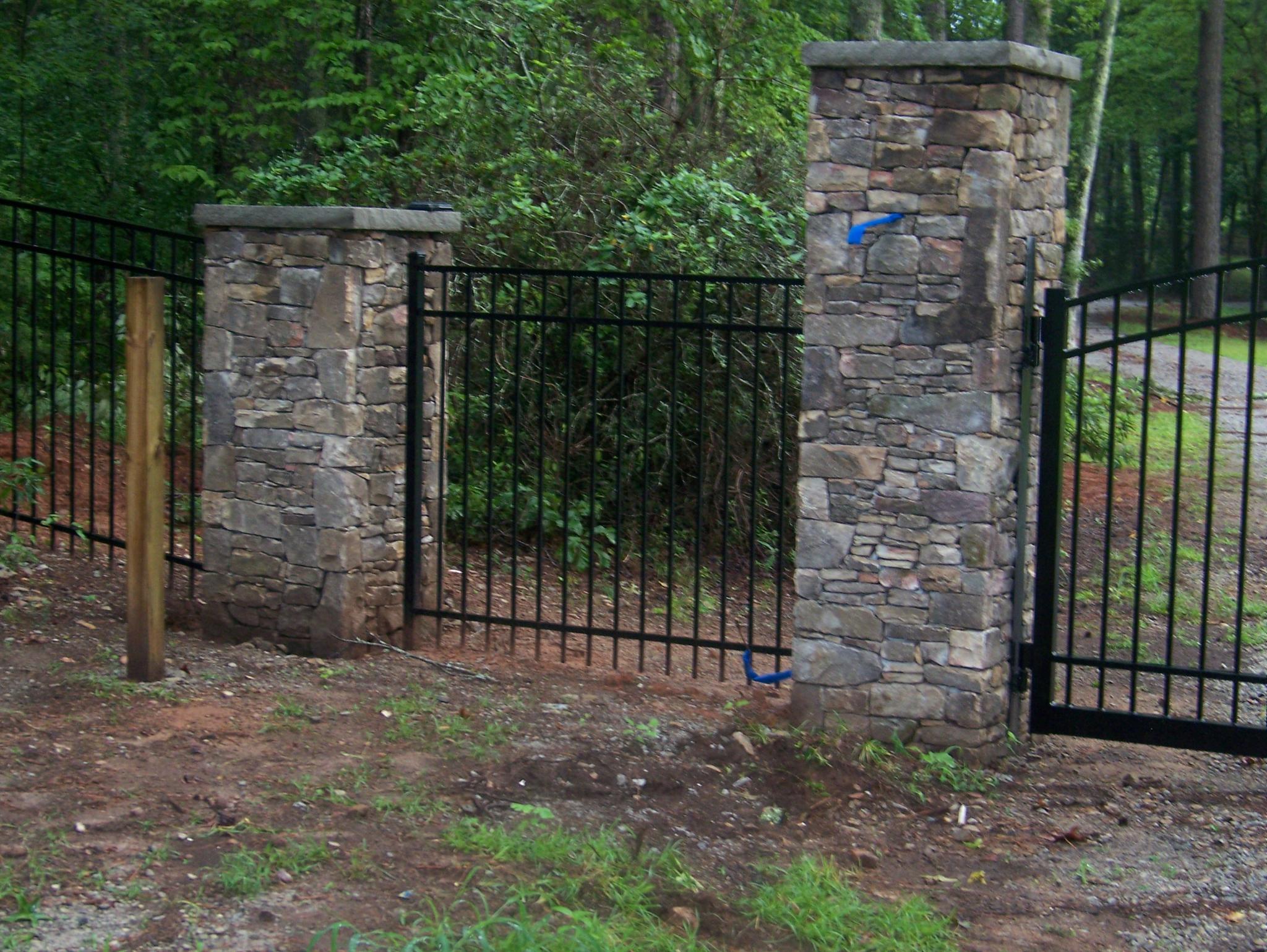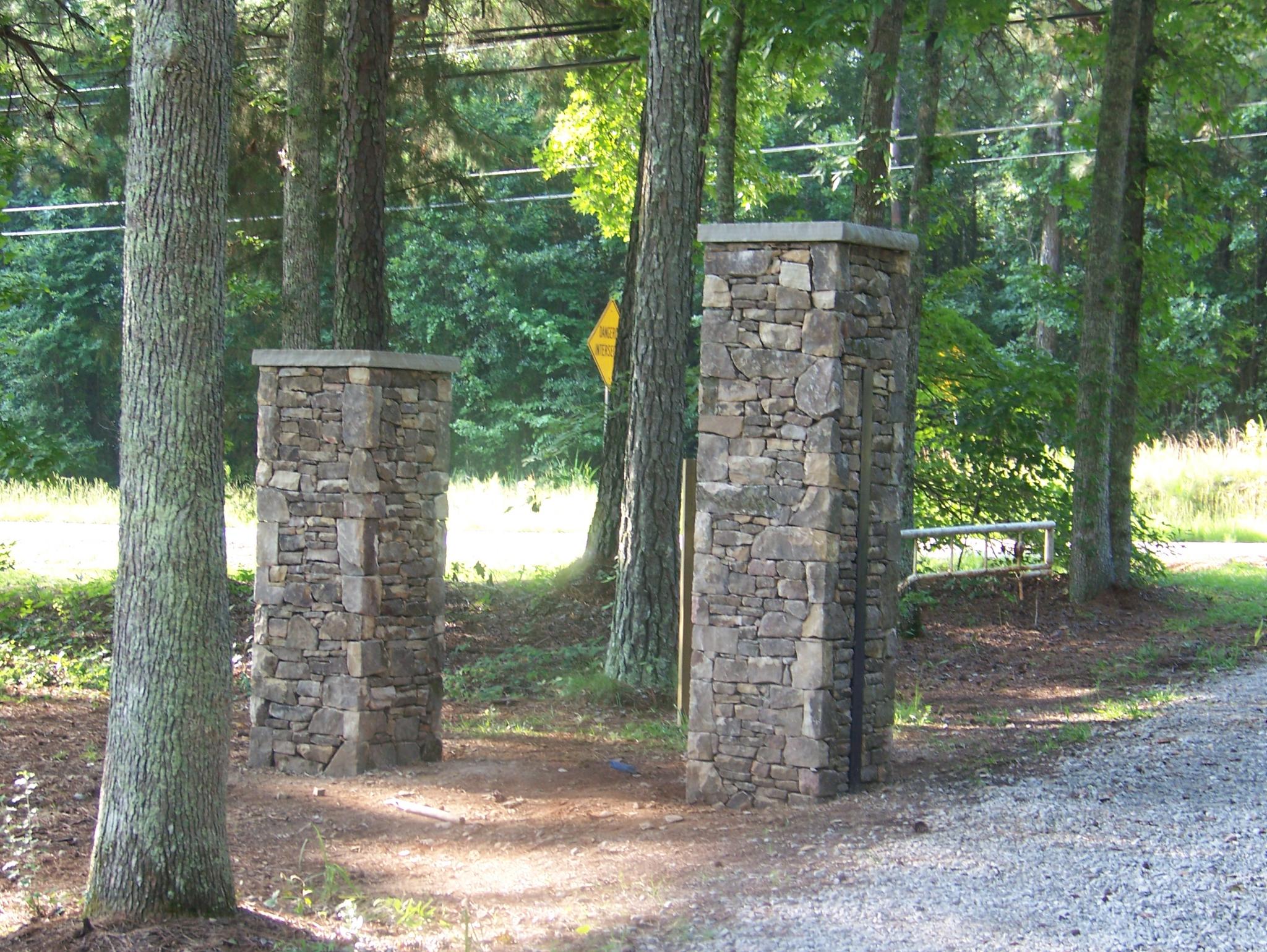 The caps on the columns are also natural stones.
Brick Columns with Custom Caps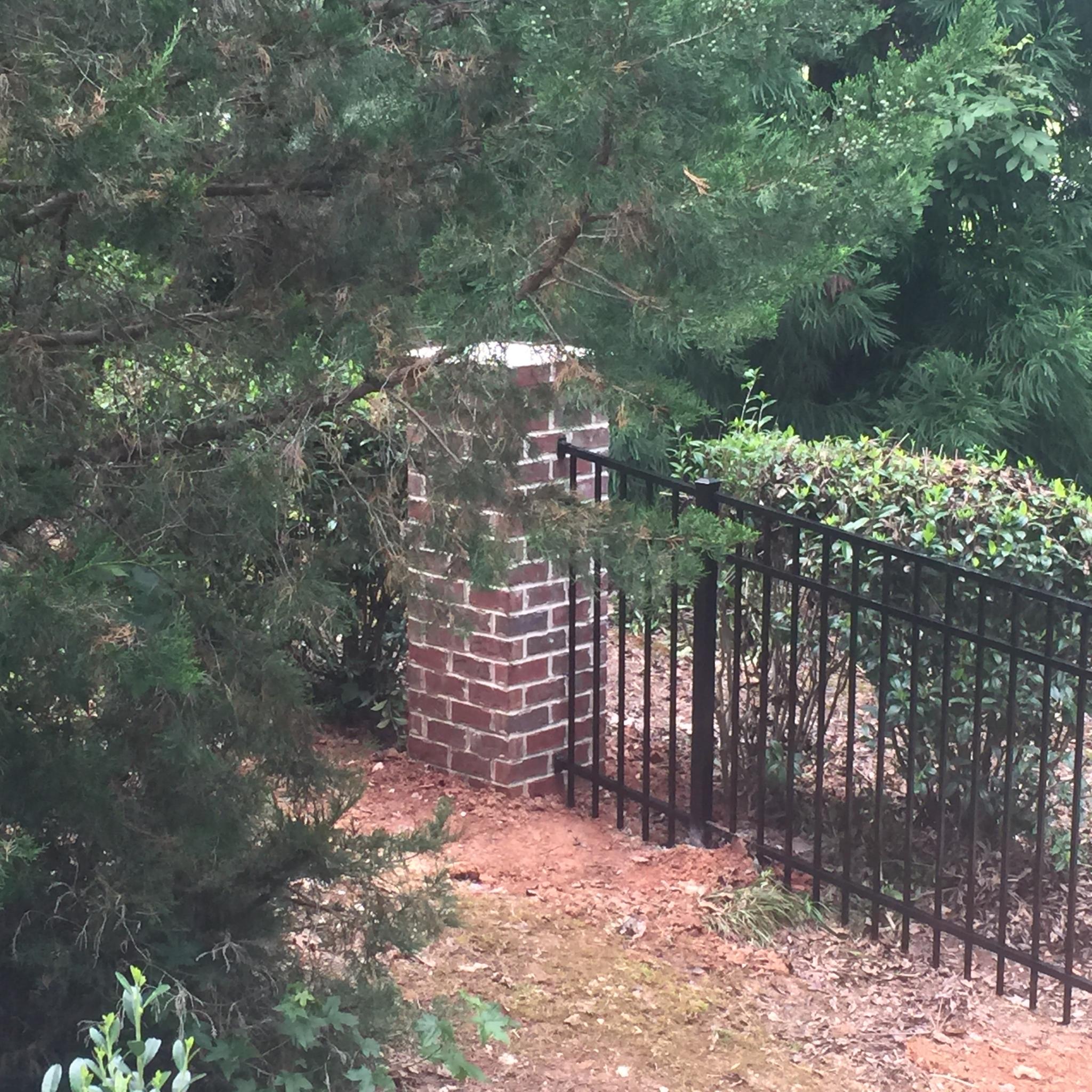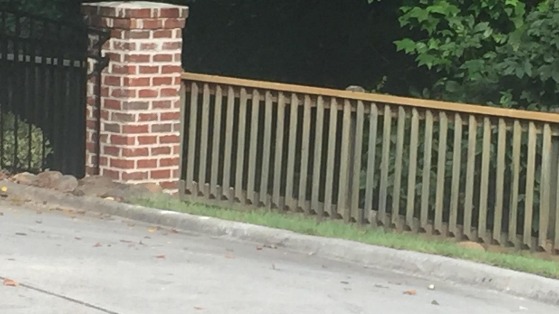 ---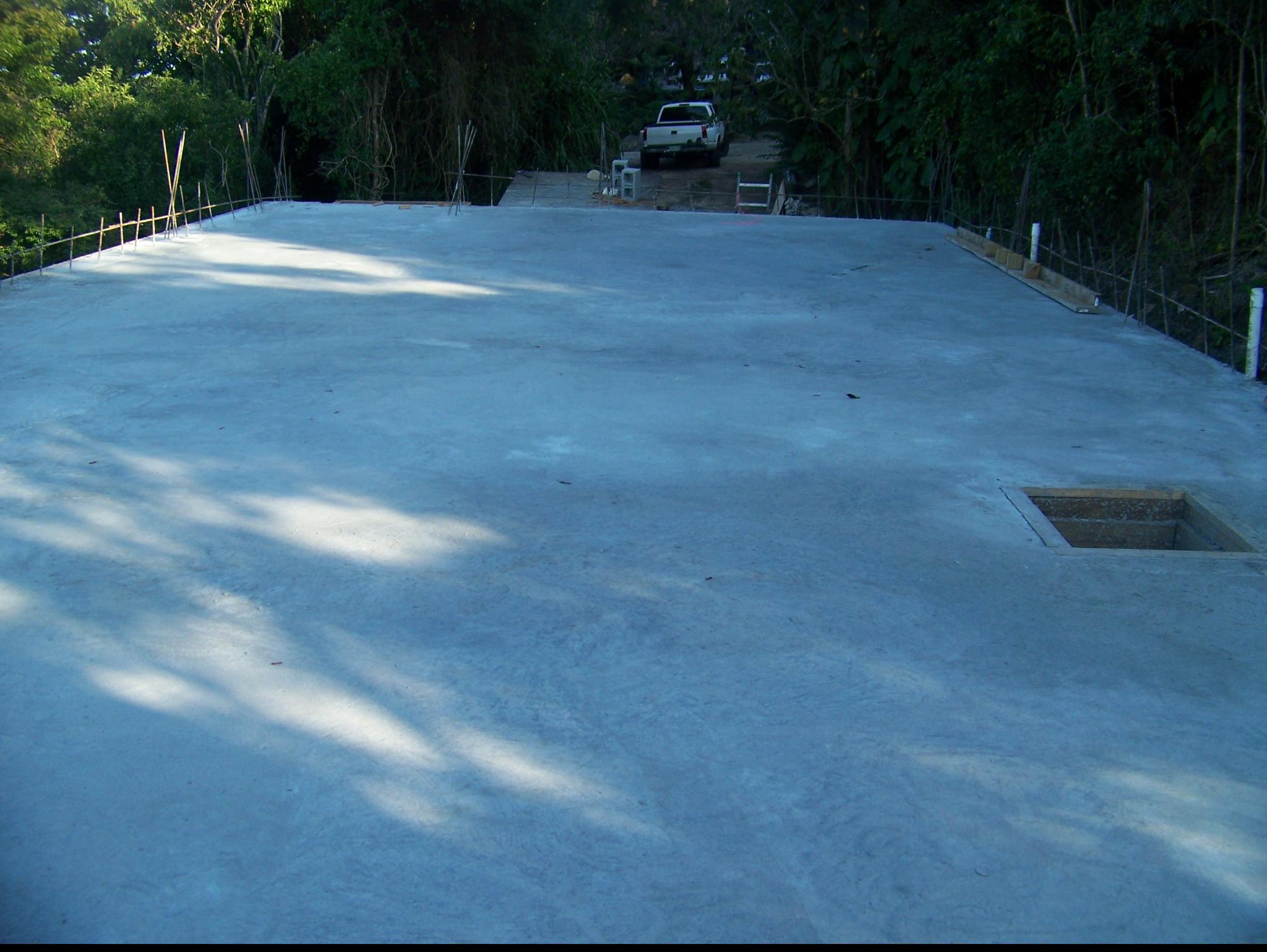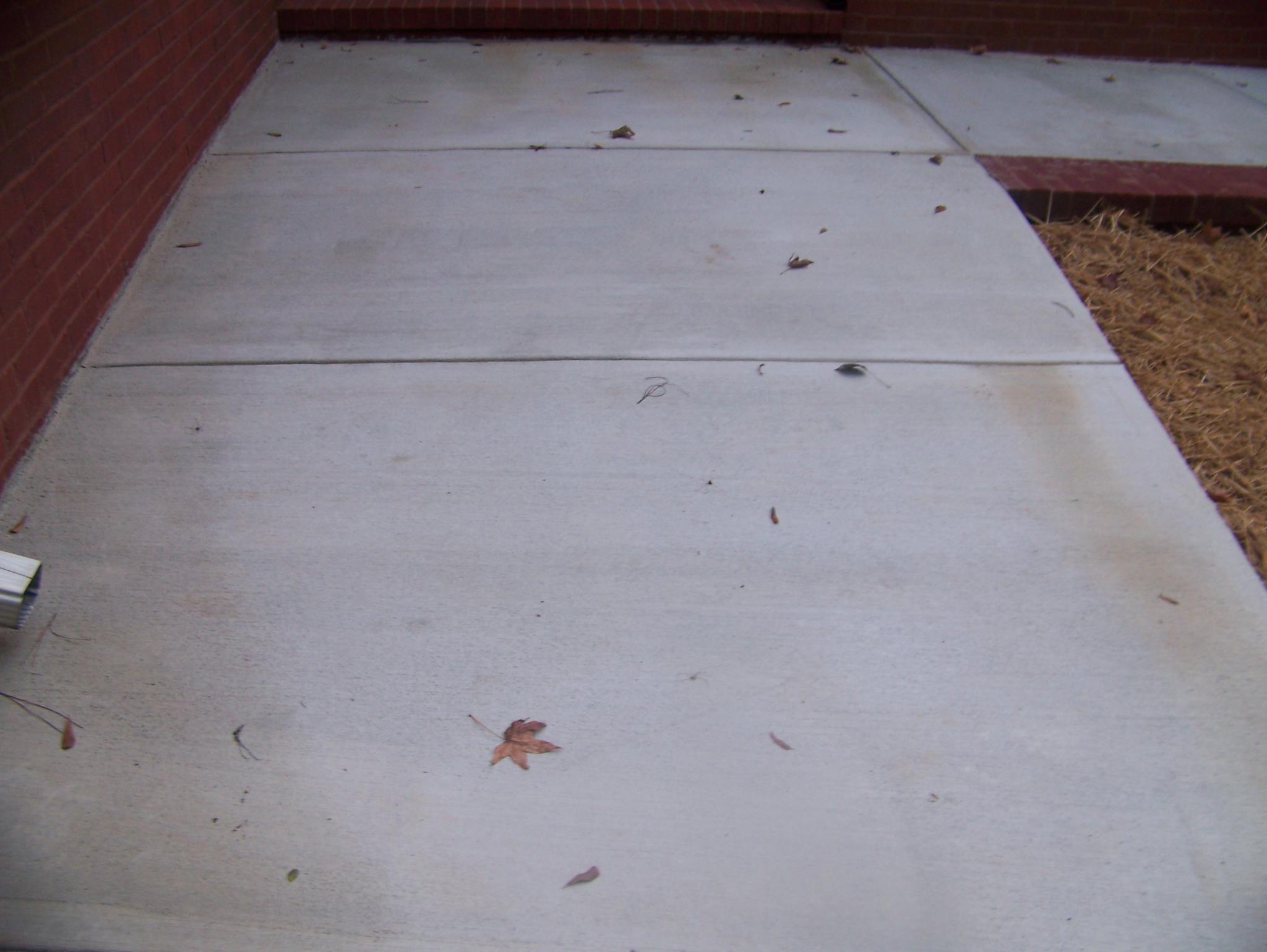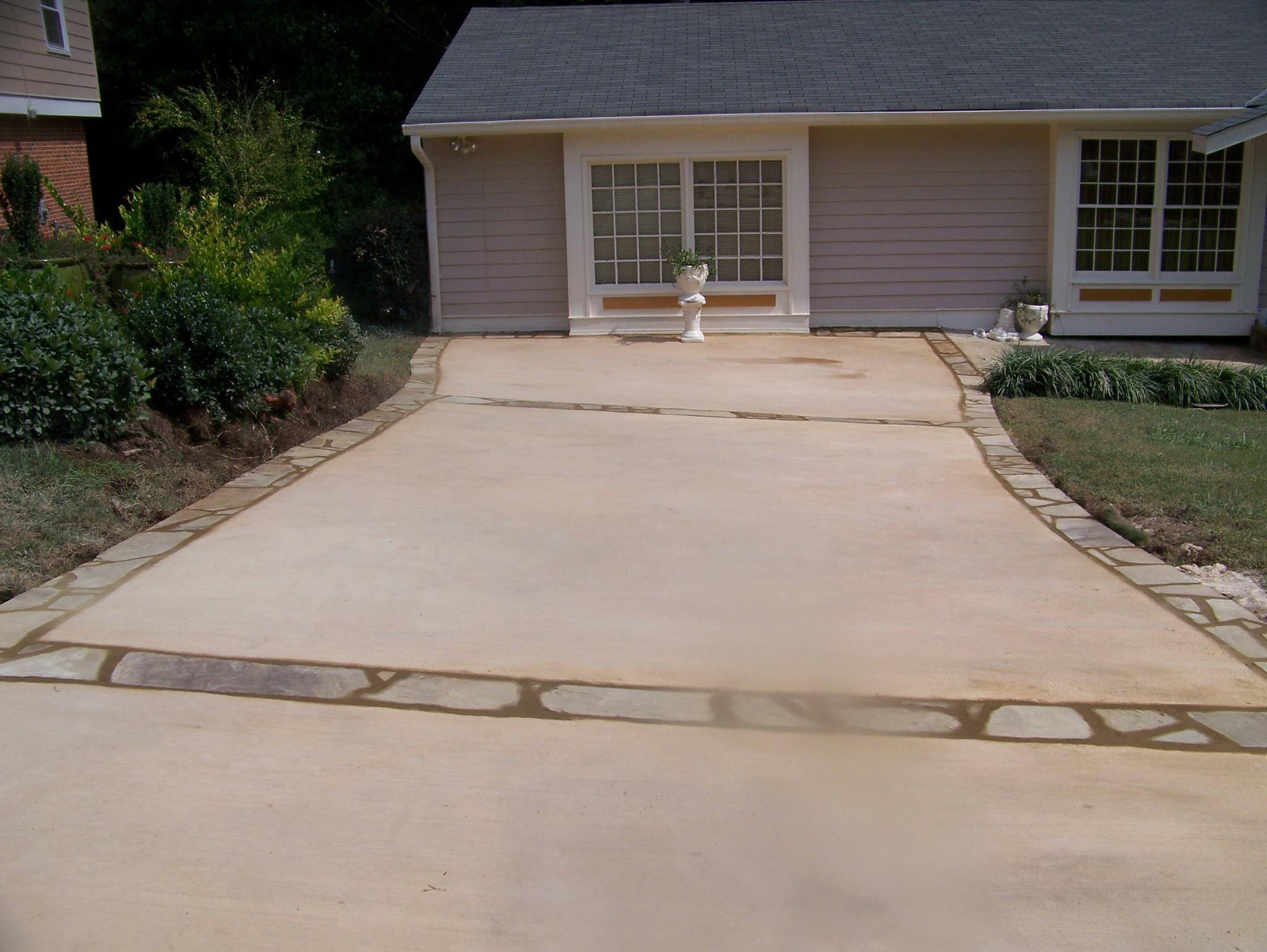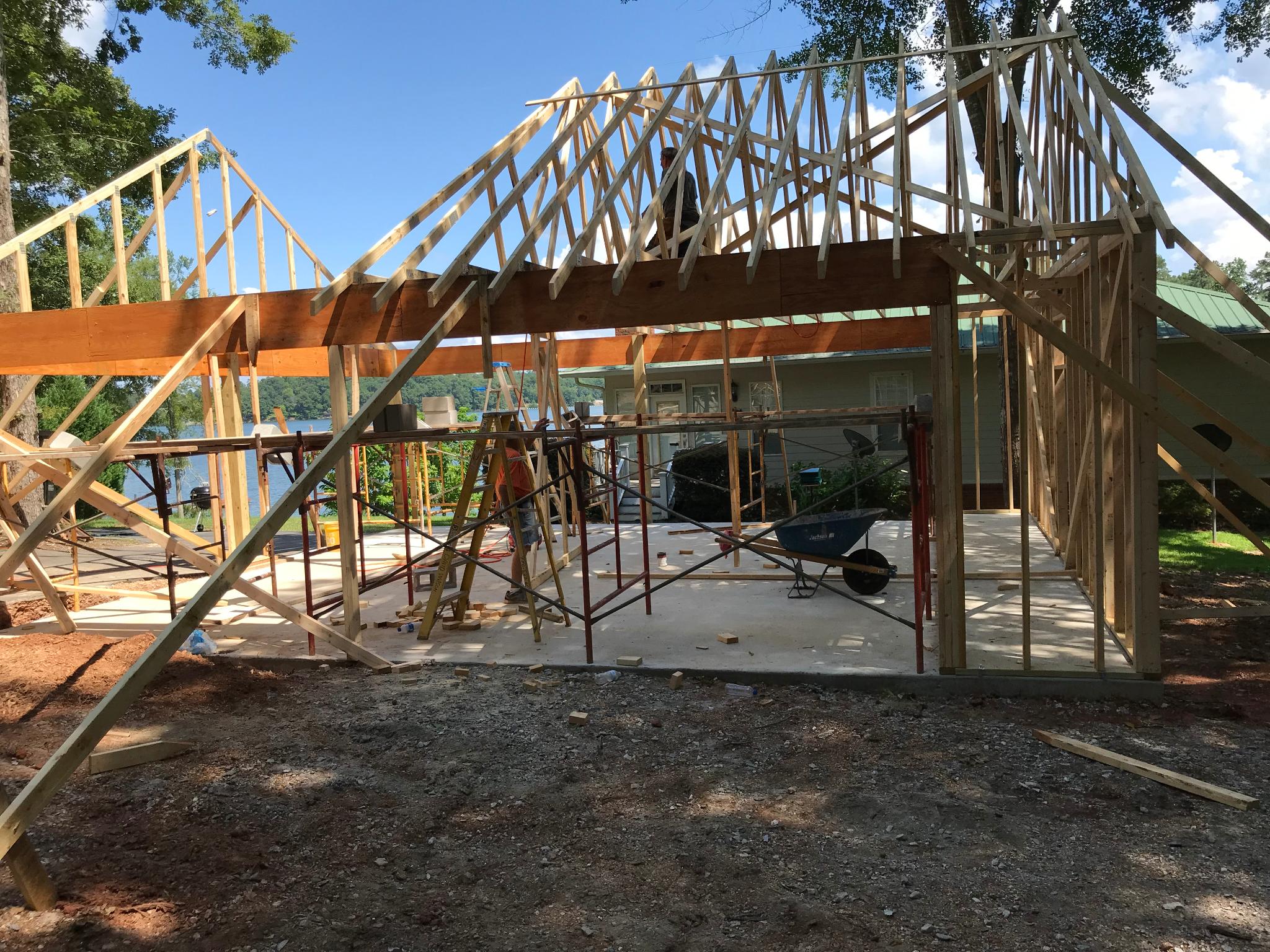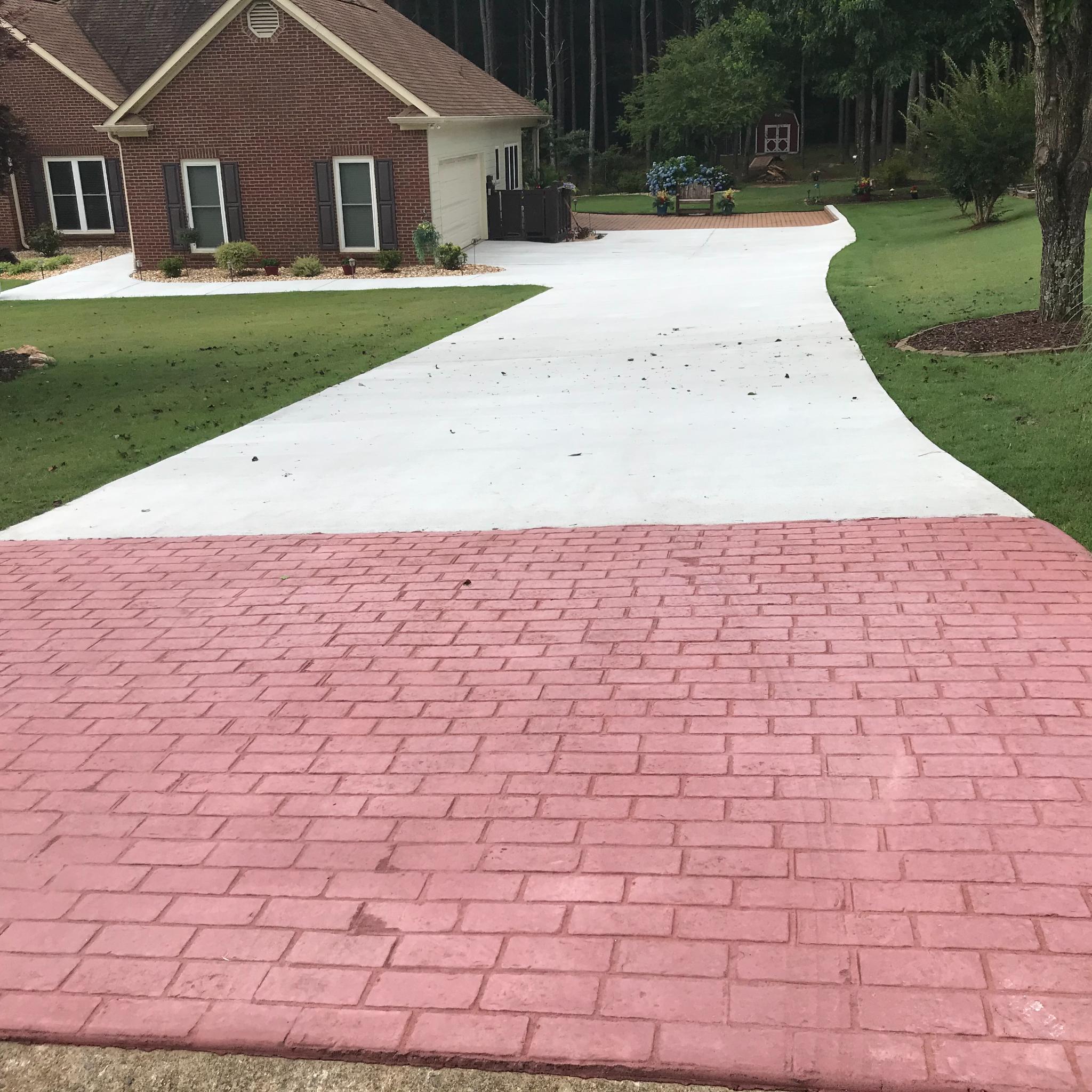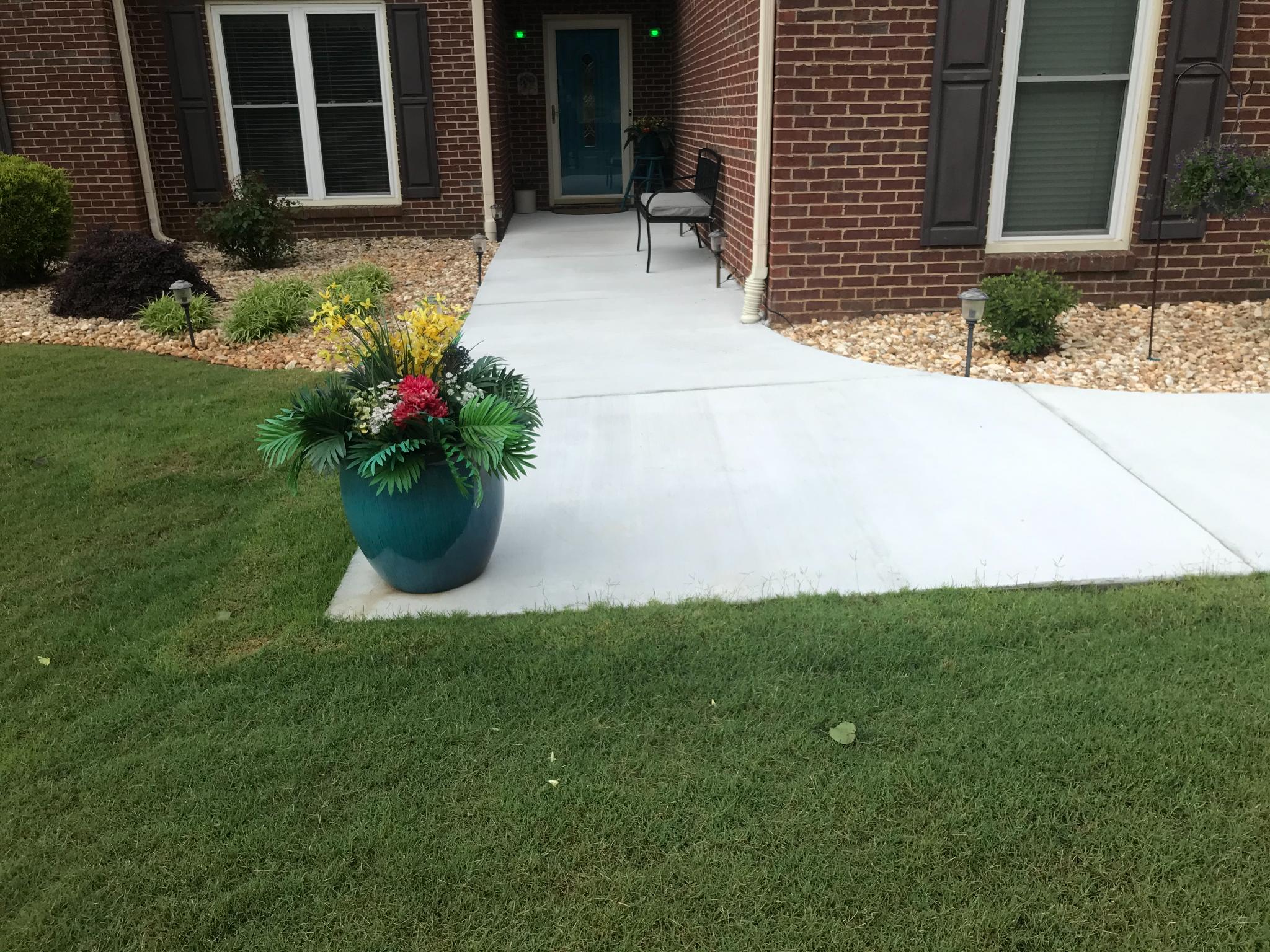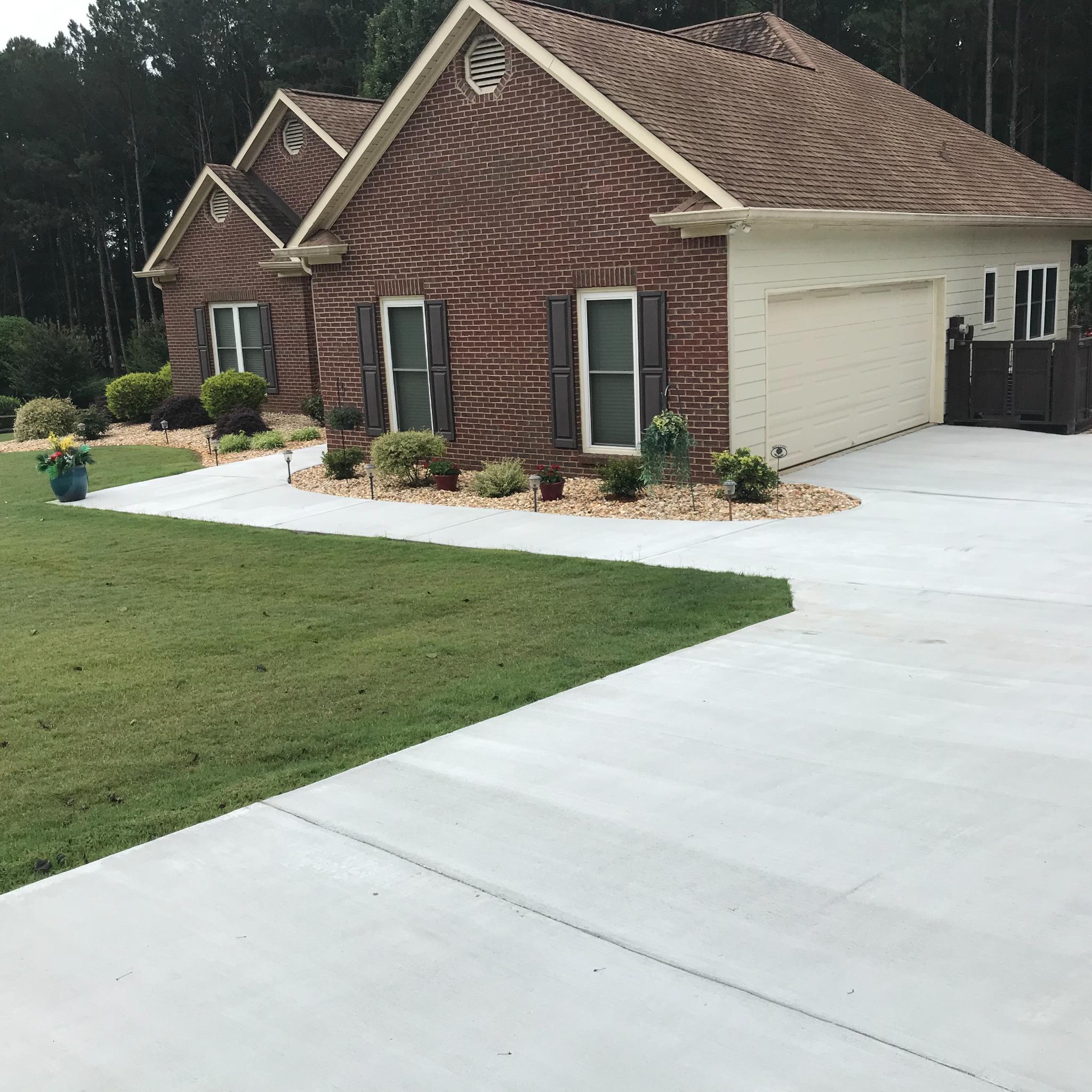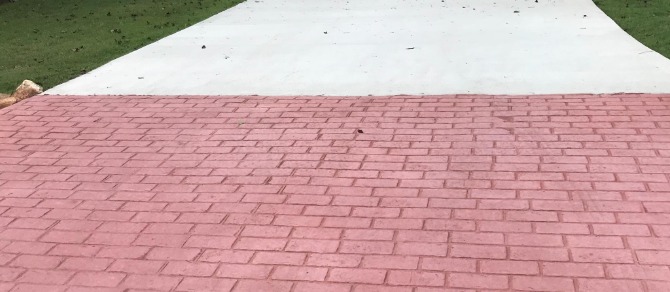 Stamped Concrete
One way to get a decorative look is with stamped concrete. This is a recent project I did for a homeowner at the end of a new driveway pour.
There are a mirrored of patterns to utilize
Sample Stamps below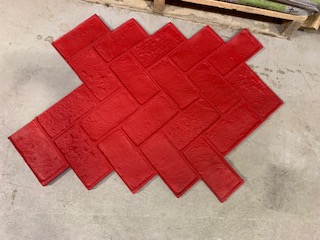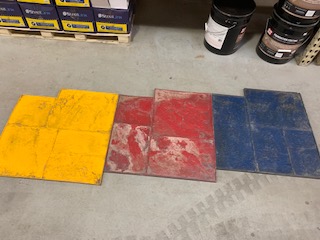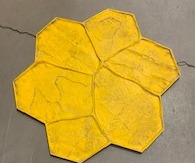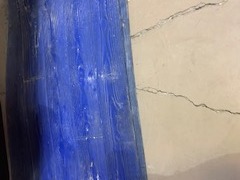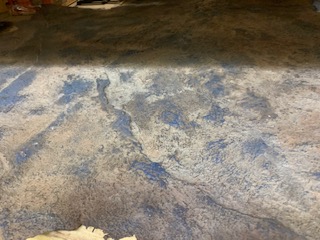 Historial Home Curb Appeal
I created this design to accent this historical home in the City of Decatur.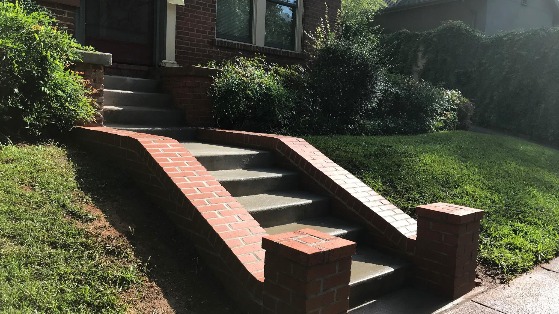 Winged Walls with Small Columns Add a Historical Look to Match the Age of the Home.
Take a Look at the Before Pictures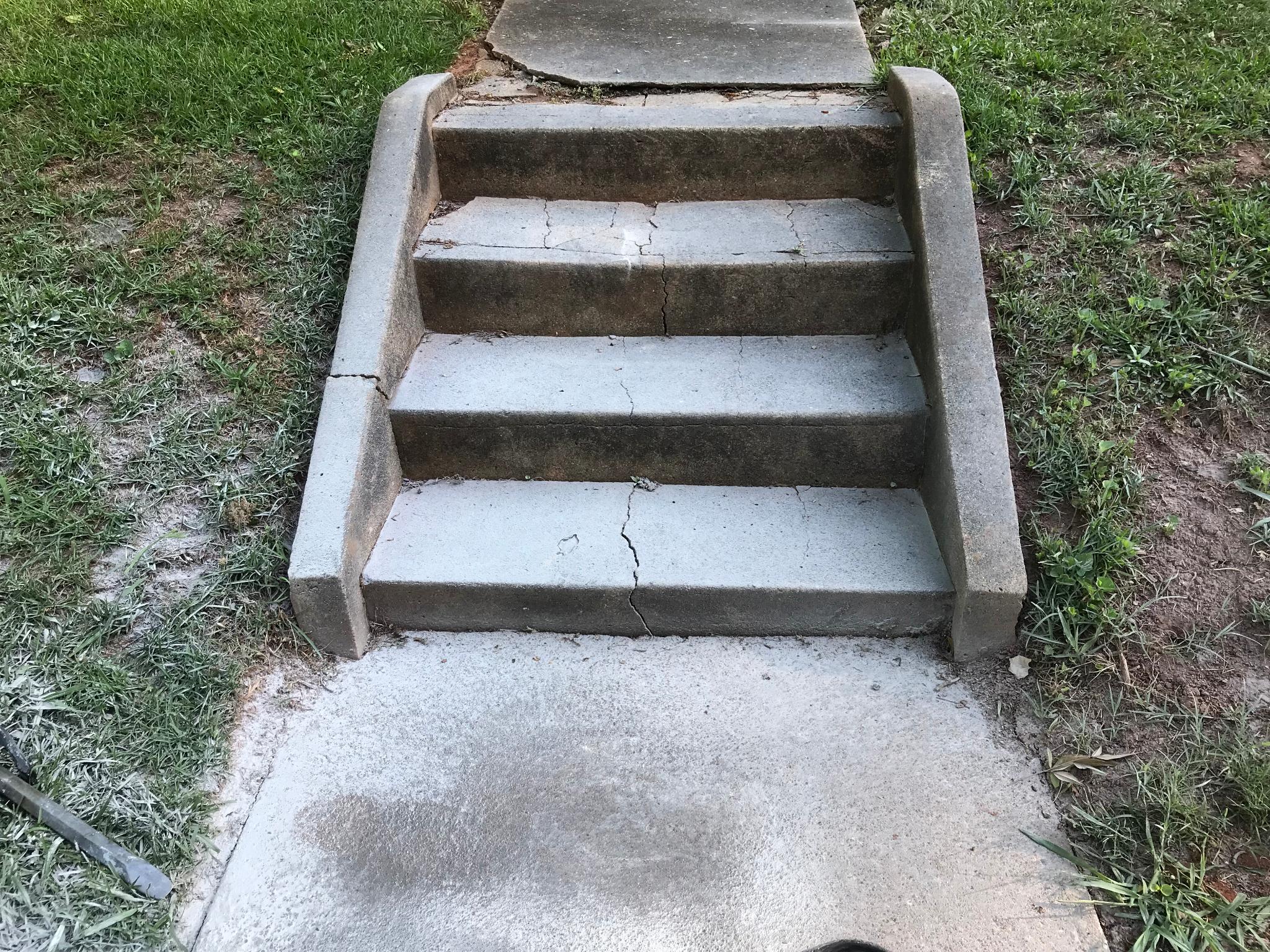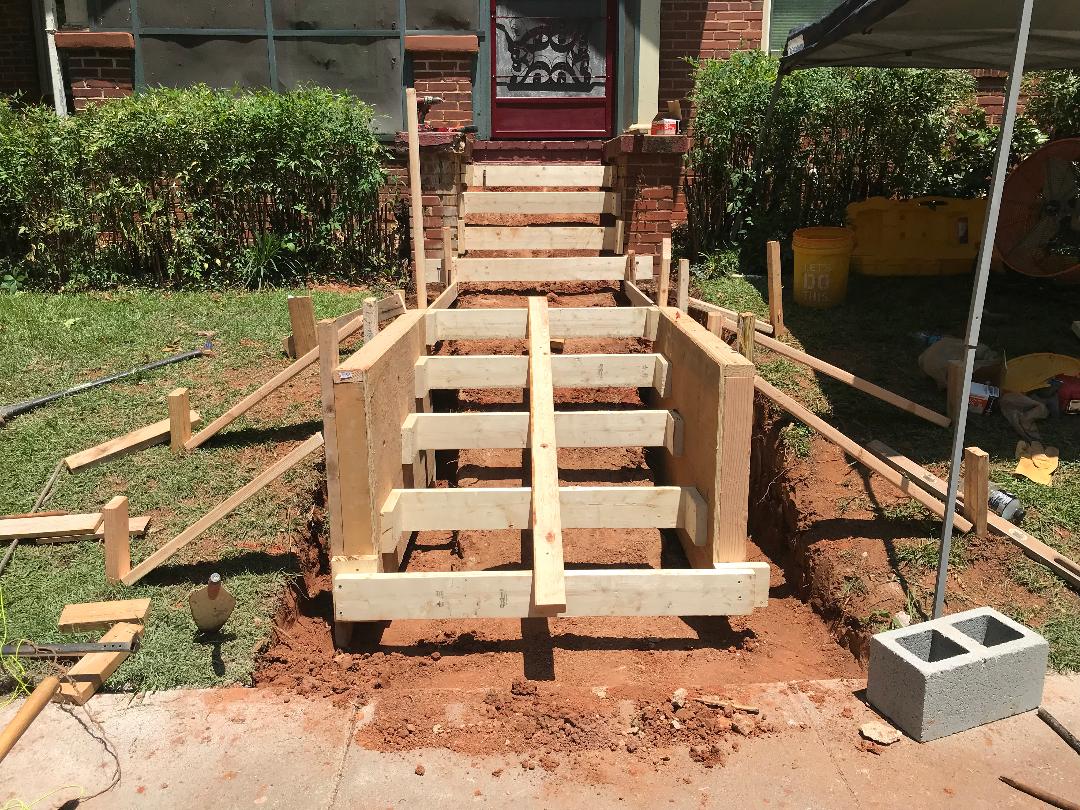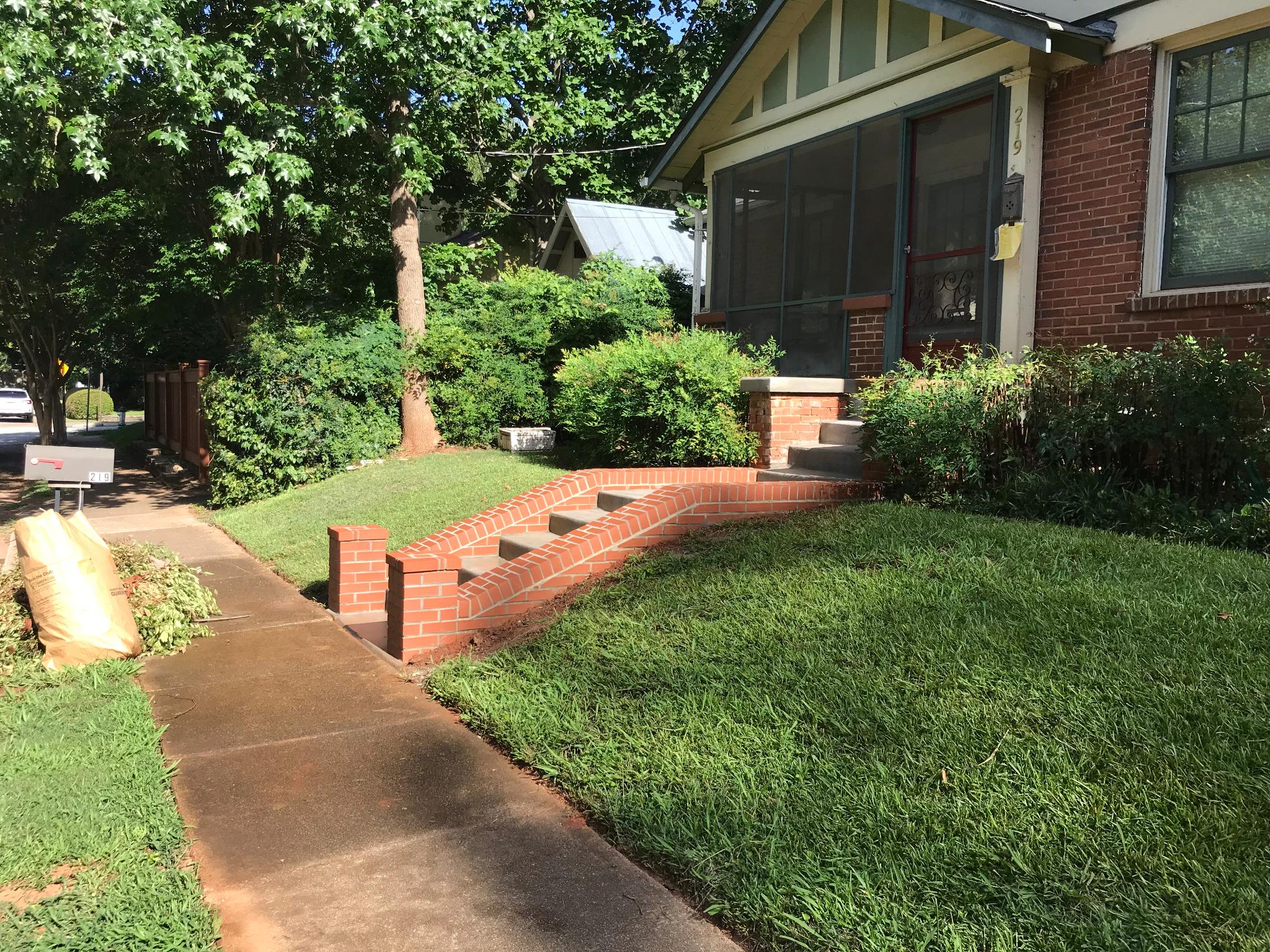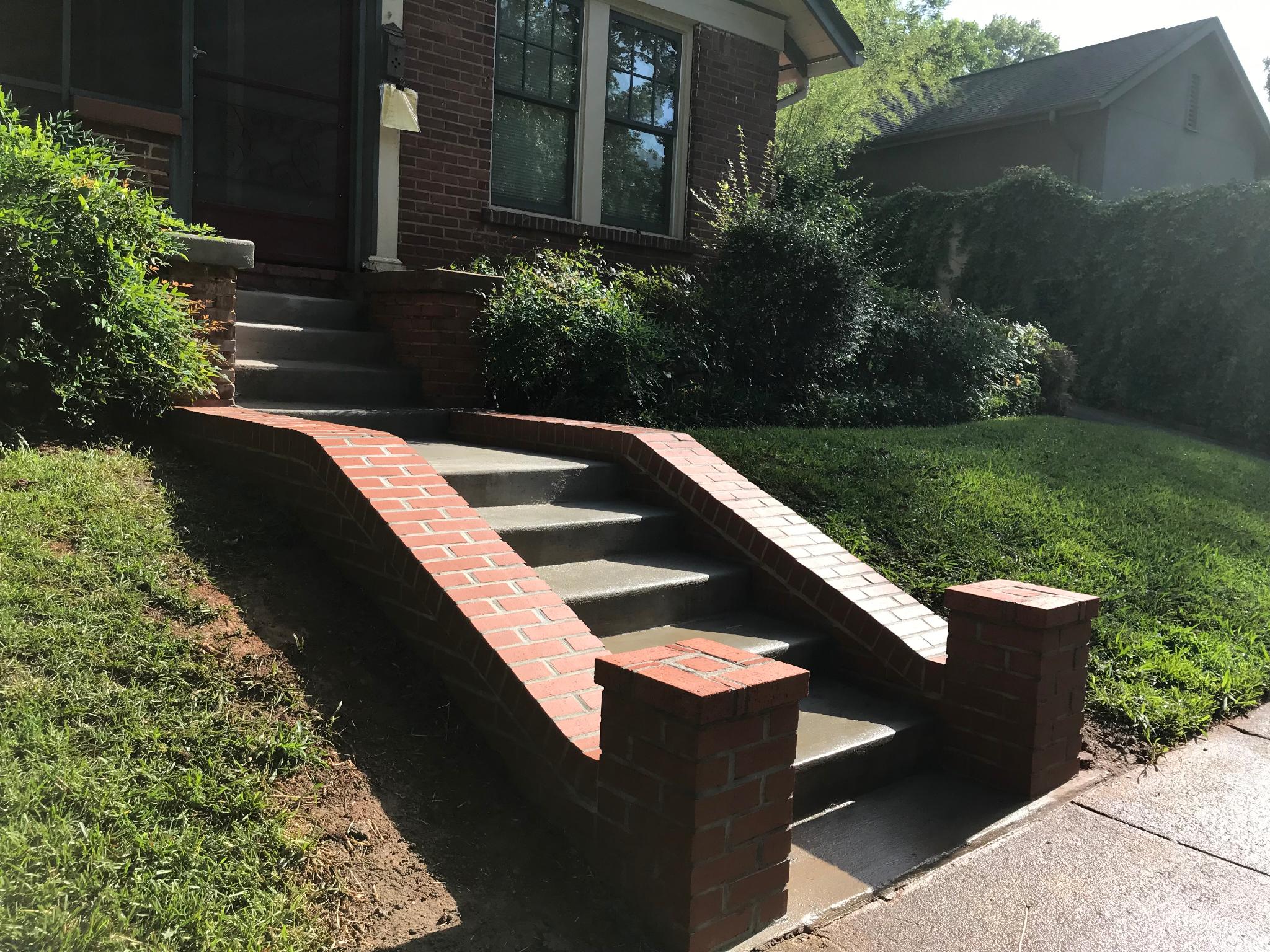 Front Entry Foyers, Steps, Stoops


These winged steps are a combination of manmade and natural flagstones sculptured into shape.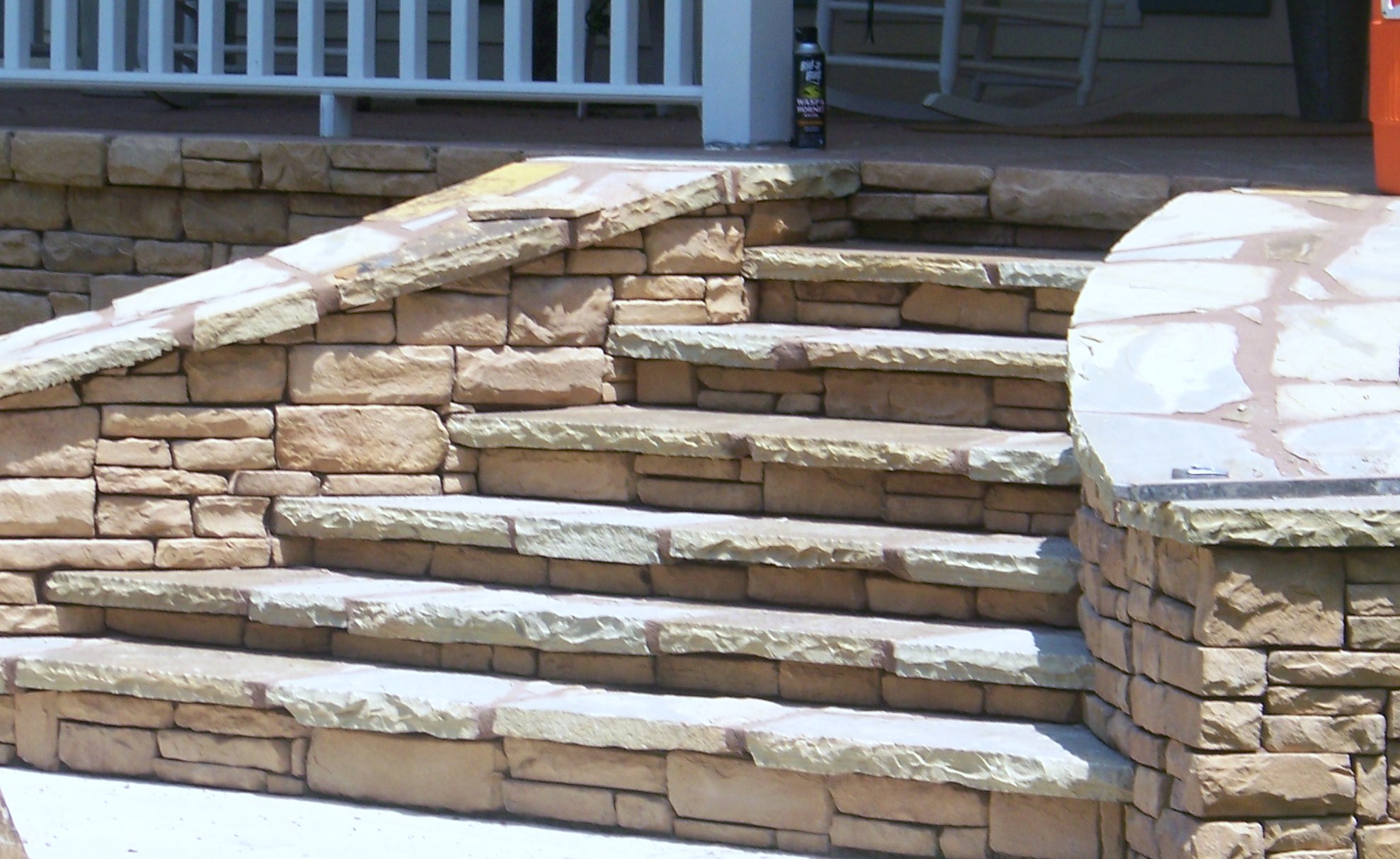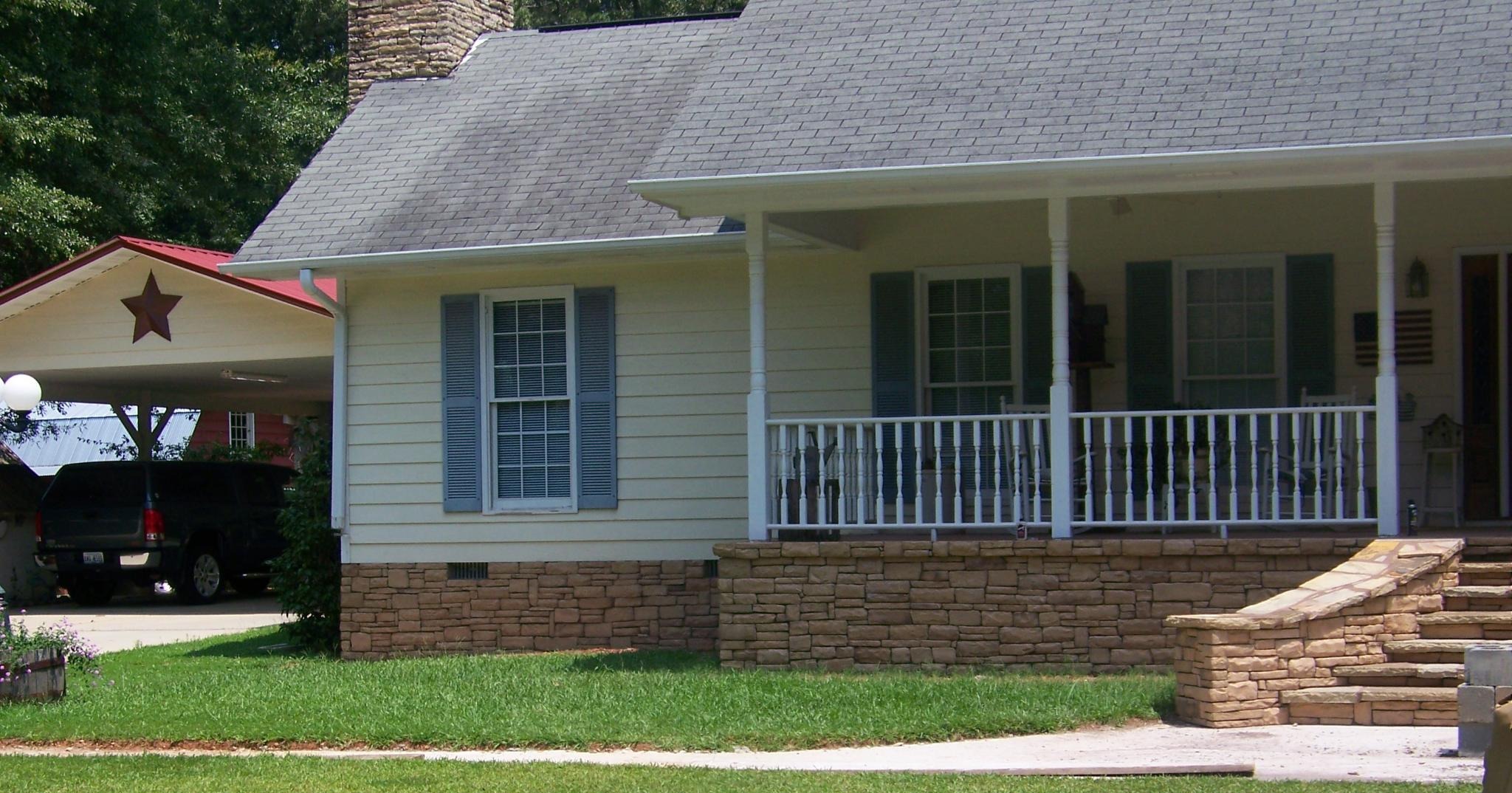 This is just example text. Click to edit and add your own content. This section can be used however you'd like. Just replace the example images and this example text.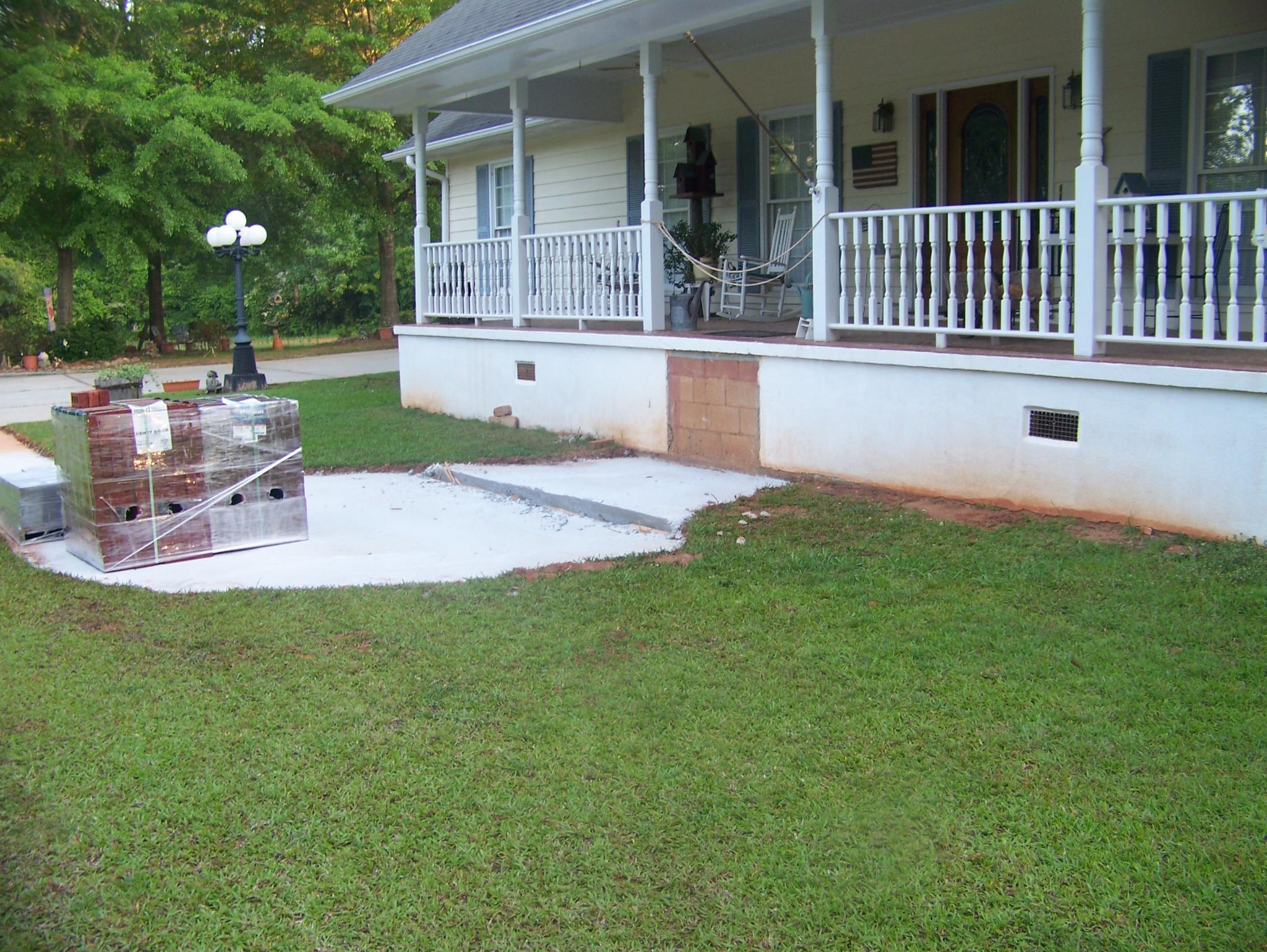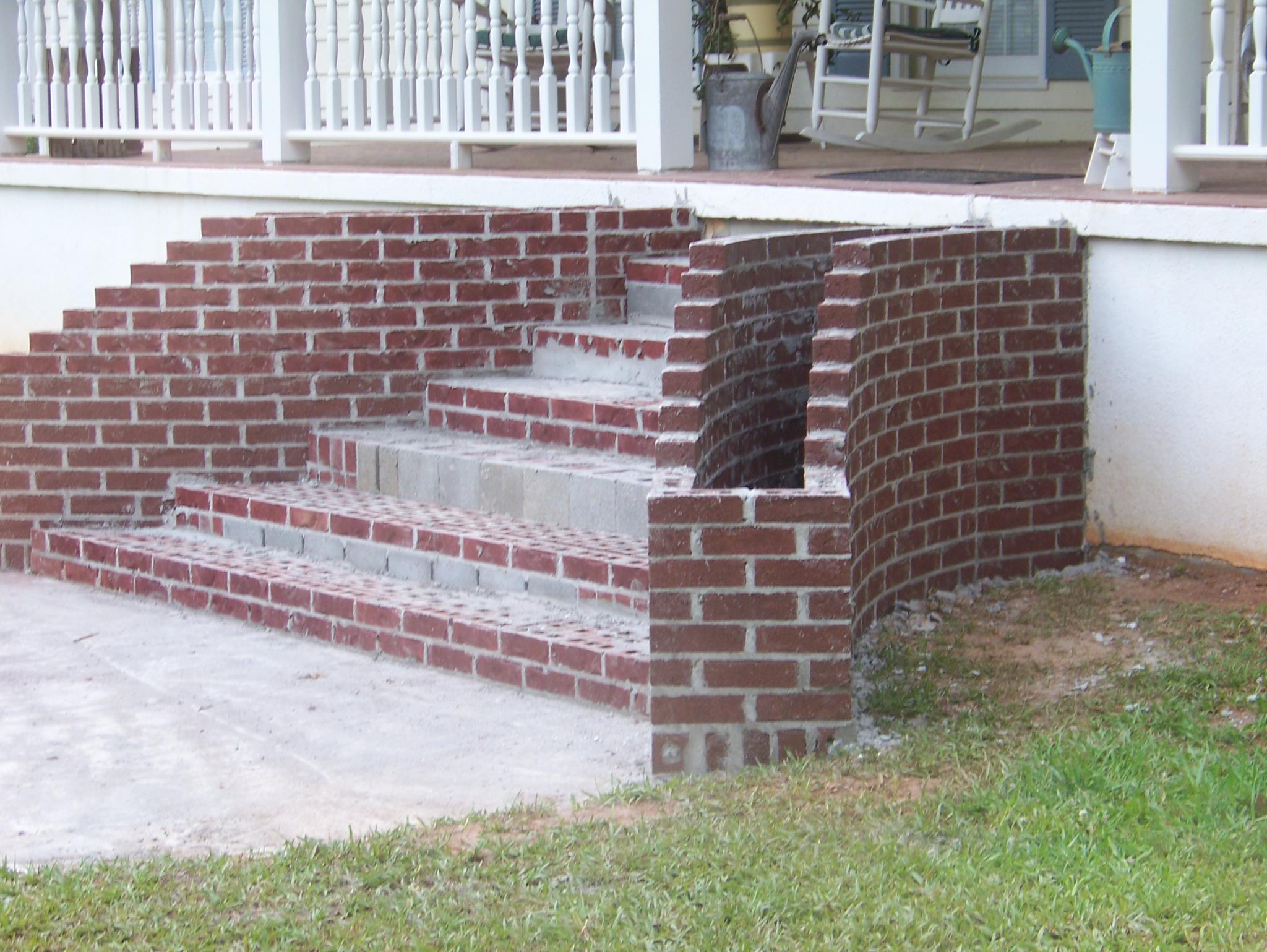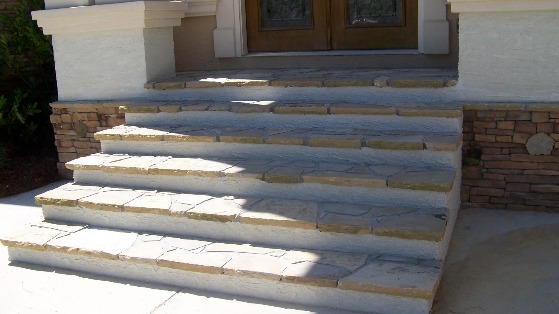 Example Subheading
This is just example text. Click to edit and add your own content. This section can be used however you'd like. Just replace the example images and this example text.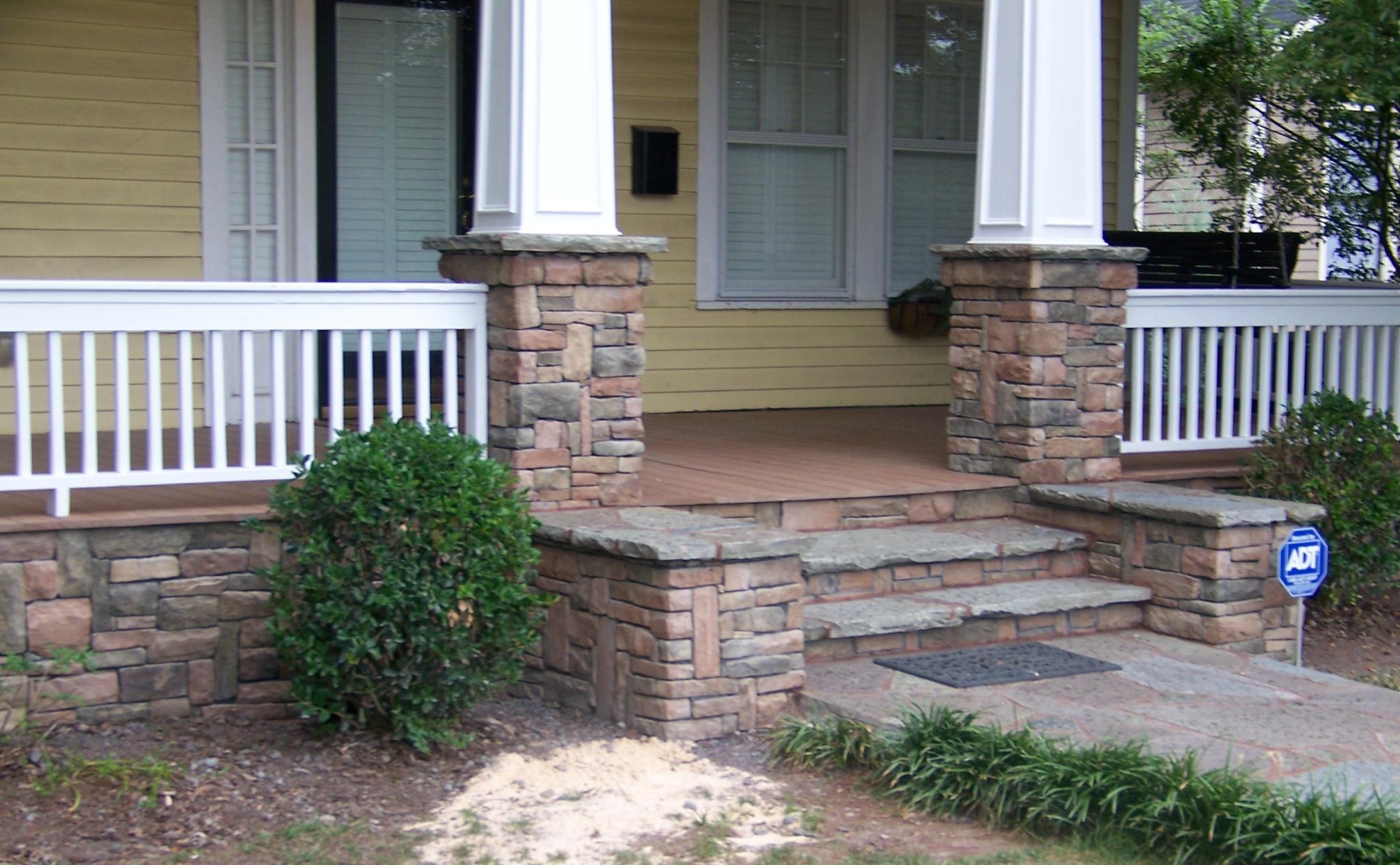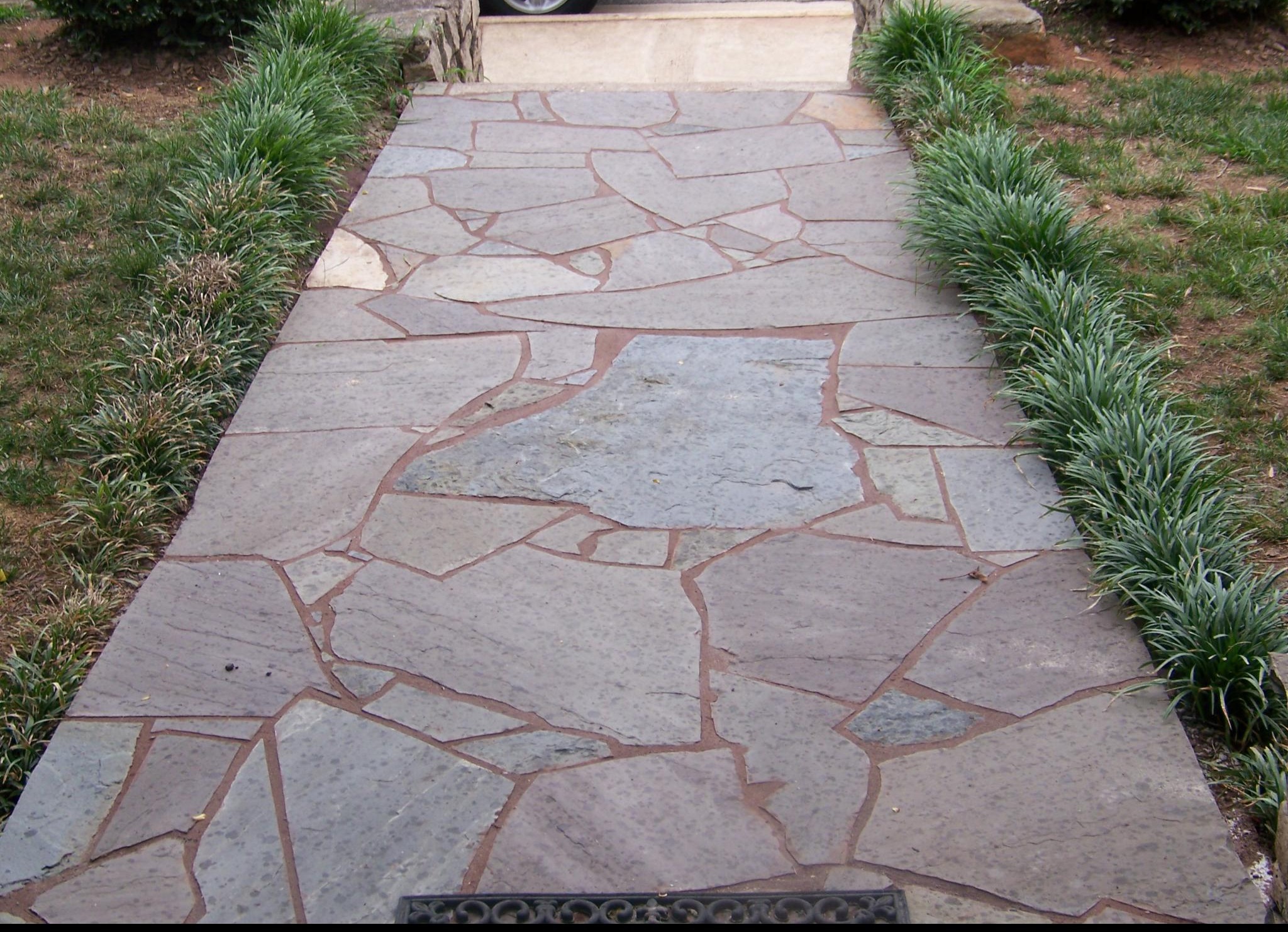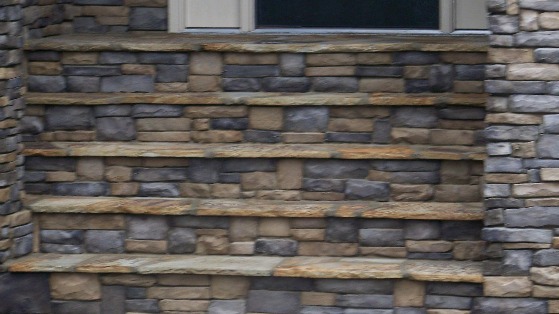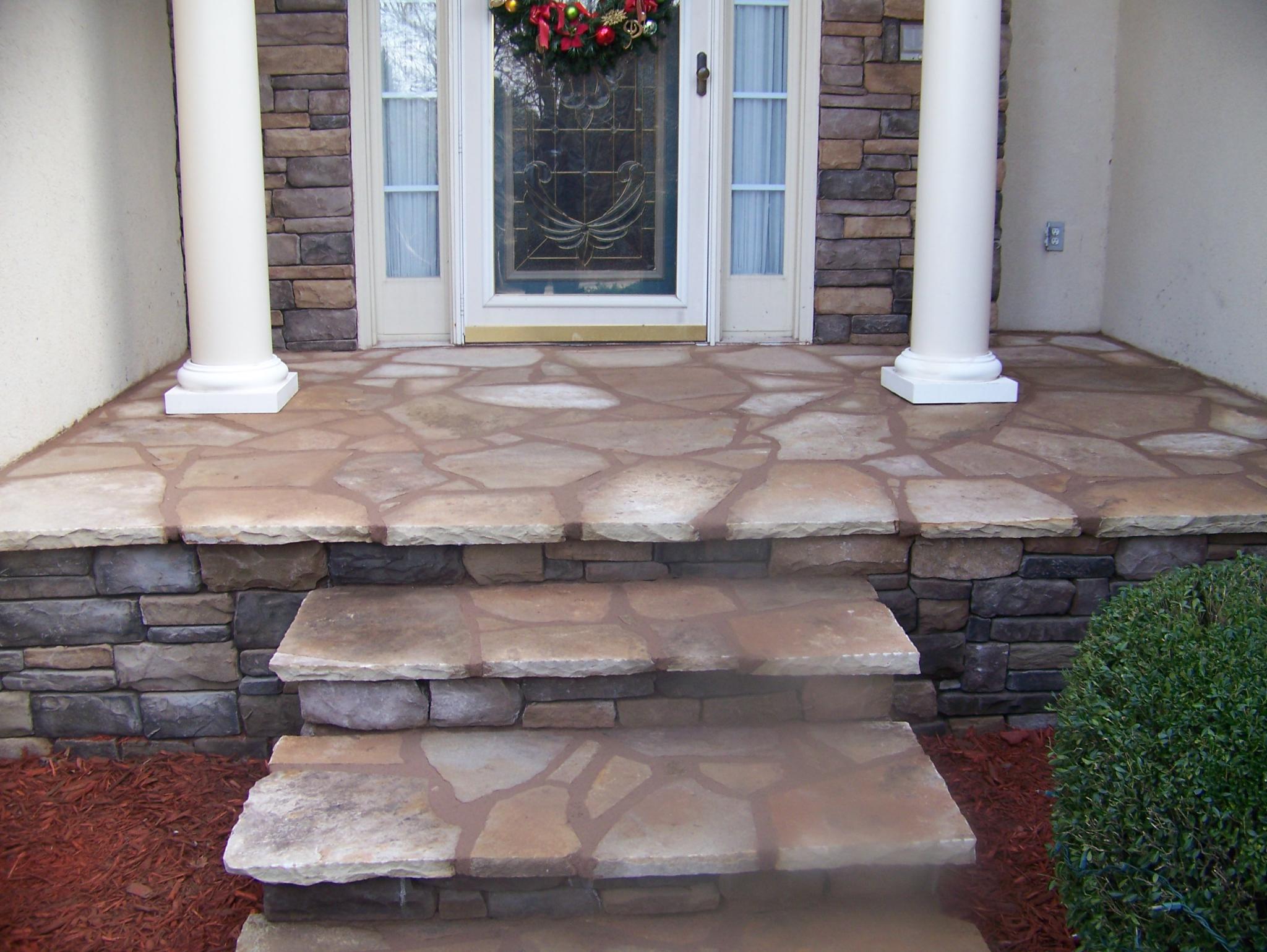 Aaron Parker House Oldest House in Rockdale County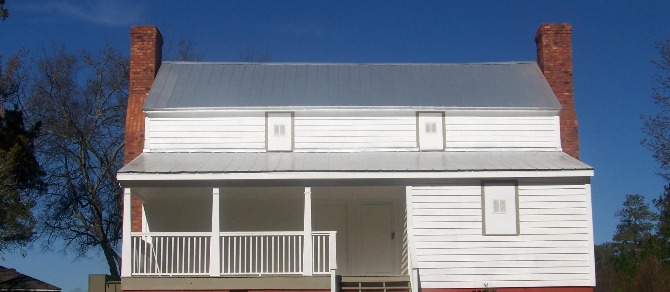 Savage Masonry had the privledge to work on the restoration of this 1830 Rockdale County Home in conjuction with Pashen and Nelison and the Georgia Department of Natural Resources.

Here's what the home looked like before the rennovations.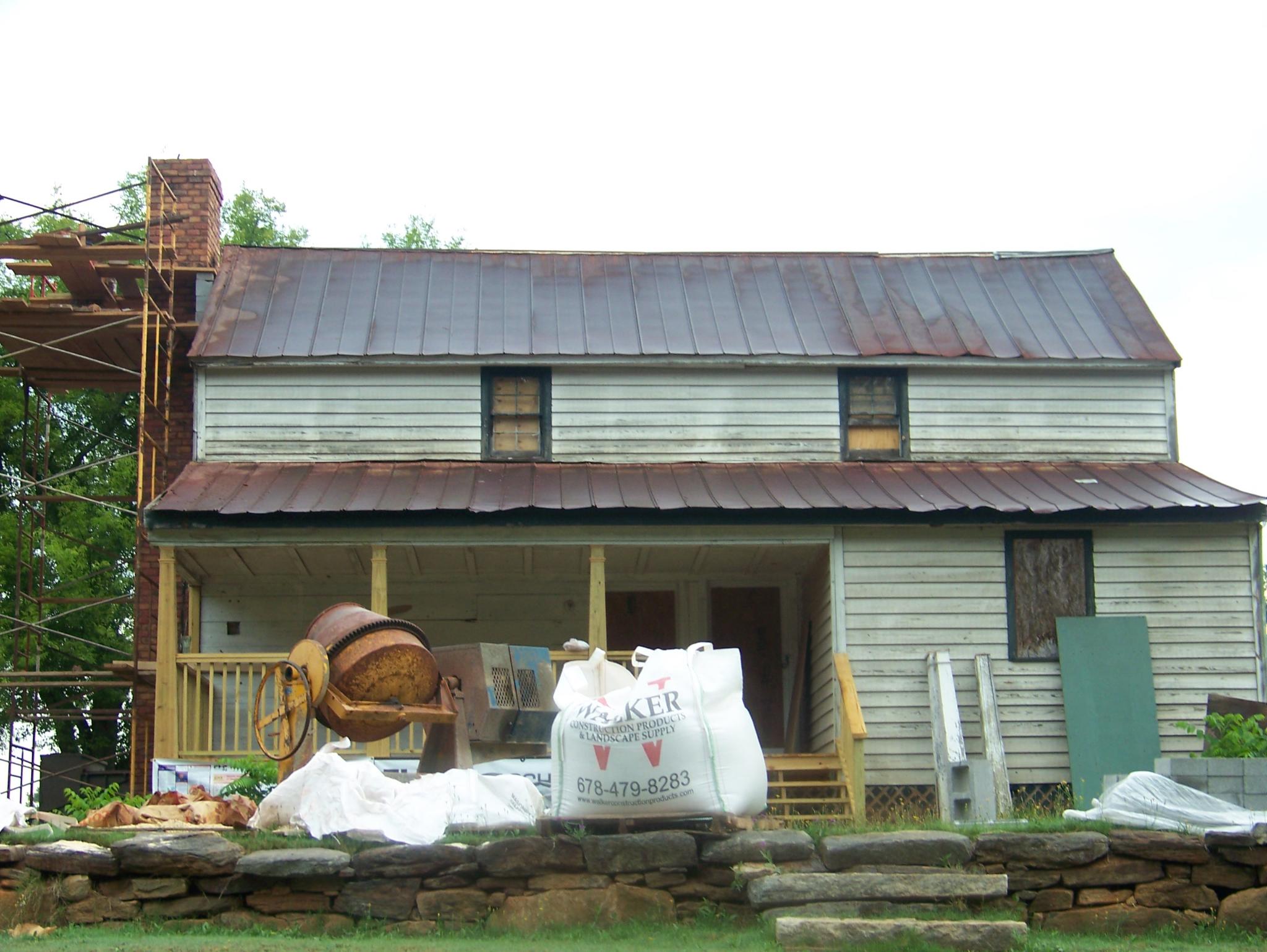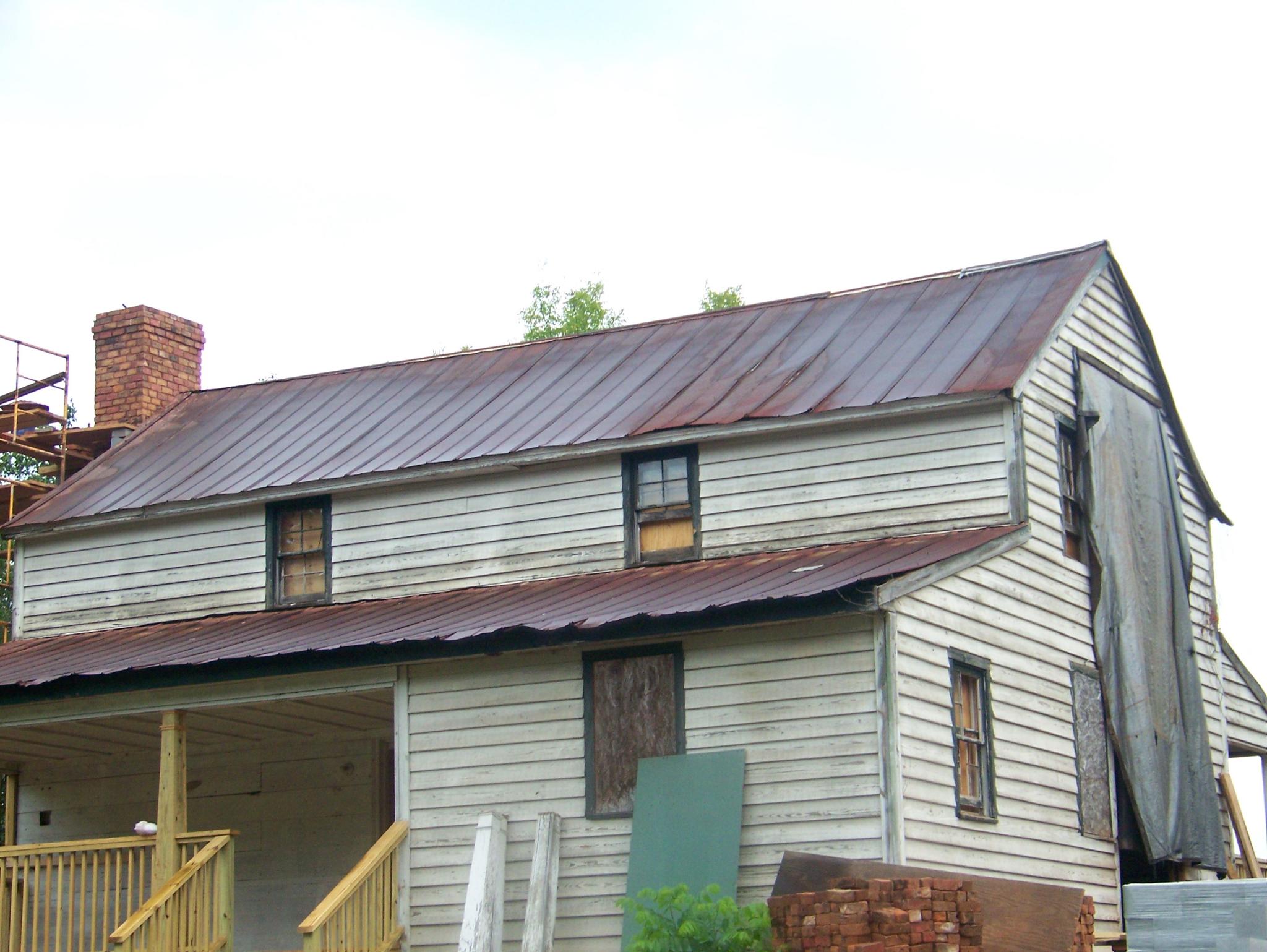 The challenge of this project was to renovate outdoor and indoor fireplaces to replicate the look of the original 1830's fireplaces and chimneys.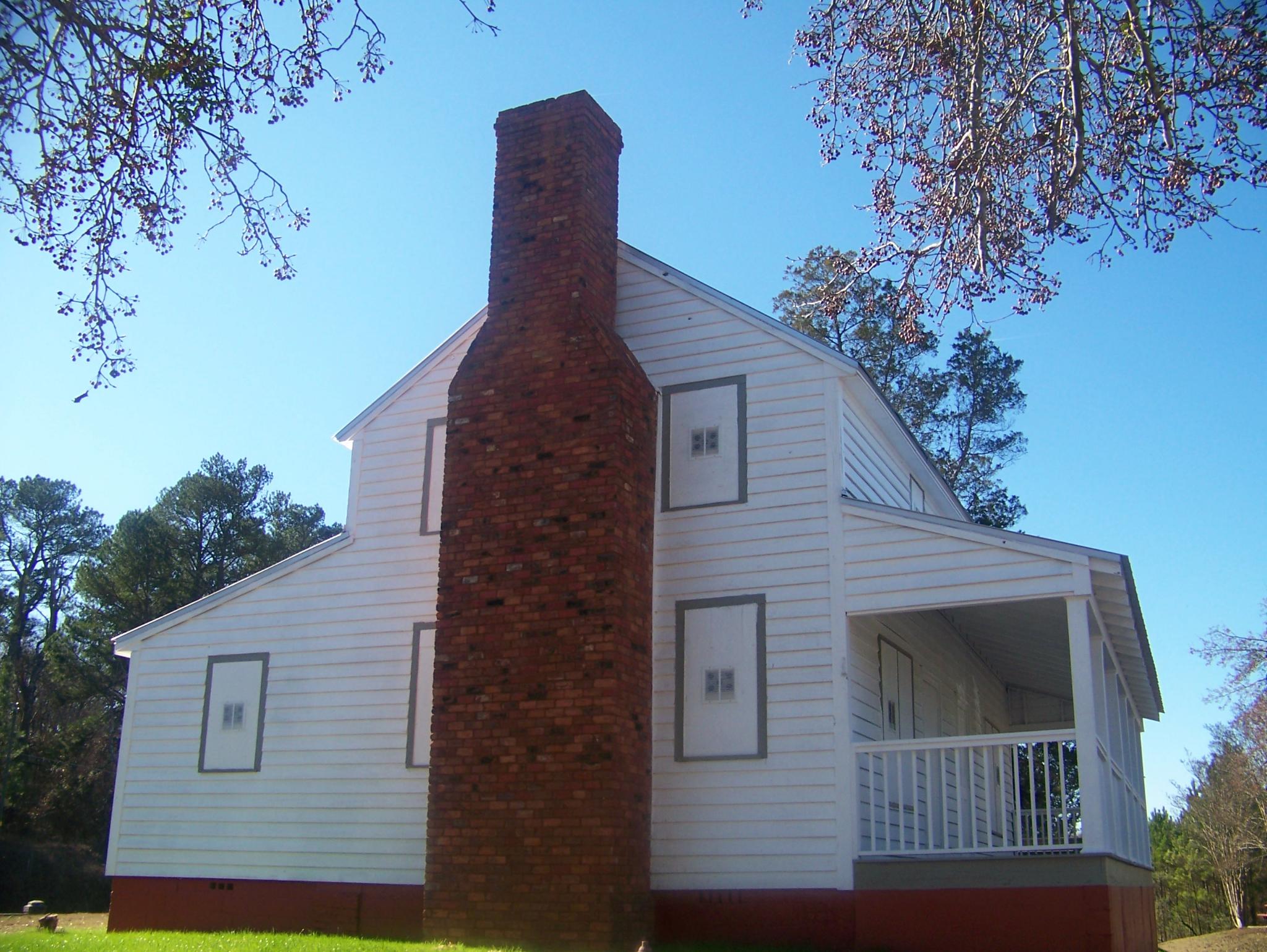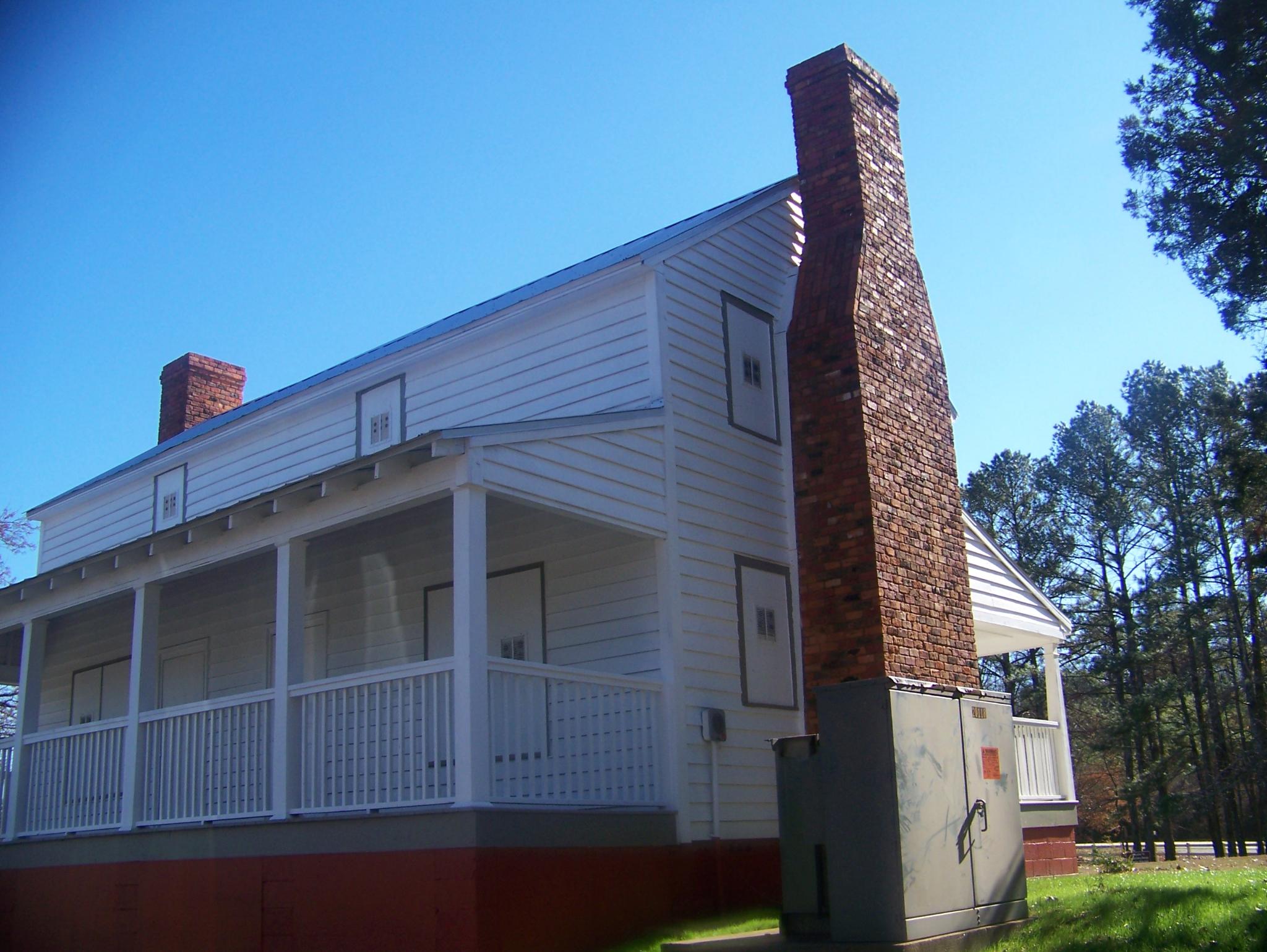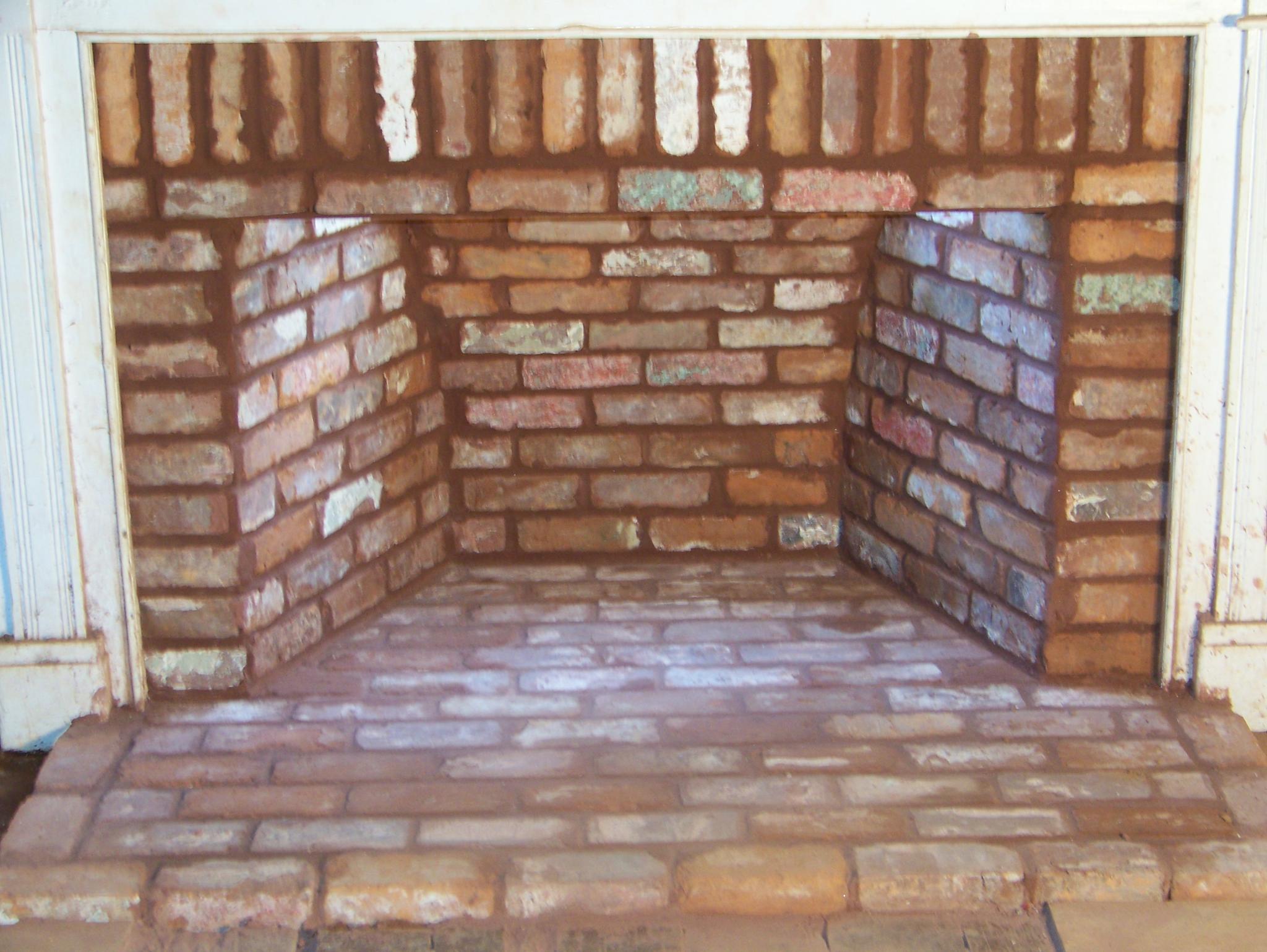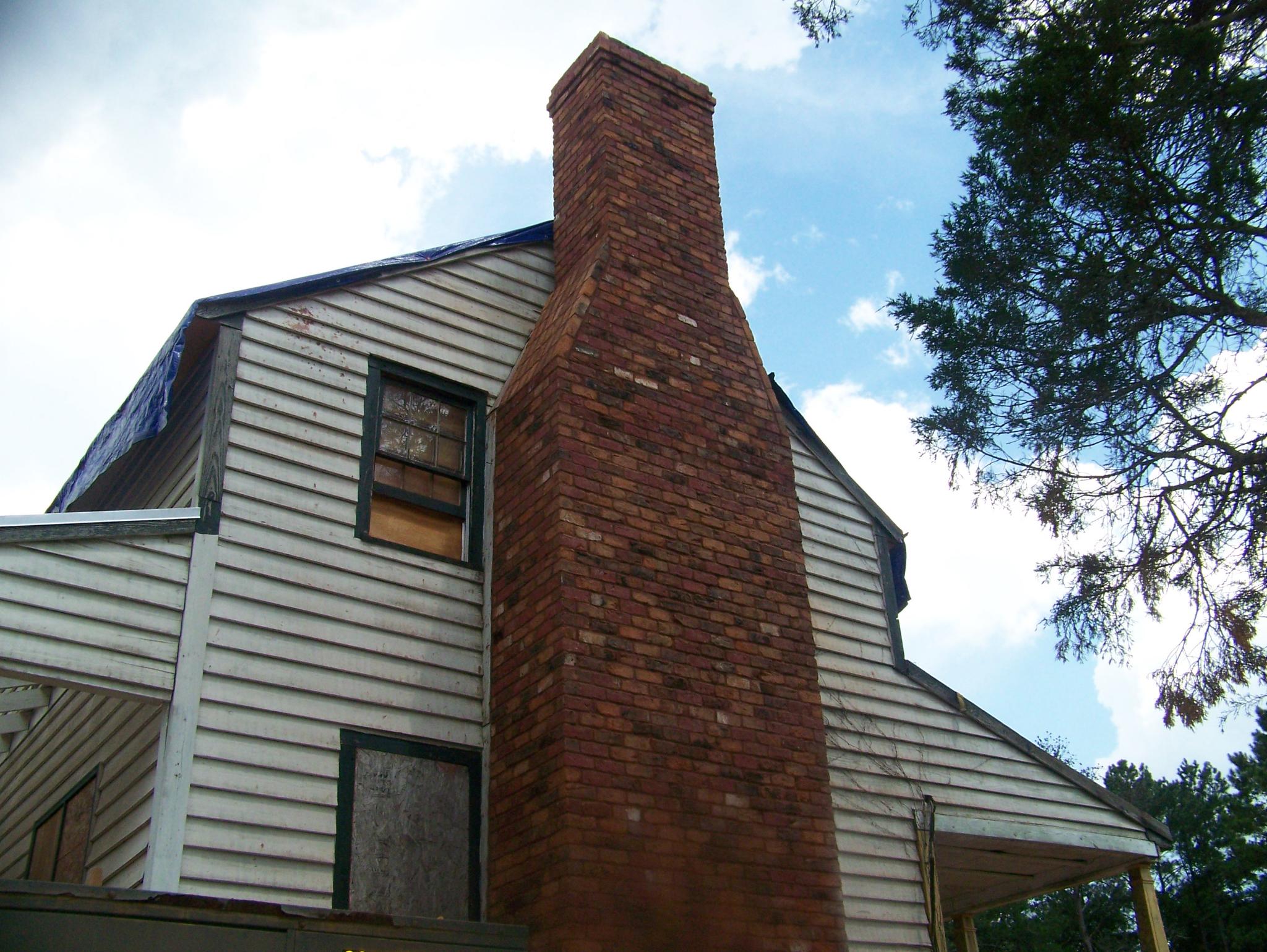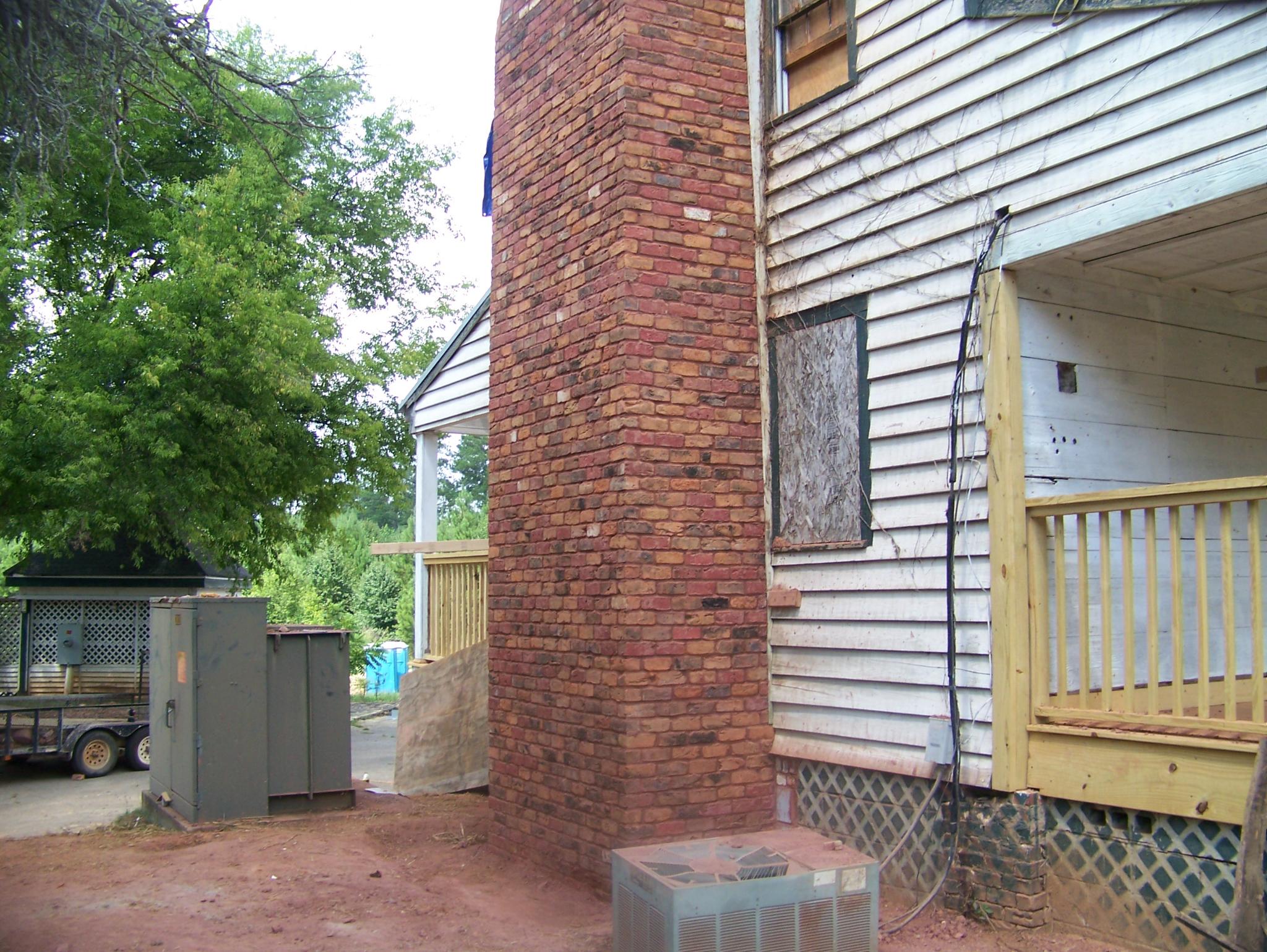 The Lyons Farm House Historial Restoration
Before Restoration Front View of House and Fireplace
Partnering with Pashen and Nelison and the Georgia Department of Natural Resources the Lyon's House historial restoration was exciting and challenging. Located in Dekalb County and built in 1820 , I was tasked with the masonry conponents of the project including two fireplaces, stone around the bottom of the structure and the underpinning of the home. The fireplaces stood about 25 feet and needed major restoration due to combing mortar. The challenge was to match the consistency and color of the original mortar.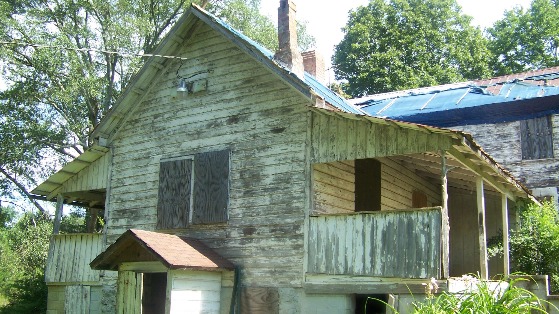 Columns to Underpin the House
Front Stoop Before Restoration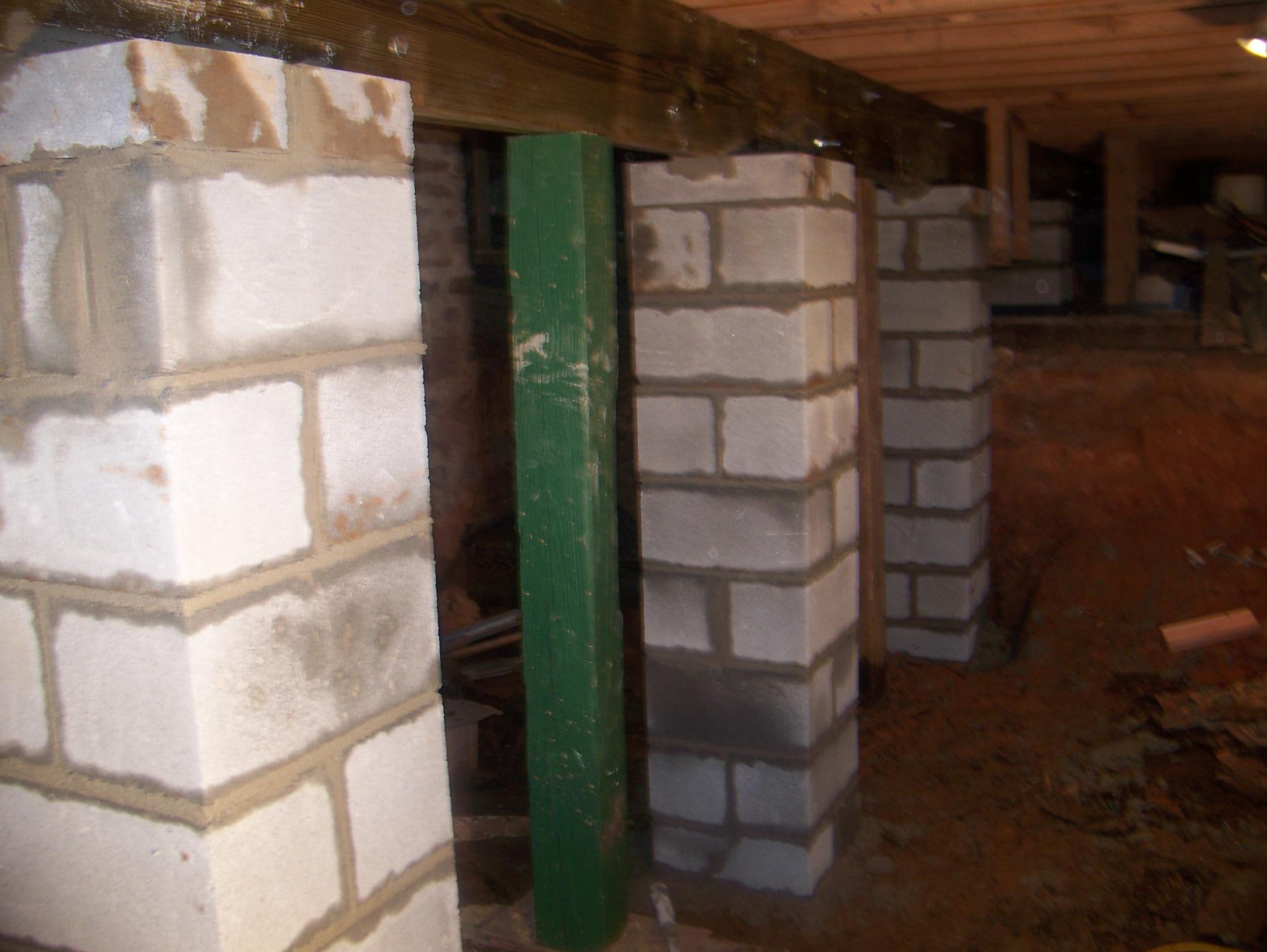 Frontview (Left) Backview (Right) Fireplace After Restoration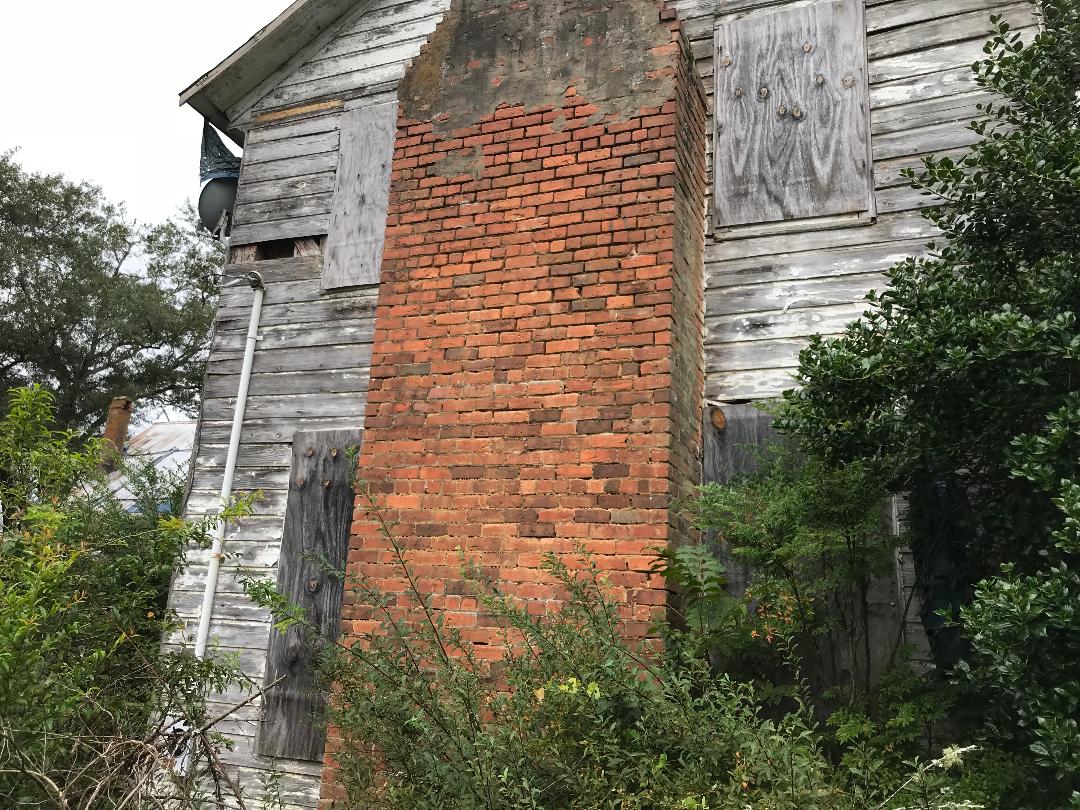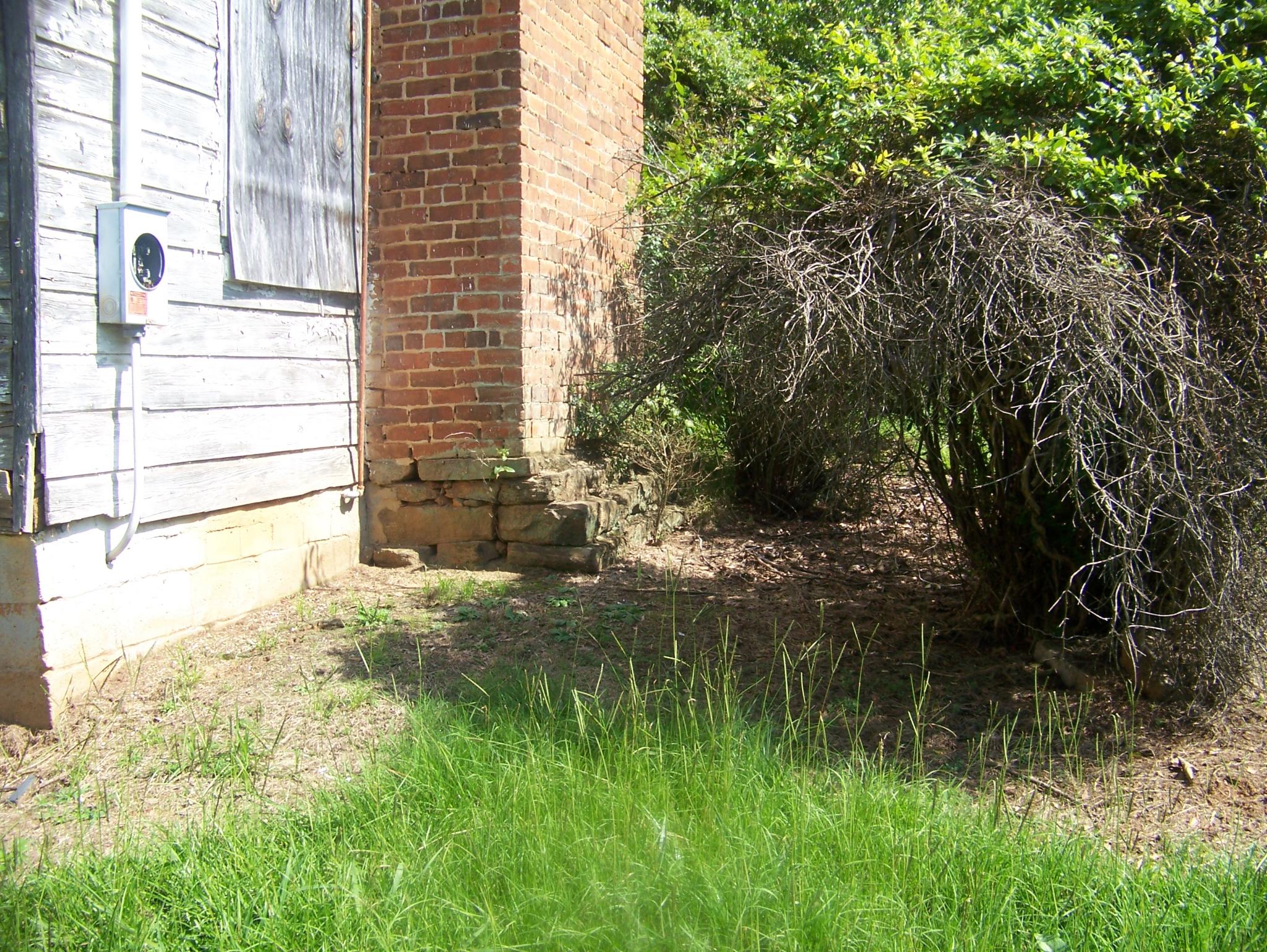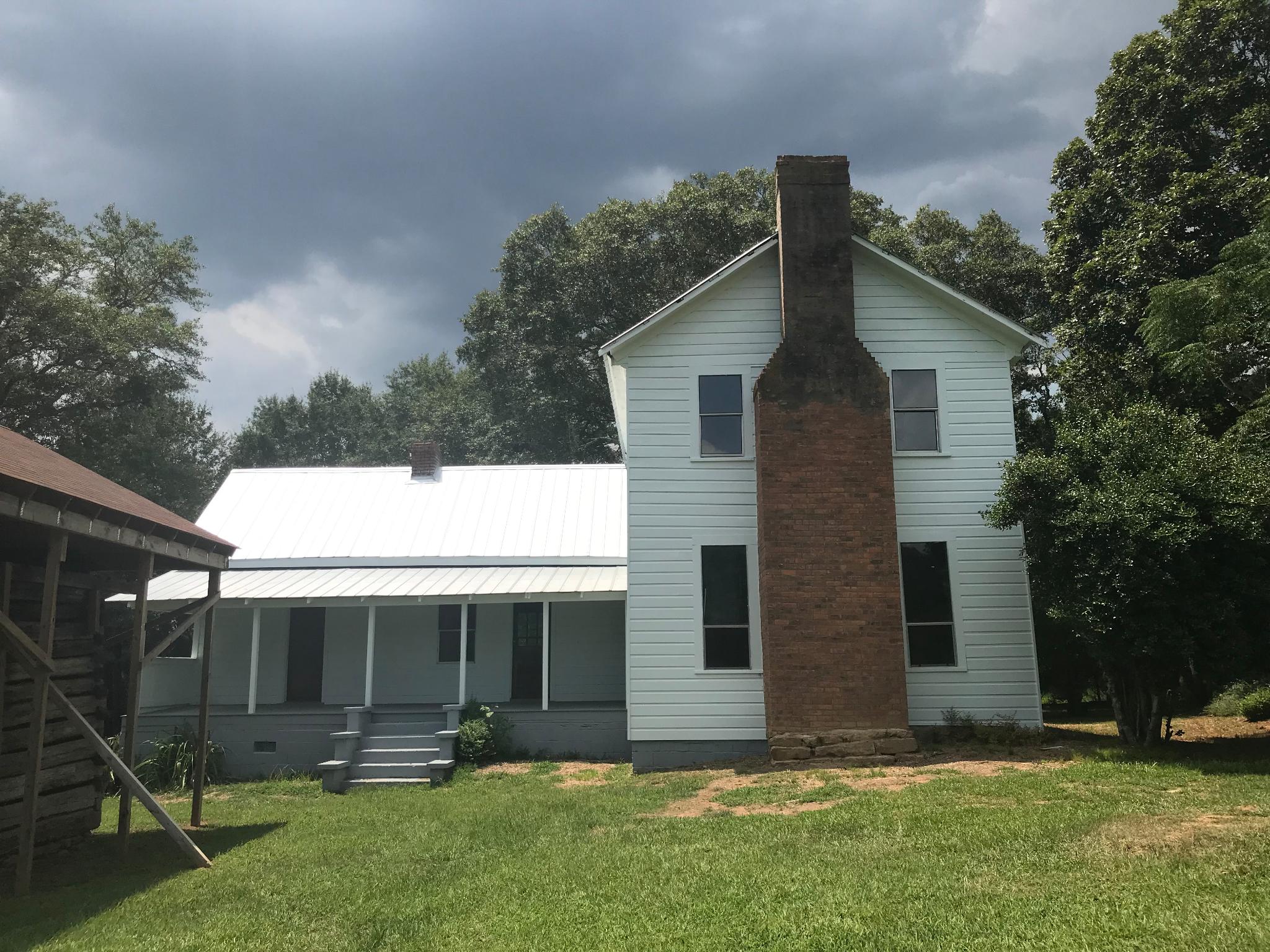 Front and BackView After Restoration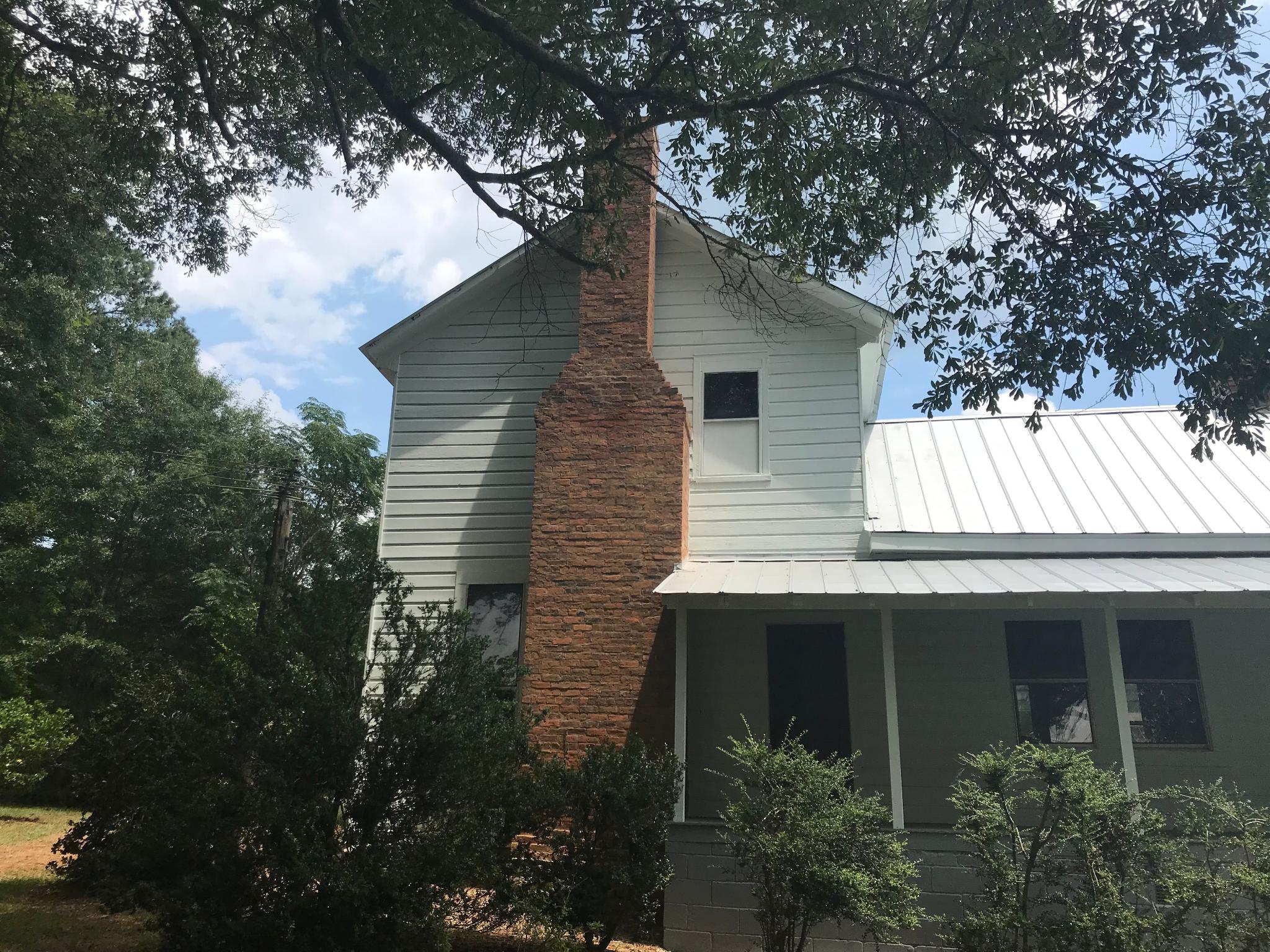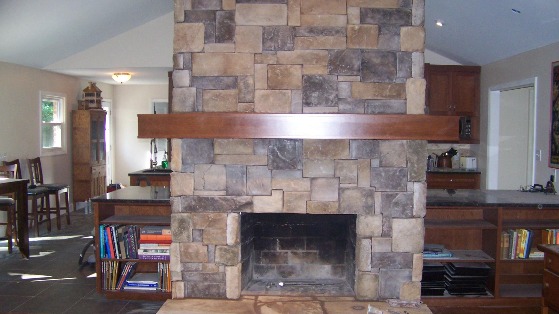 Made Made Ruble Stack Stone
This project was one of my favorite indoor fireplace projects. I loved the challenge of wrapping stone around an existing fireplace and continuing the stone to facade the existing cooking area.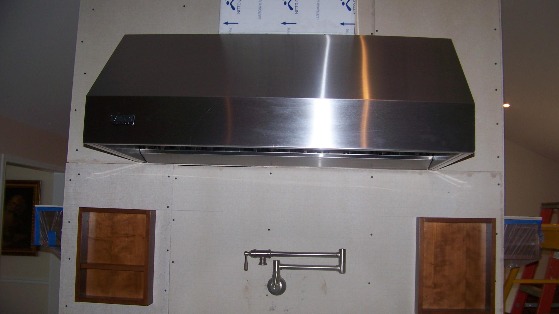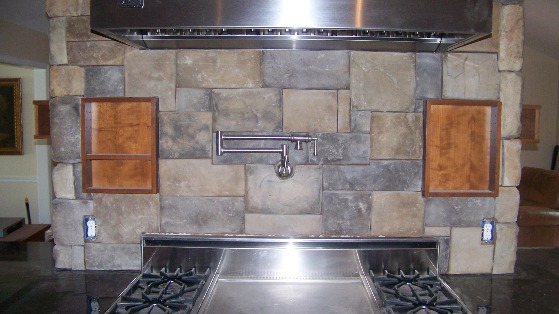 The cookside before I added the stone and the sideview below with a few photos of the process.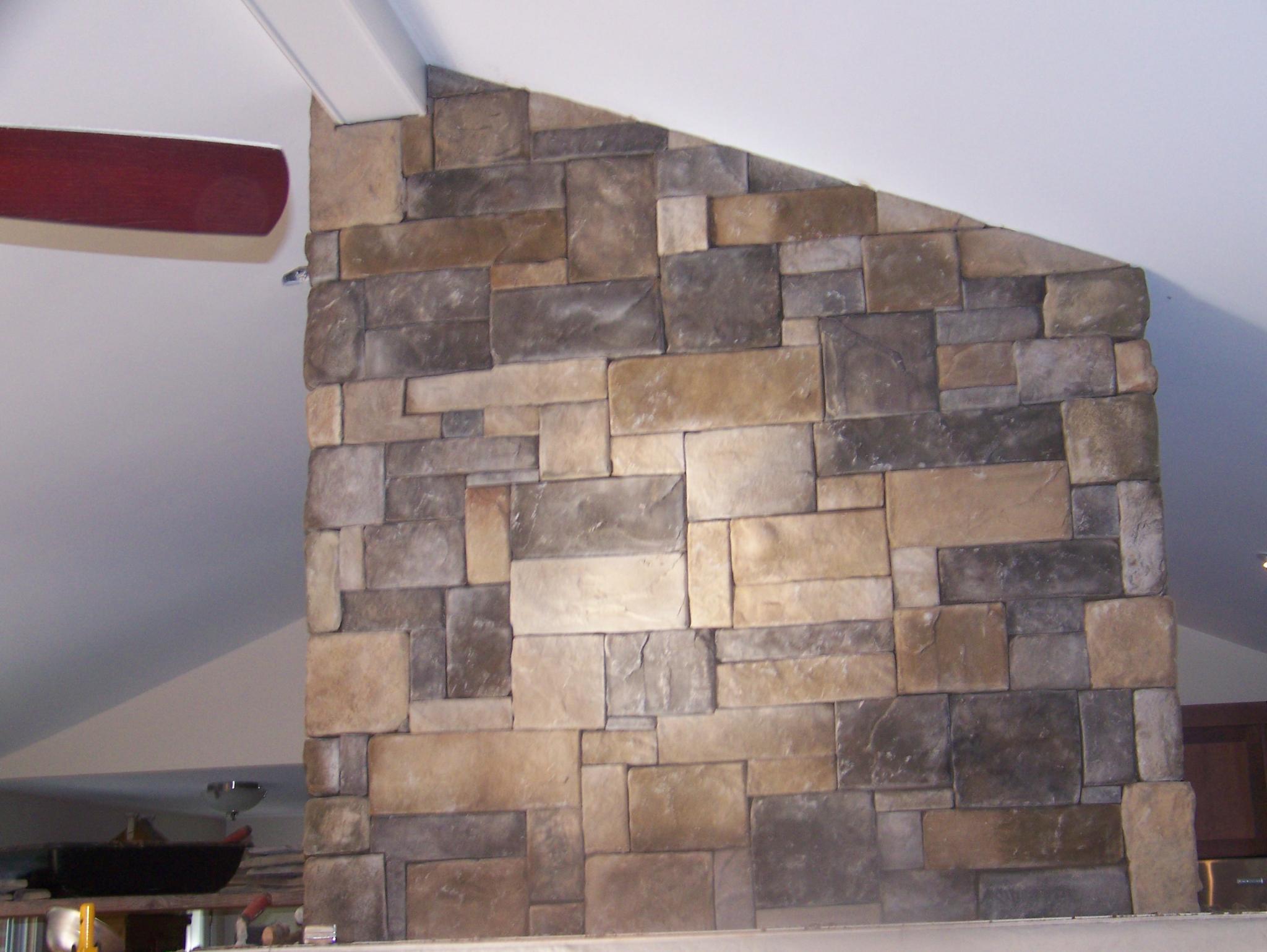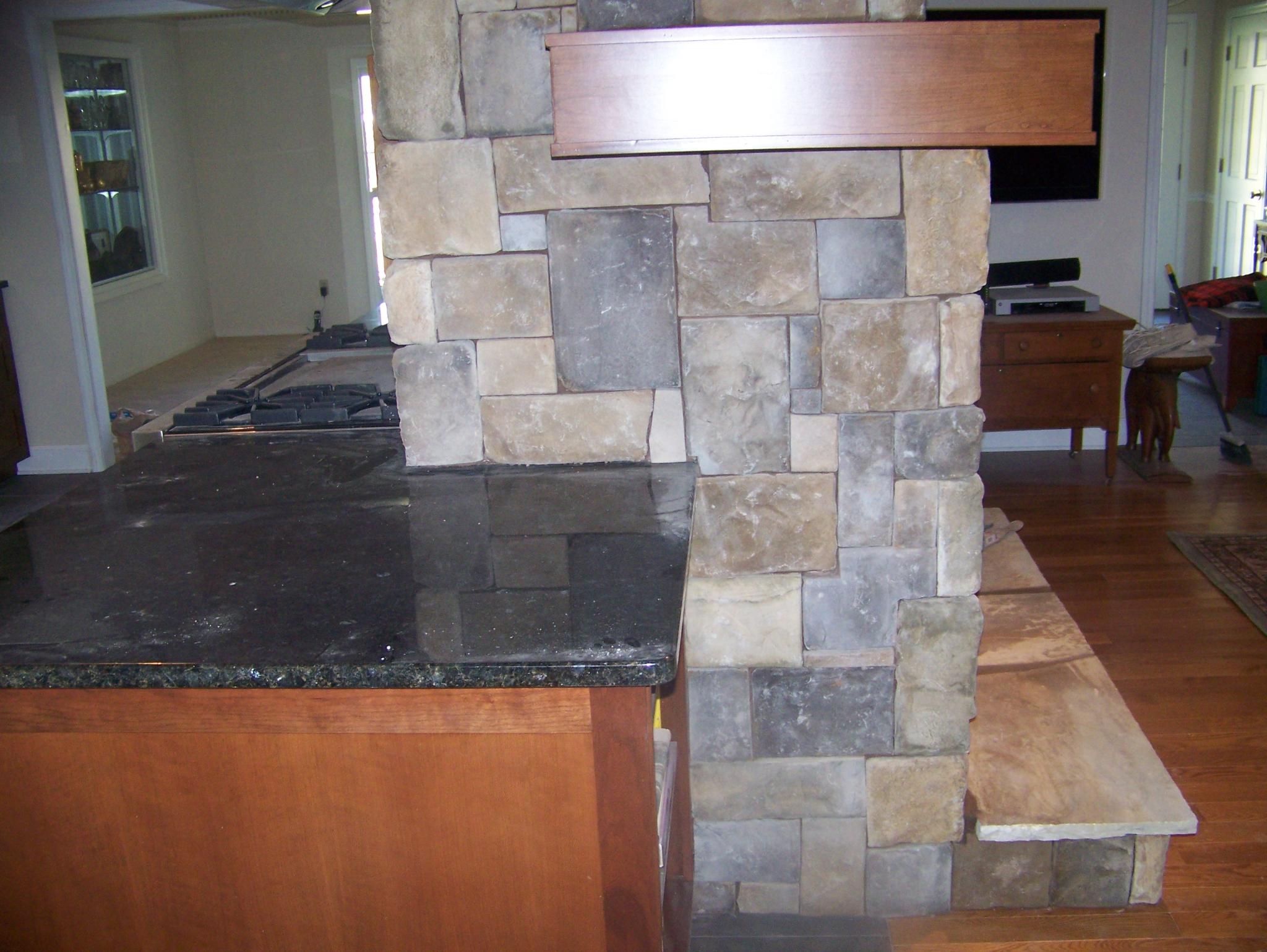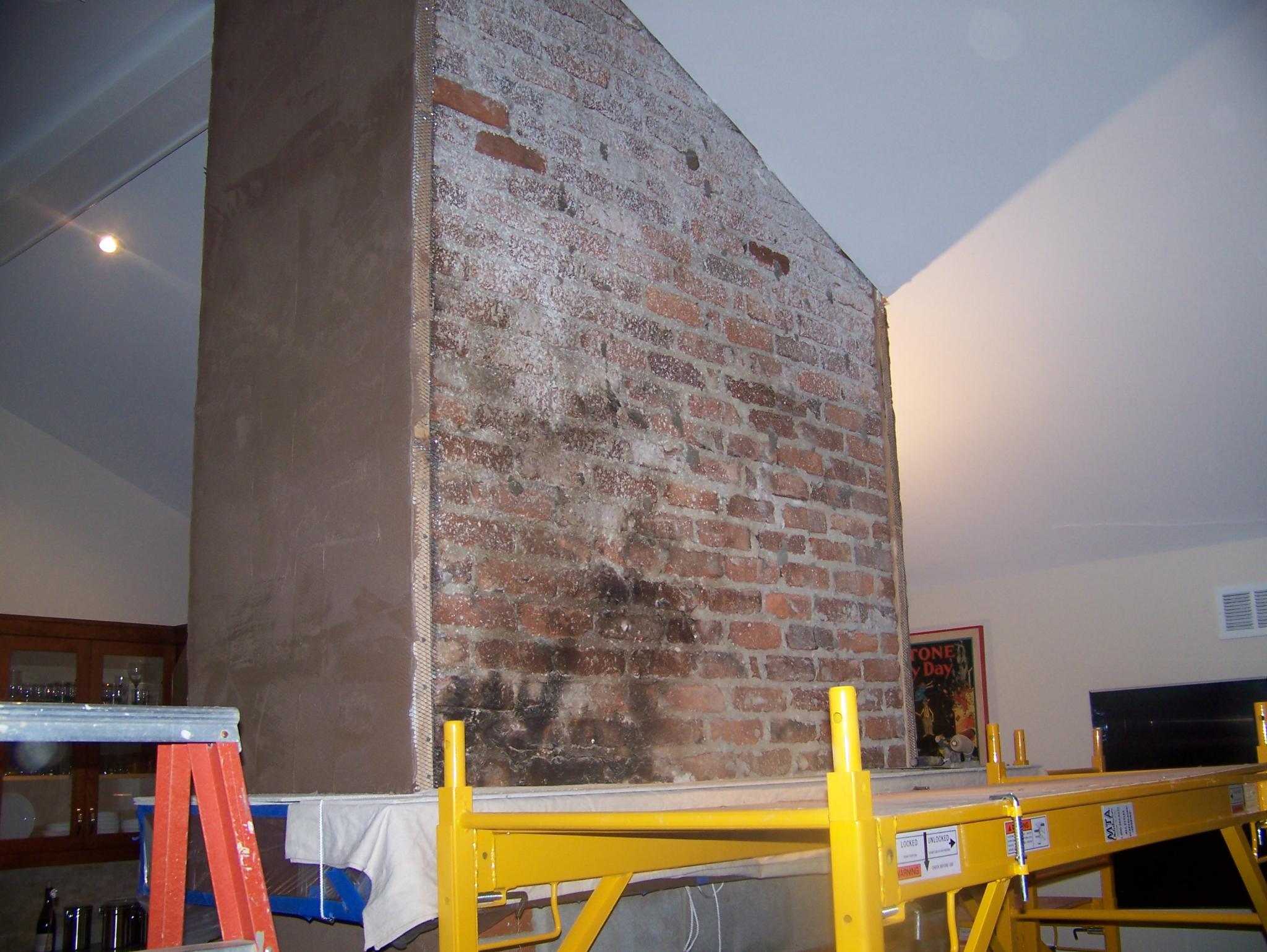 Fireplaces with a real wood-burning masonry fireboxes rather than an insert.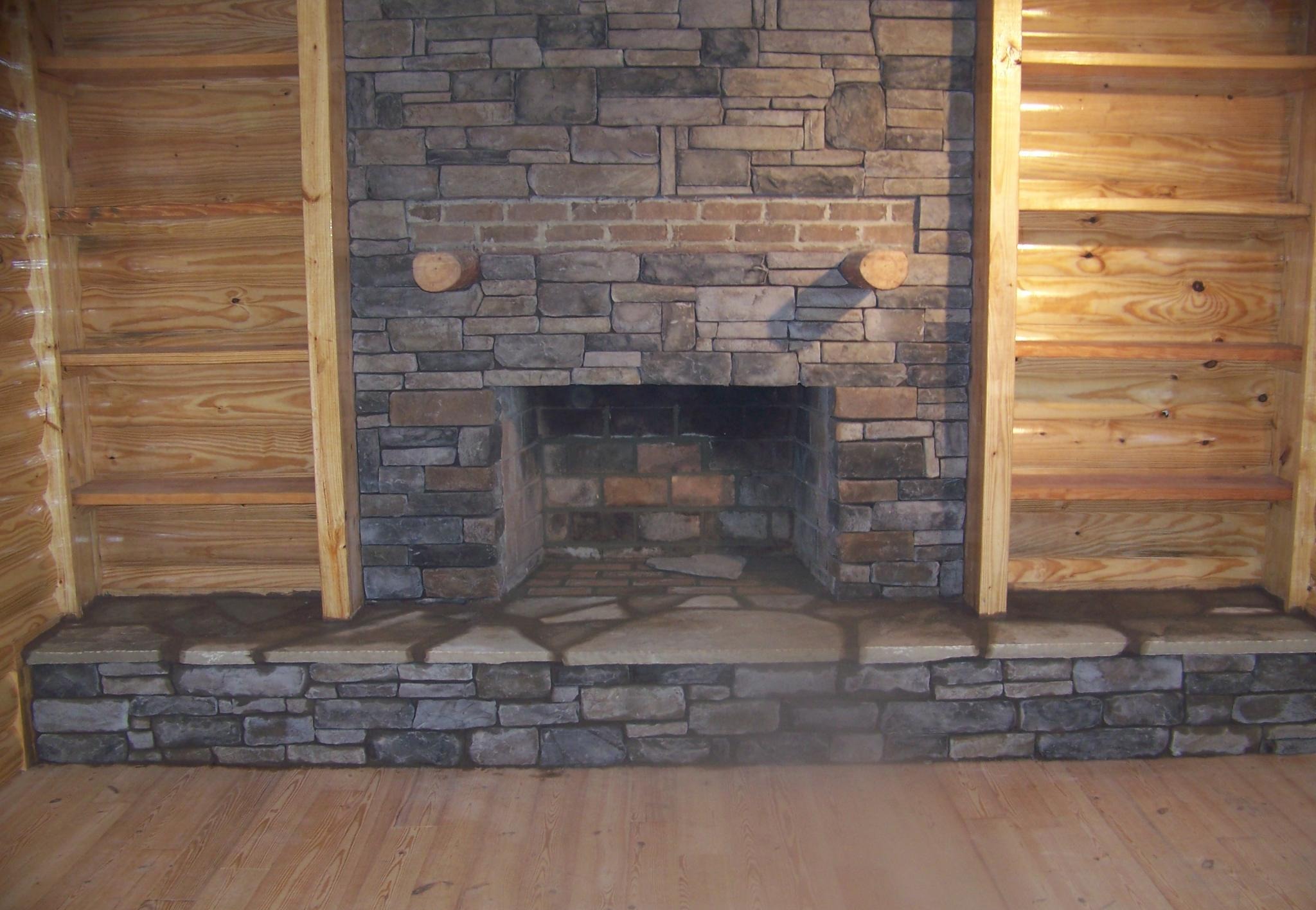 Another example of a real wood-burning masonry firebox.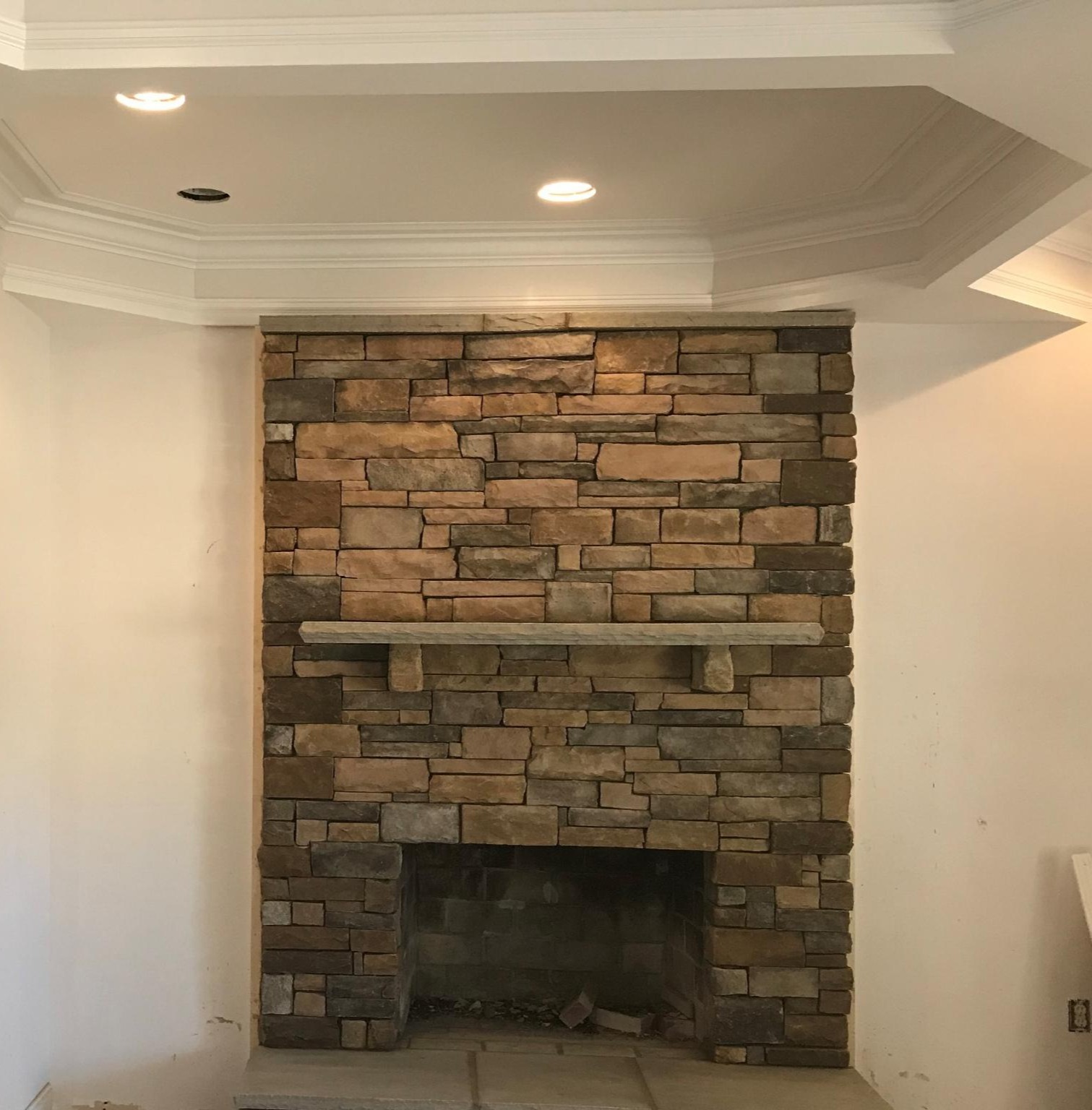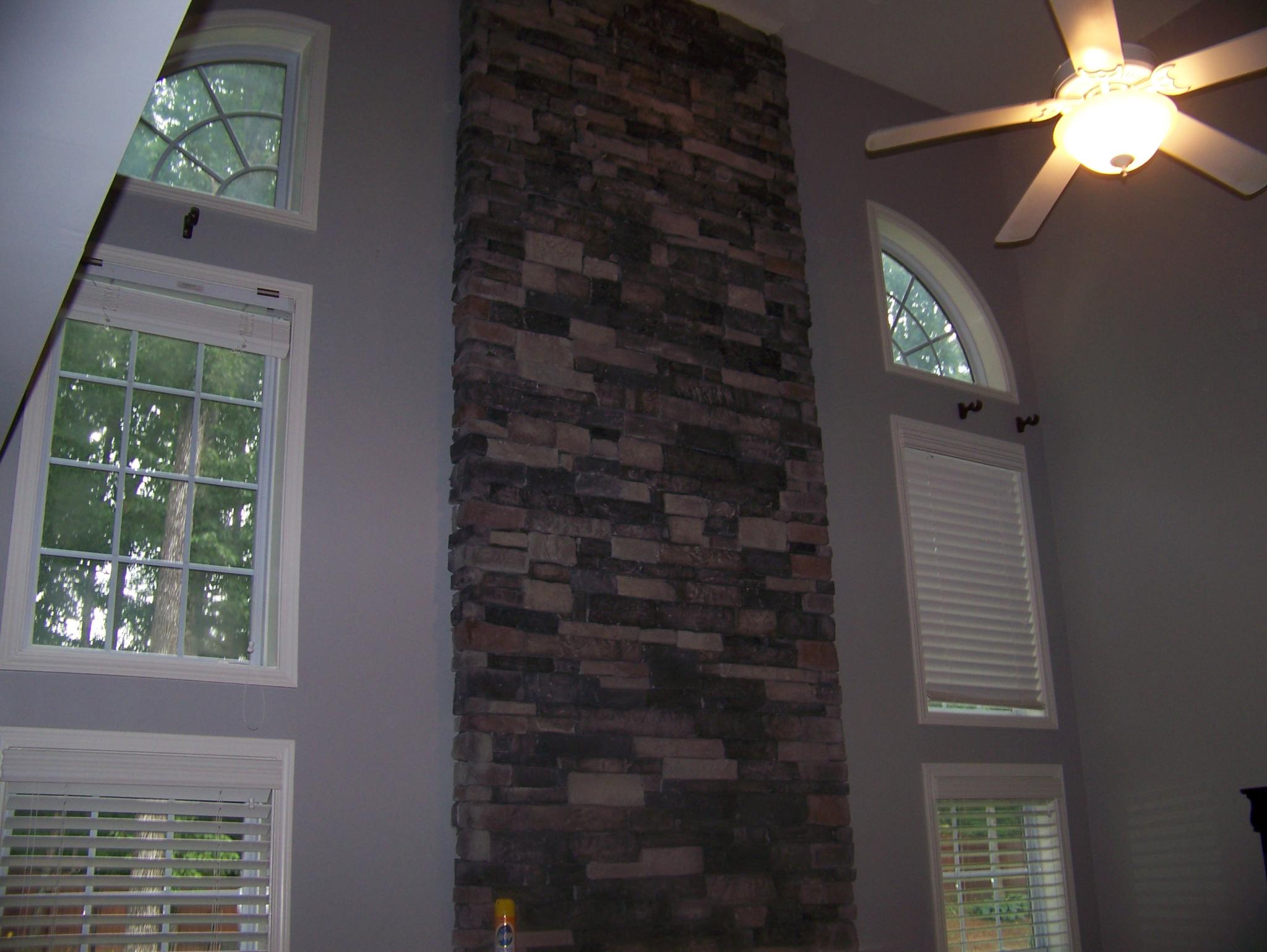 More Manmade Stones with Different Stone Designs and Mantles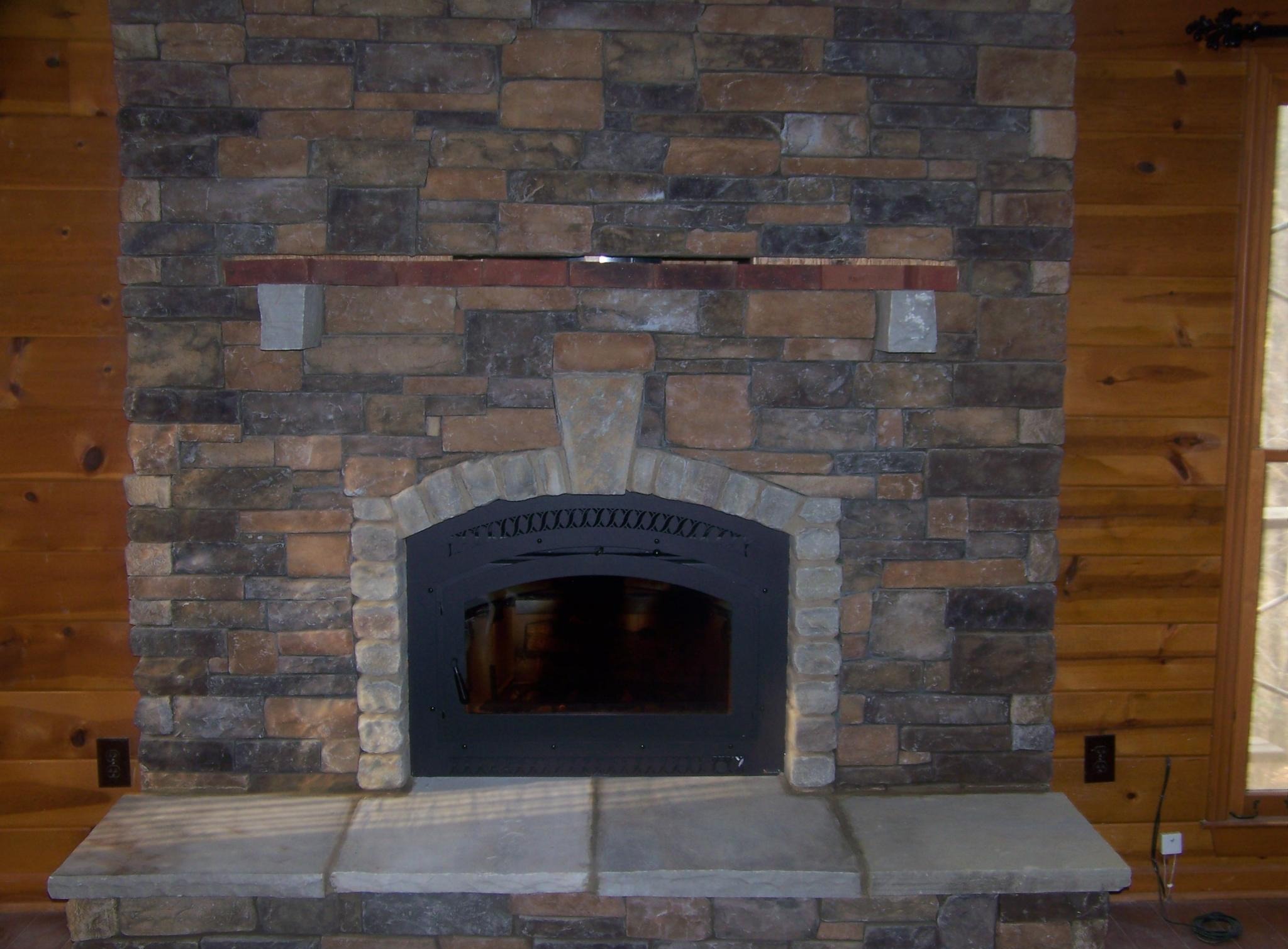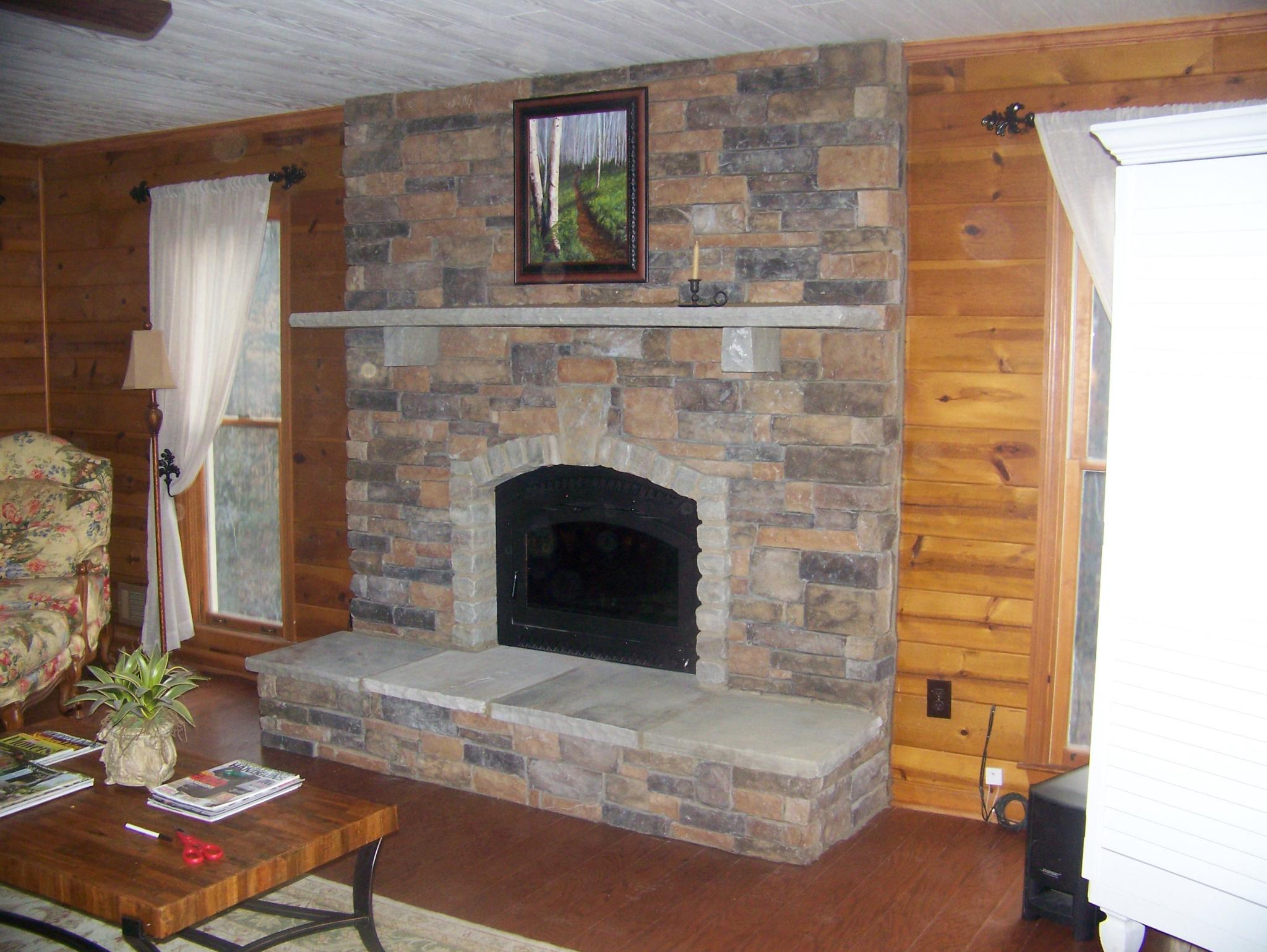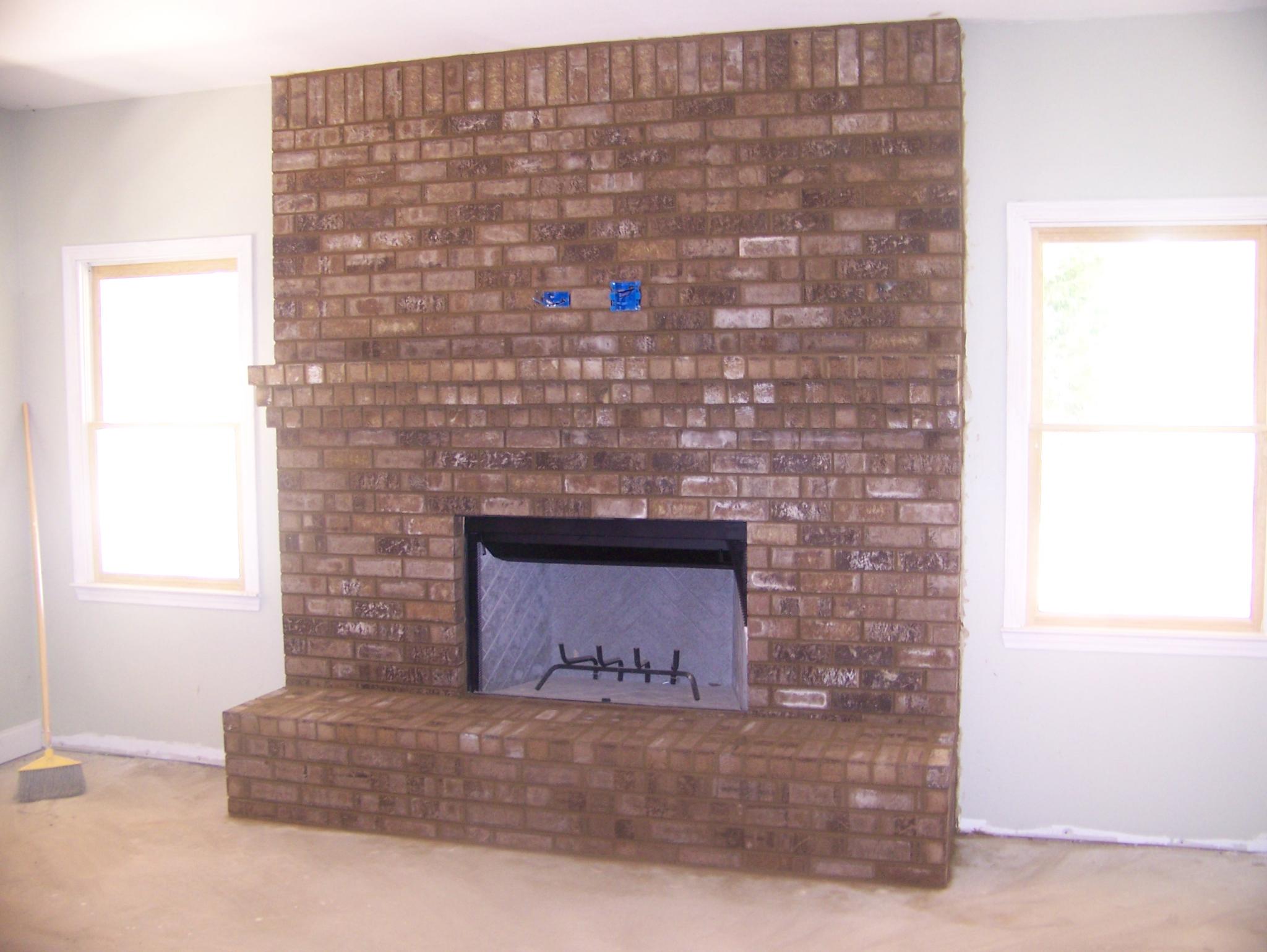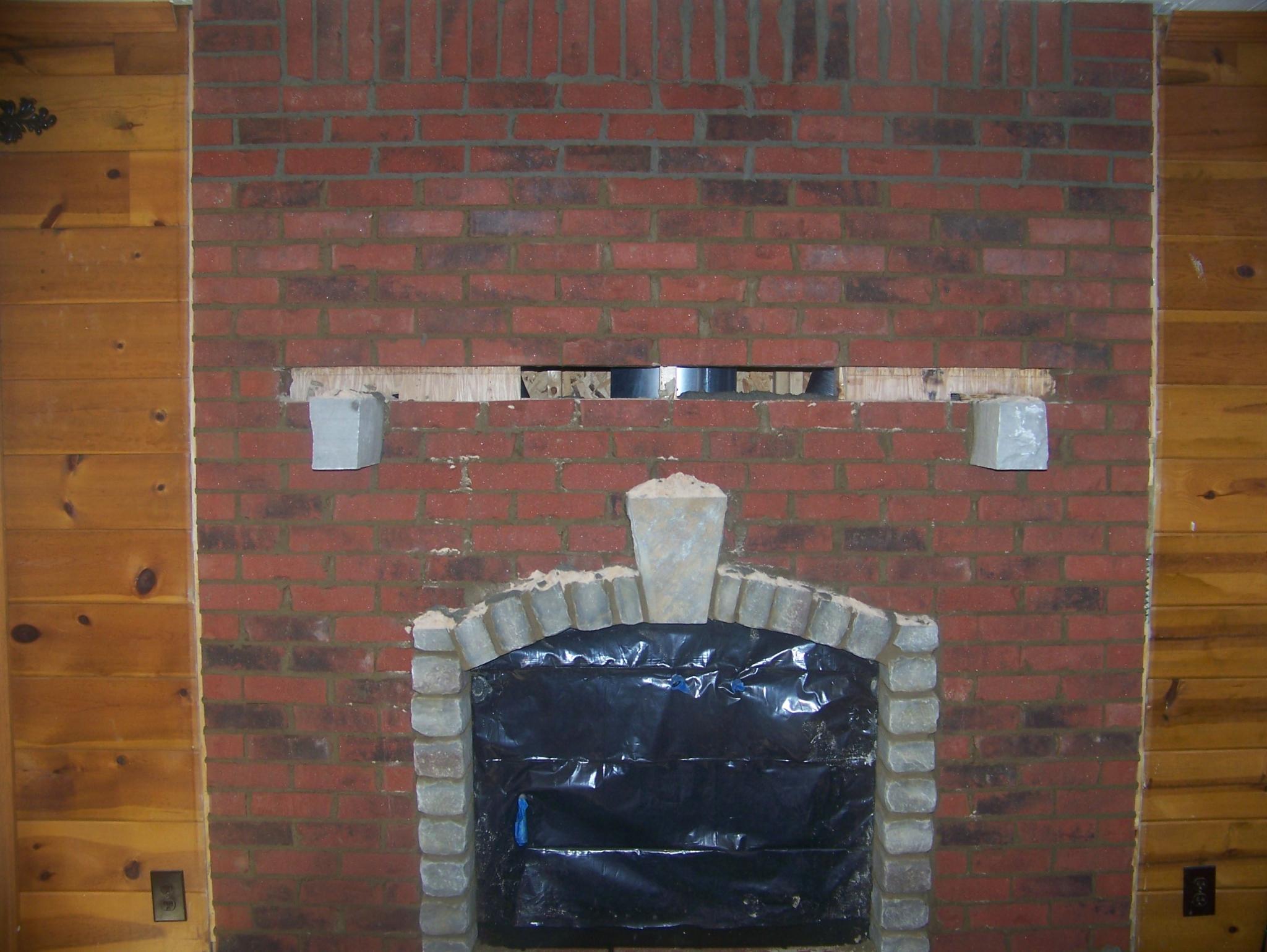 Firebox was designed to allow the homeowners to insert a heater inside. The fireplace to right was designed to create an artistic look for the home owners.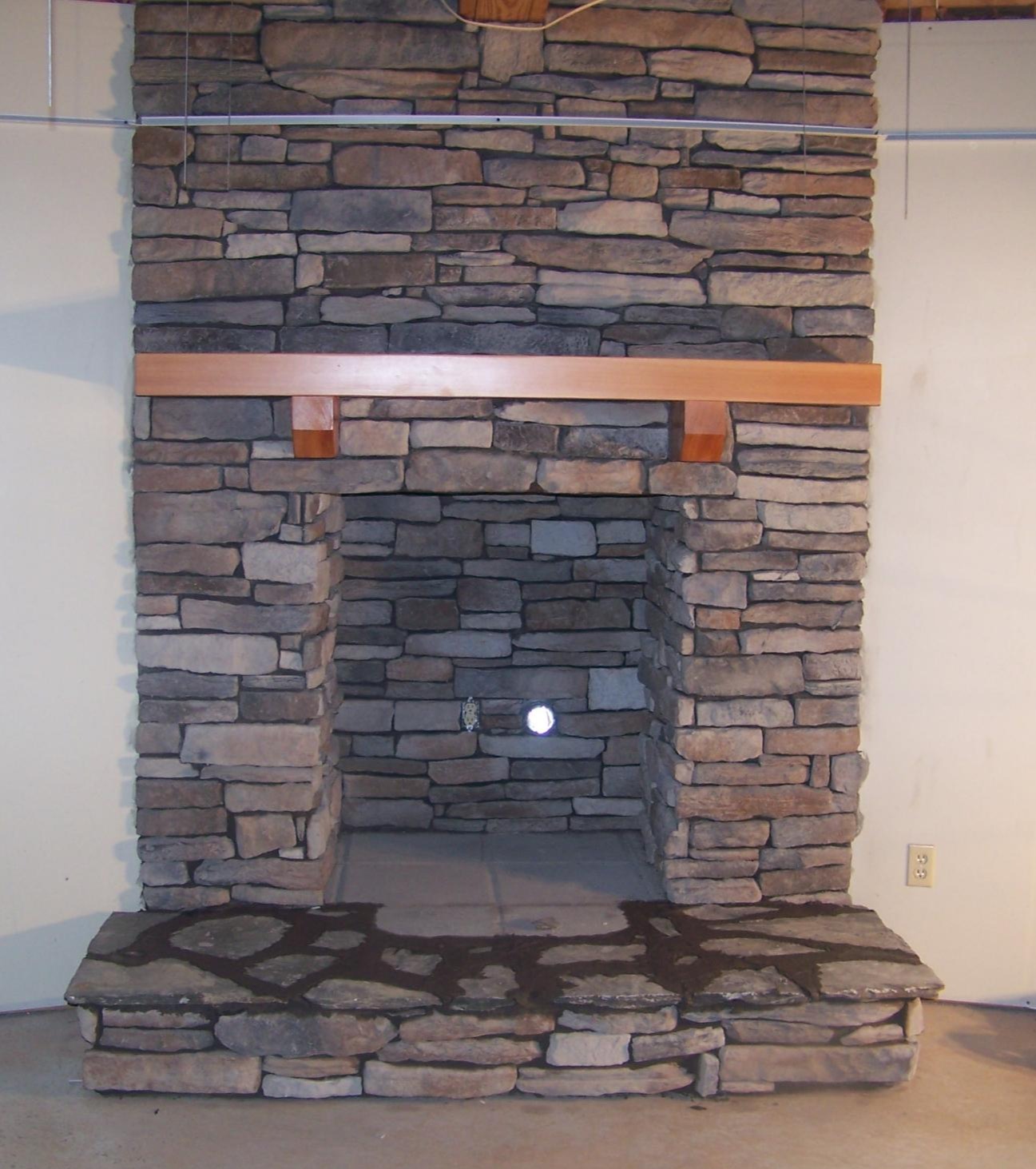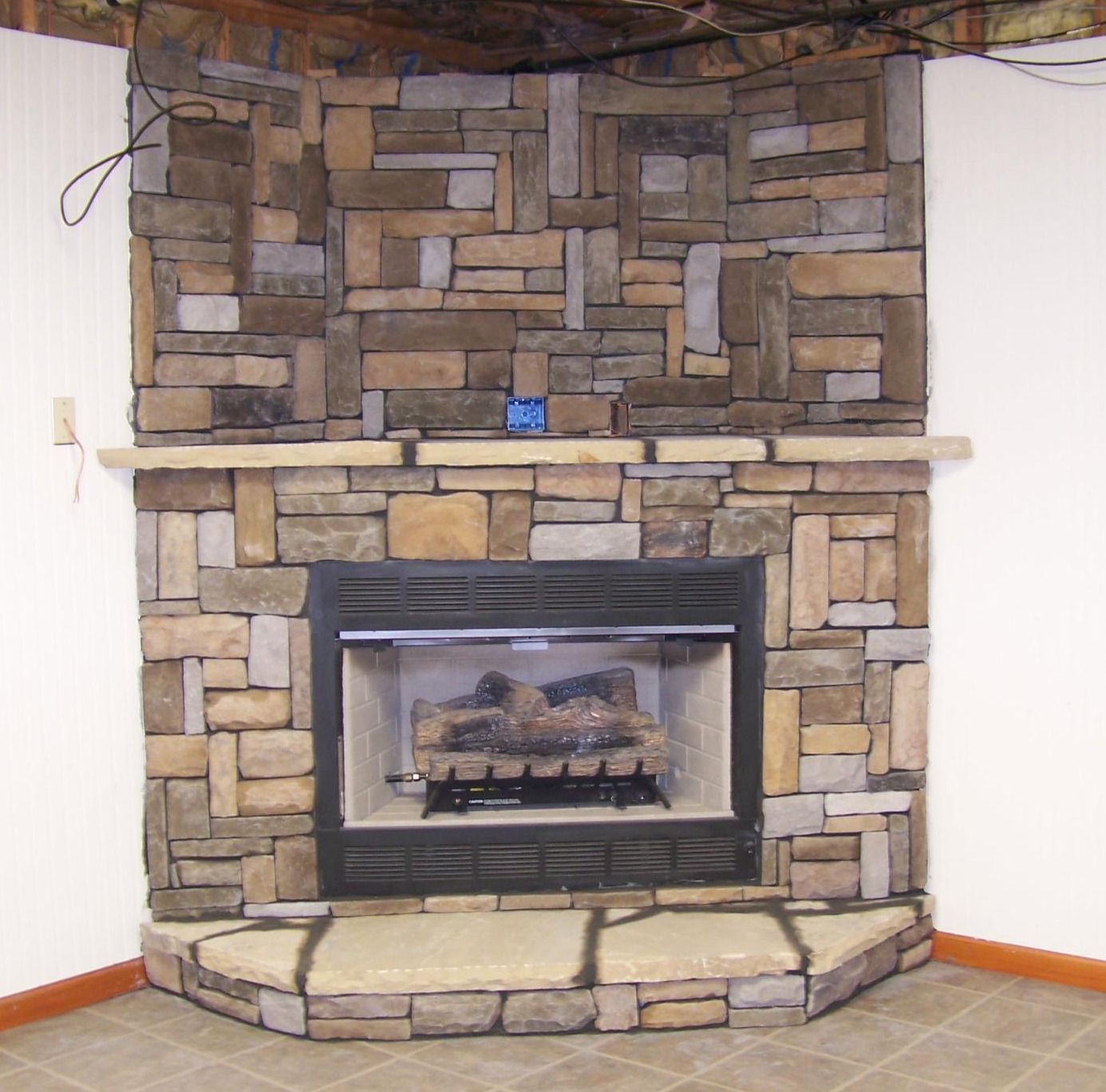 Perfect for these homeowners, the riverrock fireplace offers a unique look.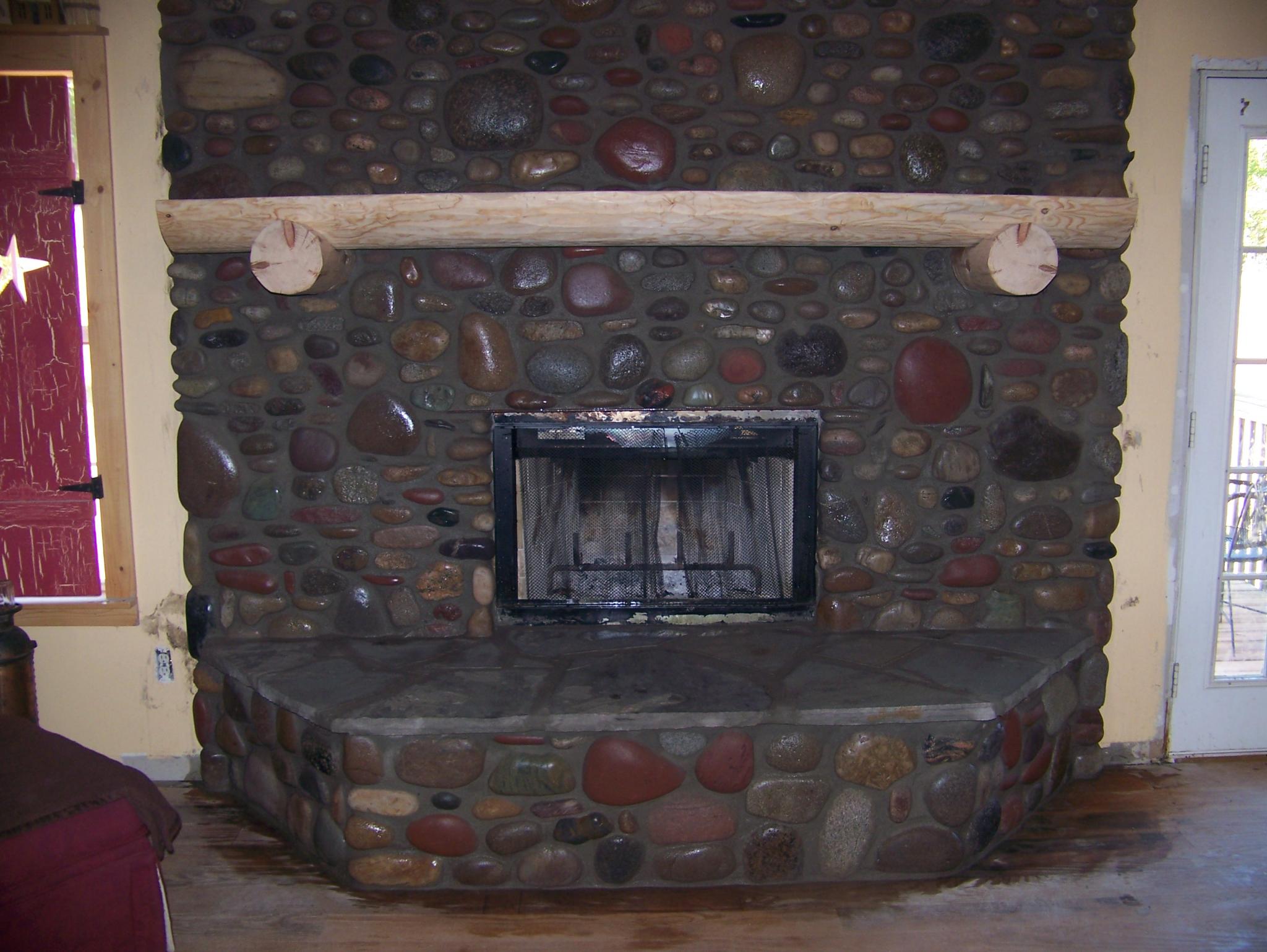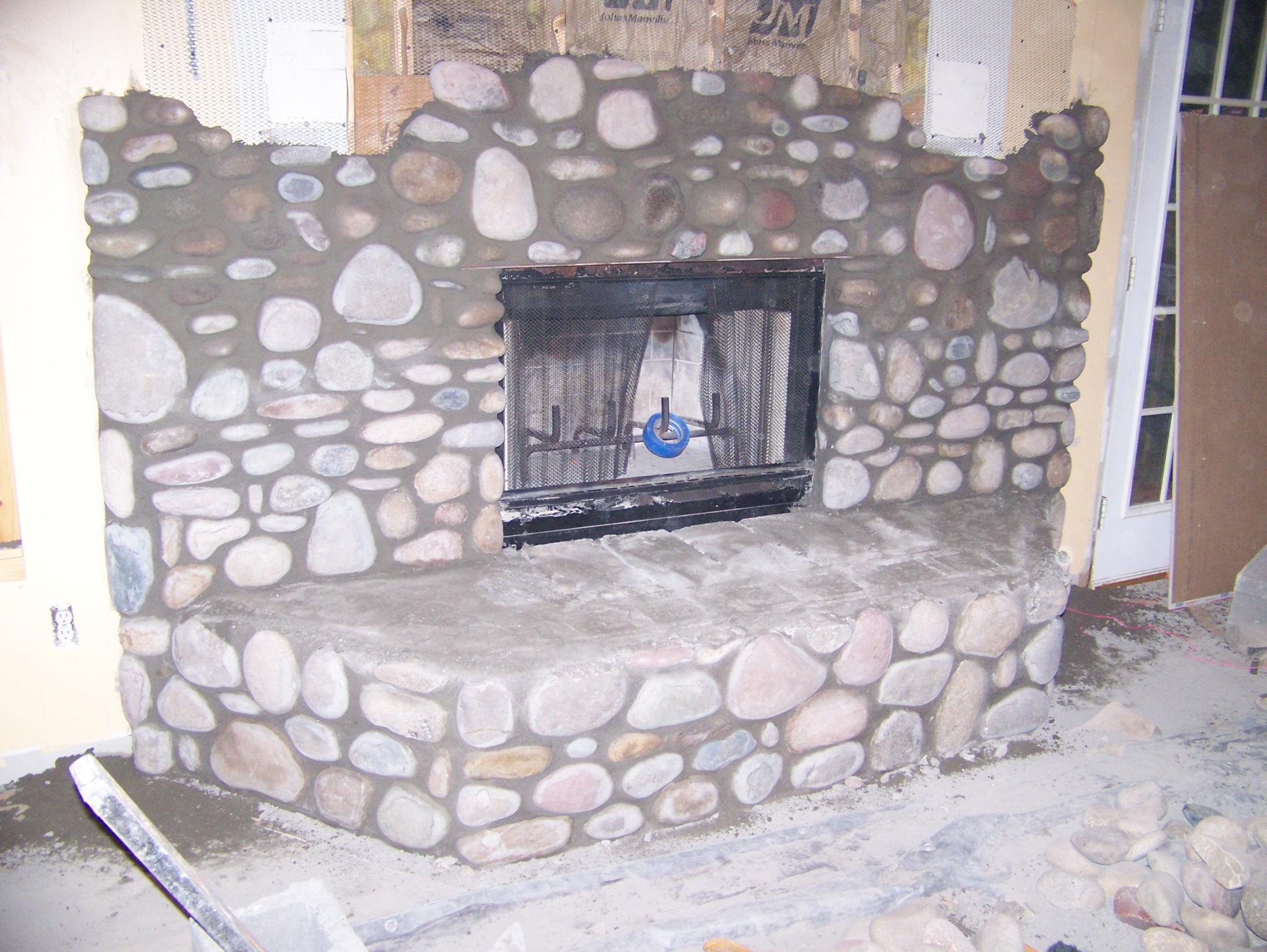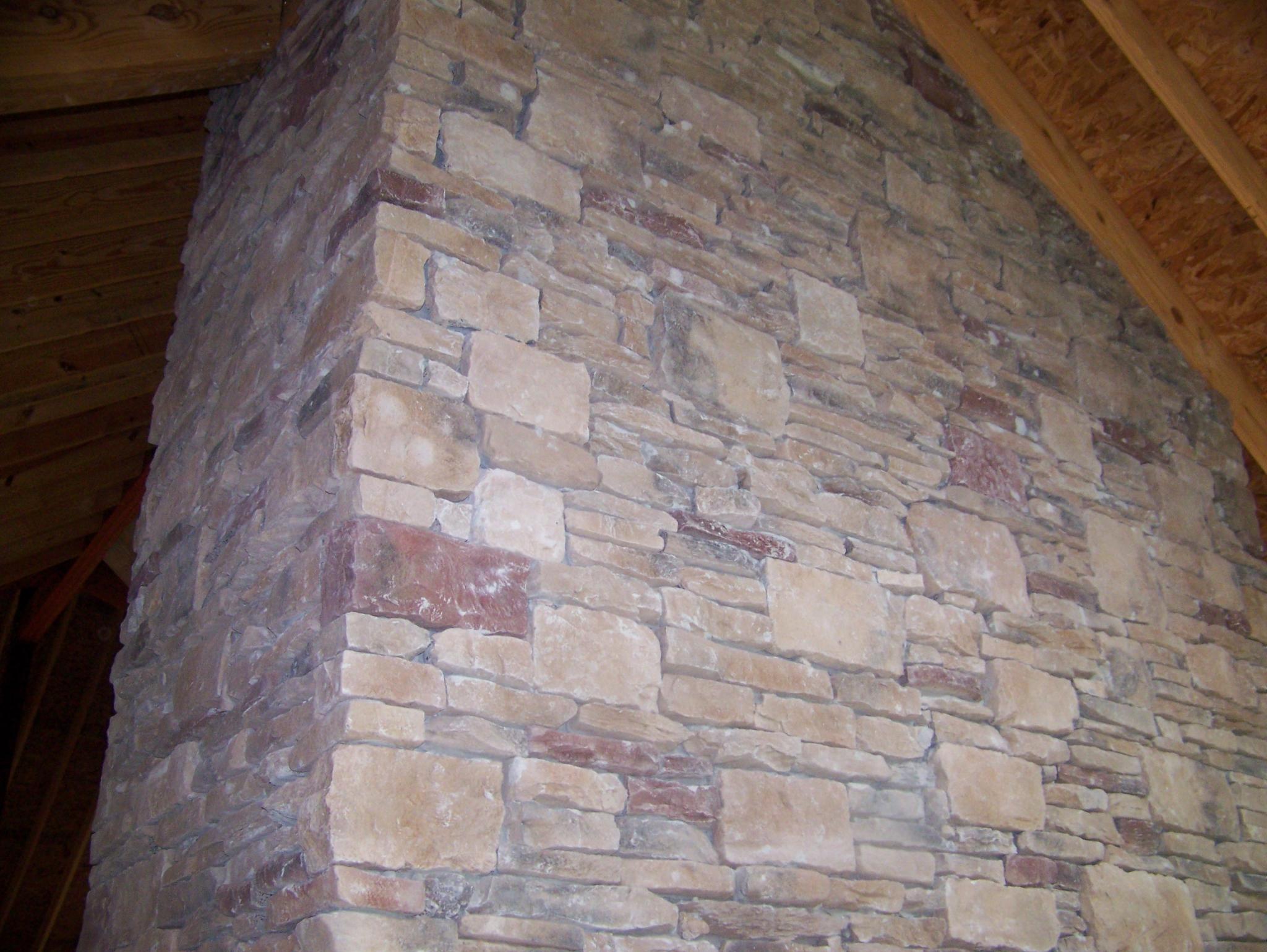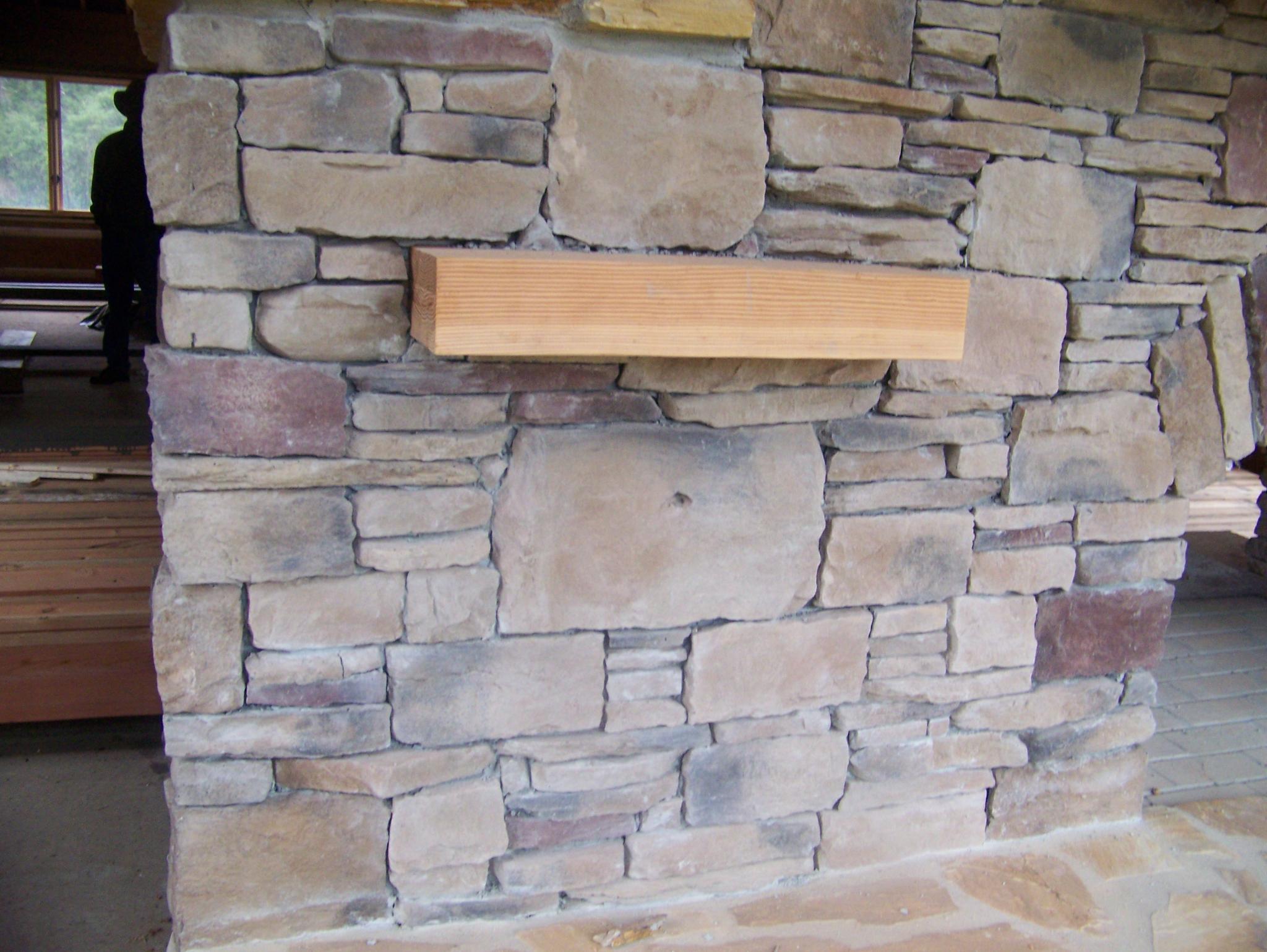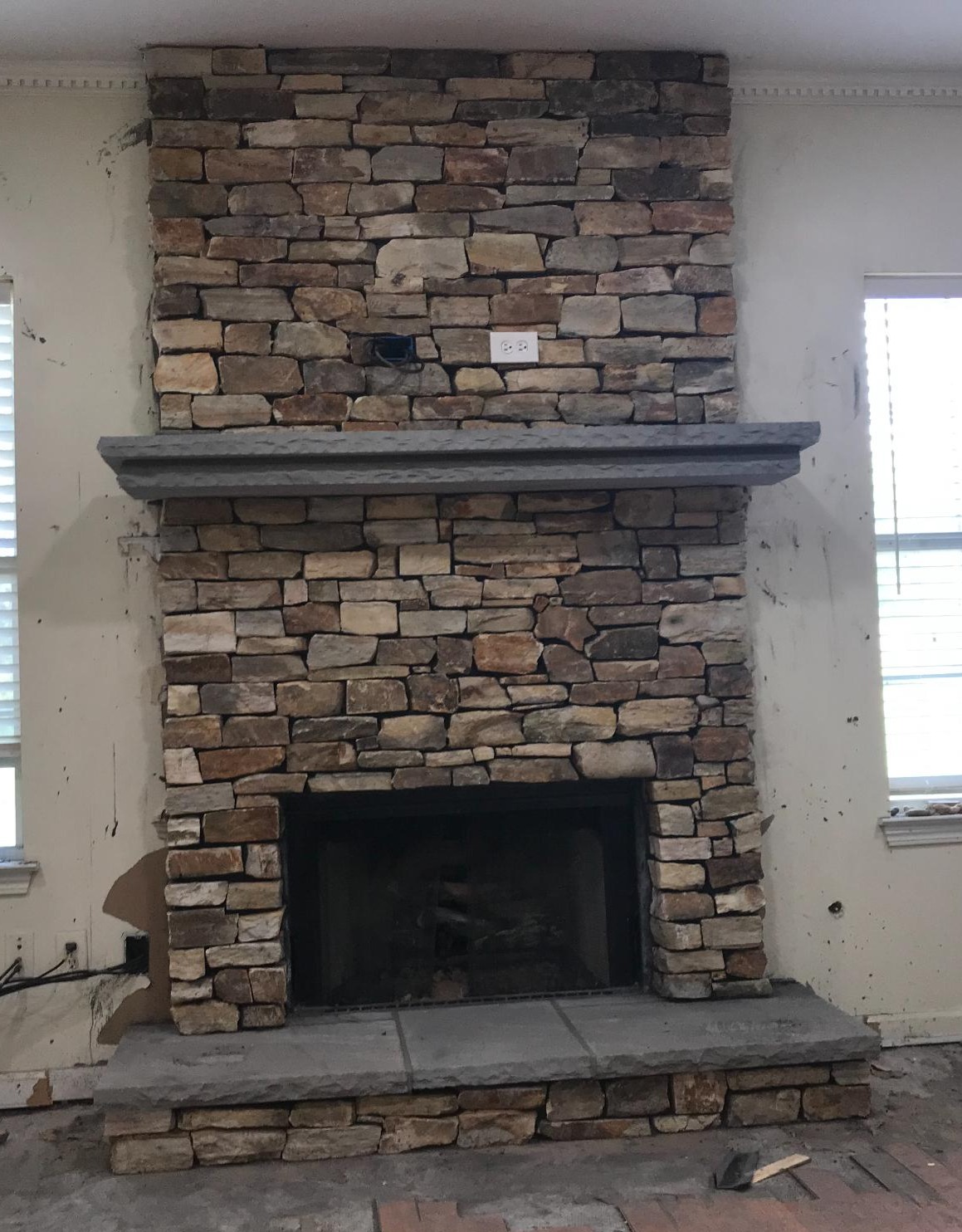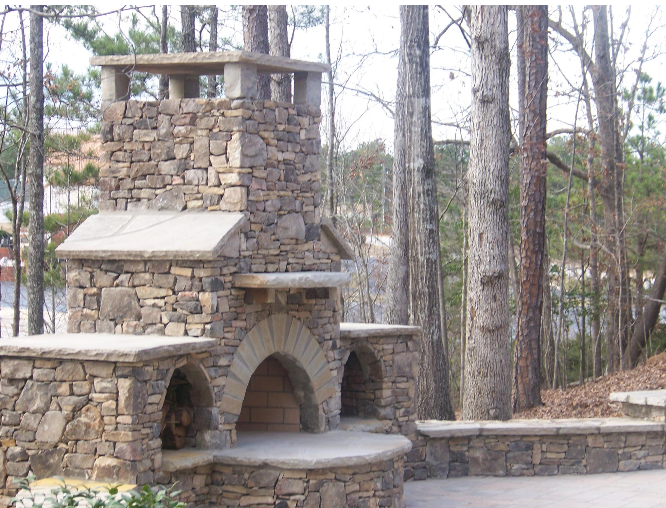 Adding a fireplace to any outdoor space would add a distinct ambience. This unique gem back faces the lake and provides warmth, seating and a conversation area perfect for entertaining. Outdoor fireplaces can range from elaborate and complex to simple and sweet.
No shortcuts were taken in the process to create a beautiful finished product.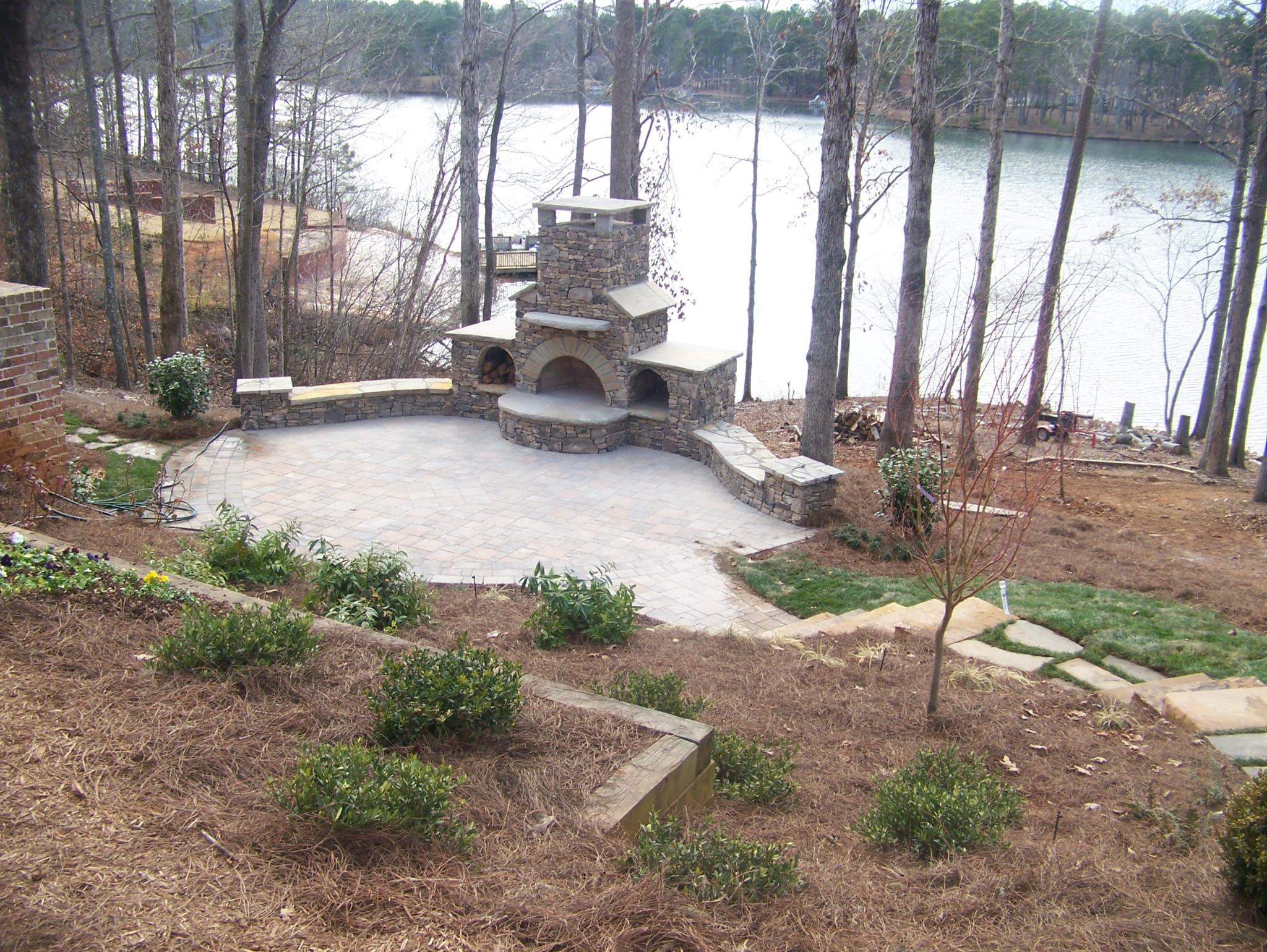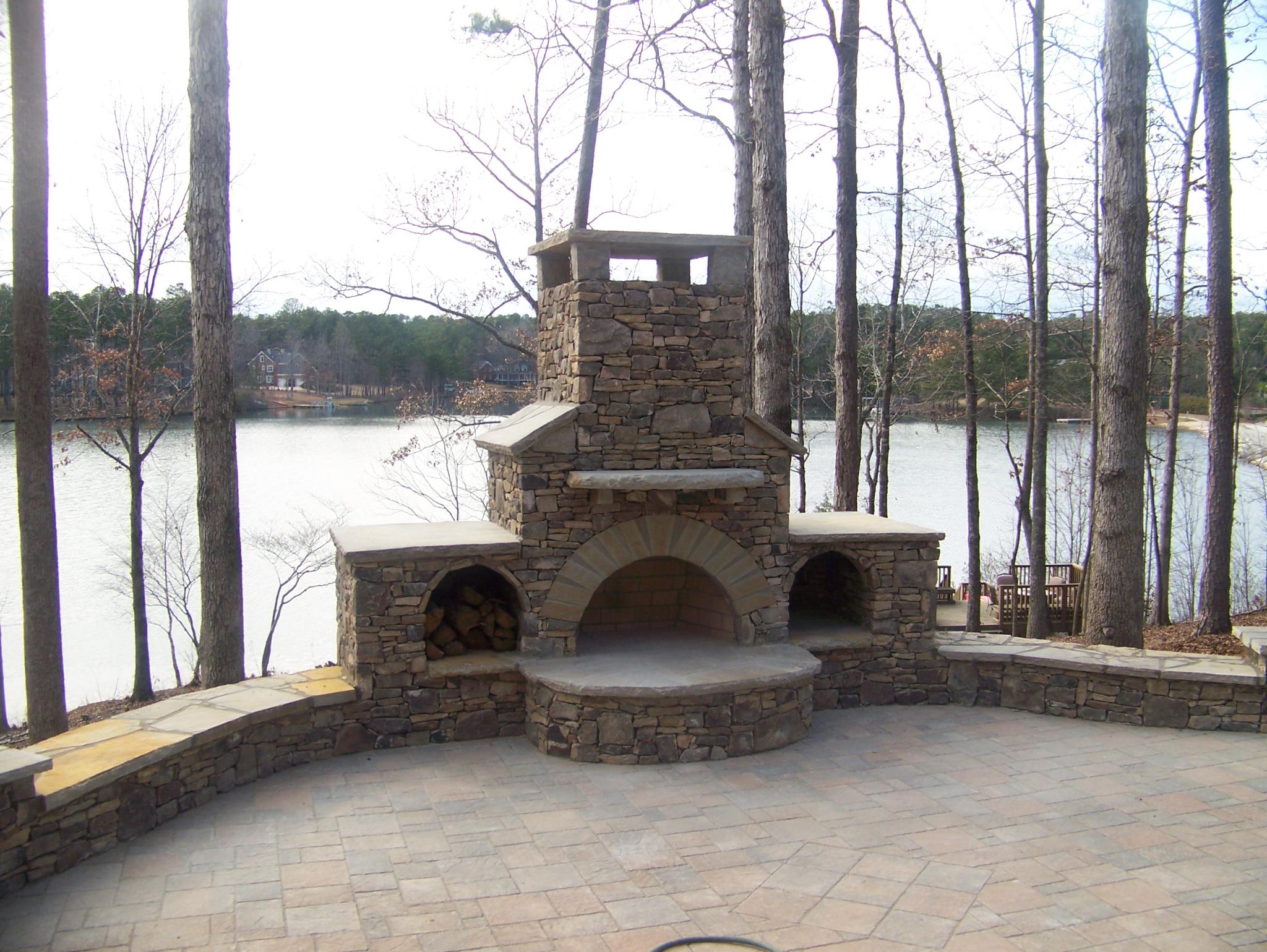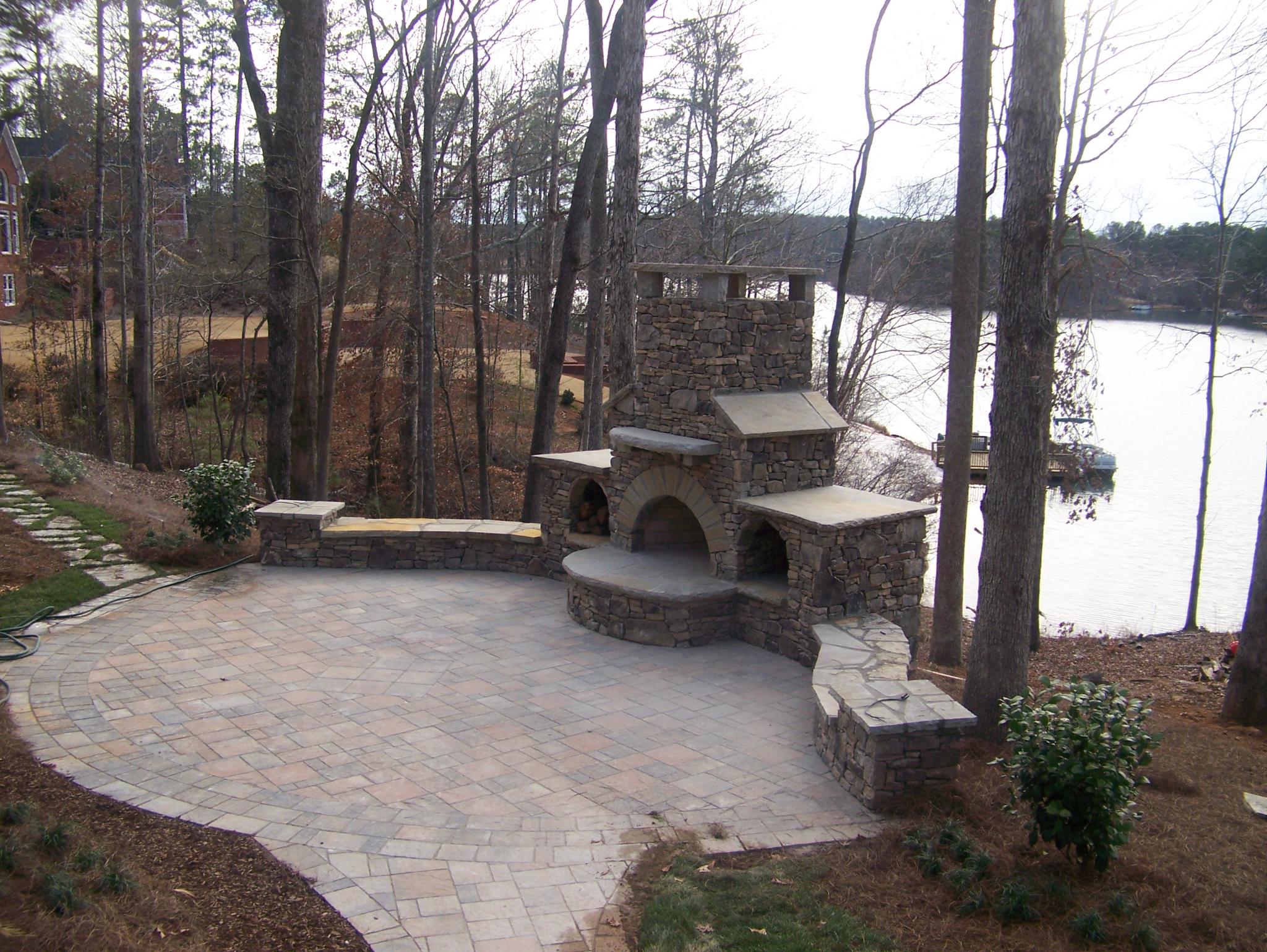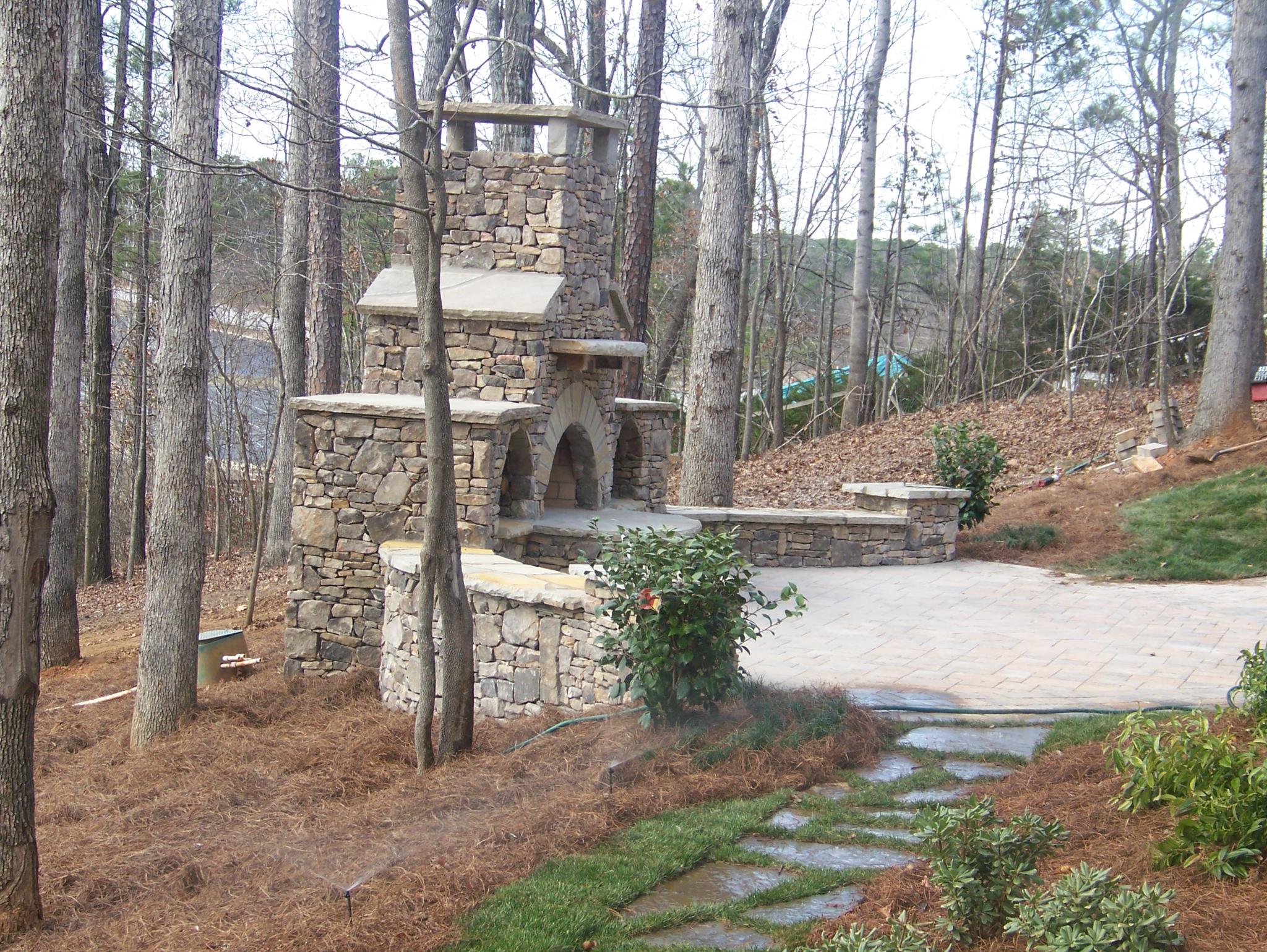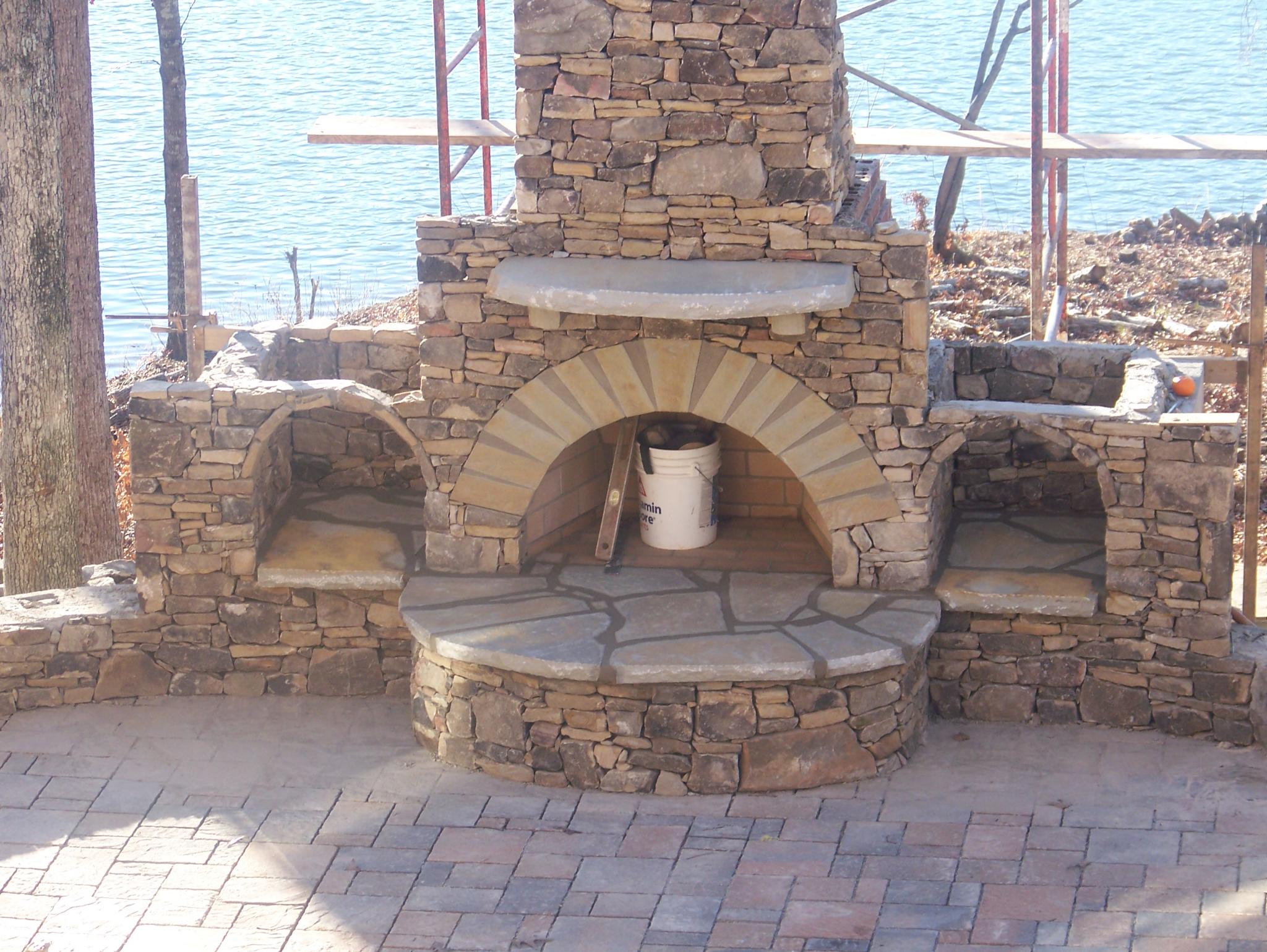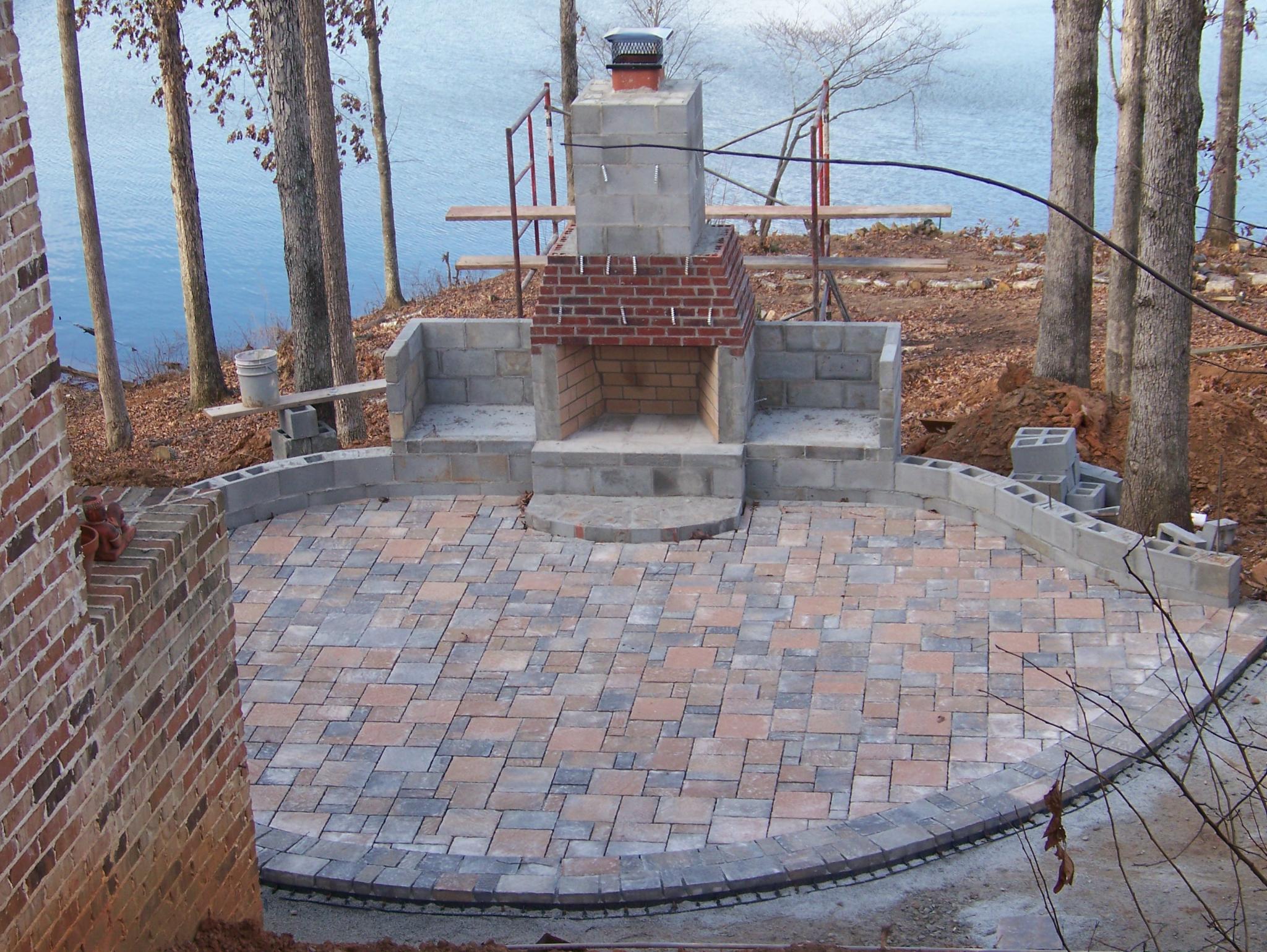 Working along side my brother was one of the joys of this project.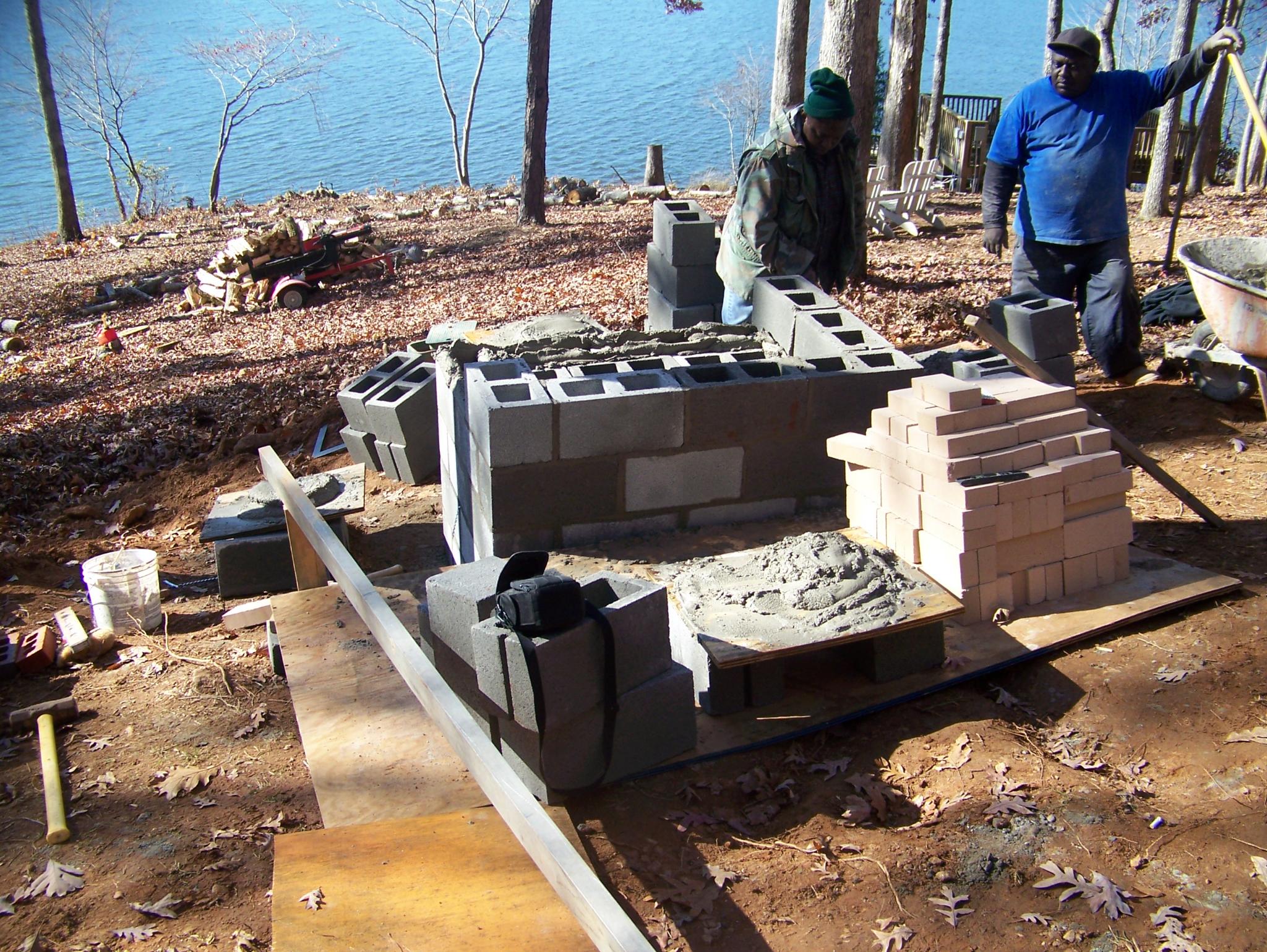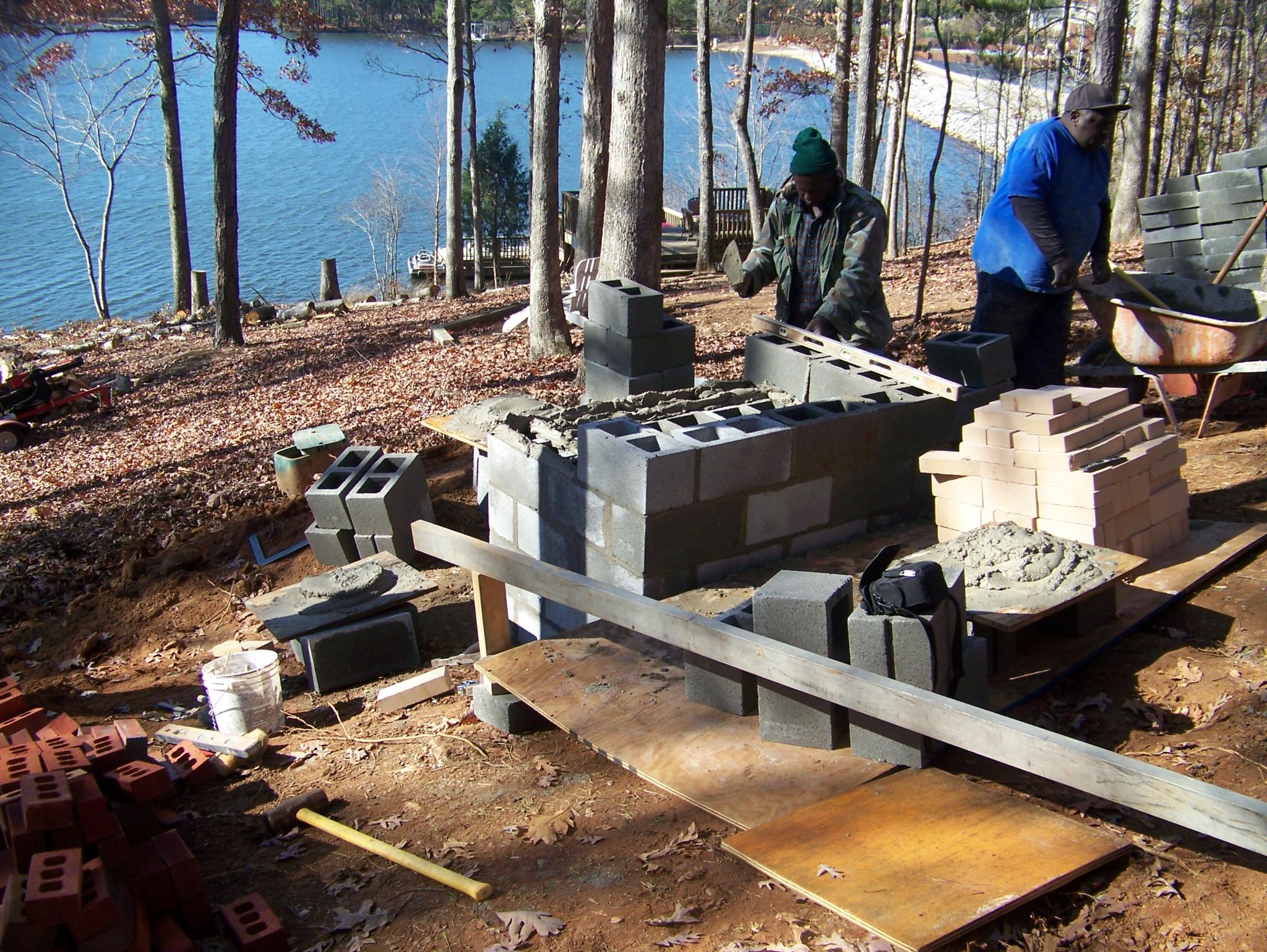 ---
More Trending Outdoor Fireplaces
Ways to entertain outdoors continues to be a big trend across the south. Customer's ideas become dynamic, creative, and inspired outdoor spaces.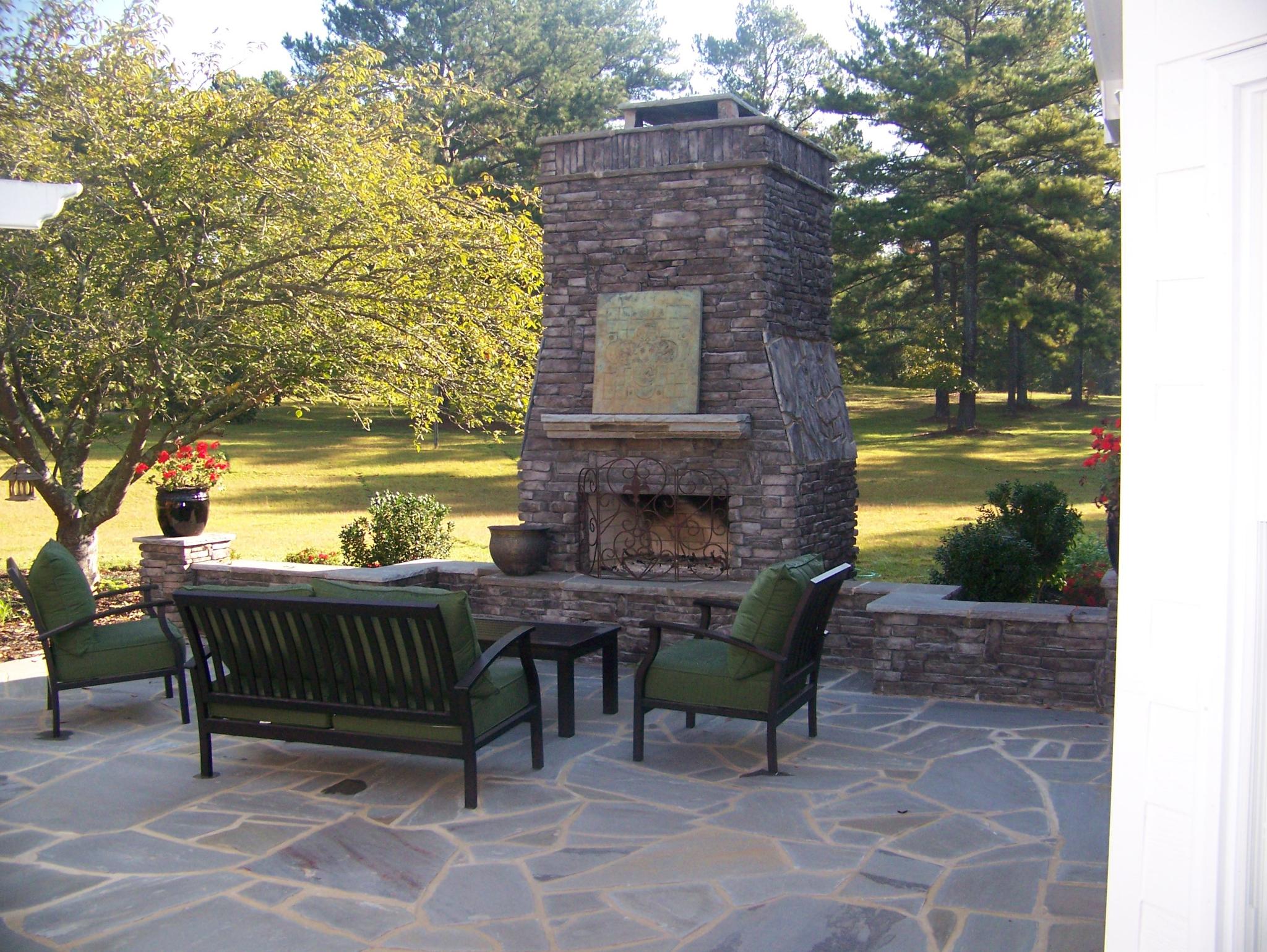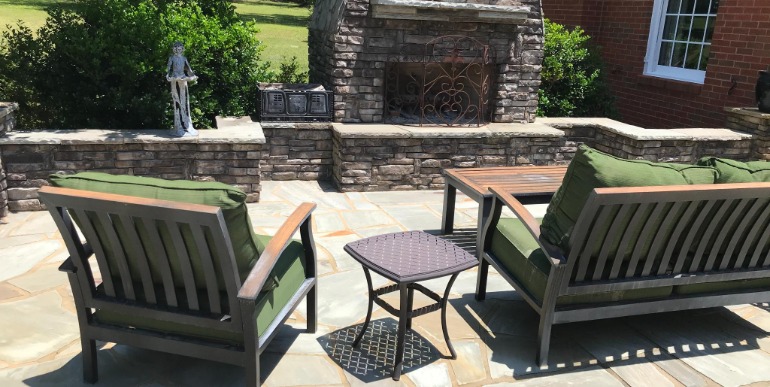 Visting this project recently allowed me to see the homeowners are still enjoying this outdoor space after 7 years.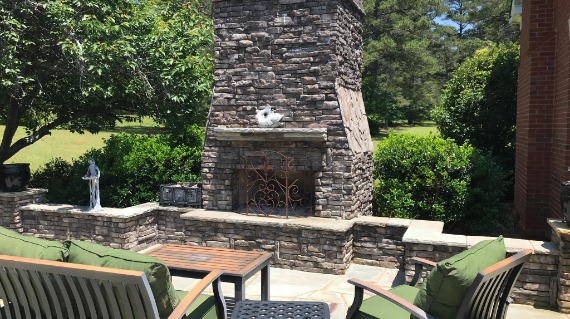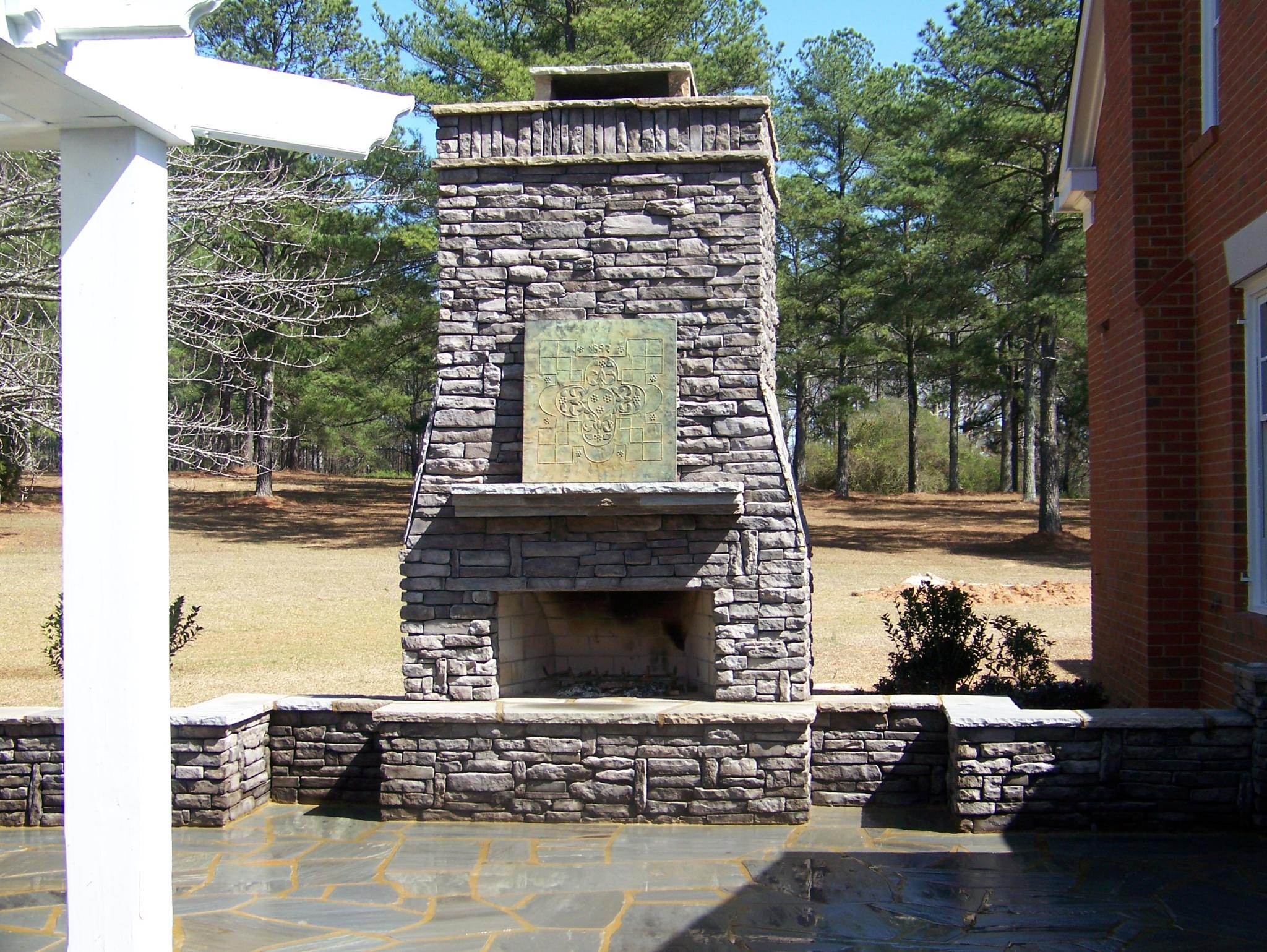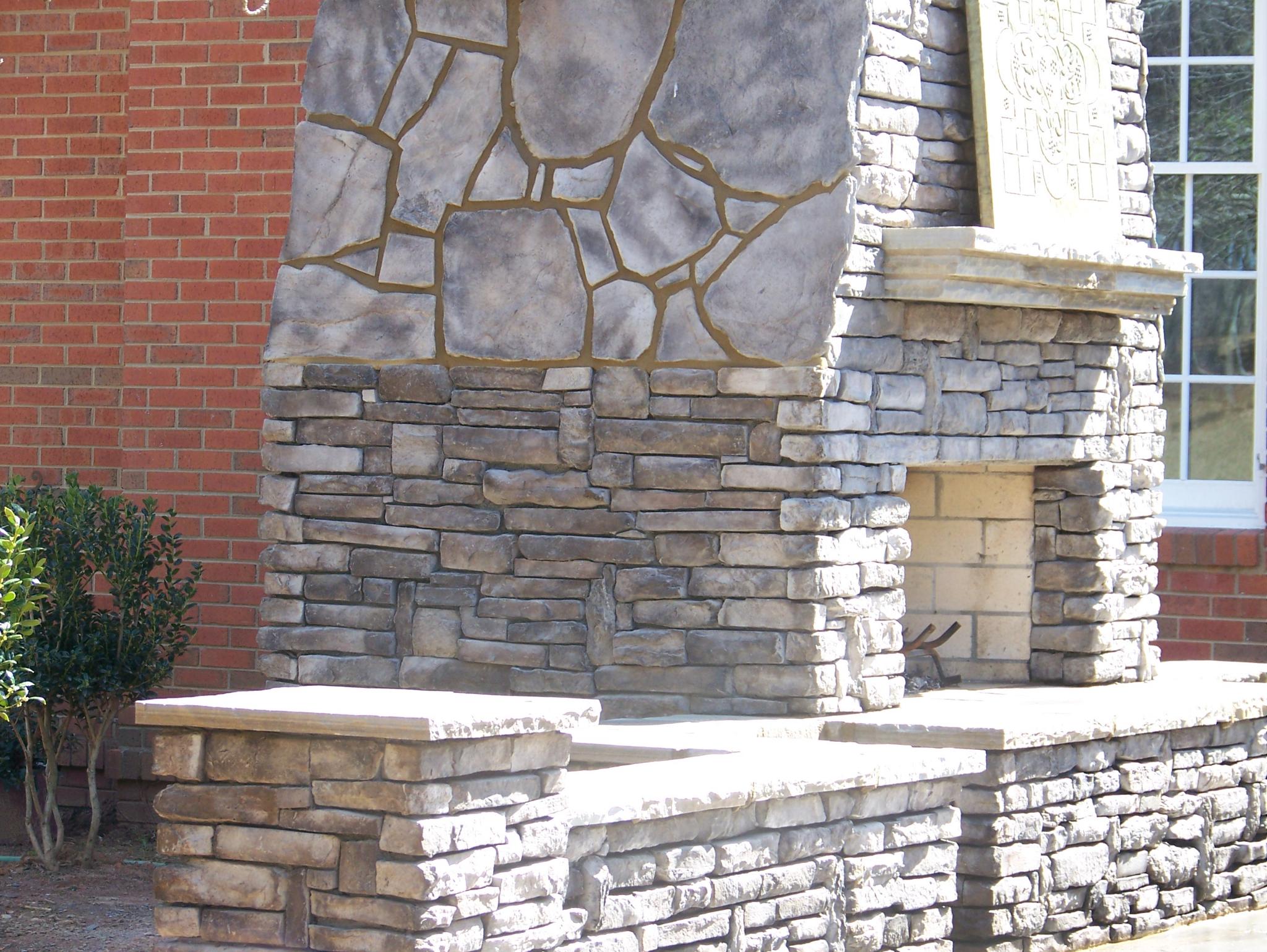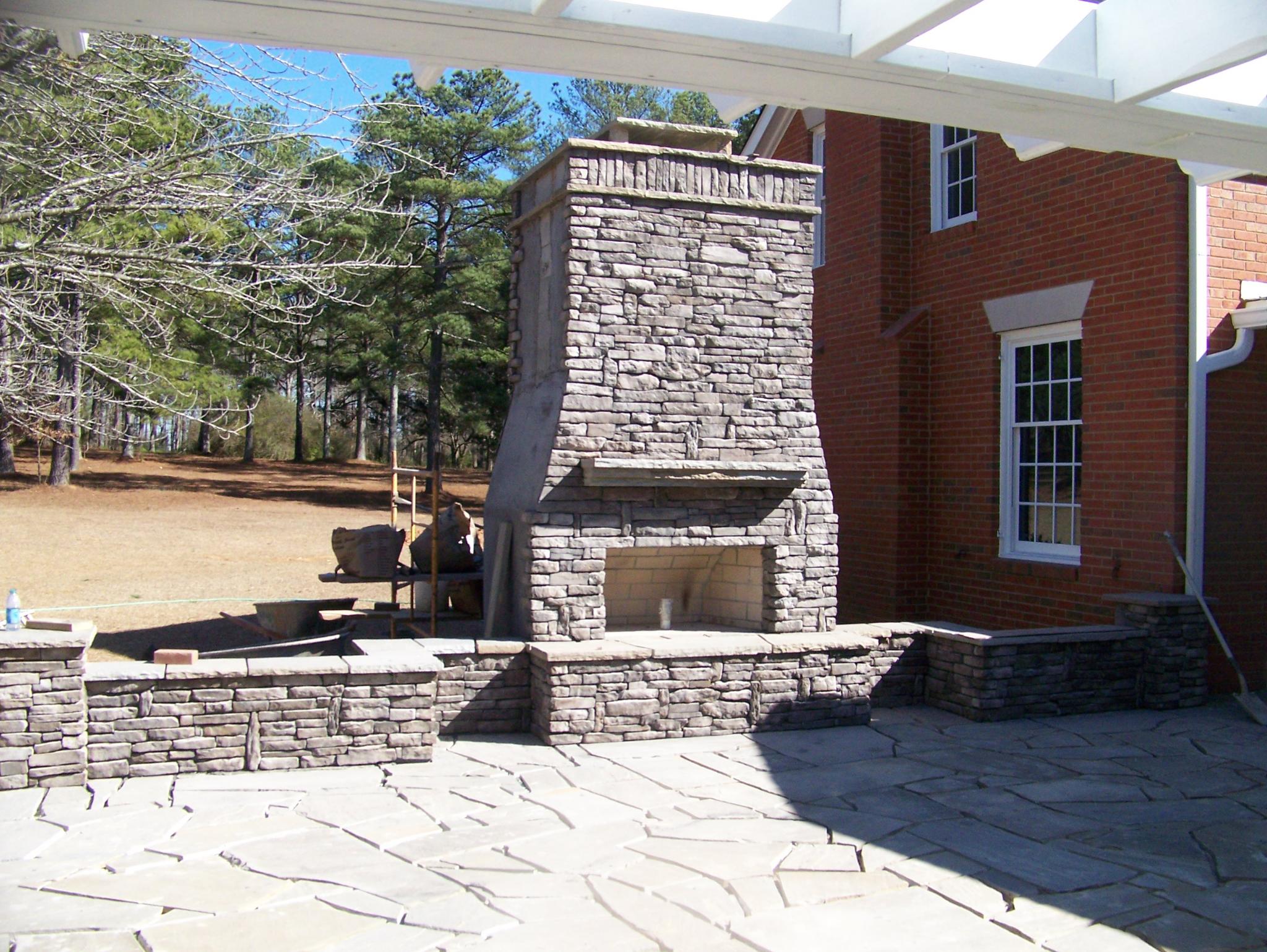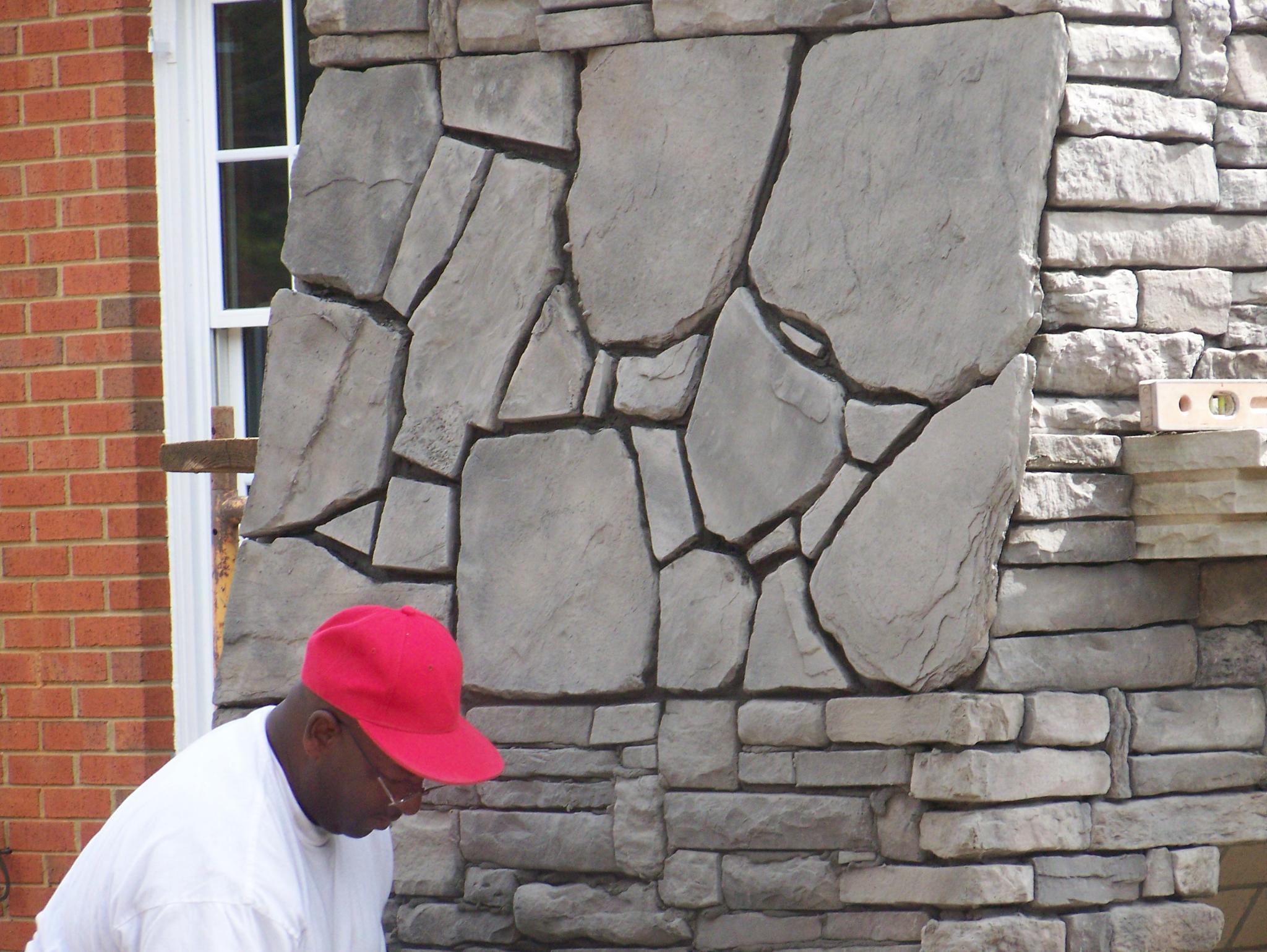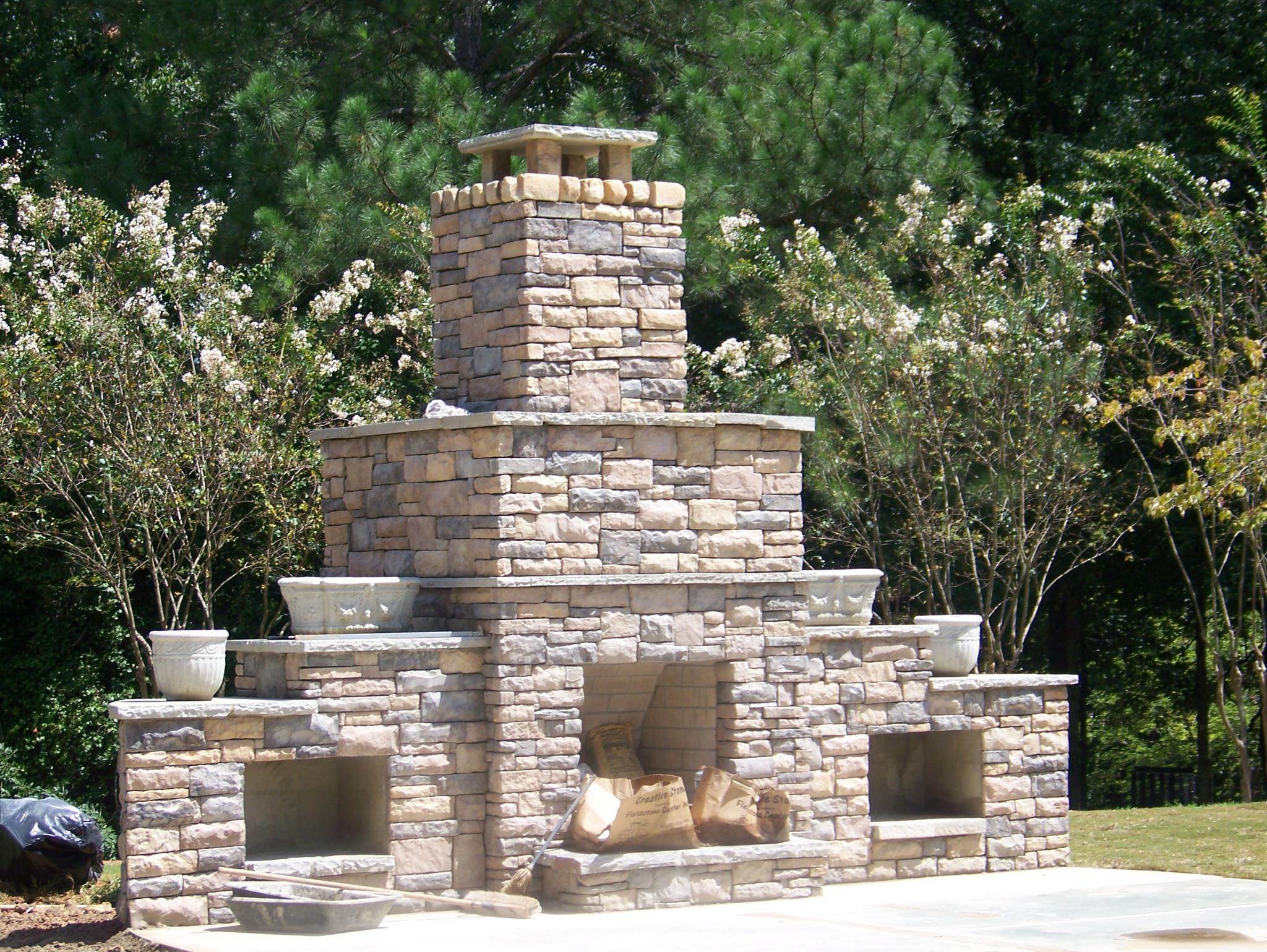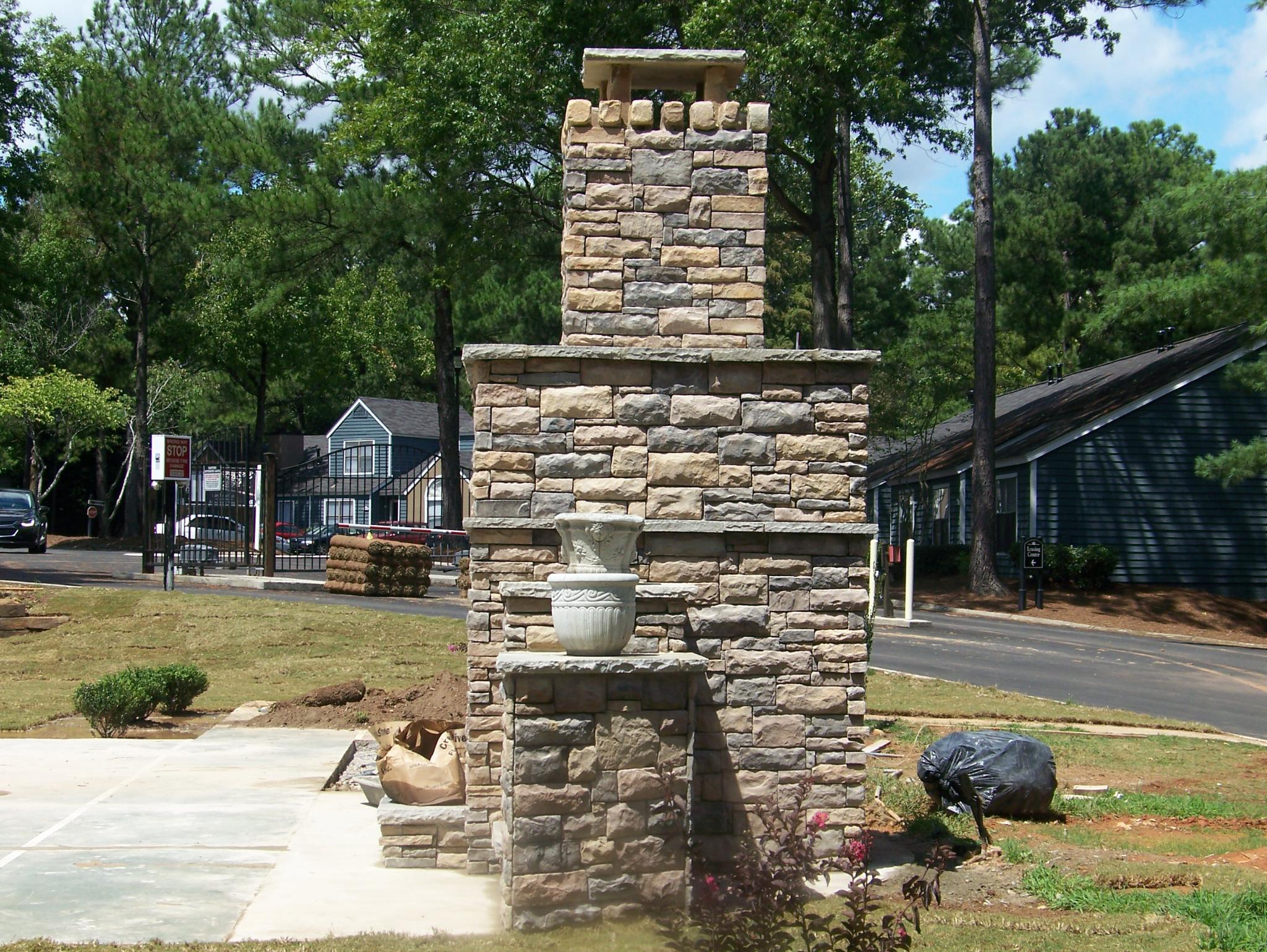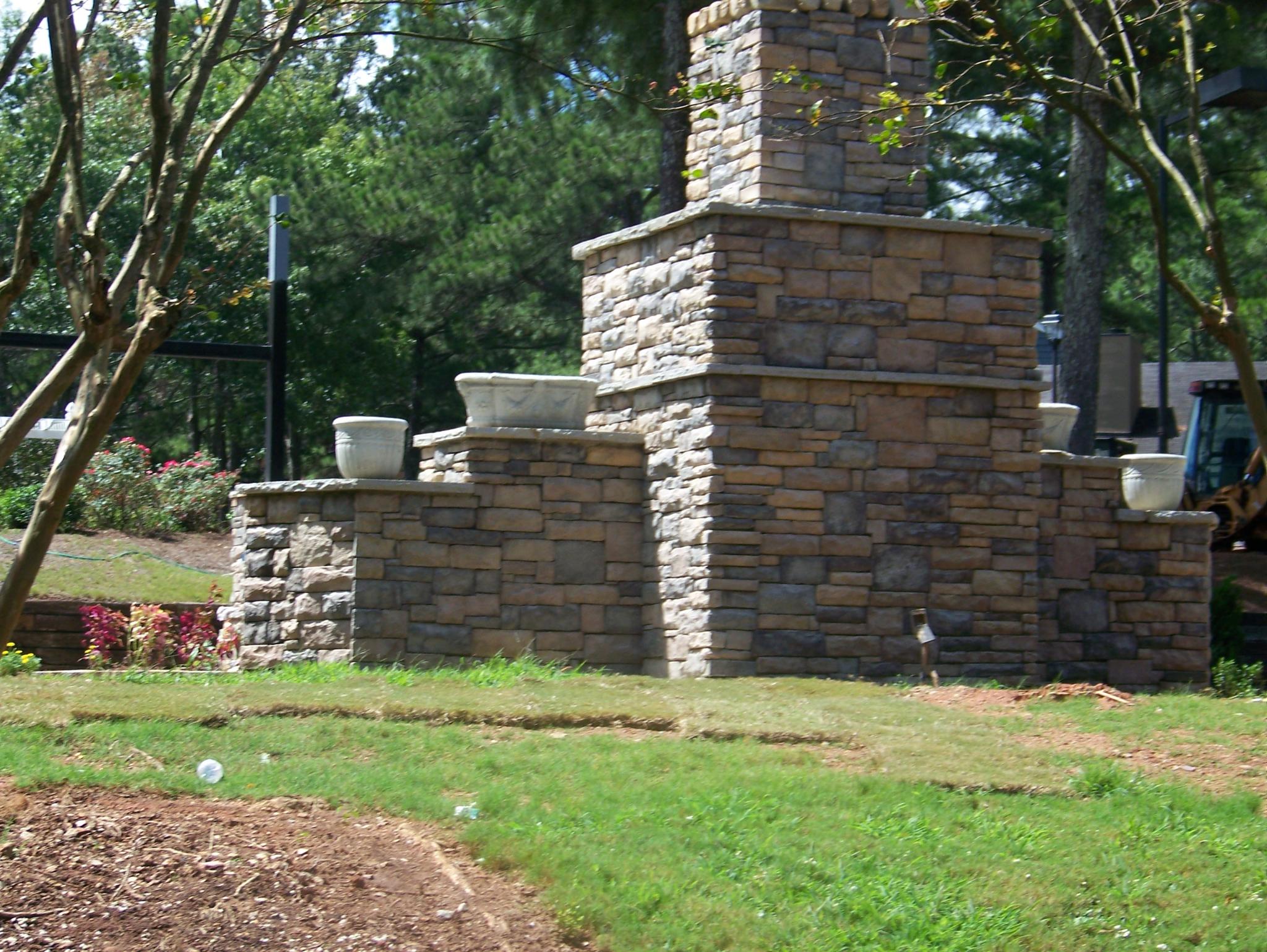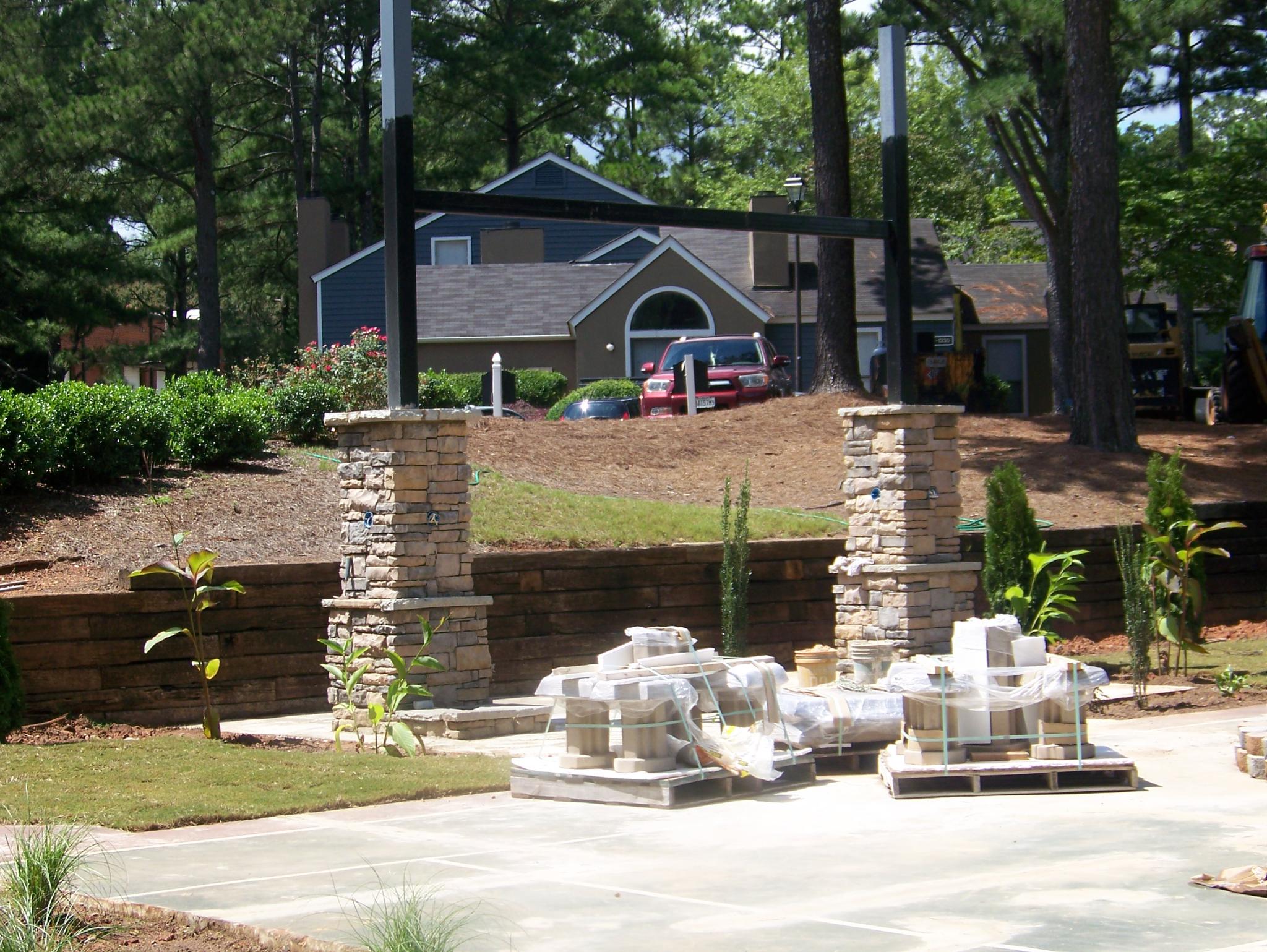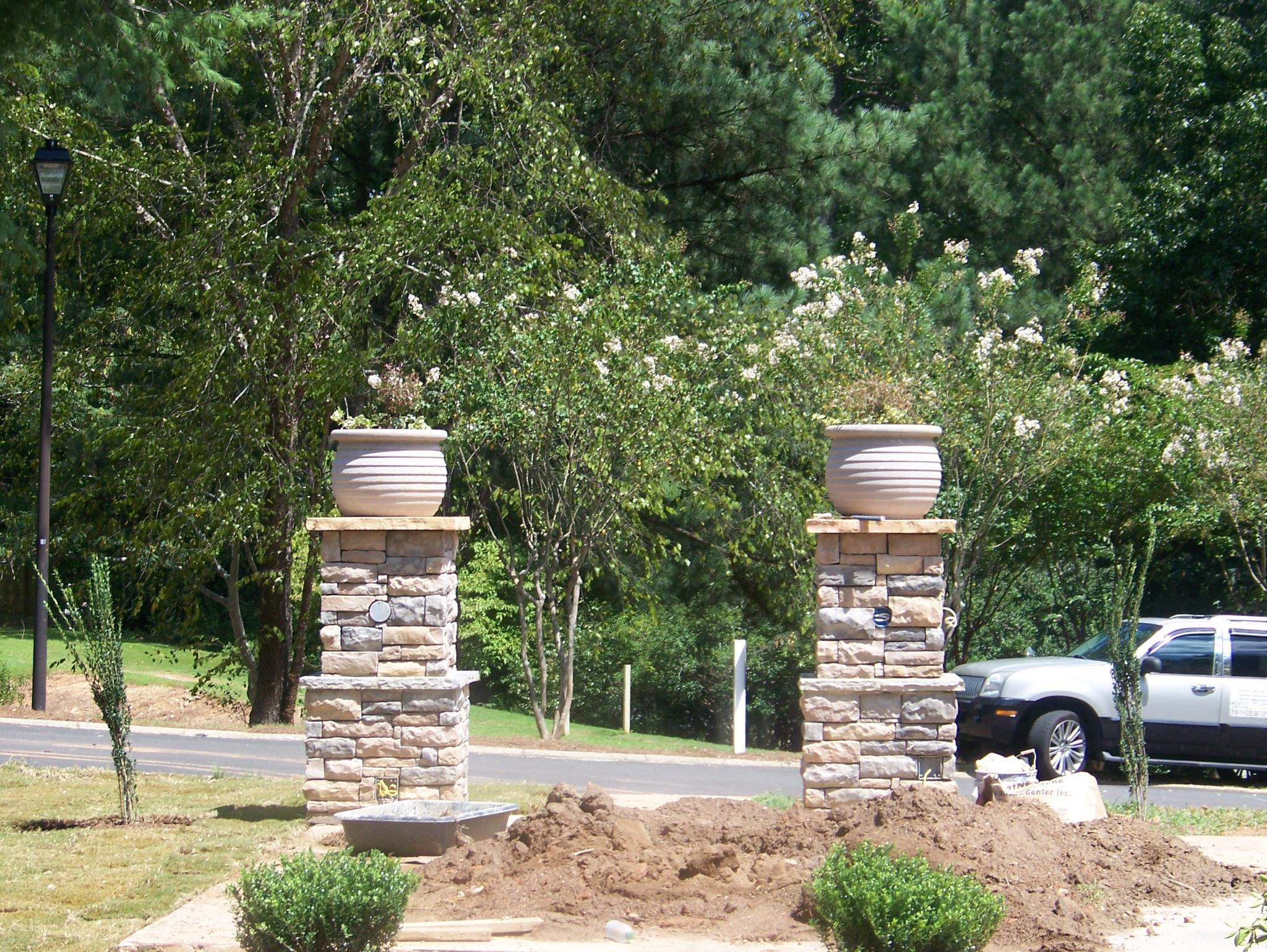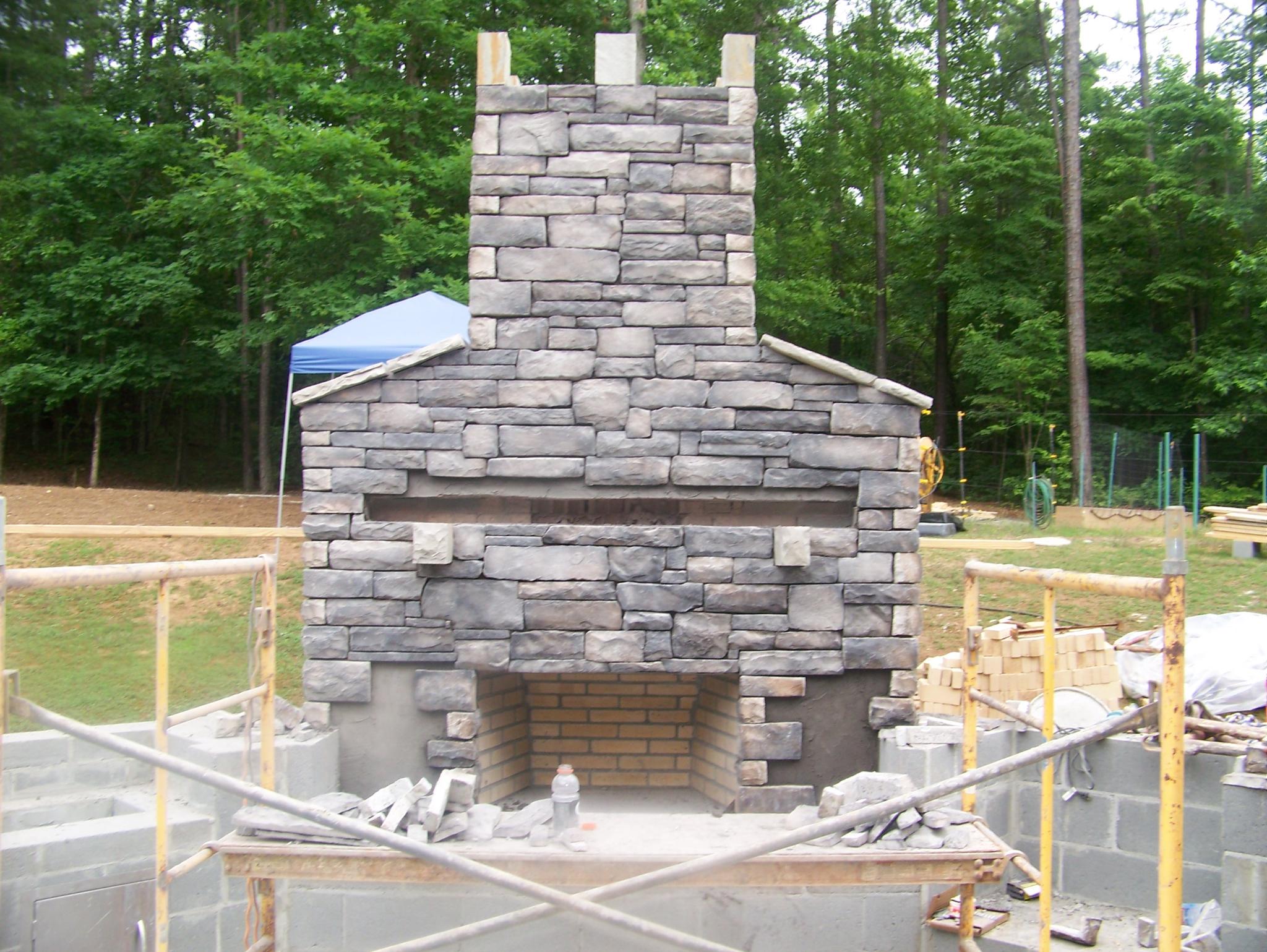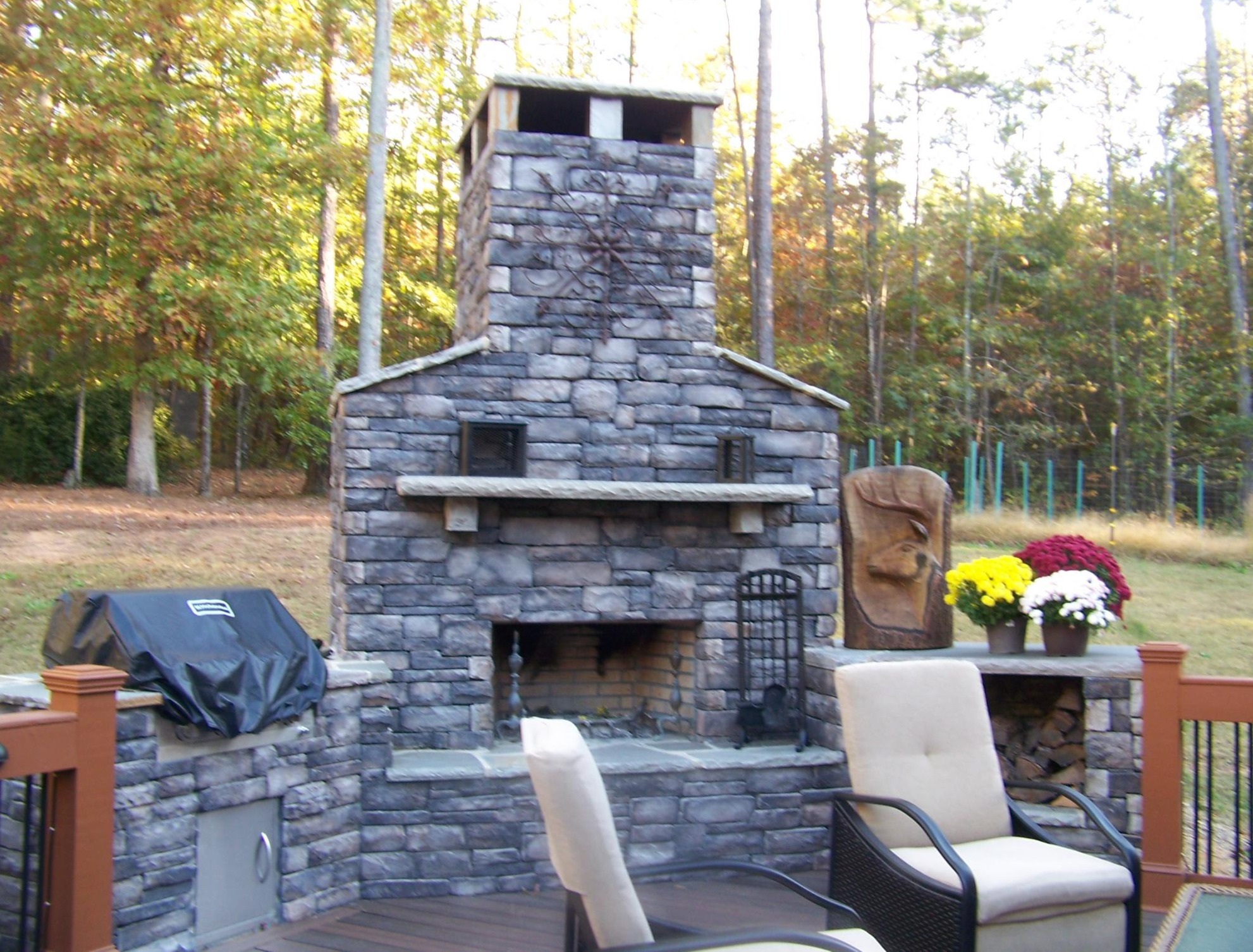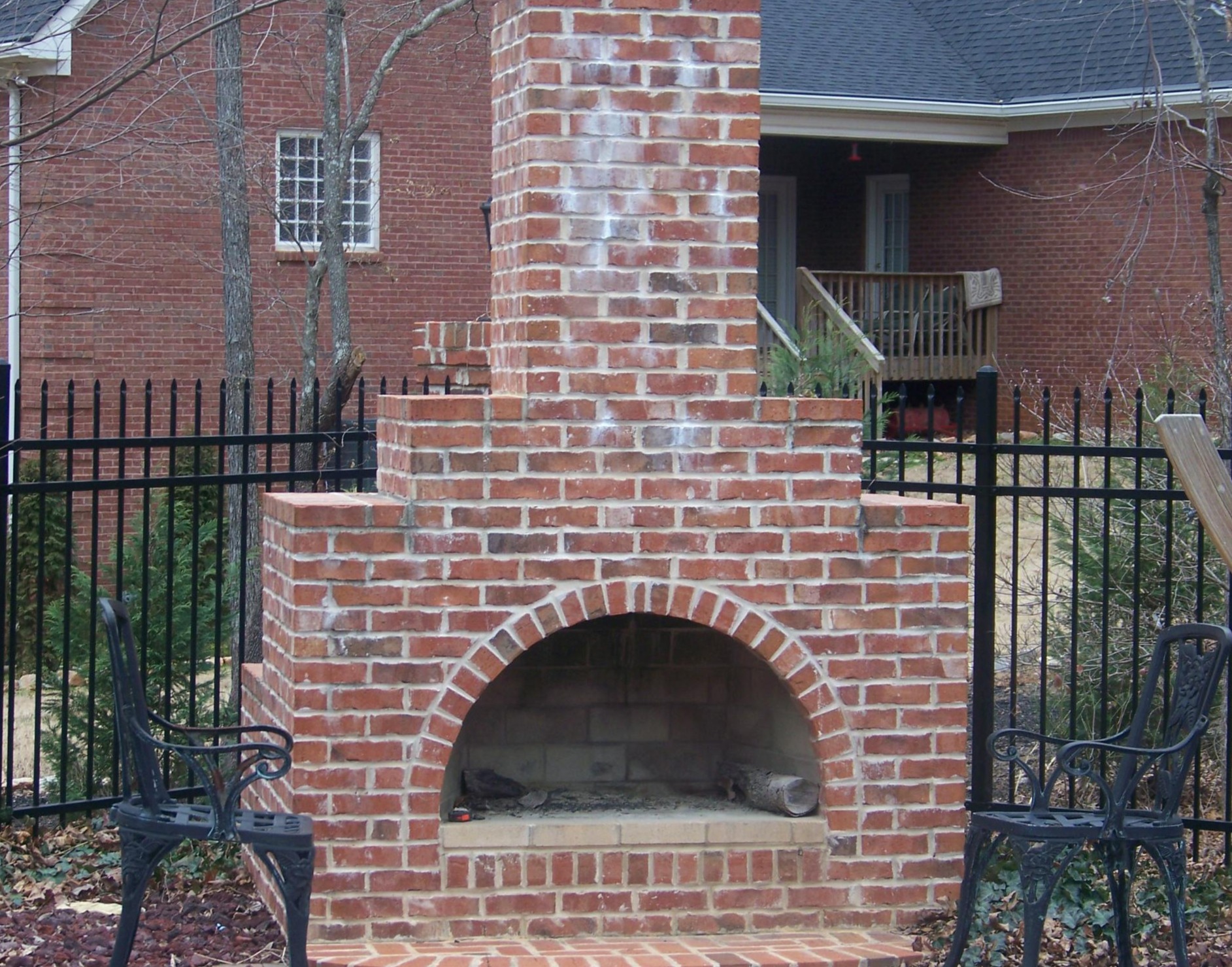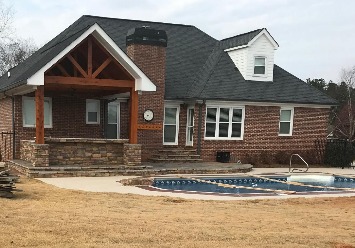 Outdoor Kitchen
The homeowners wanted to simply wrap an area used for outdoor cooking with stone. The chose a really beautiful flagstone and matached it with a Mountain Chablis manmade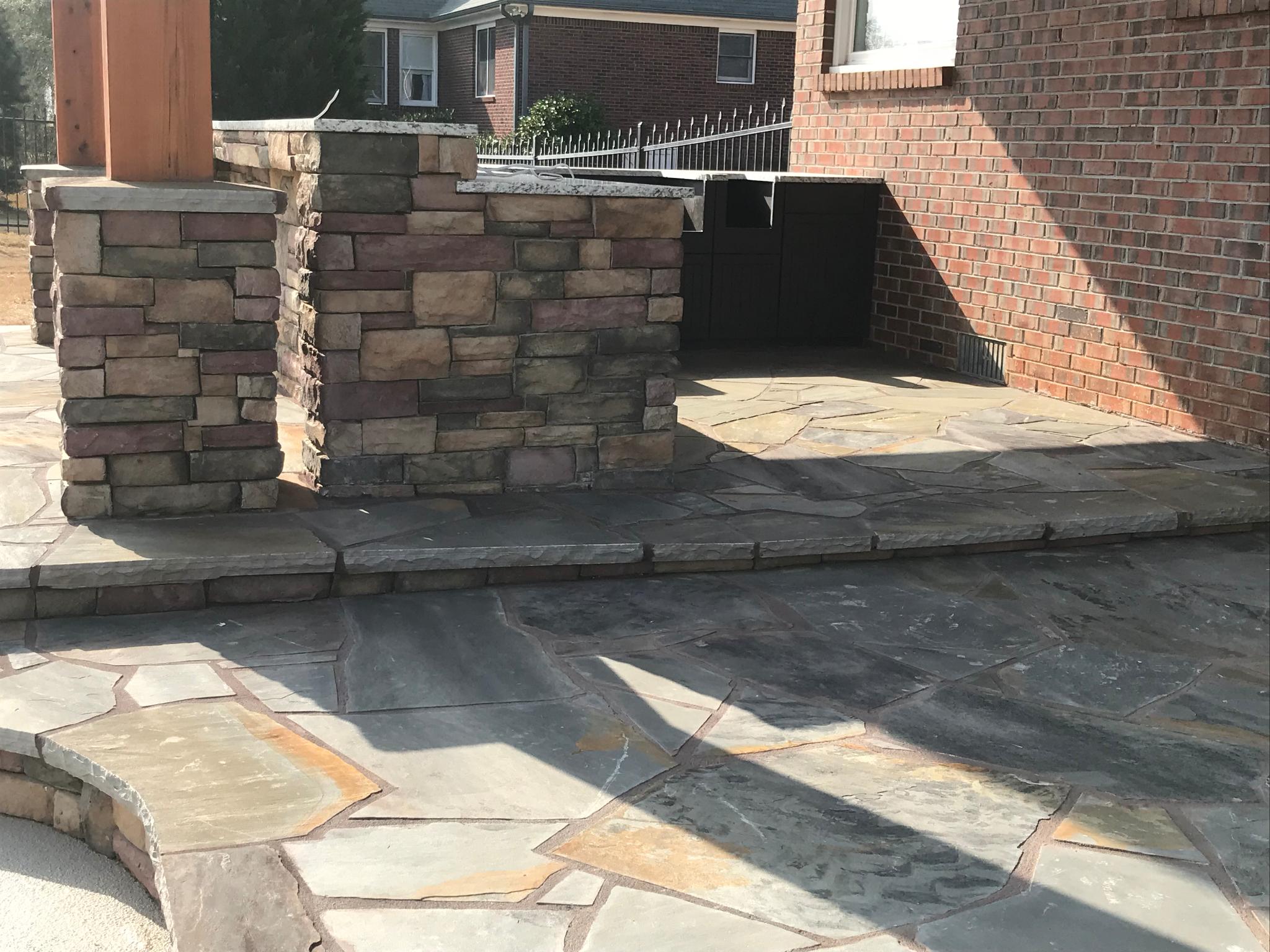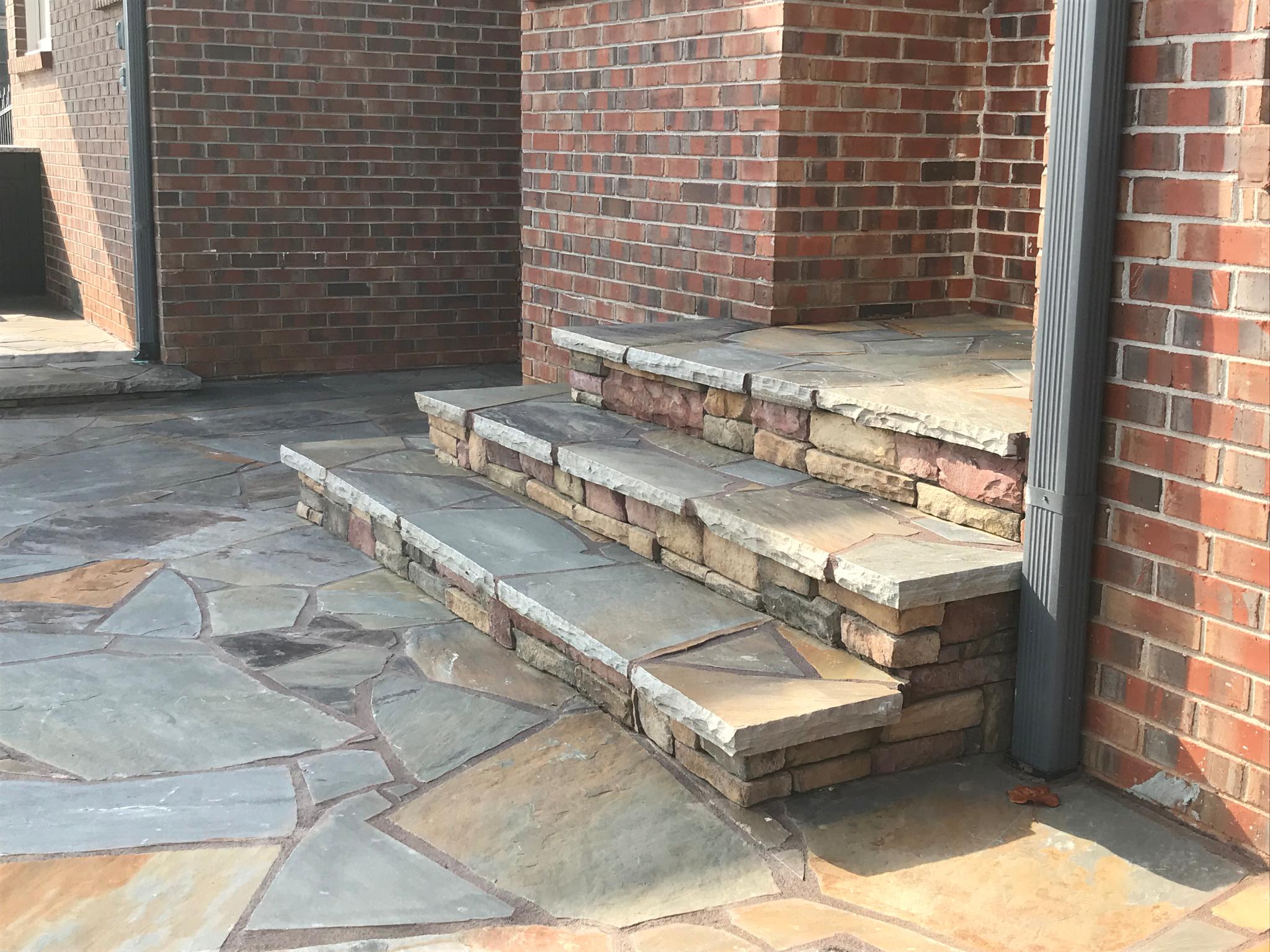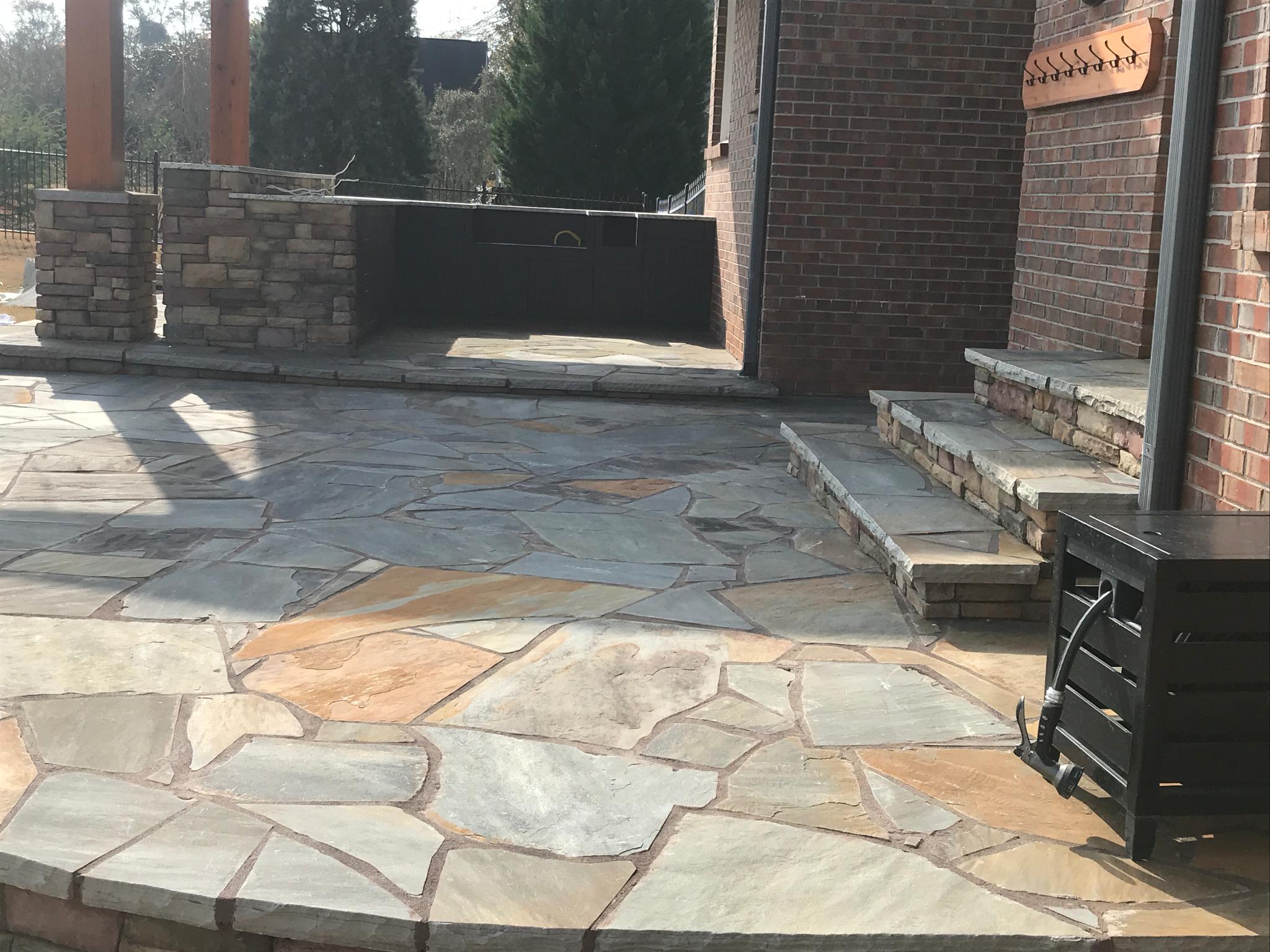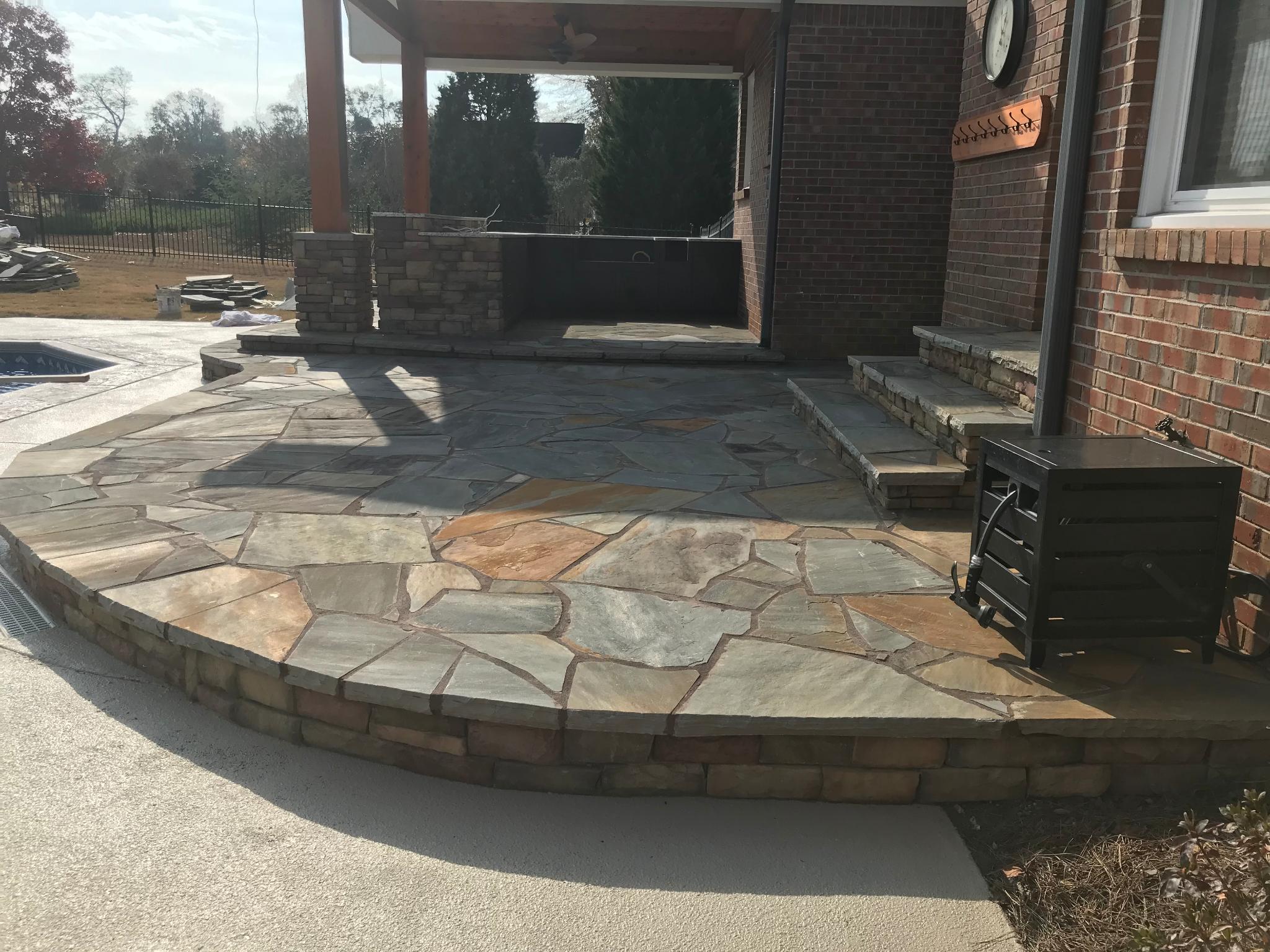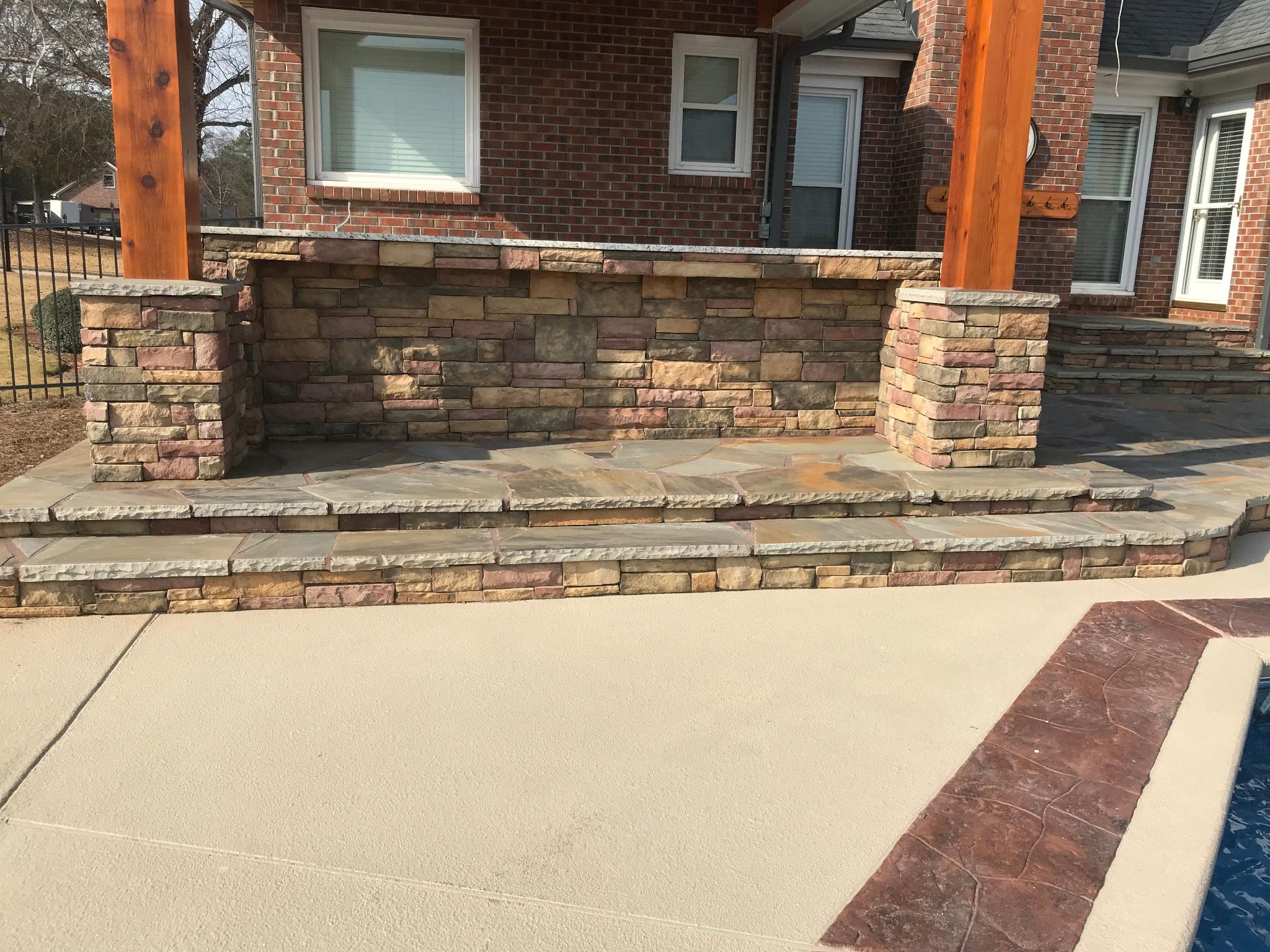 Pizza Oven is an Outdoor Cooking Dream
The pizza oven added a special element to the owners back yard. It became the center piece of there small back yard, perfect for entertaining. The homeowners graciously shared this recent photo and how much they are enjoying the beauty of the stonework. As I am sure they are also enjoying many pizzas.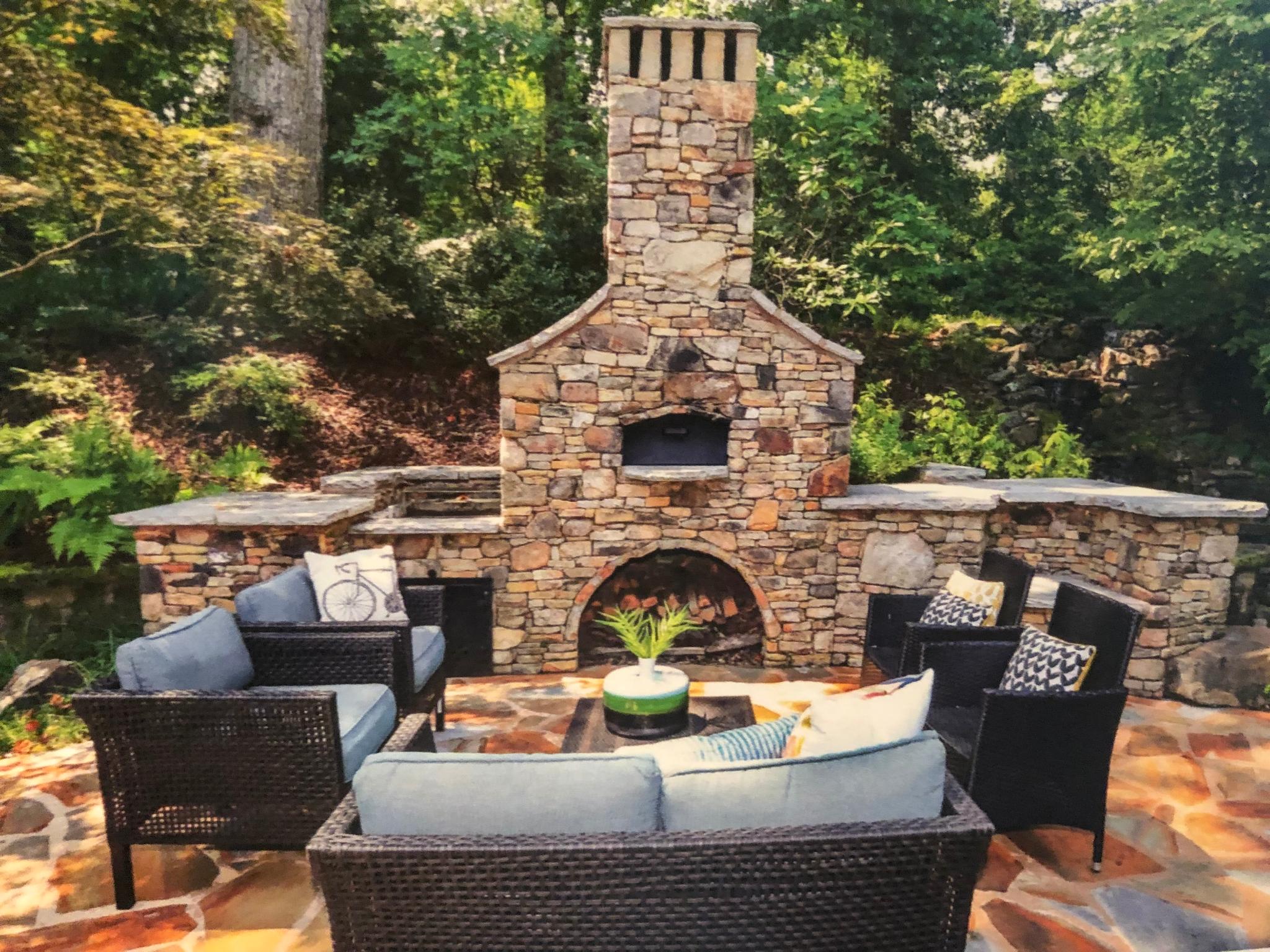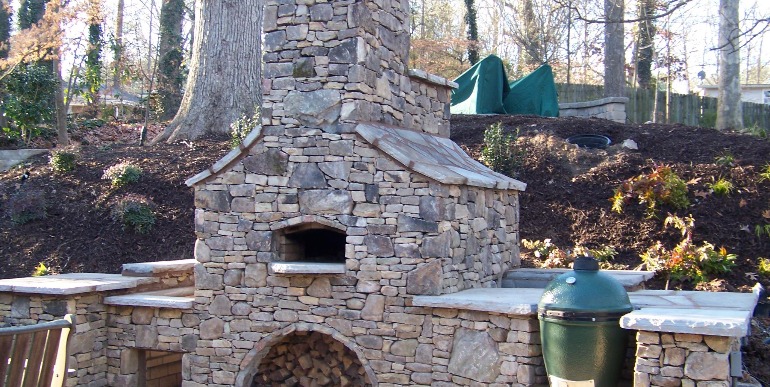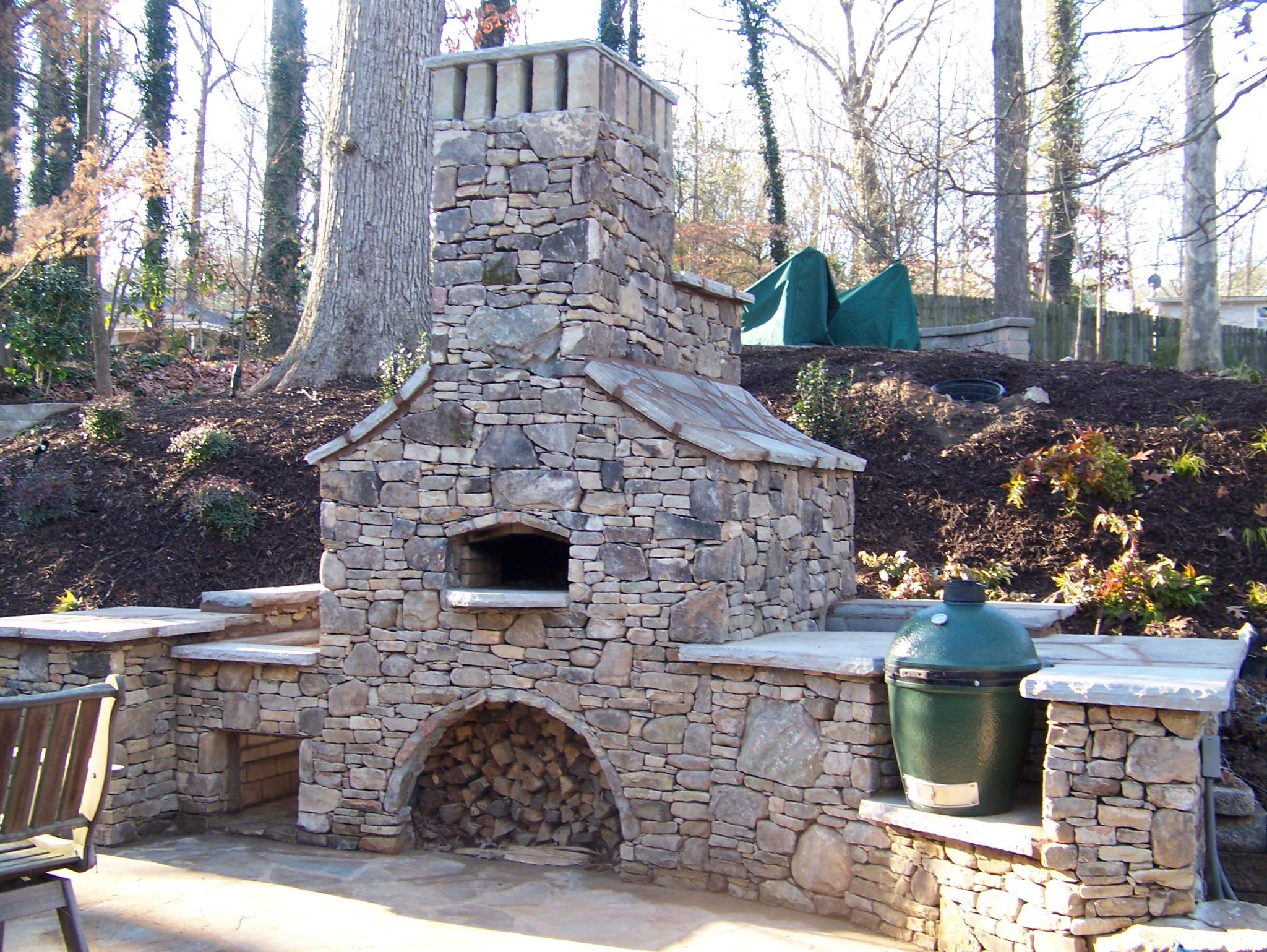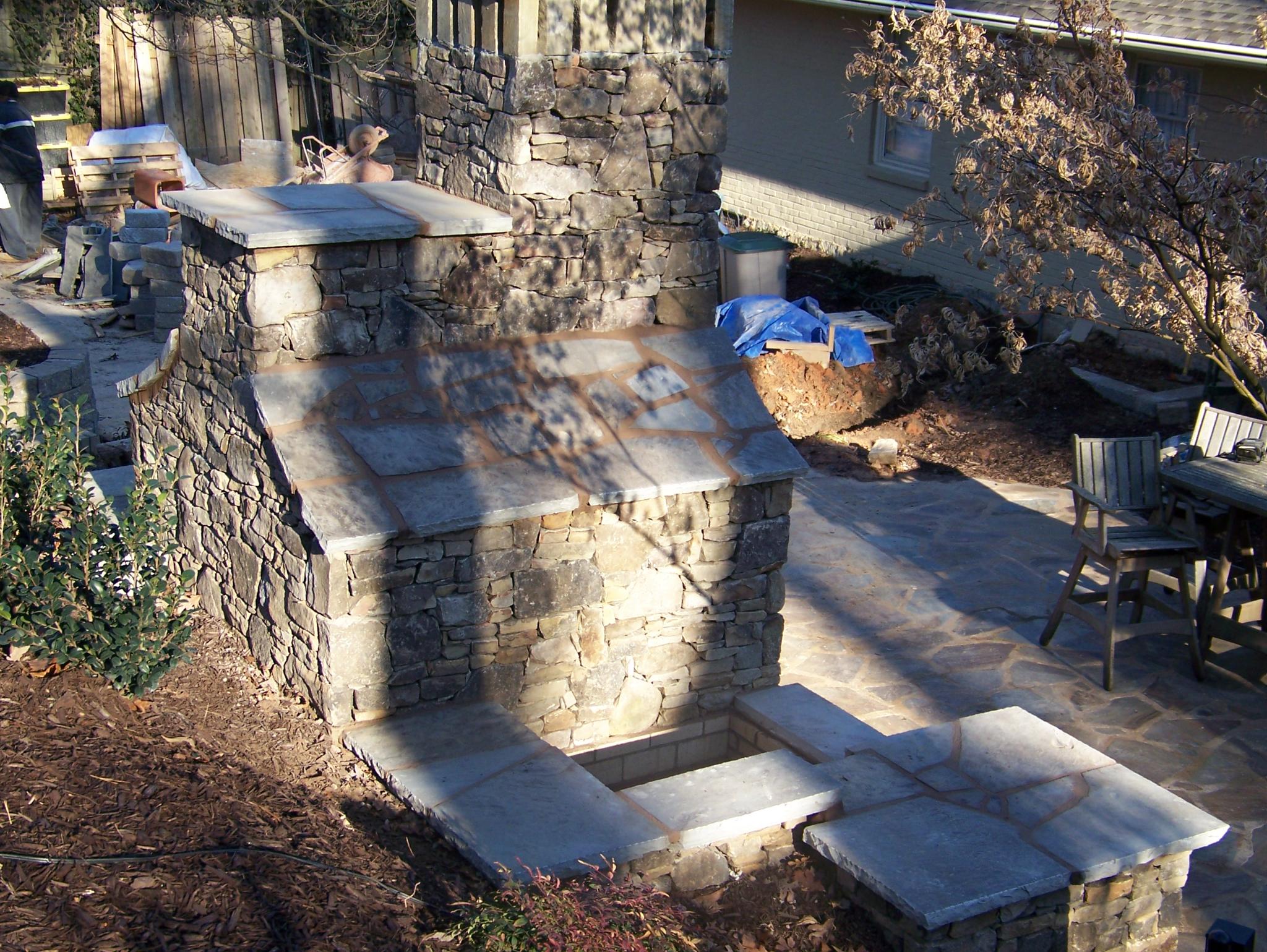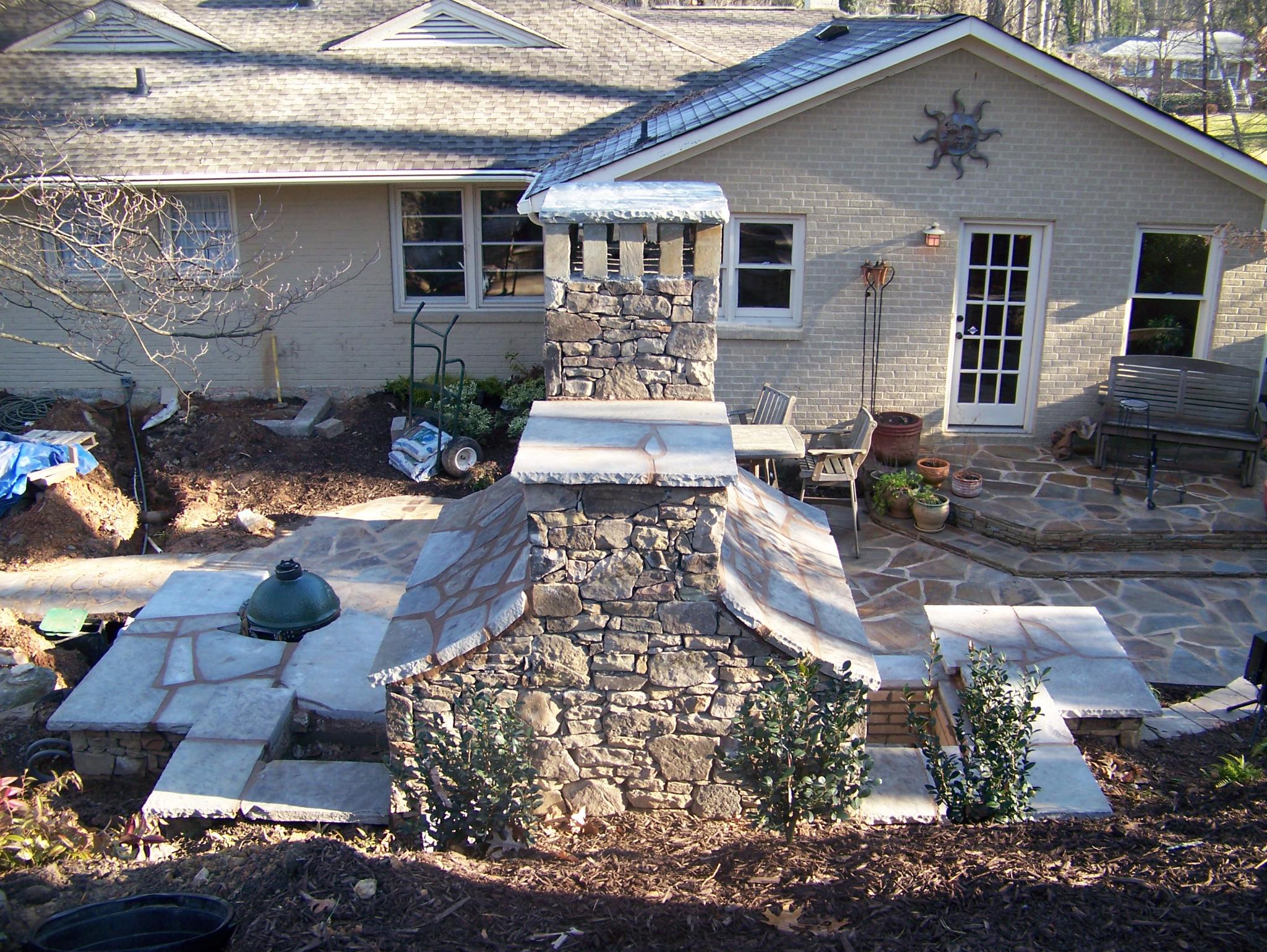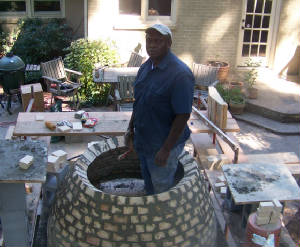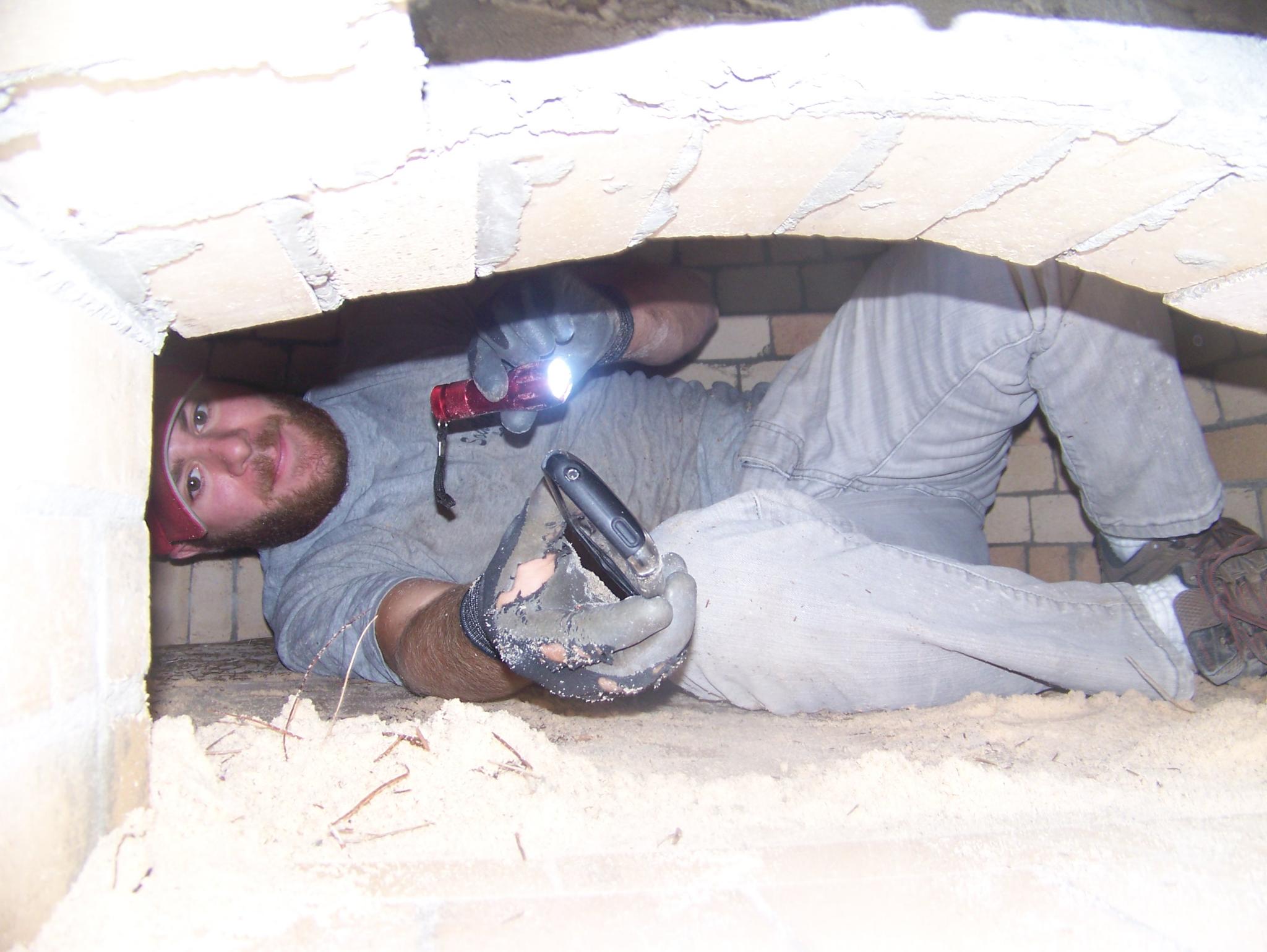 This is project was a creative challenge that was enoyable and fun from start to finish.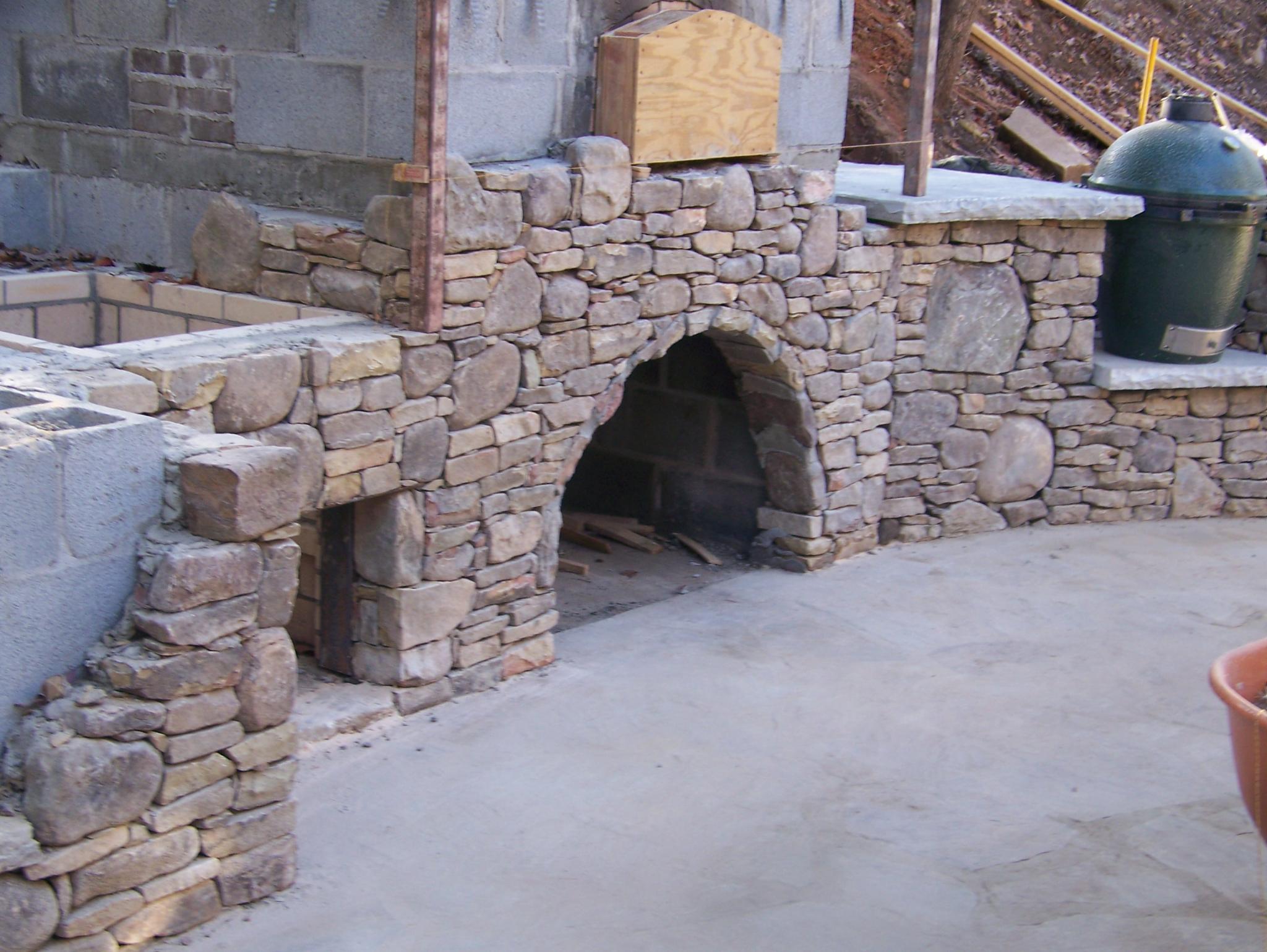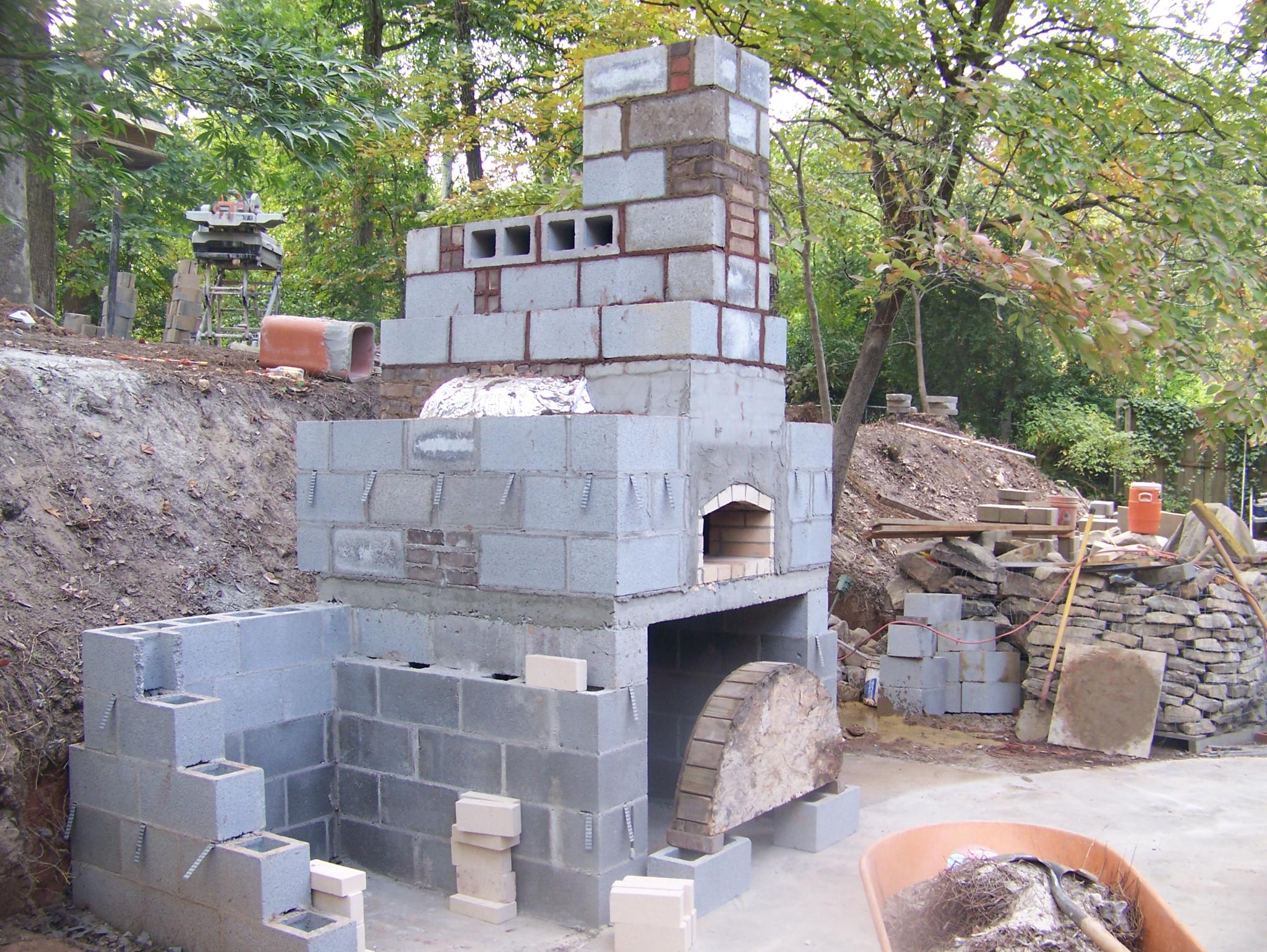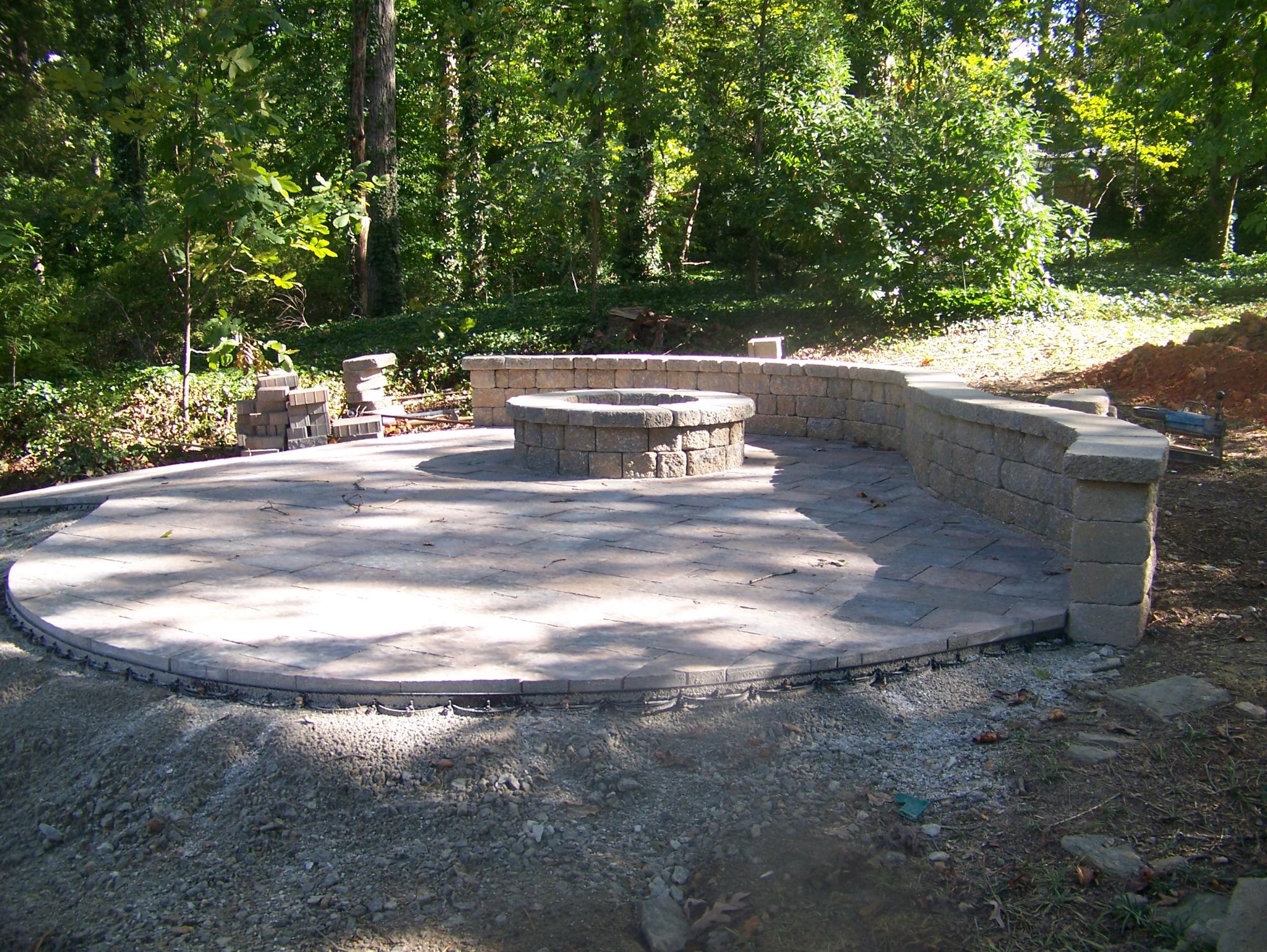 The Pizza Oven was the main focus of this project. However, the overall project was a combined effort of landscaping and masonry for maximum use of a small backyard. The top view shows a small firepit with steps leading down to the pizza oven.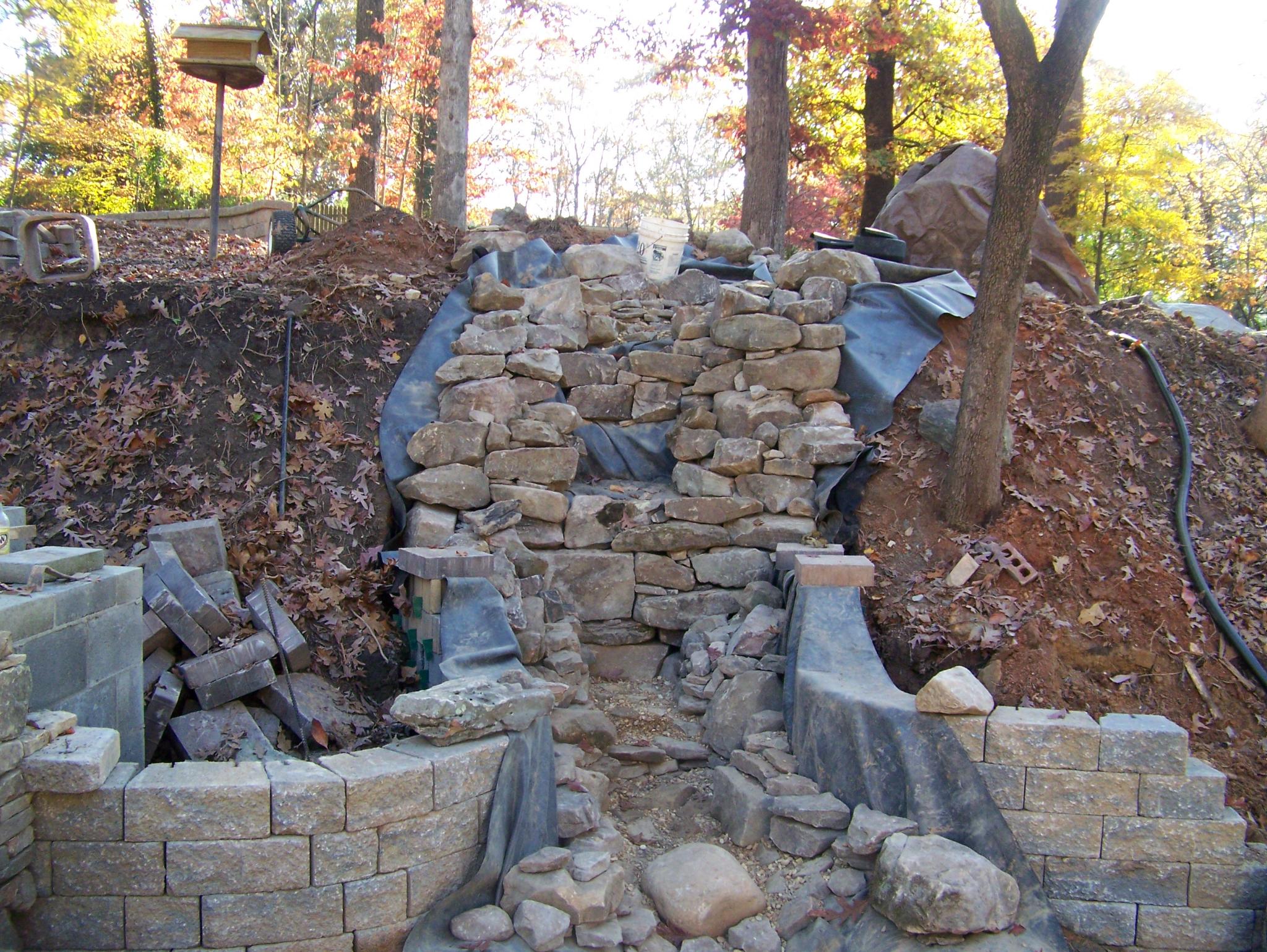 ---
Add a special place for entertaining to any backyard...
Outdoor Firepits
The natural look of real stone has a perfection of its own. At Savage Masonry, we incorporate the most creative ideas of our customers in form with the modern ideals of function to create dynamically functional space for outdoor entertainment .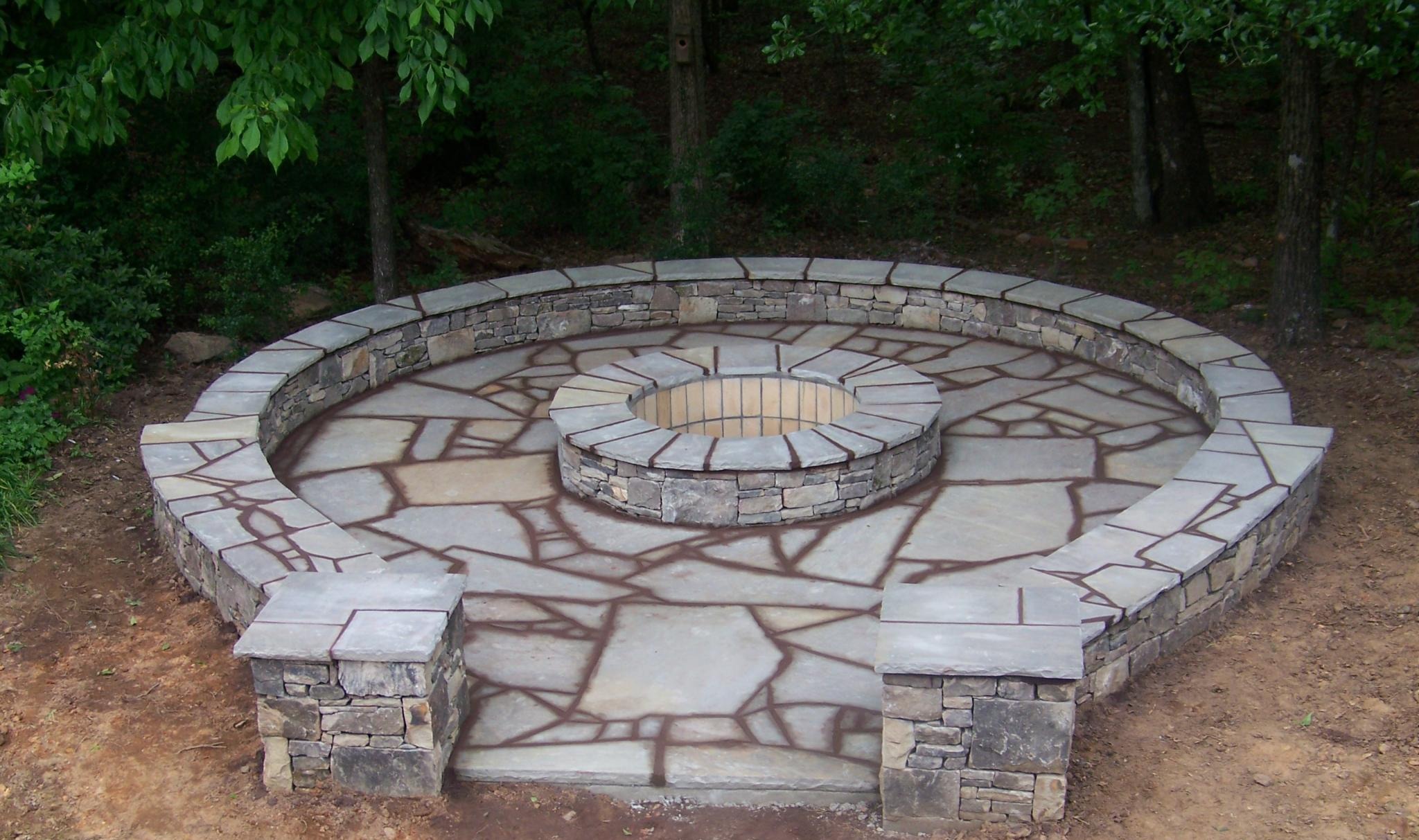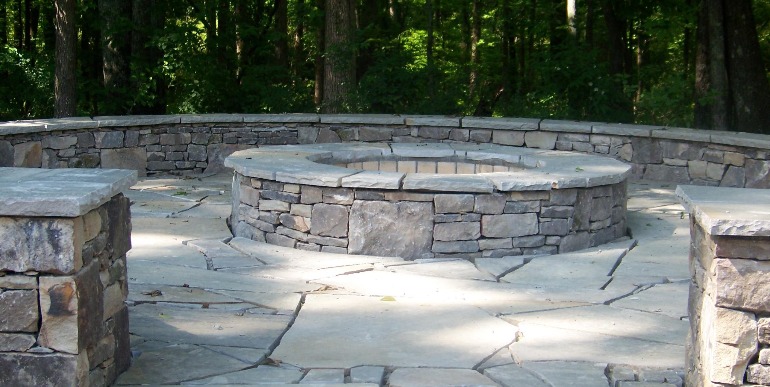 Homeowners decided on dark grout to accent the stones.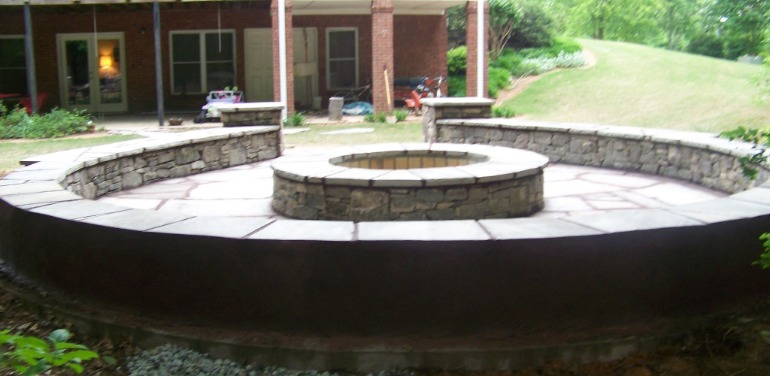 This project allowed me to create a space centered around the firepit. The circuluar outer wall allowed plenty of space for seating to enjoy a fire, conversation or roasting a special treat.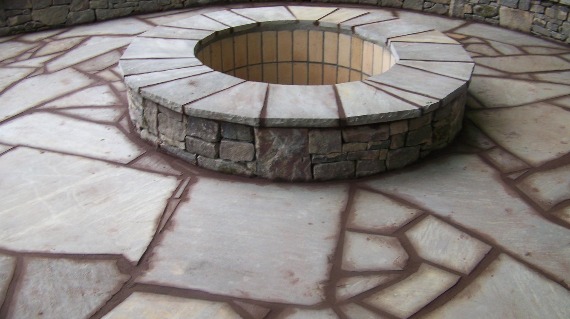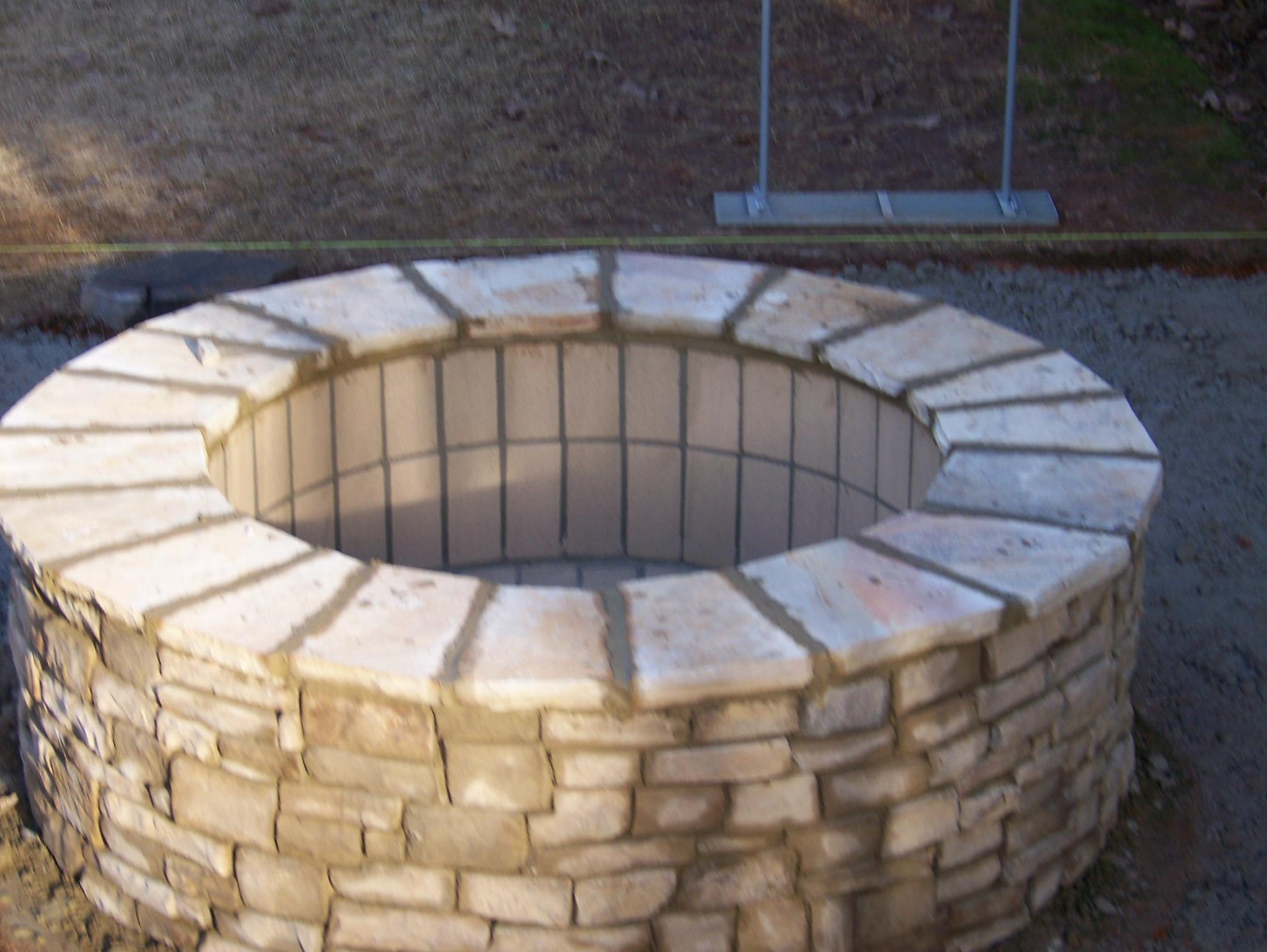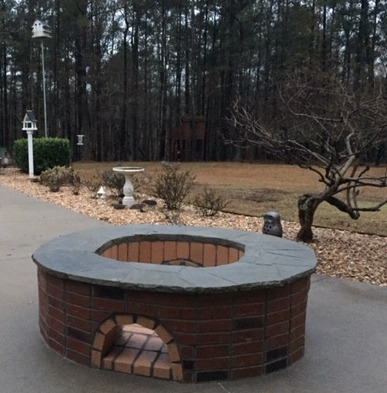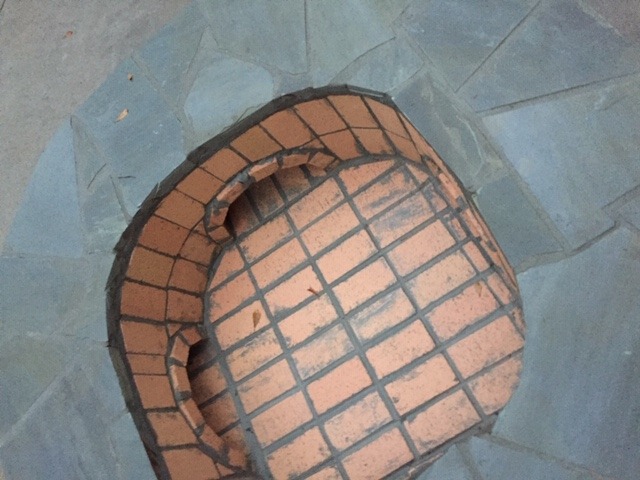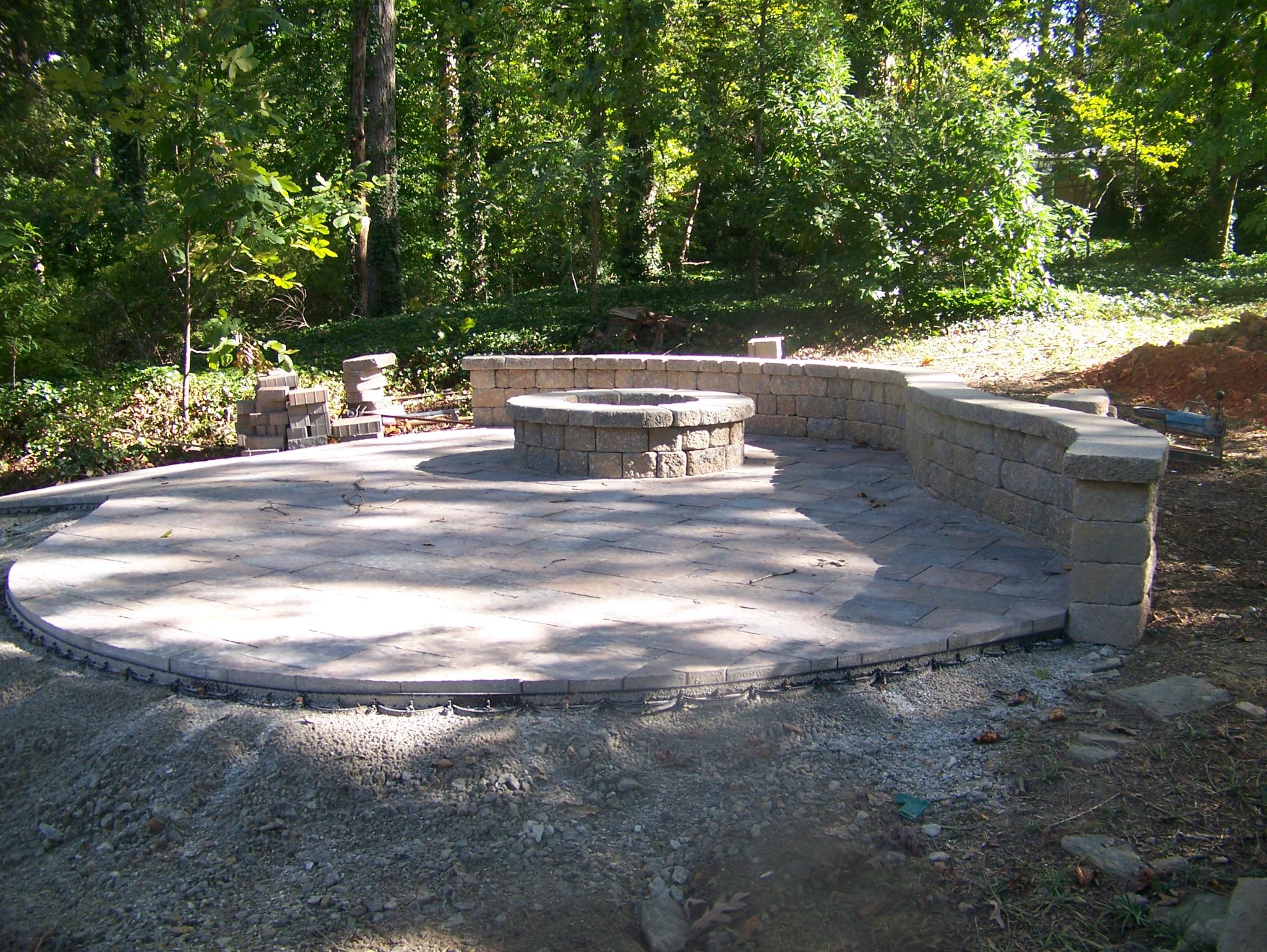 This firepit utilizes landscaping stones and pavers to create seating with a simply designed. Created by Josh and Brent.
The idea of a firepit can fit almost anywhere in your outdoor space. This one poolside was designed with feet warmers at the bootoot
Brick Pavers
These homeowners wanted to add a vintage look to thier former wood patio. Its hard to imagine anything other than these beautiful brick pavers laid at a 45 degree angle.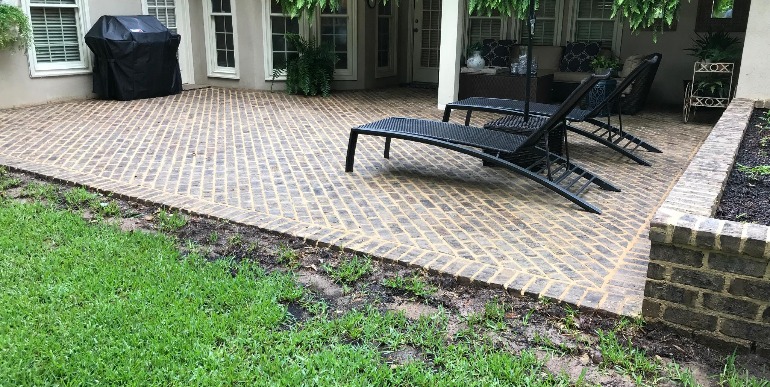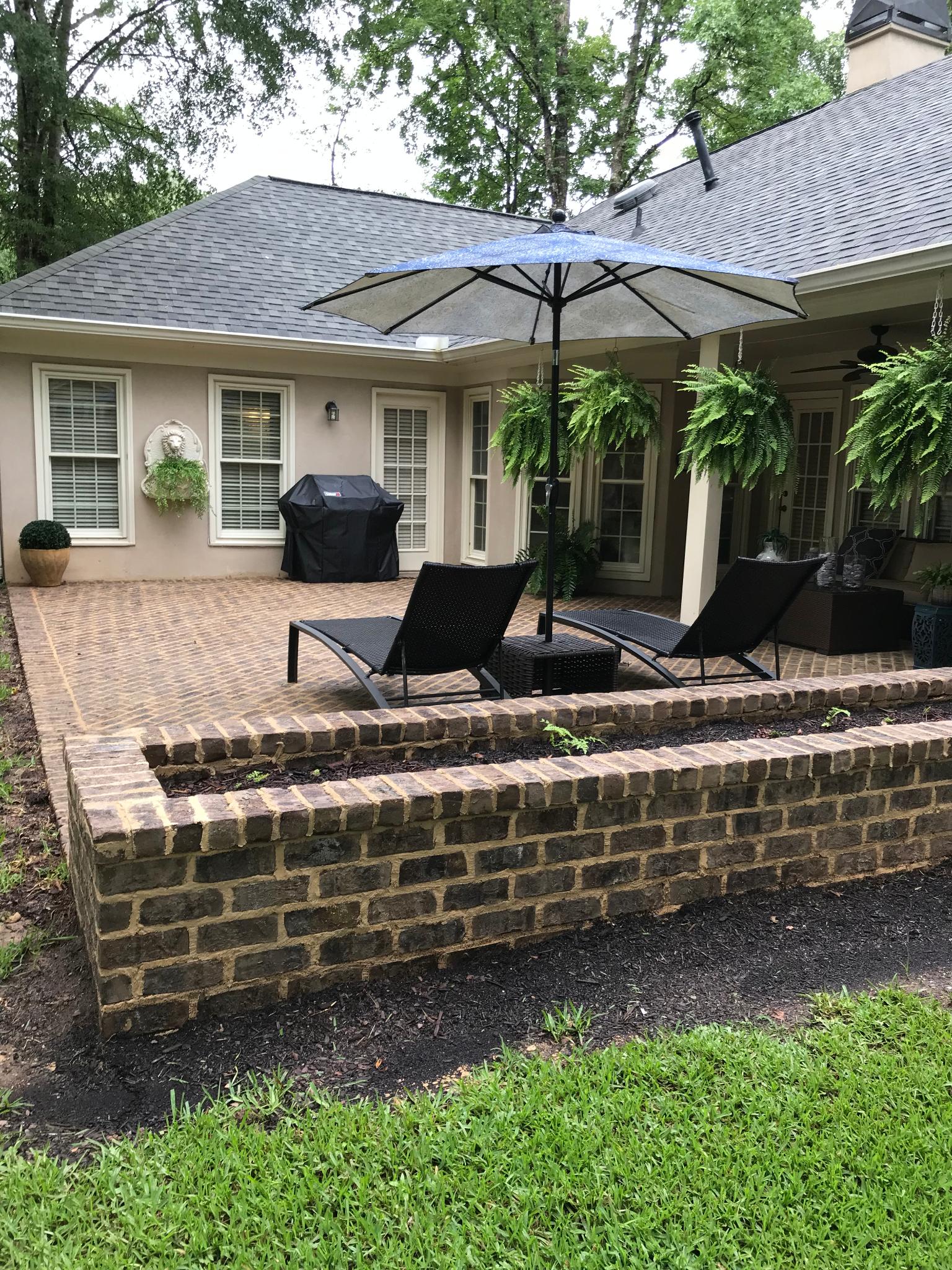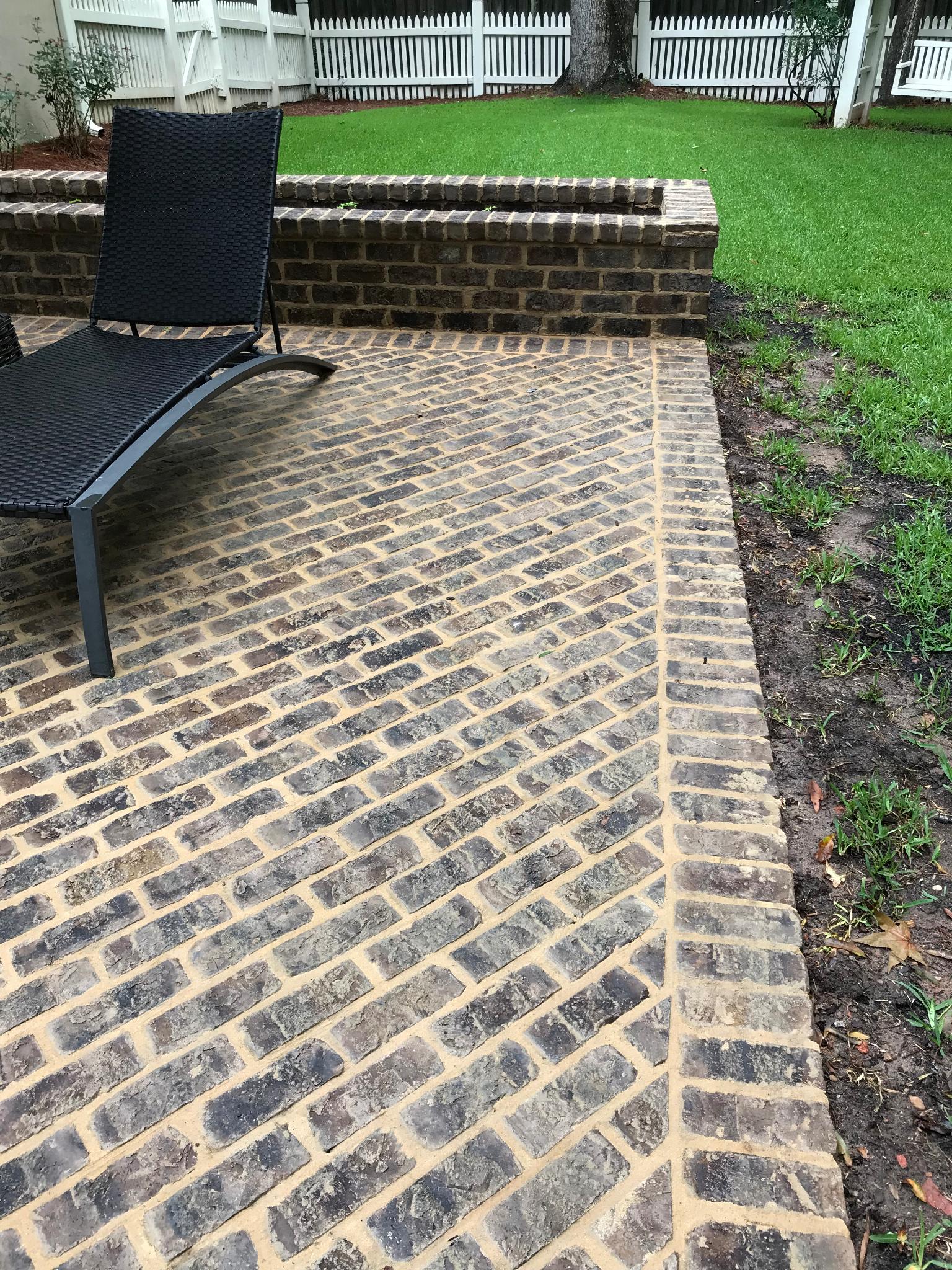 Adding a planter to this project allowed these home owners a place to display thier love of ferns.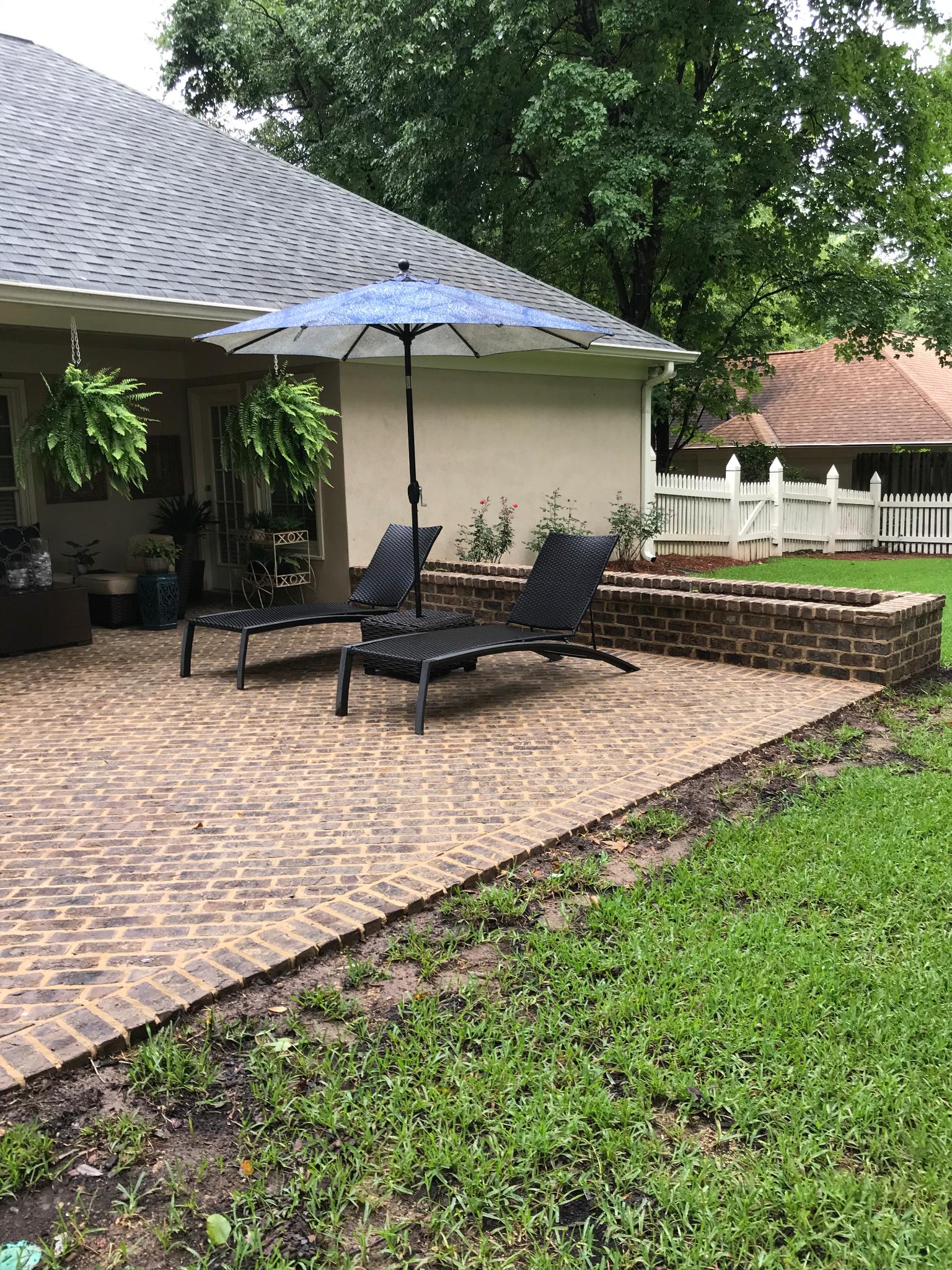 Brick Paver Walkway
Adding a boarder and laying these brick pavers into with 57 stone and sand has still firmly set after 7 years.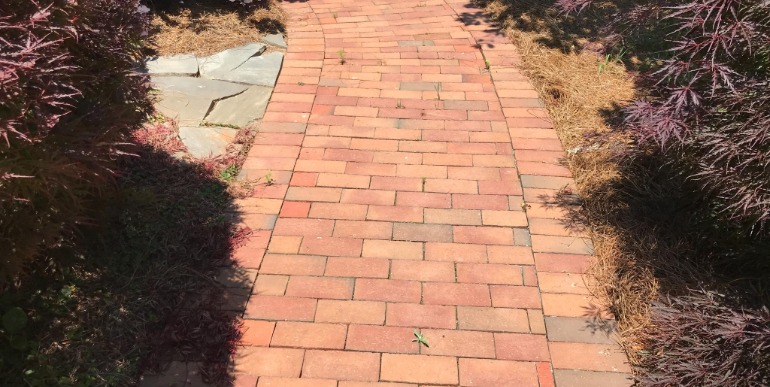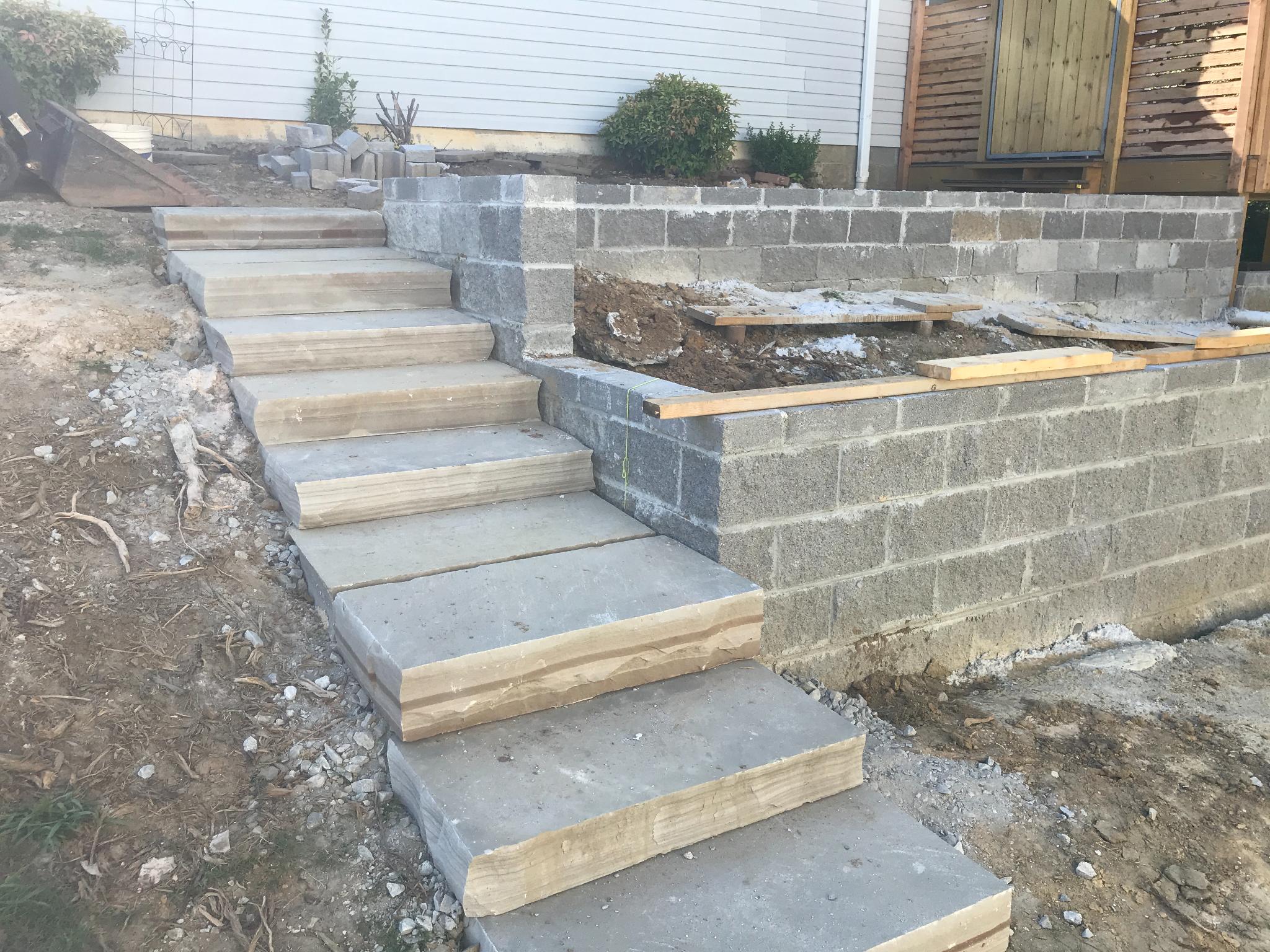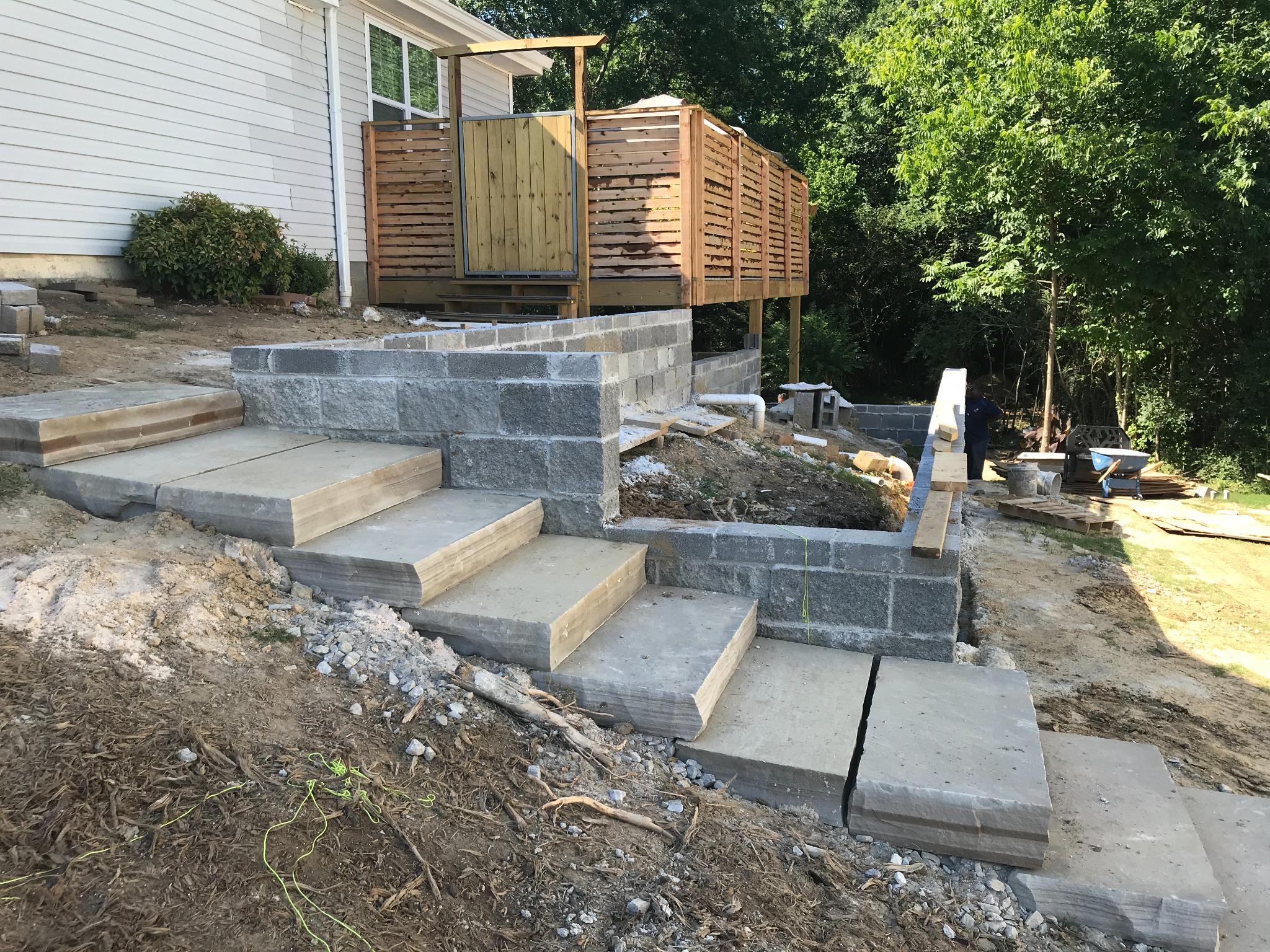 Concrete Pour with Stamping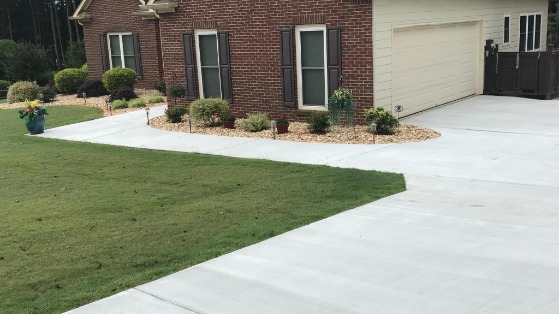 Concrete Driveway and Sidewalk
This pour in Fayetville Georgia included demoing some existing driveway to create a better flow, contour and water draingage system.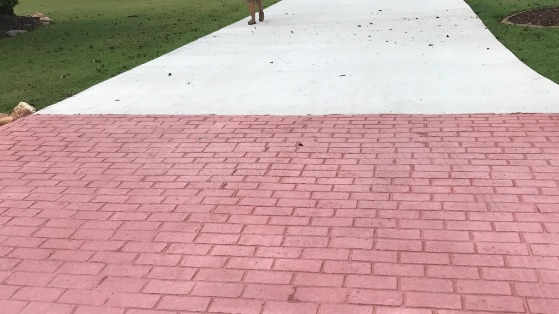 Concrete Stamping
At the end of the driveway the homeowner wanted to add a decorative element. This was done by using concrete stamps to mimici brick pavers.
Thin Stack Real Flagstone Fireplace Facade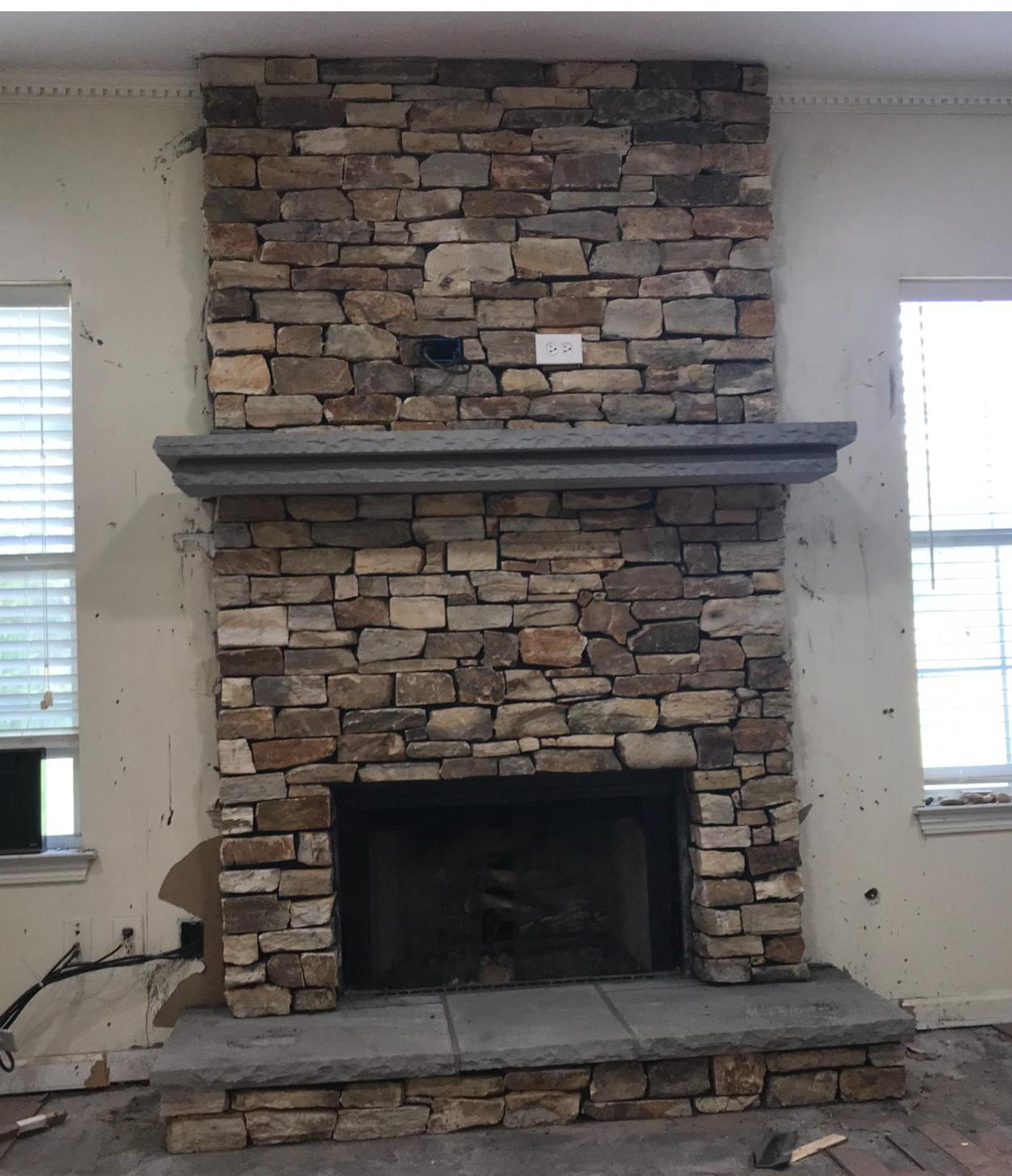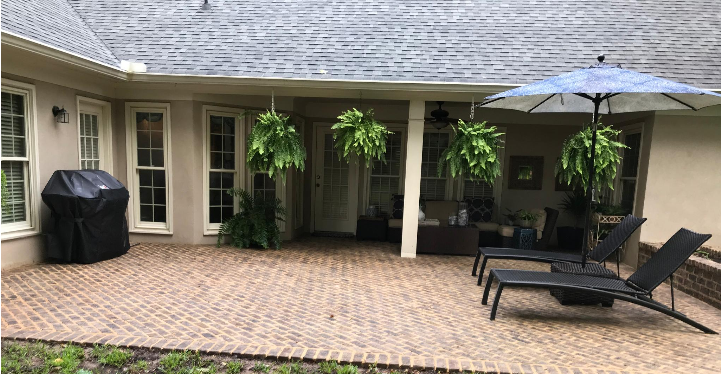 Vintage Style Brick Patio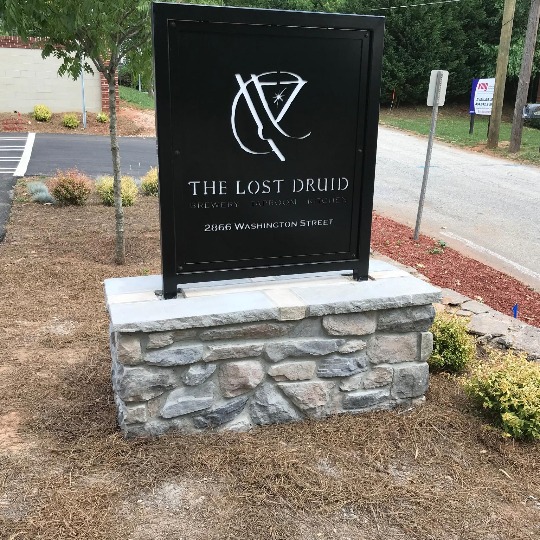 Lost Druid Brewry Entry Sign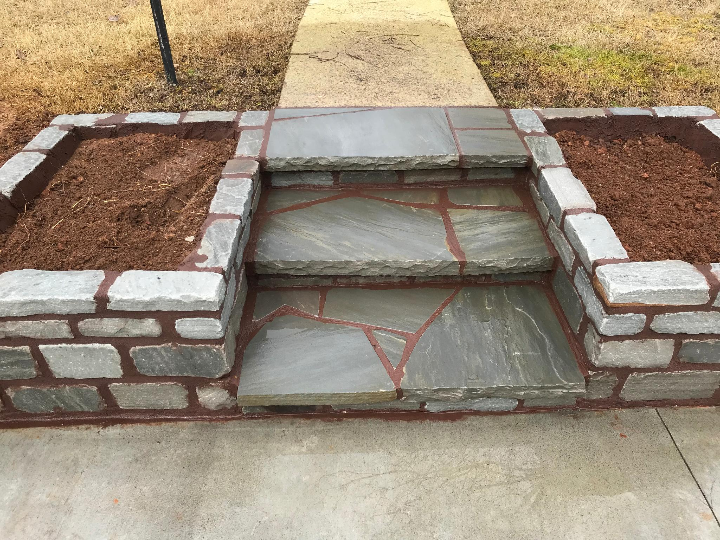 Entry Steps and Planter
OLA High School Base for Mustang Monument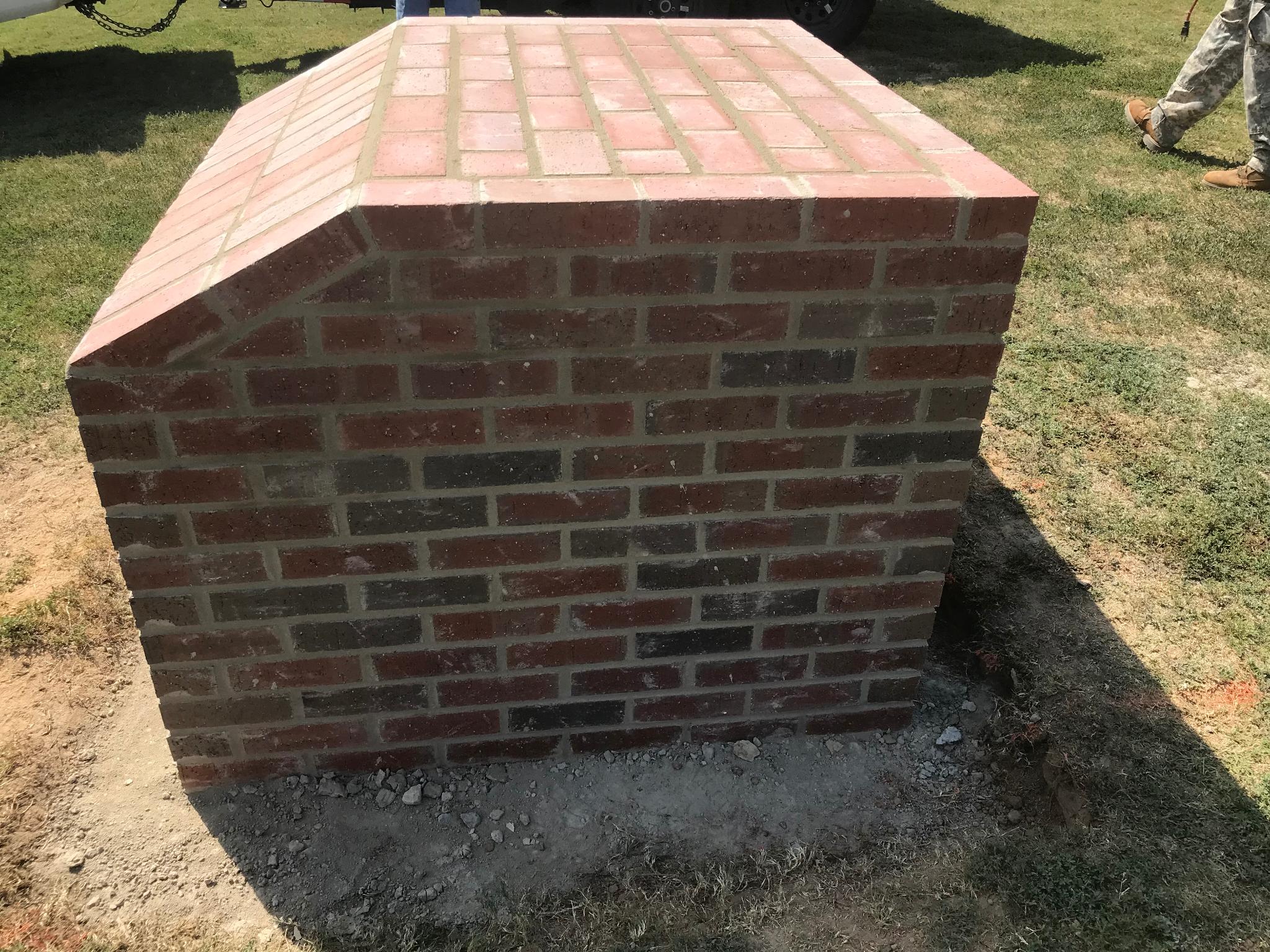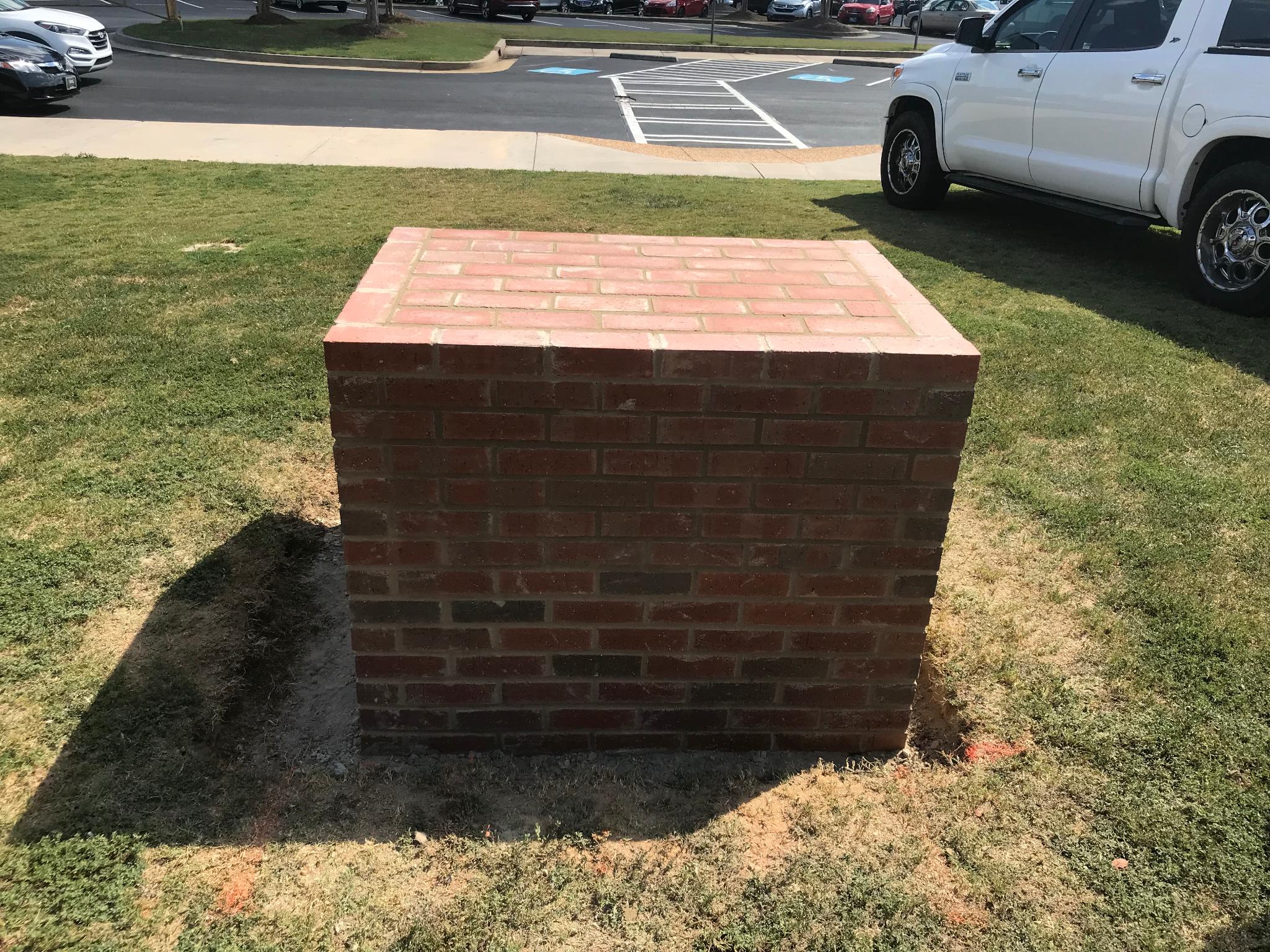 Cemmentary Plot Brick Enclosure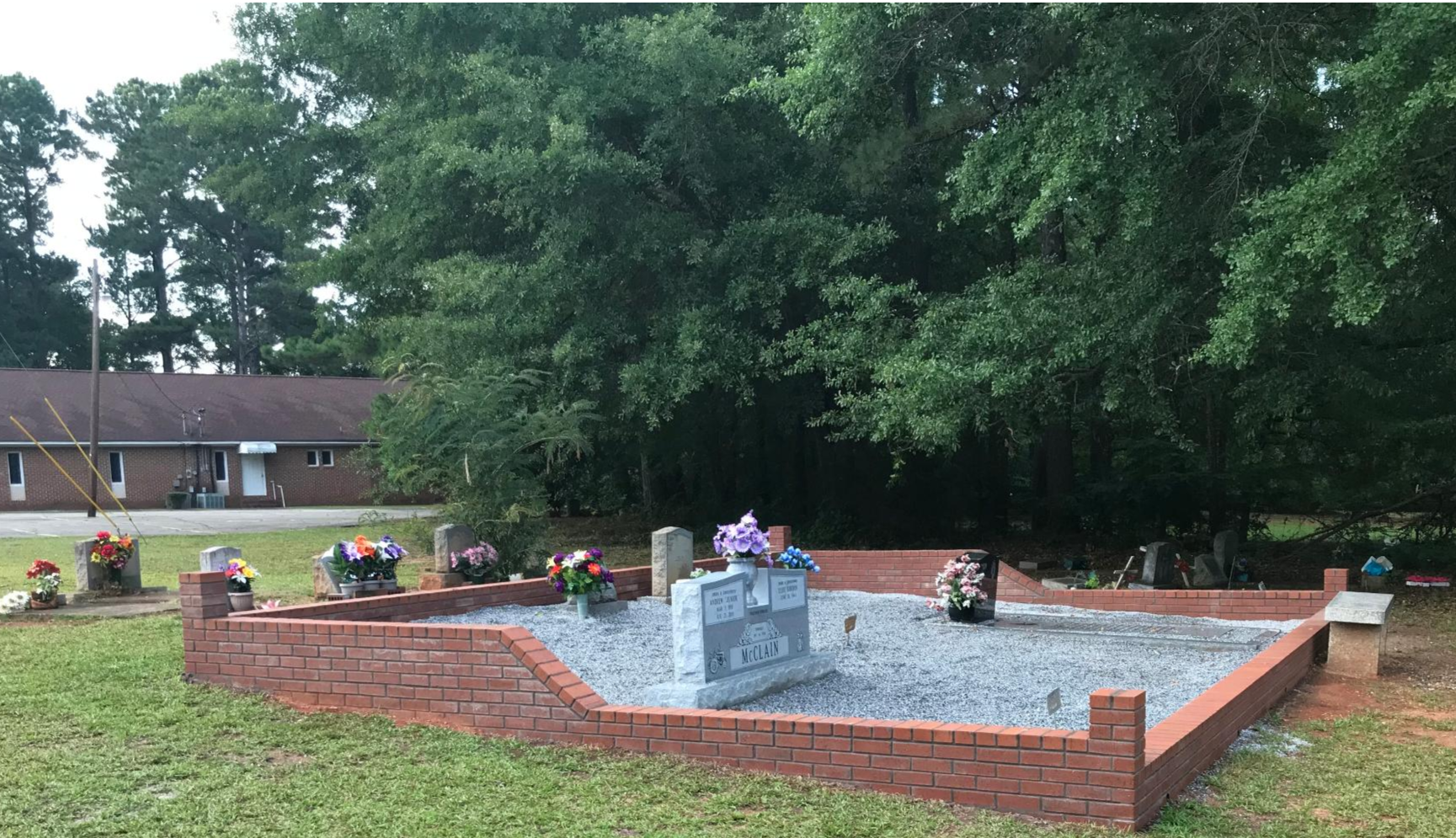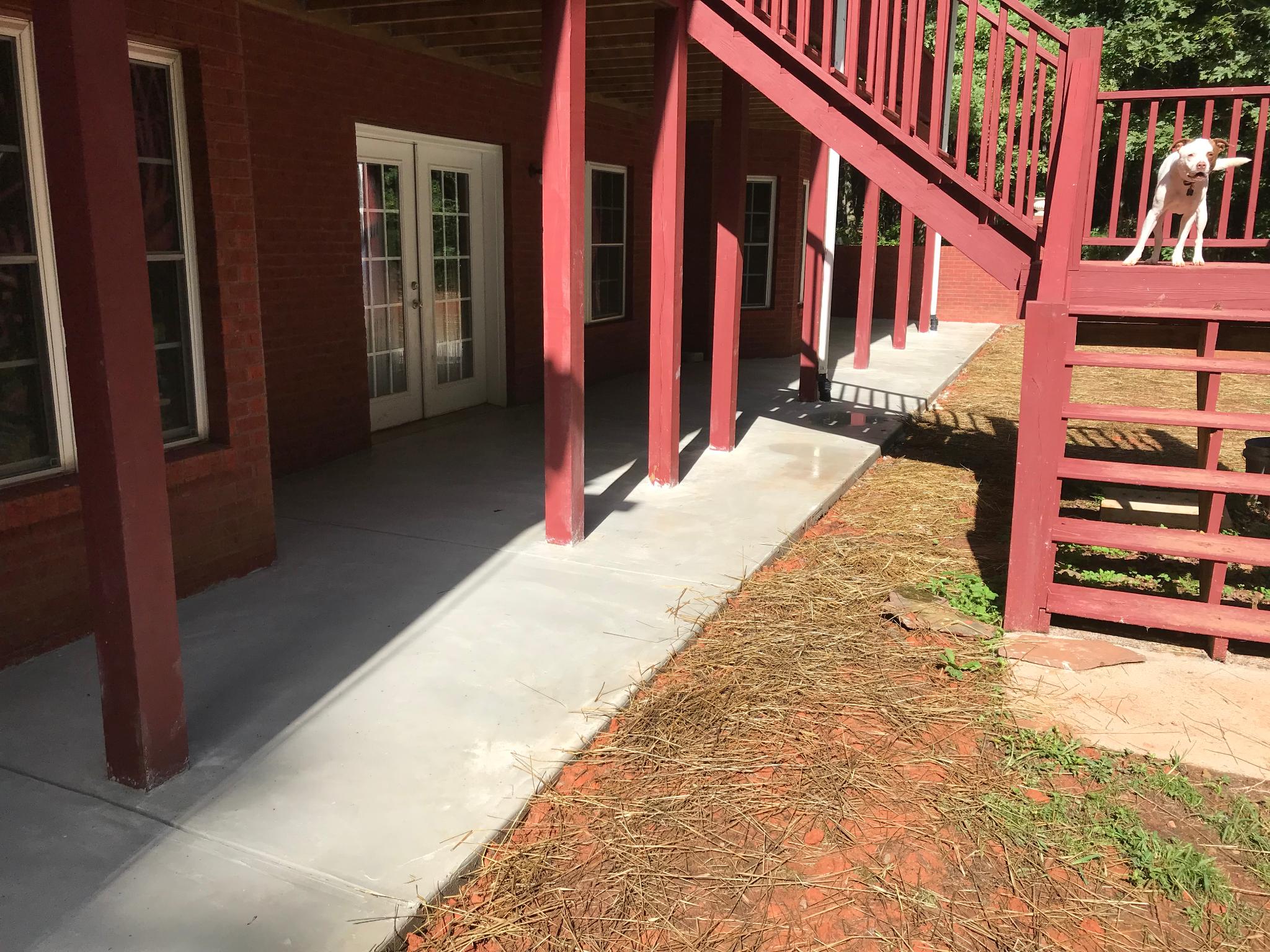 Concrete Pour Under Deck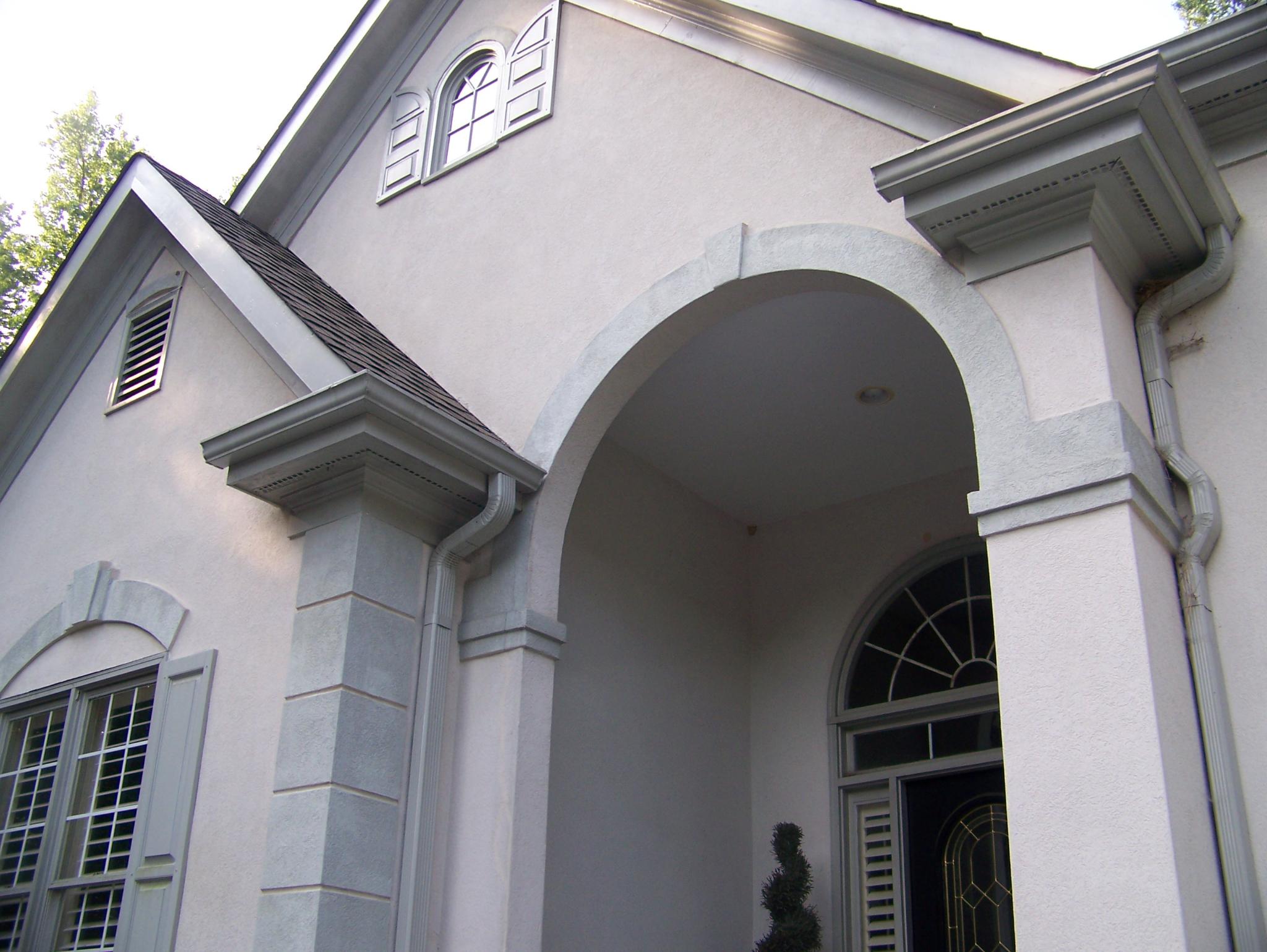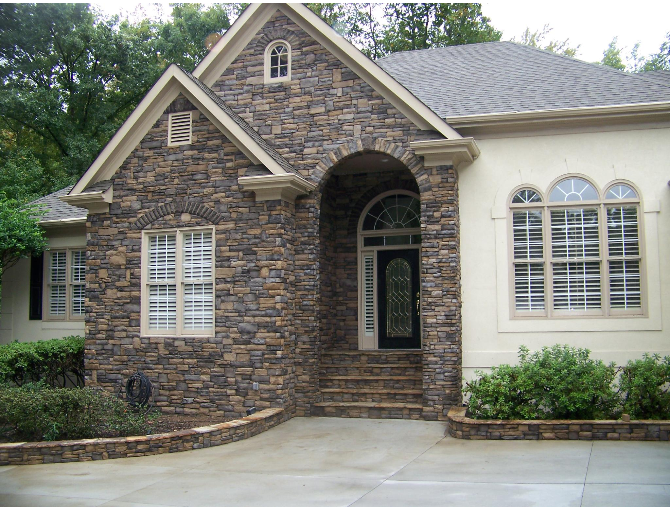 This stone Entryway is one of my is another one of my favorite projects.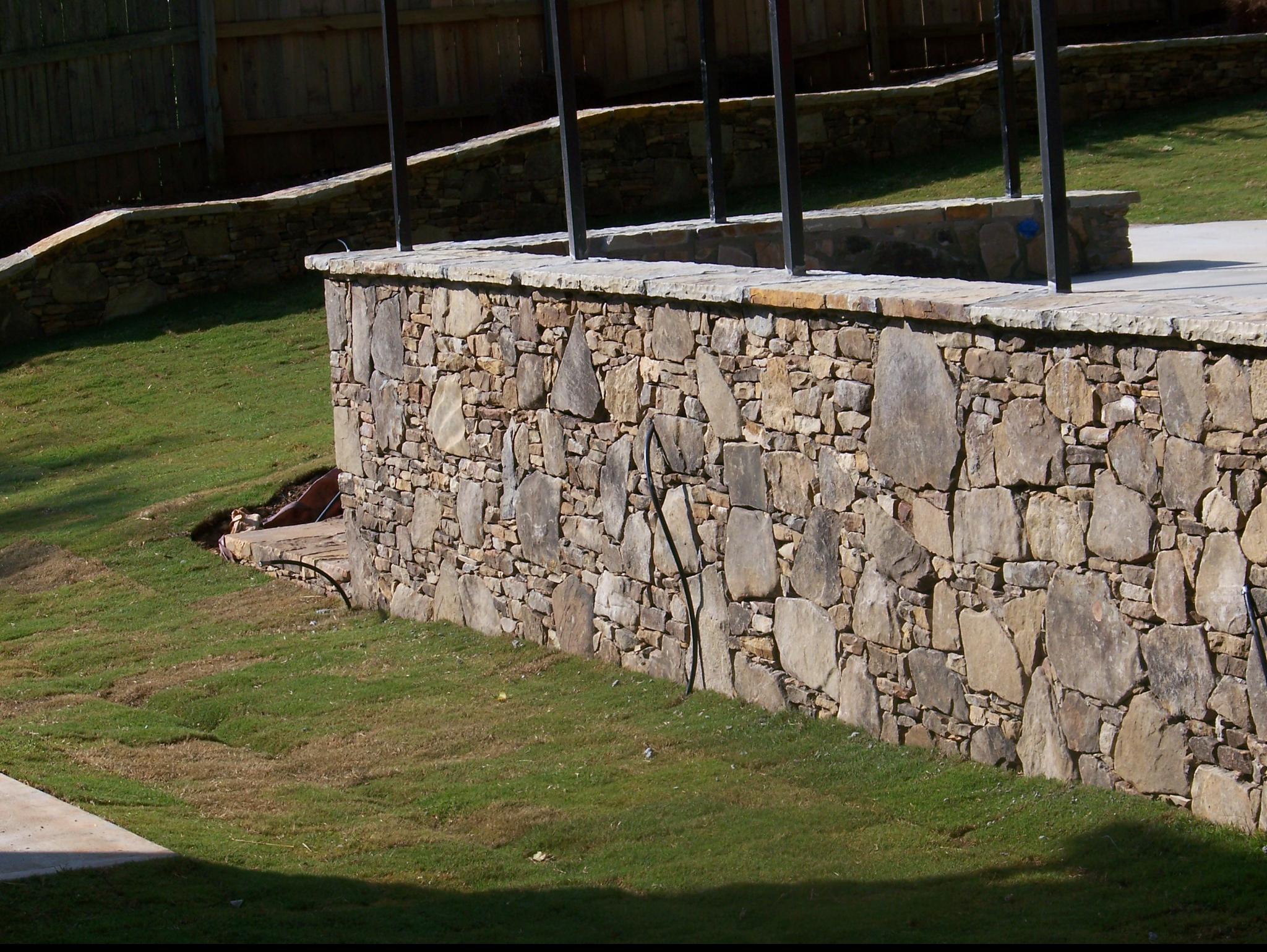 Natural Drystack Stone Walls
With Stone Caps Surrounding Pool.
As a contrast the natural stone above these are manmade stones with stone caps surrounding a pool as well.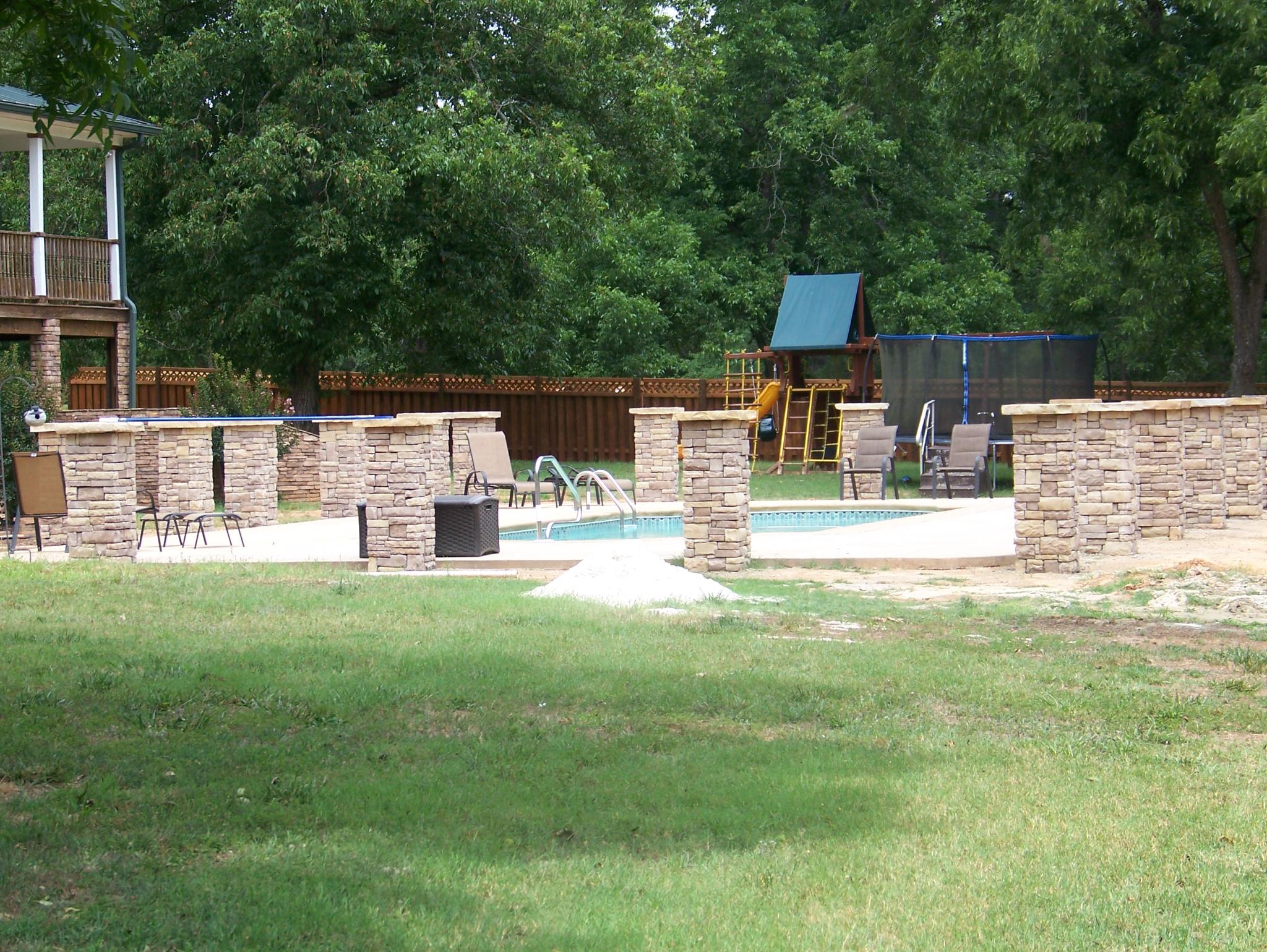 St Thomas Project Concrete Pour 
This project was a collaboration with Champion Restoration. The best part of this work were the views. However, the knowledge gained on pouring slabs and framing structures to with stand Hurricane winds was extremely valuable. Look at some the process below.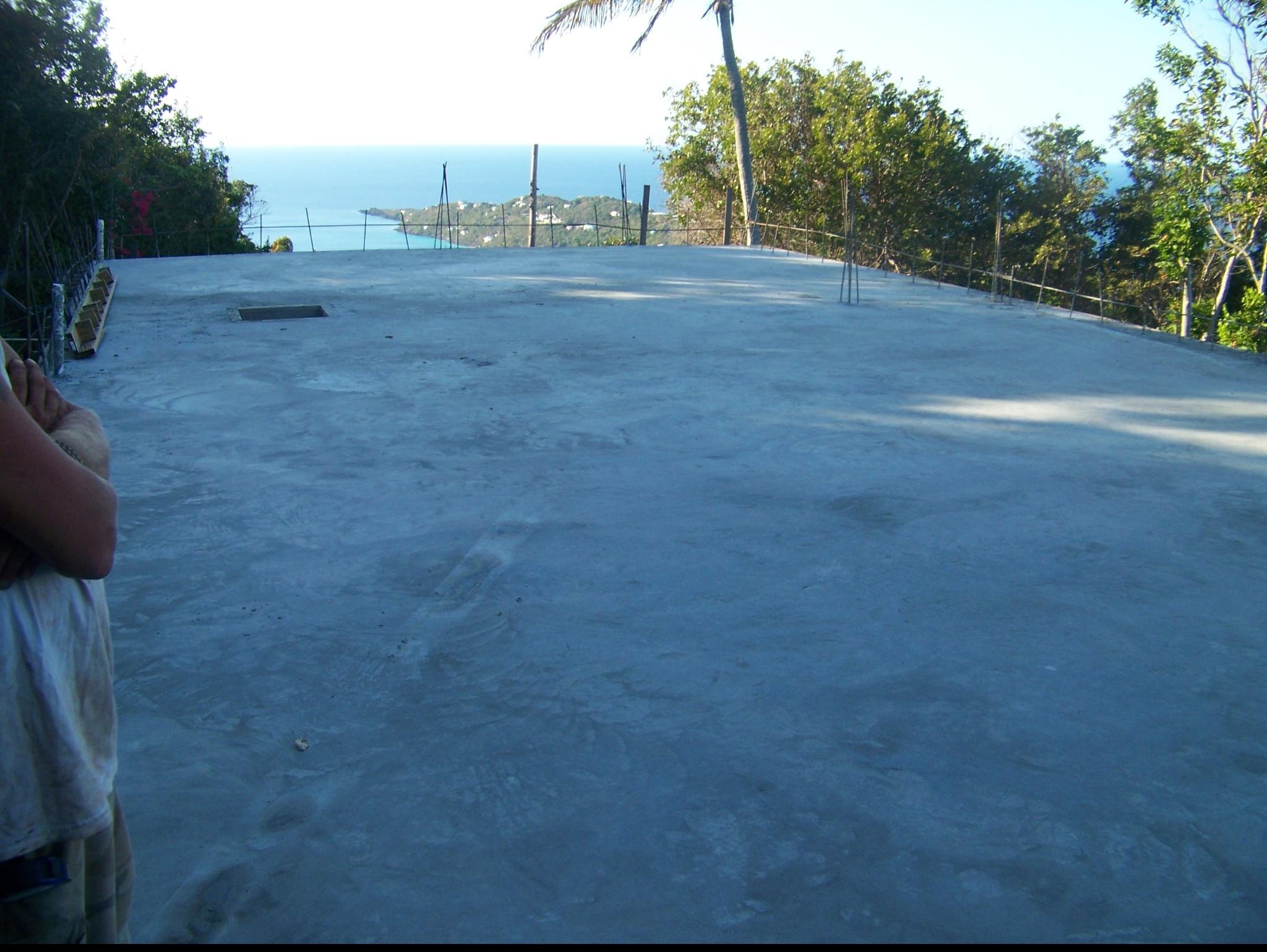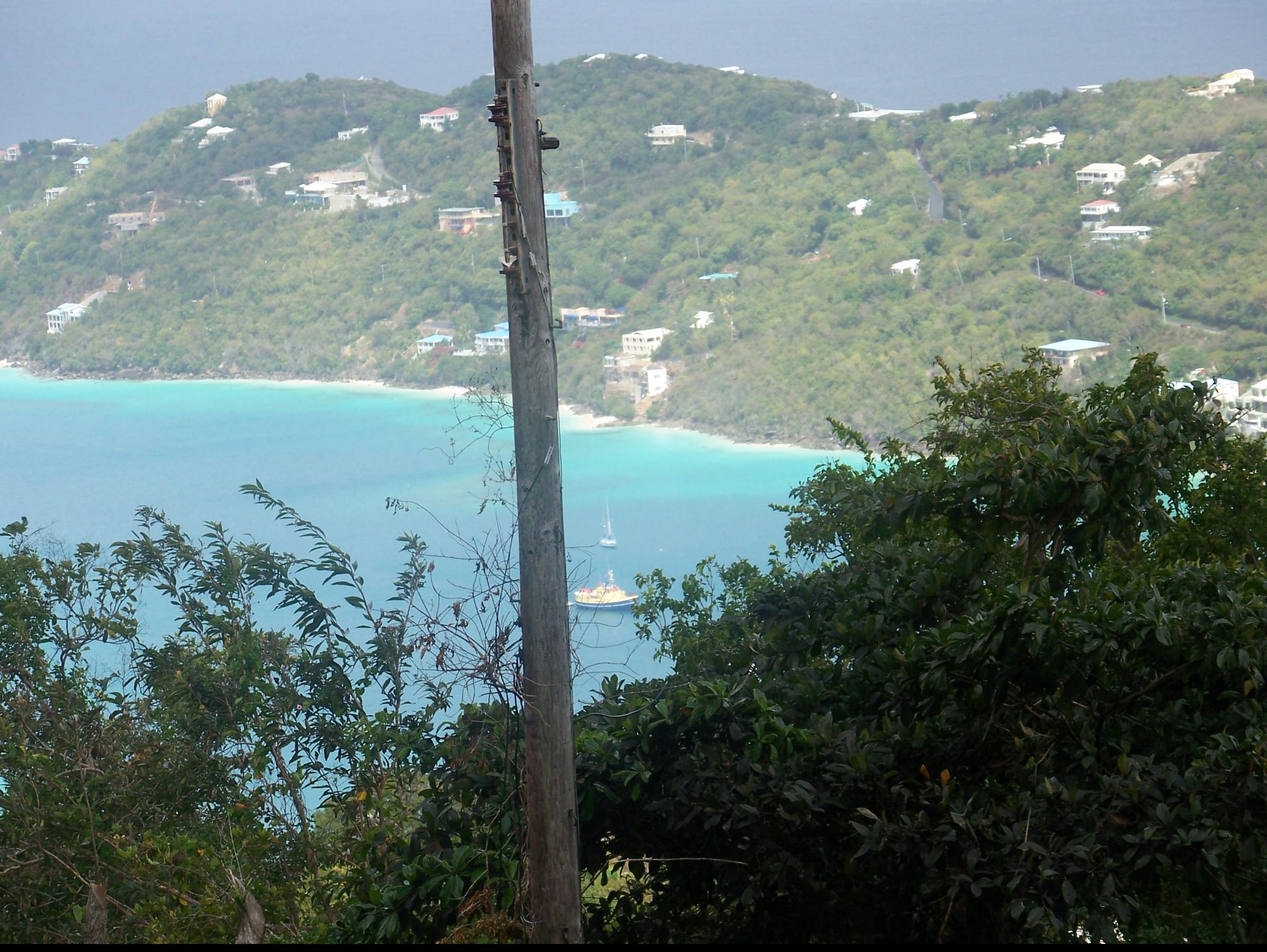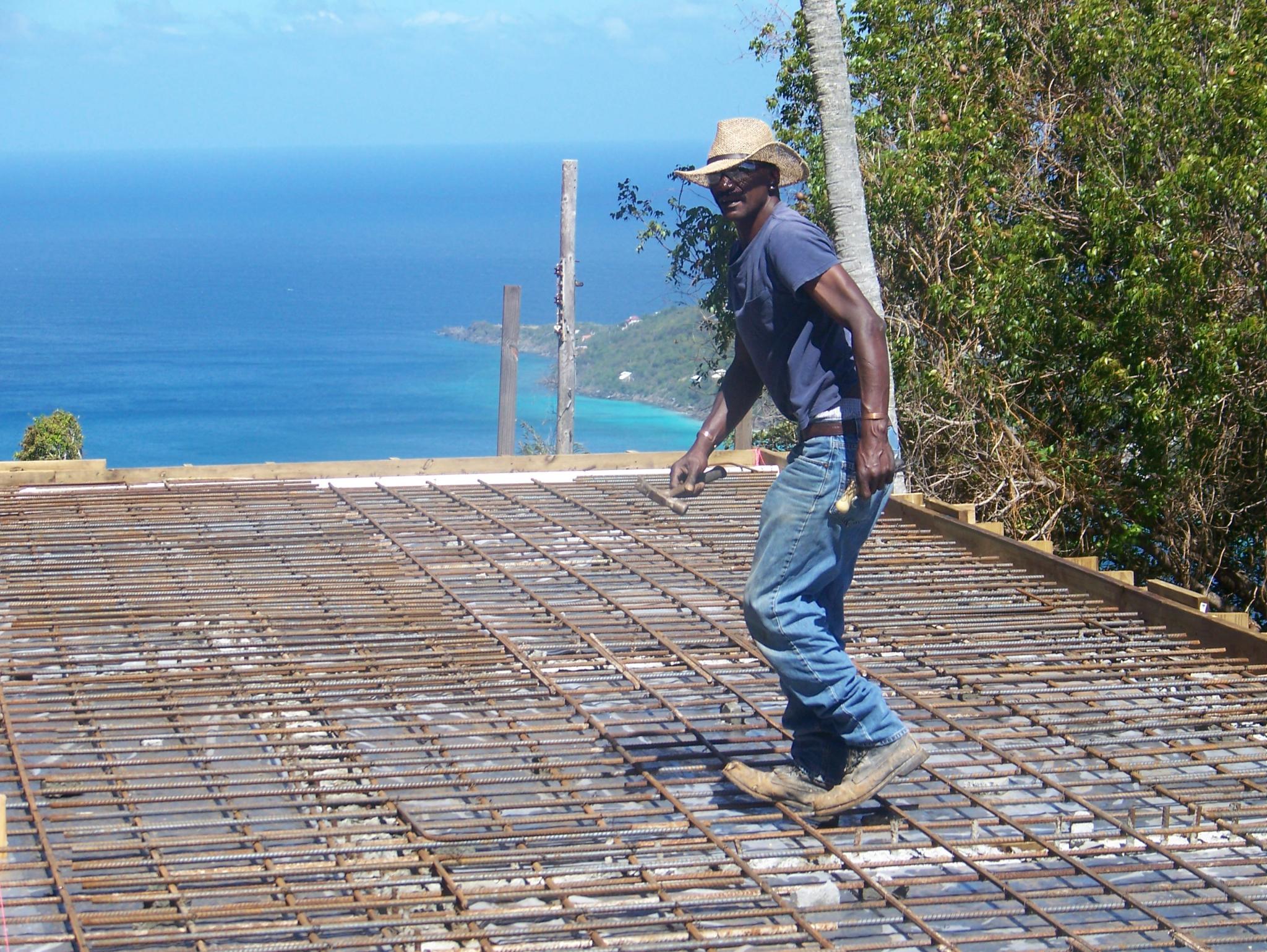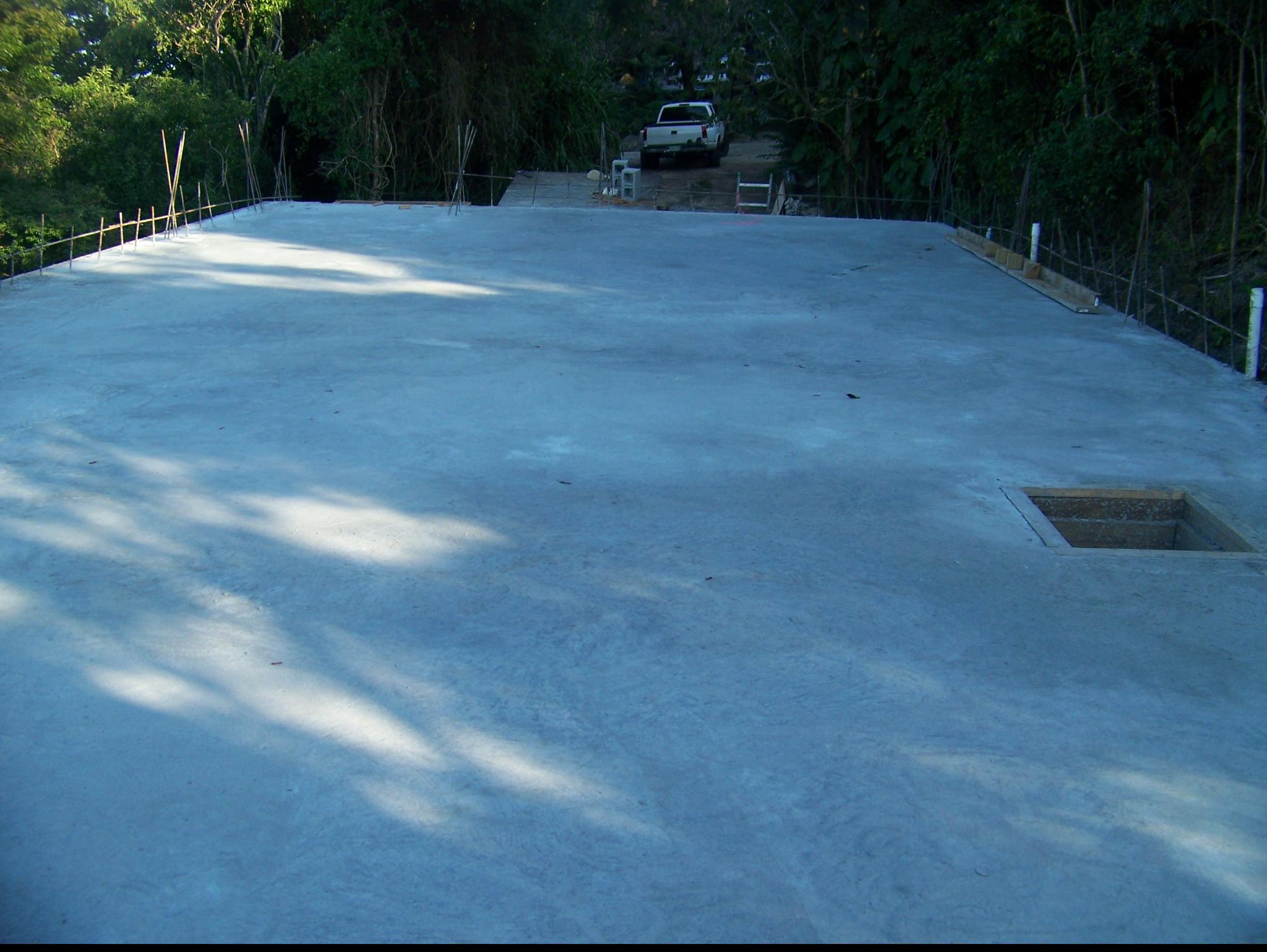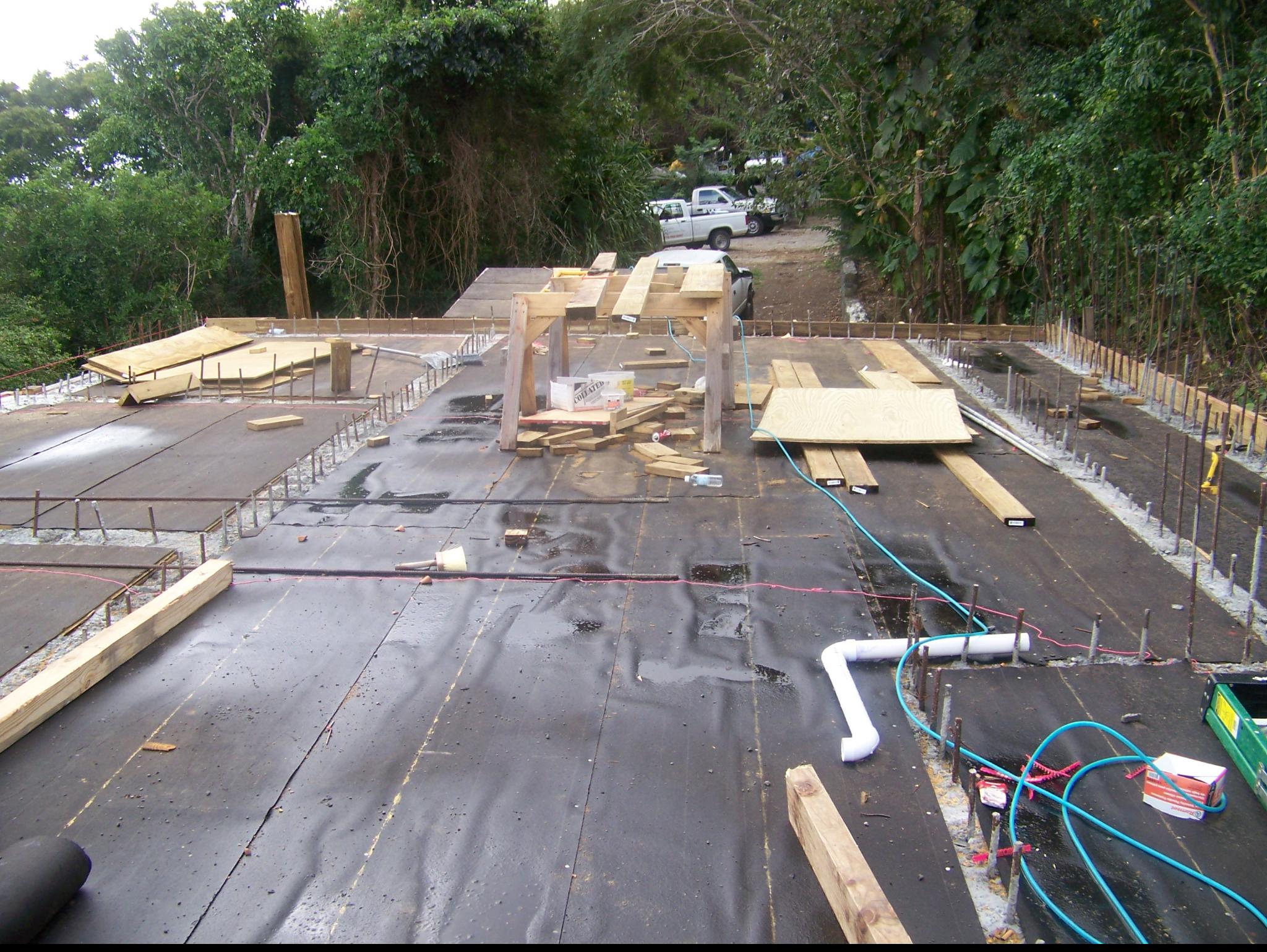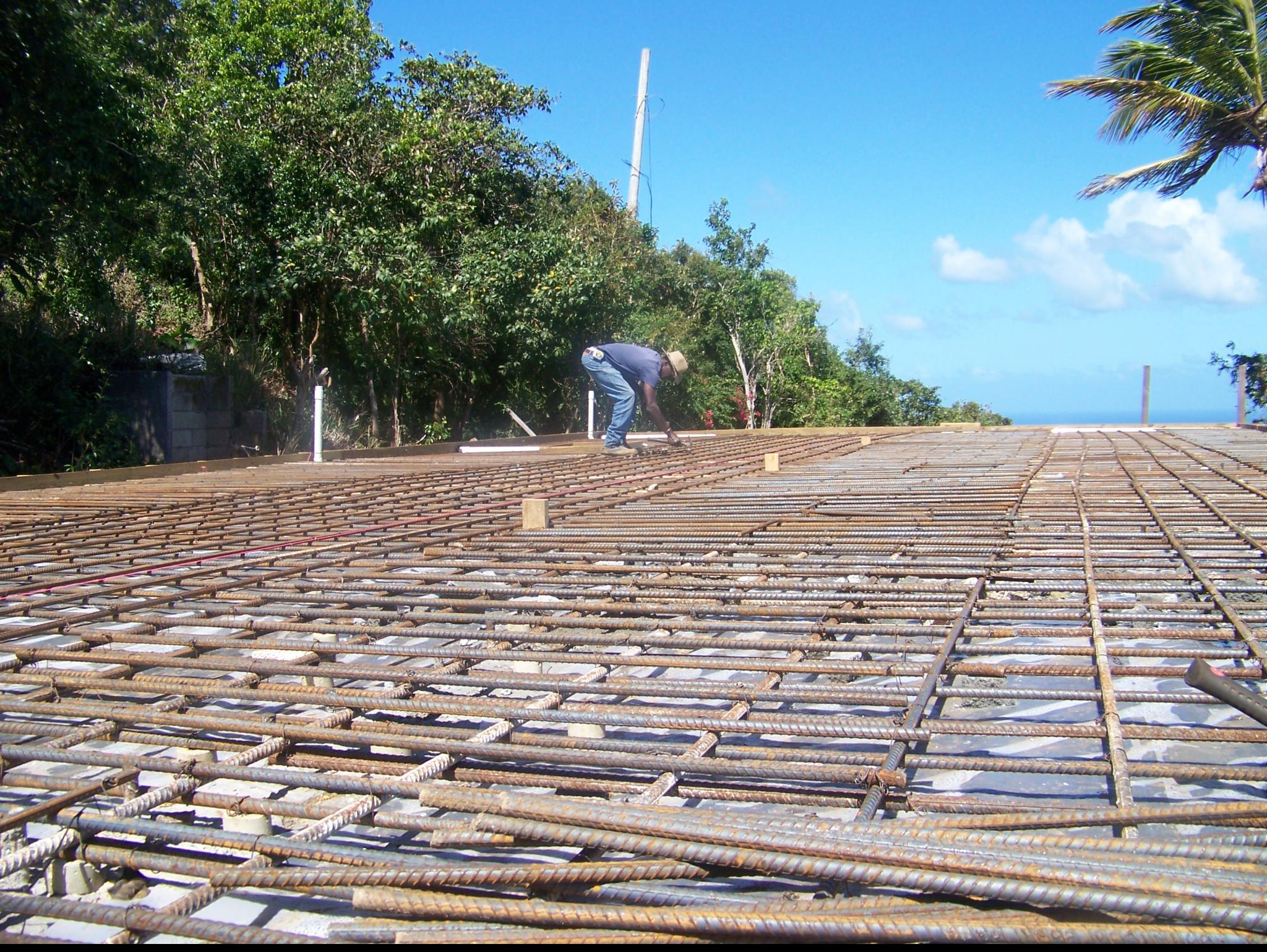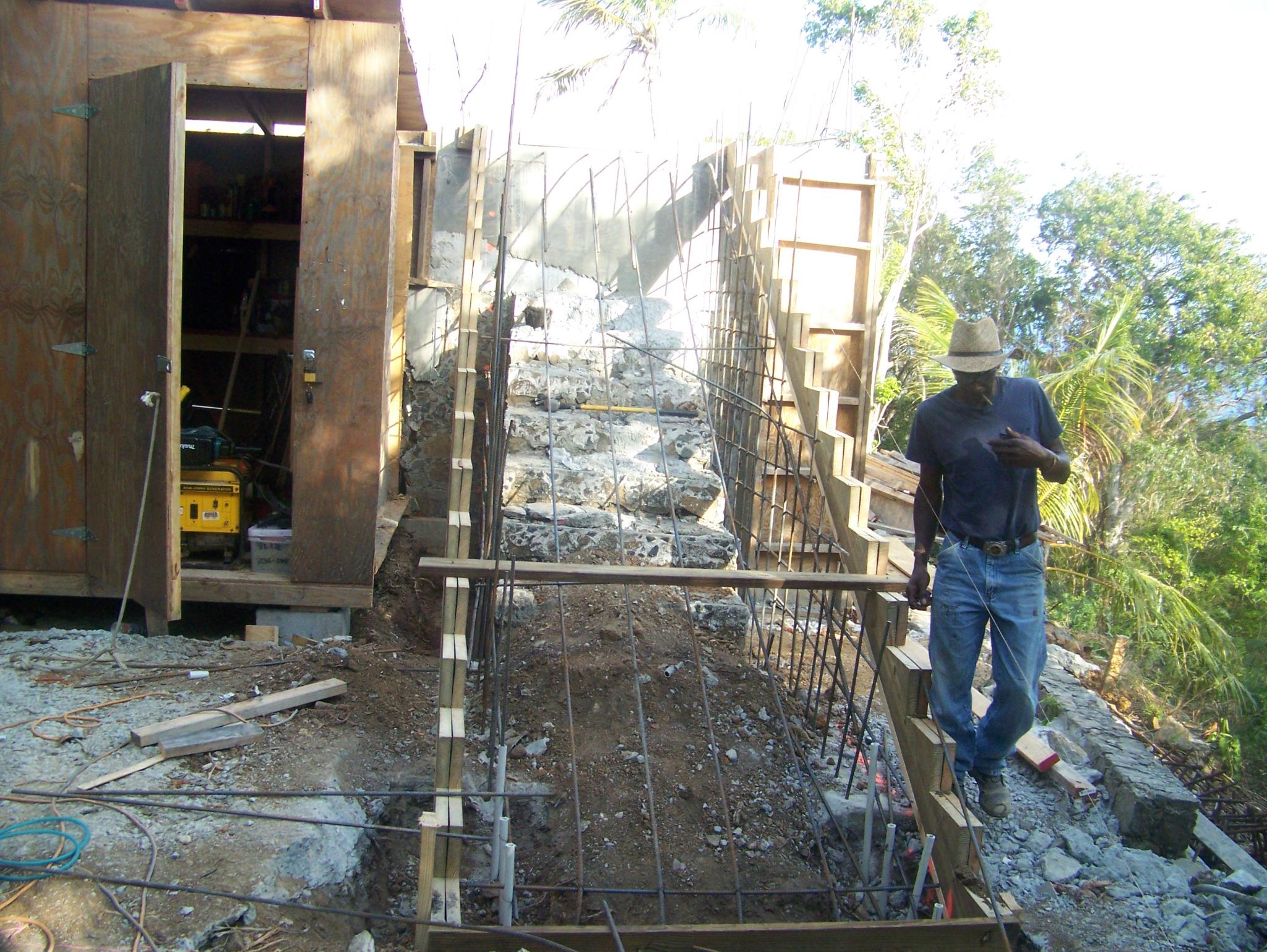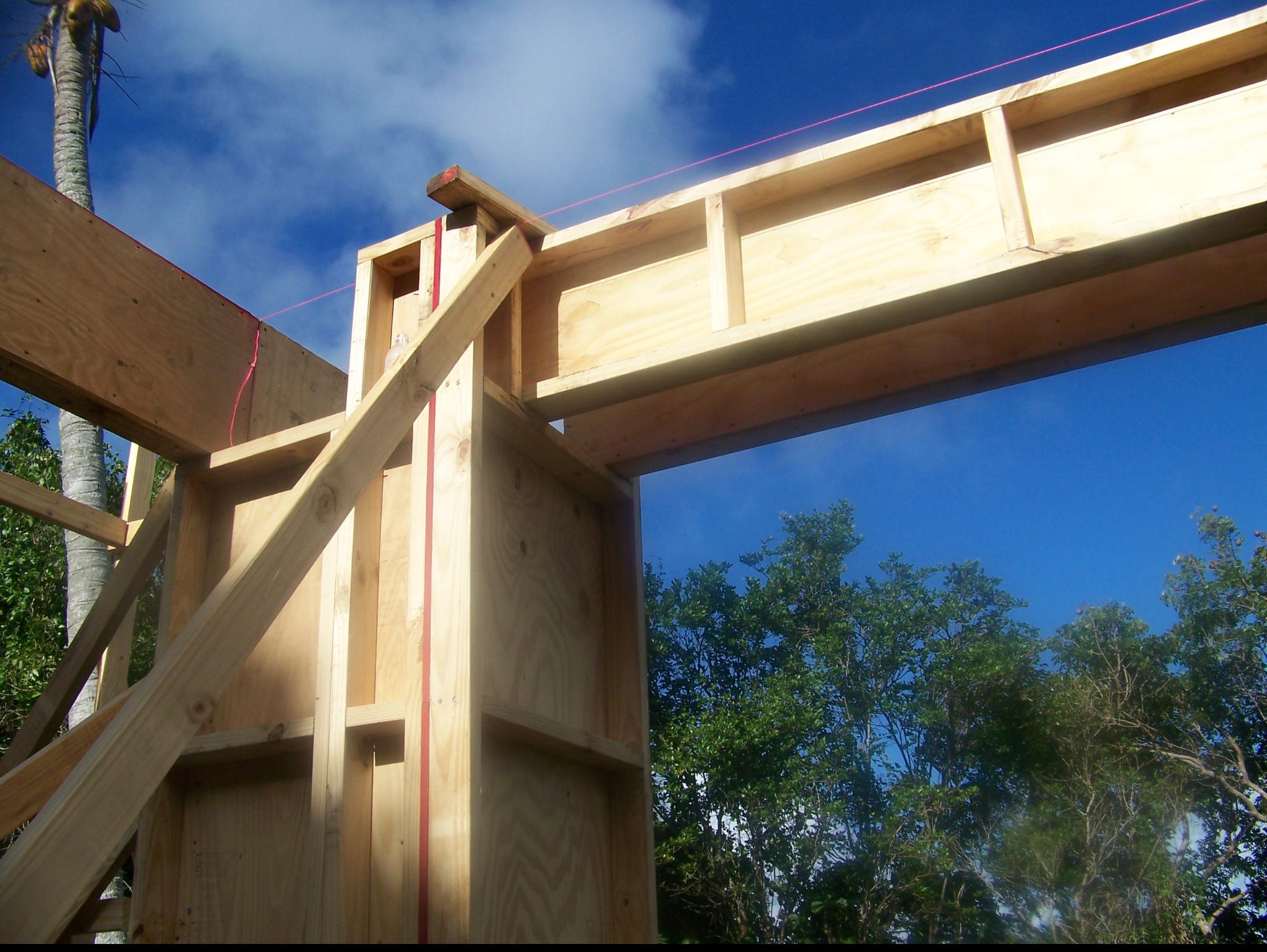 This is example text. Please click here to edit the text.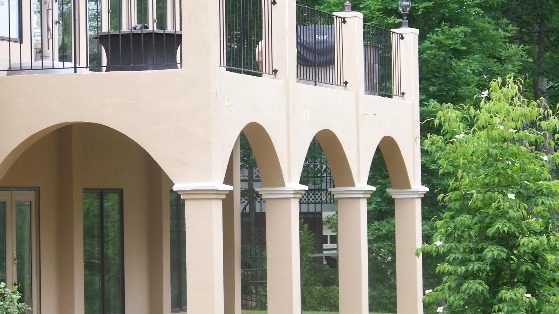 Stucco Projects
These homeowners decided the ordinary square column needed an upgrade so they chose a Mediterranean style. After the arches were added, I matched the existing stucco as well as stuccoed the three band tier.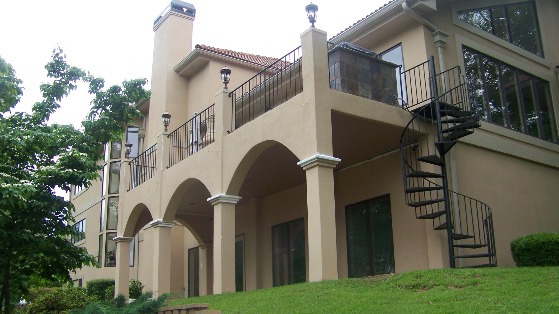 Change Looks with Stucco
Stucco jobs and repairs can often be challenging but with simple techniques the task can seem seamless and timeless.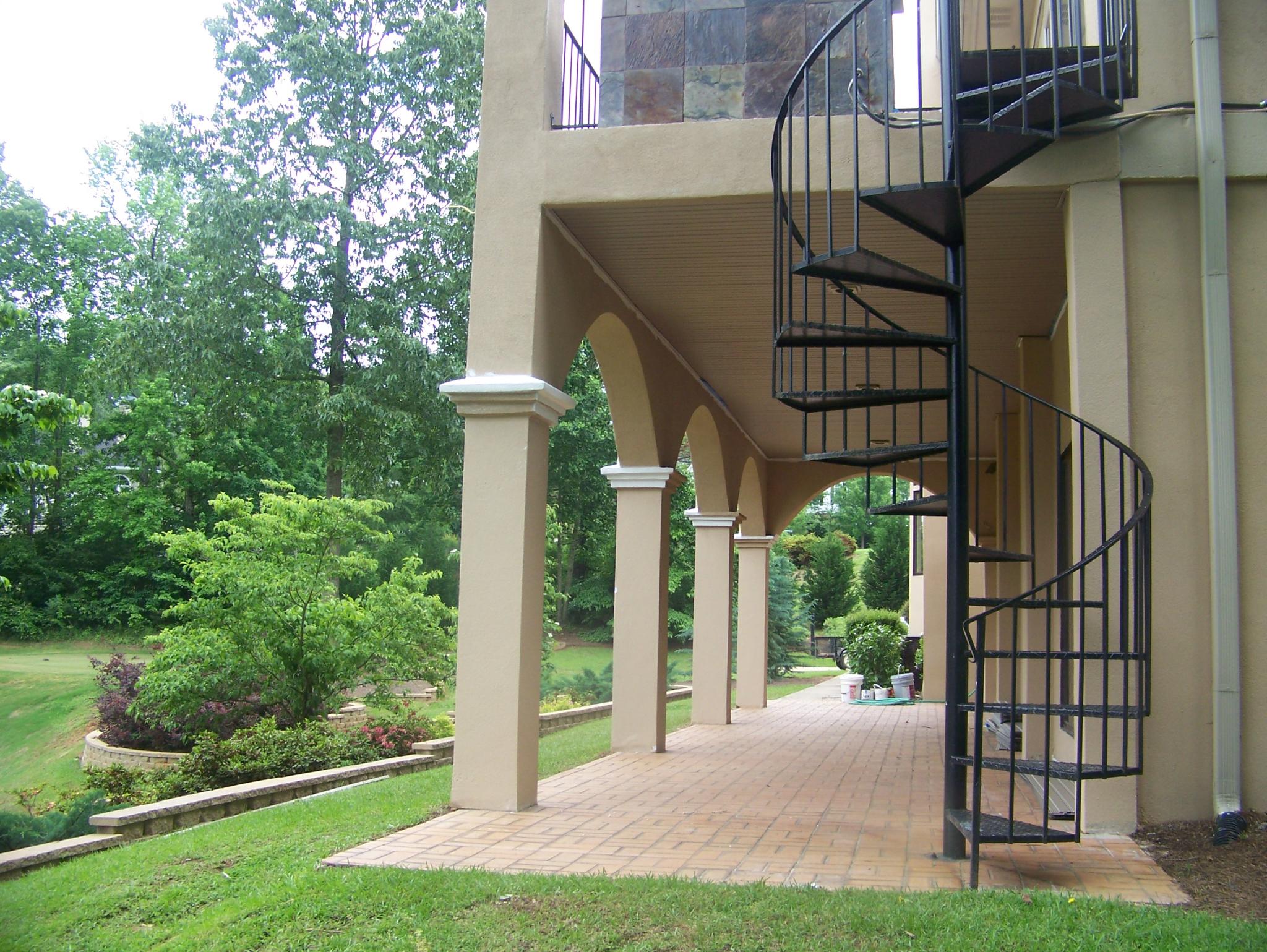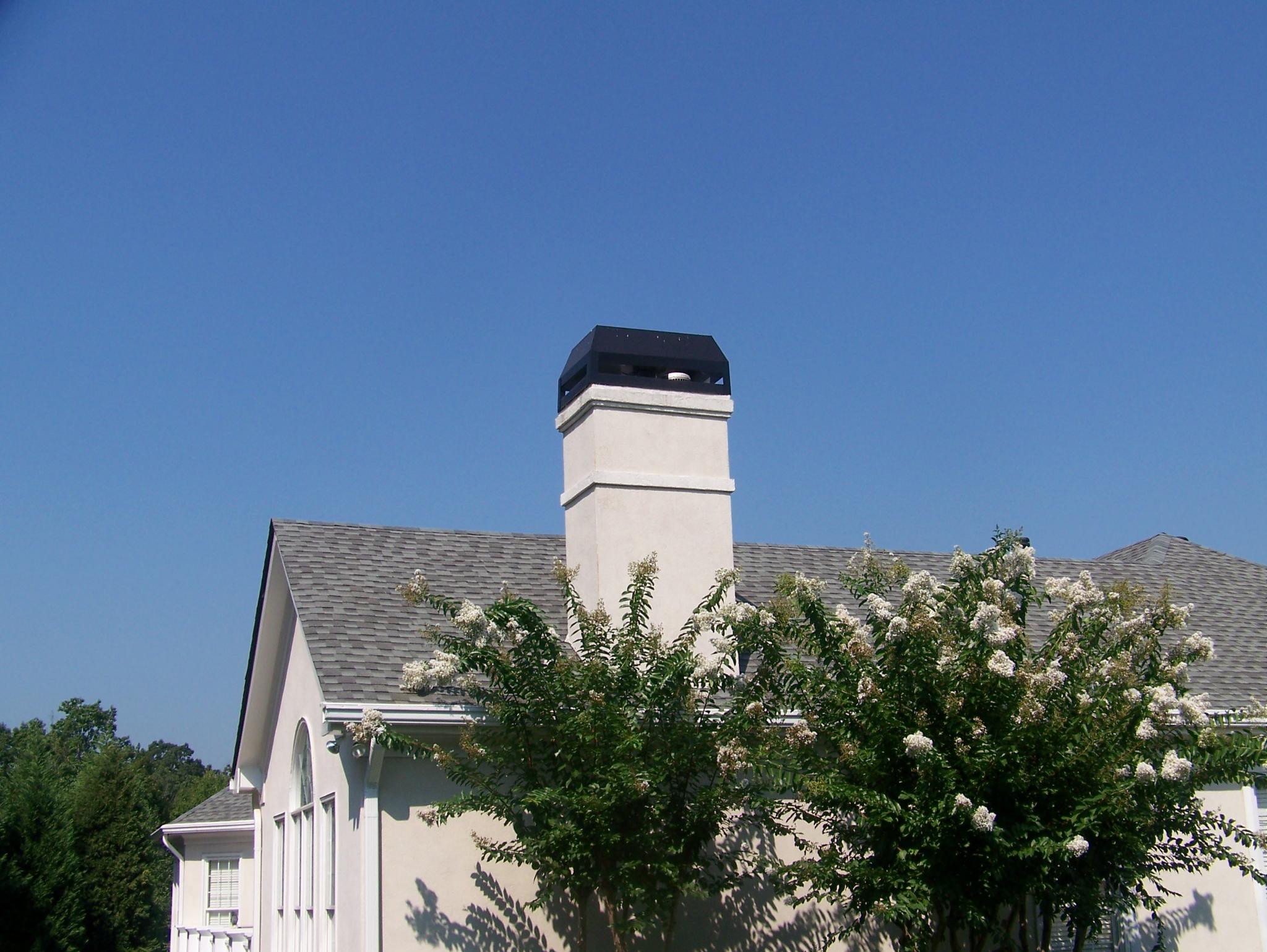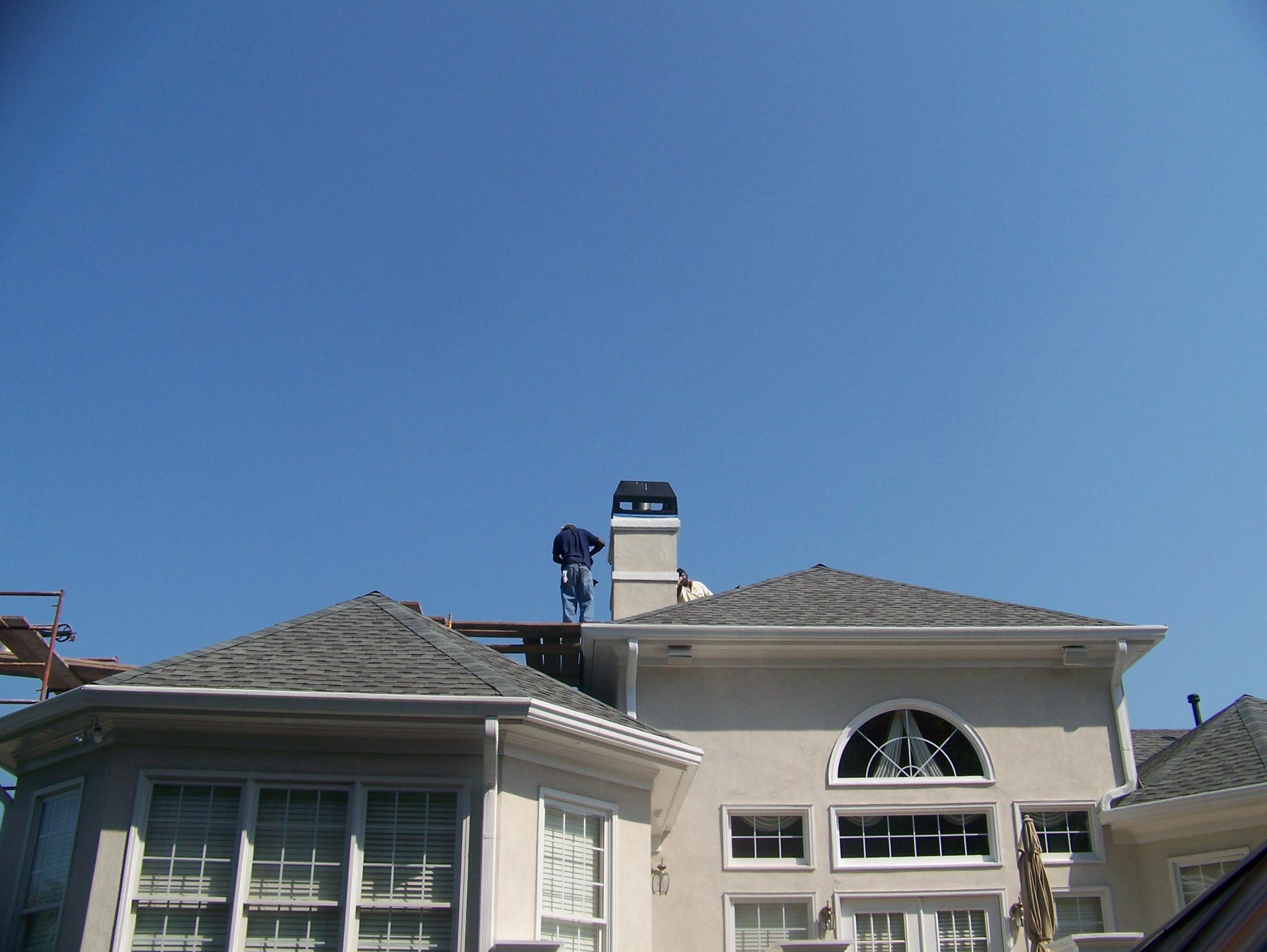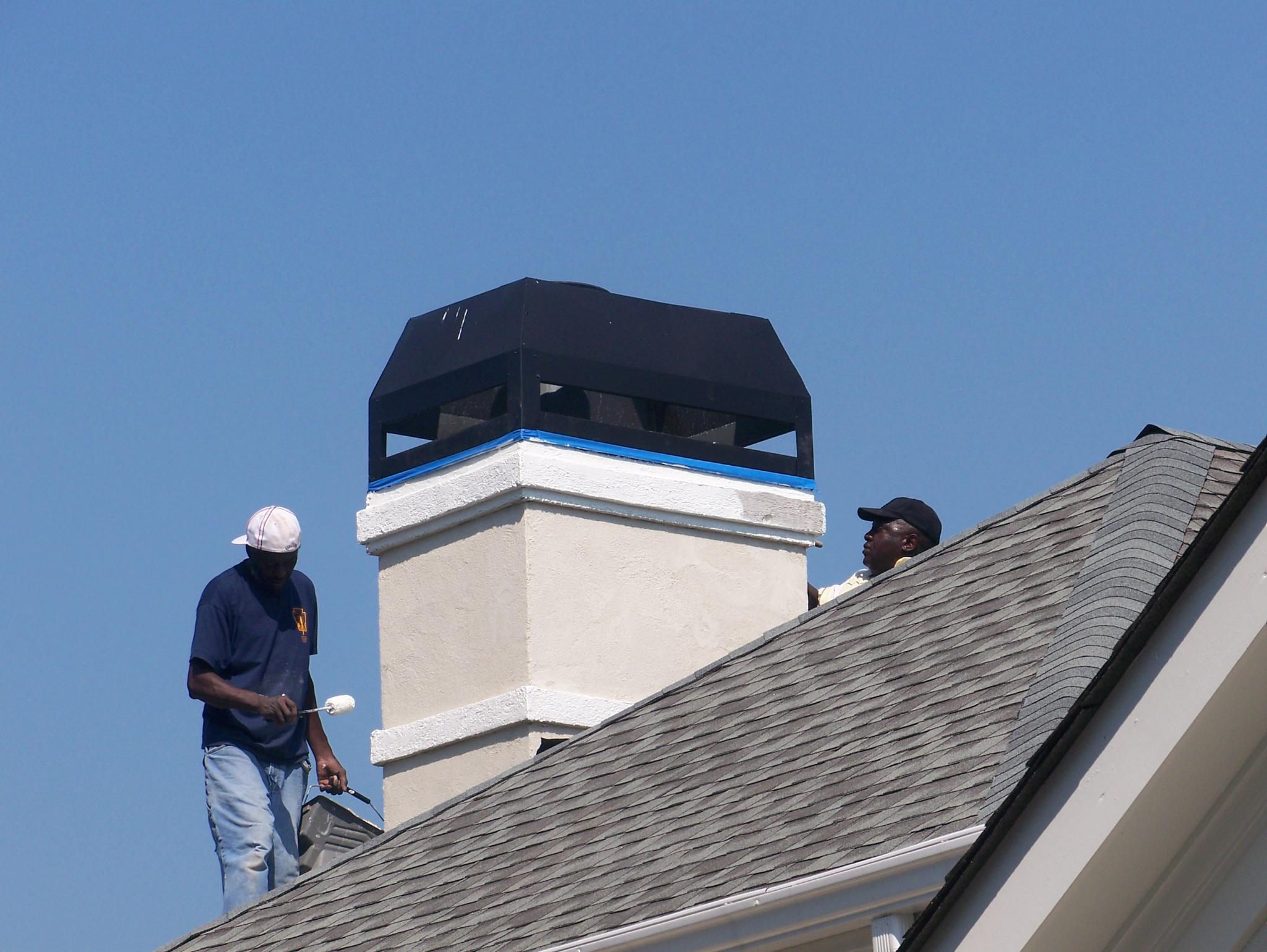 The field of Masonry has been my work for more than 30 years. Some project can be a do it yourself but working with stones and bricks requires training, experience, and often…
September 7, 2019
Please reach out to us if you would like more information about the projects on our site or would like an estimate. I look forward to working with you.